| | |
| --- | --- |
| Sonchat Ratiwatana | |
| | |
| | |
| | |
| | |
| | |
| | |
Advertisement
January 04, 2007


Recently, we were too bedazzled by the magic Leander Paes and Mahesh Bhupathi recreated on court; too caught up with the celebrations of another memorable result to see or sense the disappointment of two young men who had taken the ace Indian pair to the edge of the cliff before being toppled themselves.

It was the final of the Doha Asian Games. Paes-Bhupathi cheated death, somehow finding a route of survival after being seven match-points down.

At 7-5, 6-5 (0-40) up, Sanchai and Sonchat Ratiwatana, little-known players from Thailand, were set to derail the 'Indian Express', Asia's best doubles team.

"When we saw the match-point -- got into that situation, everything started coming to my mind," explains Sonchat, looking back on those few anxious moments that robbed the Ratiwatana twins of what could have been their moment of glory.

"I could not stay focussed. We were going to win the gold medal, beat Grand Slam champions, former world number one team.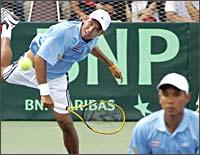 "When won the semi-final we knew we were playing Paes-Bhupathi; we knew they were on a different level. Reaching the final was a good result already and we just wanted to play our best. But once I thought we could win the match we got distracted; we could not concentrate on just getting the ball in.
"Mahesh and Leander also played unbelievable tennis after that. Mahesh got all his first serves in and they were returning everything."
The Indian pair stretched the set to a tie-break and won it 9-7, when Sanchai served a double-fault at 7-8 to bring a tame end to a high-quality set.
Though there was a rain interruption after the second set, Paes-Bhupathi maintained the momentum to close out the match in two hours and 43 minutes, winning the third set 6-3.
"I was shocked after the second set. It was a very big chance for us in such a big tournament. After the rain I was too numb to play.
"In the end their experience mattered. They knew how to control the match when they were down."
For the Thai twins, who generally play on the Futures and Challenger circuit, it was the biggest game of their life; it ended with some valuable experience.
"Though I was not happy with the result, I was happy with our performance. If we would've beaten them we would've grown mentally. But you always learn and improve. To win more matches like these, we need to play on that level regularly."
Sanchai and Sonchat, 24, had done remarkably well to reach the final and then take on the challenge against the Indian veterans by the scruff of the neck. But the difference between the gold medal and silver proved huge.
"First of all, we lost 30,000 dollars," said Sonchat, earnestly.
For the sport's romantics, the glory may be all-important but the realities of sport are sometimes ugly. Tennis can be a high-investment low-return affair with the players traveling around one week after the other in search of points.
Their father gave up his job to teach and train them tennis and dedicated the rest of his life to attend ITF coaching clinics. Their mother is a government employee in Bangkok. The players themselves have killed their singles ambition and found a viable answer on the doubles circuit.
"It is difficult to travel since you have to pay for everything on tour. Some tournaments give free accommodation and sometimes you only pay for food, but we have to travel by ourselves.
"Secondly, this year we are looking to play bigger tournaments, maybe ATP events. We have requested for a wild card for the Australian Open since they reserve one for an Asian team."
Sonchat, the more-animated of the twins, was denied a golden chance at the Chennai Open when his brother pulled out two hours before taking the flight to India due to fever. Now he will partner Thai No 1 Paradorn Srichaphan.
Photographs: Getty Images
More Specials