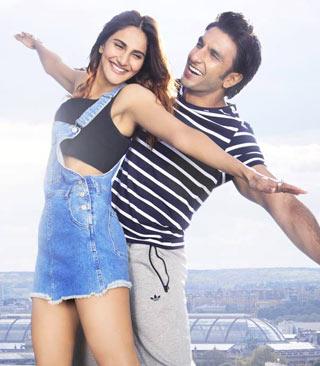 'Paris isn't for changing planes. It's...it's for changing your outlook. For throwing open the windows and letting in, letting in la vie en rose.'
'Paris is for lovers. Maybe that's why I stayed only 35 minutes.'
As Audrey Hepburn and Humphrey Bogart's engrossing exchange in Sabrina will tell you, Paris spells r-o-m-a-n-c-e, lots of it.
Those who've visited cannot get enough.
Those who haven't cannot stop wishing.
That's the magic and lure of the French capital, which has inspired filmmakers across the world to weave stories around its splendor and style.
Can Bollywood be far behind? Here's when the City of Light got the Hindi film treatment.

Befikre
IMAGE: Vaani Kapoor and Ranveer Singh in Bekifre.
We hope there's more to Befikre than its bawdy leads (Ranveer Singh and Vaani Kapoor) engaged in a game of dare and bare in Aditya Chopra's raunchy-looking rom-com.
Like a grand, gorgeous tour of Paris, where most of its filming took place.

Ae Dil Hai Mushkil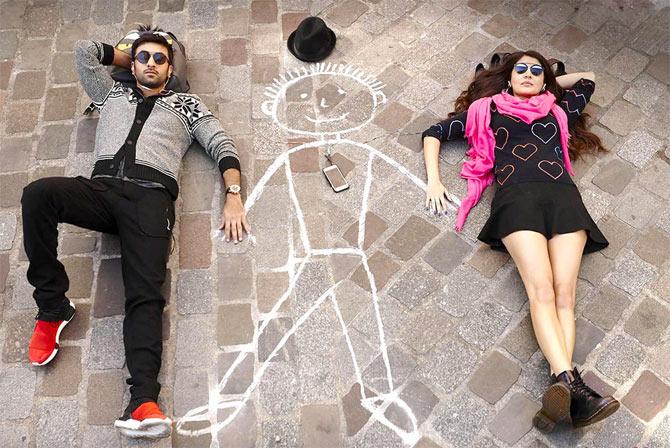 IMAGE: Ranbir Kapoor and Anushka Sharma in Ae Dil Hai Mushkil.
Anushka Sharma and Ranbir Kapoor will always have Paris. Certainly in Karan Johar's love story Ae Dil Hai Mushkil, where the city lives up to its glamorous reputation as well as all the 'filminess' it prompts within visitors.
Yeh Jawani Hai Deewani
IMAGE: Ranbir Kapoor in Yeh Jawani Hai Deewani.
He runs down Venice as Europe ka Dharavi. When it comes to Paris though, travel junkie Ranbir Kapoor cannot get enough of its sights and smell. So strong is its hold that he's almost willing to forgo a romance with Deepika Padukone to pursue his dream job in the city Amelie Poulain calls home.

Queen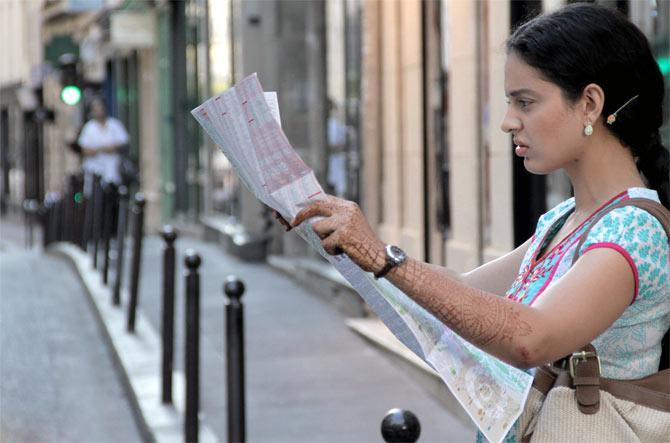 IMAGE: Kangana in Queen.
Kangana Ranaut subverts the romanticism associated with Paris when she goes ahead with her honeymoon plans despite getting ditched at the altar.
Intimidated by the Eiffel Tower, nauseated by French cuisine, mugged by local thugs, it's clearly not love at sight until she discovers friendship and freedom in a way only Paris can offer.

Ishkq in Paris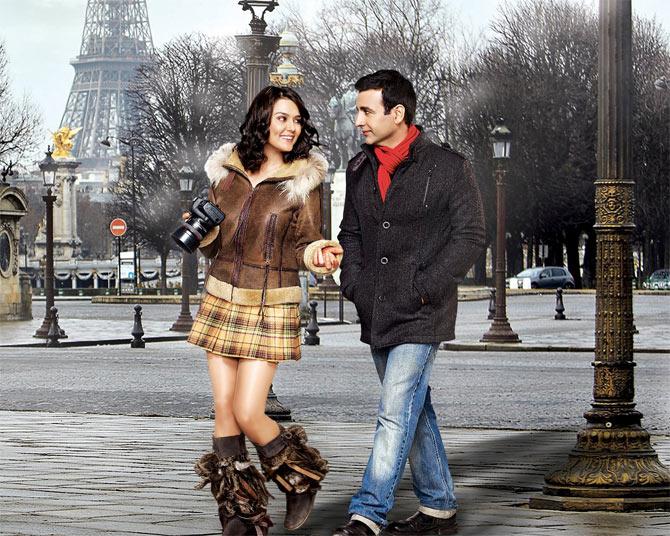 IMAGE: Preity Zinta and Gaurav Chanana in Ishkq in Paris
As the title suggests, the city does its bit and provides a stunning backdrop for strangers Preity Zinta and Gaurav Chanana's romantic connection.
Except the premise nicked from Richard Linklater's Before Sunrise/Sunset movies is far too dimwitted and hackneyed to impress.

London, Paris, New York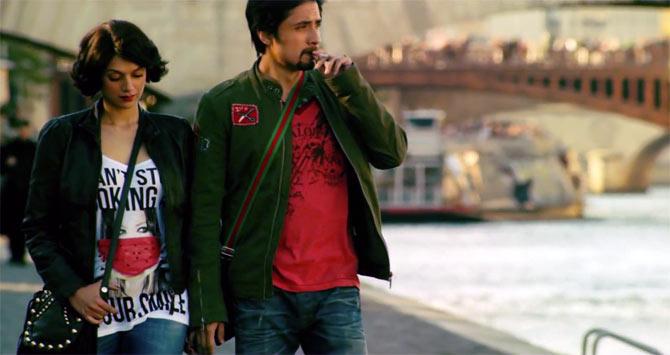 IMAGE: Aditi Rao Hydari and Ali Zafar in London, Paris, New York
Anu Menon's directorial debut examines the course of a romantic relationship between Ali Zafar and Aditi Rao Hydari at three junctures transpiring in the three different cities of its title.
Paris, what with all its lovey-dovey vibe is where they consummate it.

Hero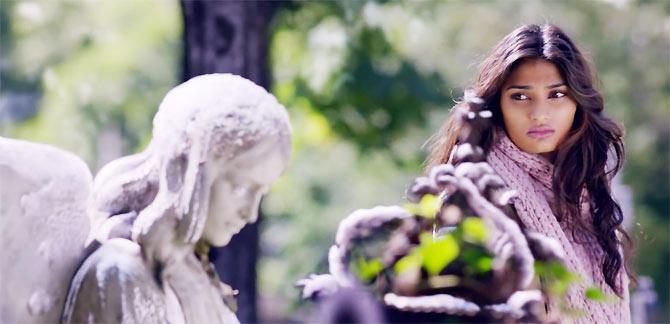 IMAGE: Athiya in Hero.
How to pass time when boyfriend is busy doing time in prison?
If you're Athiya Shetty in Nikhil Advani's Hero remake, take off to Paris for a year under the pretext of education and explore its splendid architecture.

London Dreams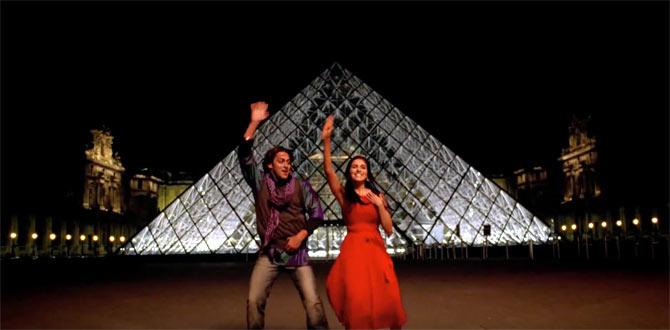 IMAGE: Salman Khan and Asin in London Dreams.
Be it a horse-riding dulha's entry outside St Paul's Cathedral in London or dancing to bizarre moves before Louvre museum of Paris, Salman Khan's sightseeing methods are on the unconventional side.

Hero No 1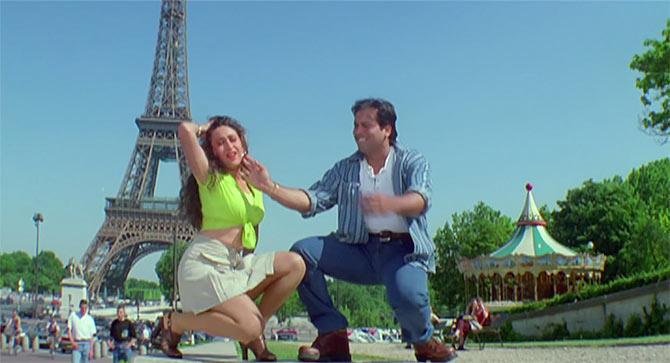 IMAGE: Karisma Kapoor and Govinda in Hero No 1.
Paris brings out the romantic in everyone.
Oh yes, David Dhawan too.
And so you have Govinda and Karisma Kapoor break into filmi jhatkas and thumkas against Parisian landmarks and dumbstruck locals in Hero No 1.

Don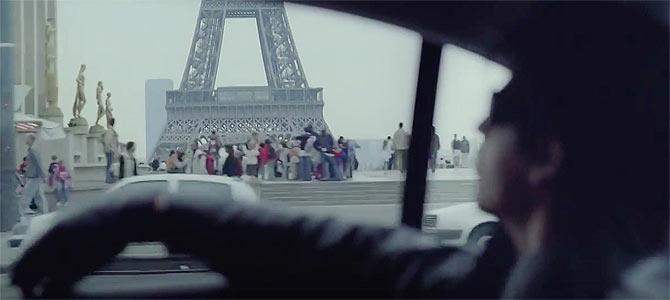 IMAGE: Shah Rukh Khan in Don.
Whatever one may think of the remake, Shah Rukh Khan makes an entry befitting his swagger in the slick opening sequence of Don -- swanky Merc his carrier and Eiffel Tower pitching a cameo.

Jeena Sirf Merre Liye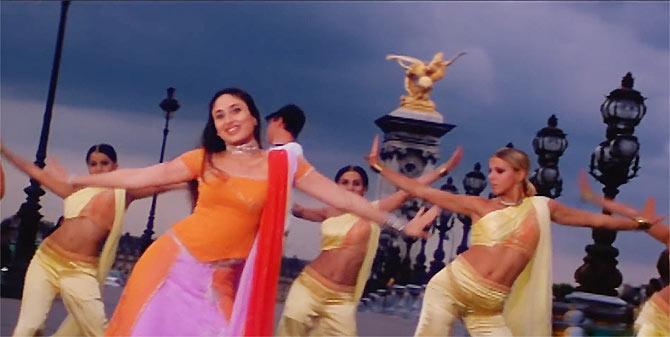 IMAGE: Kareena Kapoor in Jeena Sirf Merre Liye
In this snooze worthy remake of black and white melodrama Anmol Ghadi, Kareena Kapoor flaunts desi pride in shiny Indian attire on the streets of beautiful Paris. Not too surprisingly, nobody remembers the song or the movie.

An Evening in Paris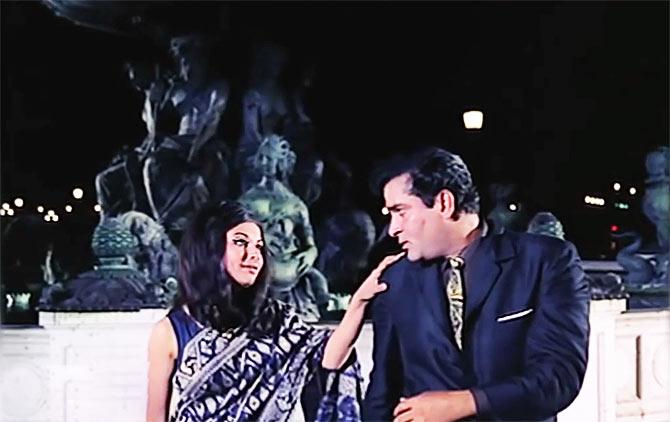 IMAGE: Sharmila Tagore and Shammi Kapoor in An Evening in Paris.
Shakti Samanta's breezy musical An Evening in Paris is the ultimate spectacle of what it is to fall in love in the world capital of romance.
Even after six decades, watching the livewire Shammi Kapoor paint Paris red around an elfin Sharmila Tagore just doesn't get old.

Jhoom Barabar Jhoom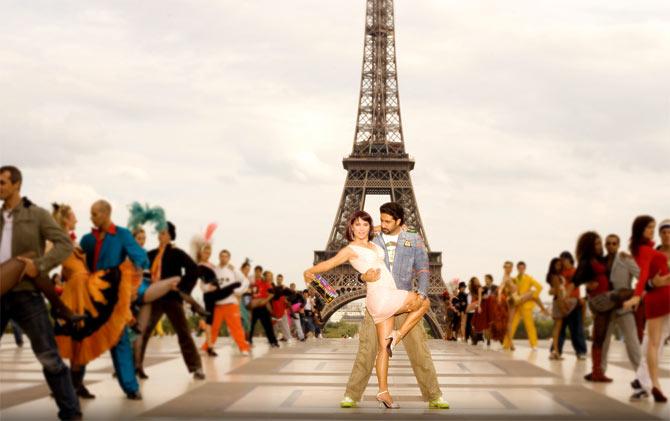 IMAGE: Abhishek Bachchan and Lara Dutta in Jhoom Barabar Jhoom
Paris fuels many an imagination, it certainly inspires the yarn Abhishek Bachchan spins in Jhoom Barabar Jhoom about his French fiancée Lara Dutta whom he bumped into at the glitzy Ritz Hotel. Cut to the duo shaking a leg against the imposing Eiffel Tower.
Too bad nobody bought his story.

Jeans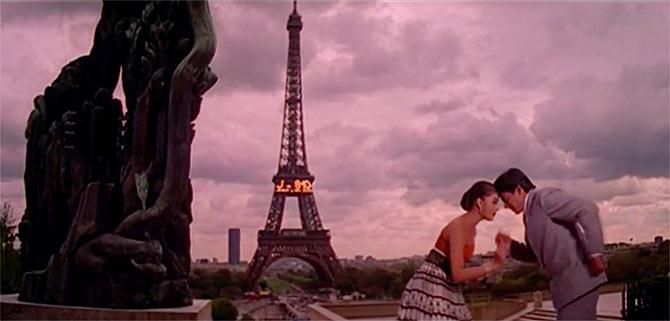 IMAGE: Aishwarya Rai and Prashanth in Jeans.
Aishwarya Rai and Prashanth showcase the Seven Wonders of the World to glorious effect in Jeans. Plus, there's music maestro A R Rahman adding his bit of ajooba to a gorgeous spread of costumes and postcard locations.
Tera Jadoo Chal Gaya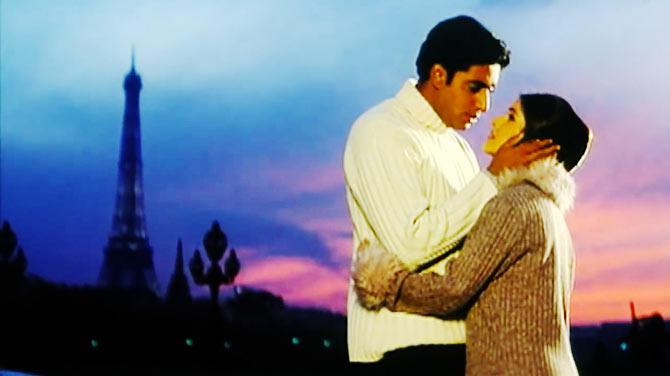 IMAGE: Abhishek Bachchan and Keerti Reddy in Tera Jadoo Chal Gaya
Bollywood loves flying out of India for dream and dance sequences. Abhishek Bachchan and Keerti Reddy find just the spot to snuggle next to one of the most famous symbols in Paris.

Prem Pujari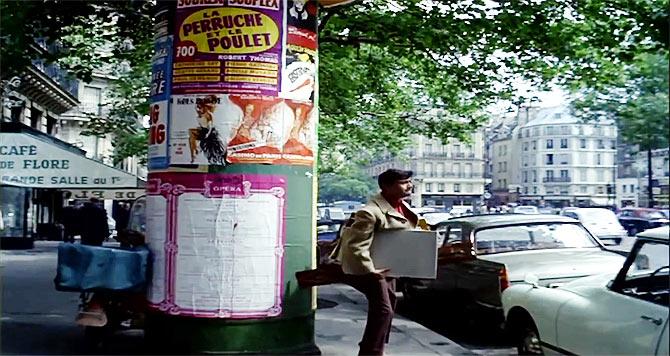 IMAGE: Dev Anand in Prem Pujari
In the Dev Anand-directed espionage, patriotism drama, the evergreen hero slips into multiple disguises and hops between countries for the sake of national interest.
Part of the assignment takes him to Paris too where he gives a bunch of sinister looking fellas a run-around and the viewer a peek of the eternally pulsating city.

Sangam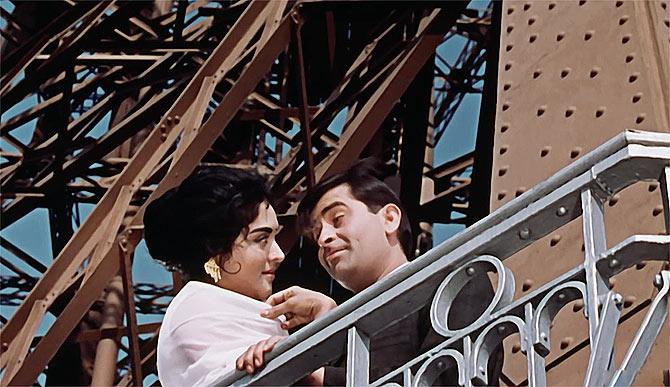 IMAGE: Vyjyanthimala and Raj Kapoor in Sangam
Raj Kapoor introduced the Hindi film viewer to the magnificence and luxury through an elaborate honeymoon picturised in some of the best European cities like Venice, Rome, Bern and, of course, the epitome of romance, Paris.
While enjoying the view from Eiffel Tower, he tries to steal a kiss but stands no chance before Vyajayanthimala's blushing Bhartiya nari act. A couple of elderly Caucasian ladies nearby applaud this move and confirm, 'India?'