In the upcoming Super Nani, 59-year-old Rekha transforms into a glamorous grand mom.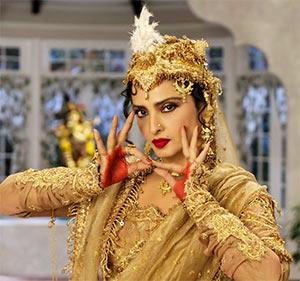 Full of stories, warmth and solutions, a grandmother is the closest a person can get to a fairytale.

And Bollywood recognises this only too well.
In the upcoming Super Nani, 59-year-old Rekha transforms into a glamorous grand mom who gives up her traditional ways and takes up modeling to teach her ungrateful family a lesson.

On that note, here's a look at some other fun grannies of Bollywood.









Hema Malini, Baghban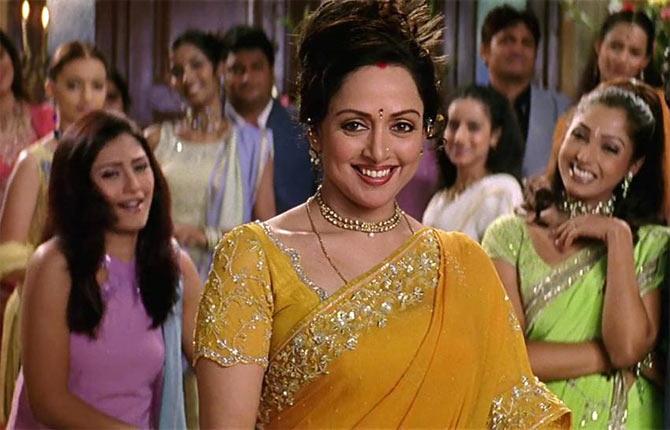 Image: Hema Malini in Baghban
In Ravi Chopra's reworking of Japanese classic, Tokyo Story, Hema Malini plays a loving wife to Amitabh Bachchan and protective grandmother to Rimi Sen.
And when her rebellious granddaughter gets into trouble, she looks out for her.

Zohra Sehgal, Hum Dil De Chuke Sanam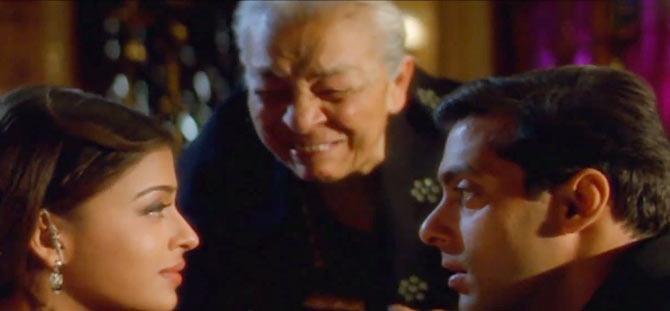 Image: Aishwarya Rai Bachchan, Zohra Sehgal, Salman Khan in Hum Dil De Chuke Sanam
The playful dadi who knows it all, Zohra Sehgal's infectious zest and signature smile when she discovers about Aishwarya Rai and Salman Khan's romance in Hum Dil De Chuke Sanam is one of the most spontaneous moments of Sanjay Leela Bhansali's opulent musical.
Waheeda Rehman, Delhi 6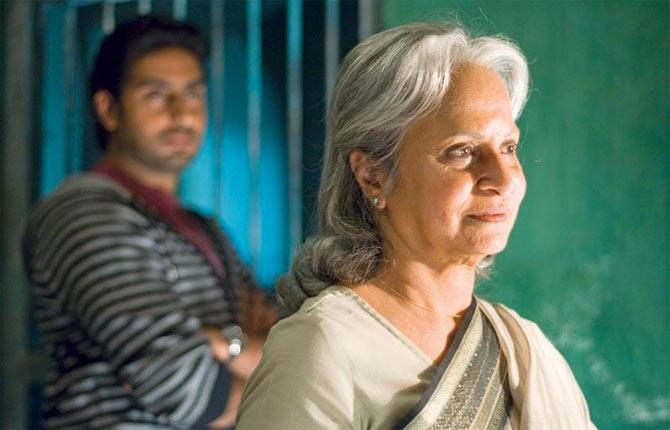 Image: Abhishek Bachchan and Waheeda Rehman in Delhi 6
Ever a picture of grace and grit, Waheeda Rehman plays Abhishek Bachchan's devout, well-meaning grandmother in Rakeysh Omprakash Mehra's Delhi 6, which opened to a lukewarm response.
She's most engaging in the scene where she forgets about her illness and sets off to offer respects to a cow giving birth in the middle of escalating traffic.
Arundhati Nag, Paa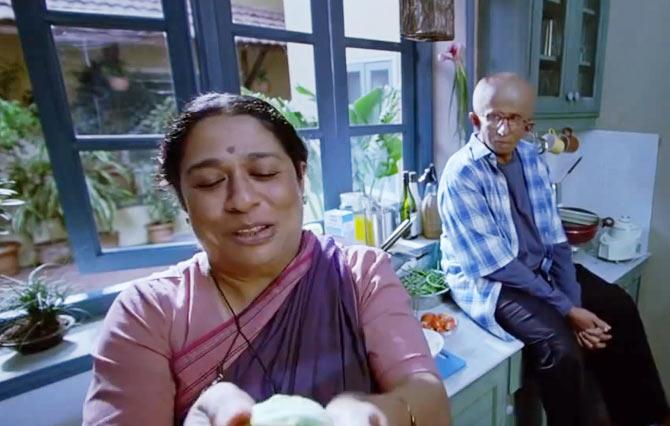 Image: Arundhati Nag and Amitabh Bachchan in Paa
An extraordinary Arundhati Nag puts up with Amitabh Bachchan, as a 12-year-old caught in a 60-year-old's body, zillion tantrums and petulance in Paa with the patience and indulgence only a true grandma can possess.

Kamlesh Gill, Vicky Donor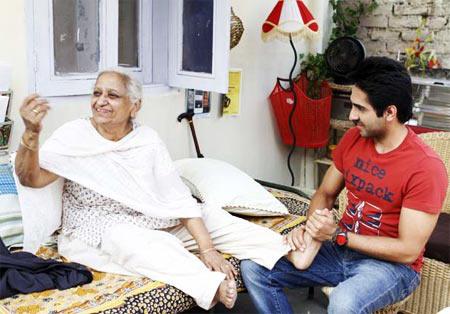 Image: Kamlesh Gill and Ayushmann Khurrana in Vicky Donor
Remember the whisky-guzzling gadget freak Beeji to Ayushmann Khurrana in Vicky Donor?

They don't get any cooler than this.

Dina Pathak, Bollywood/Hollywood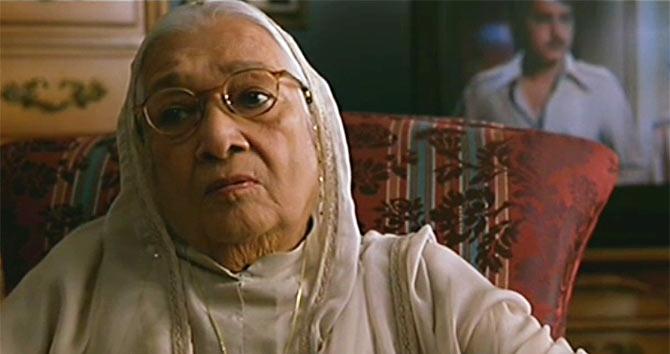 Image: Dina Pathak in Hollywood/Bollywood
A far cry from her stern disciplinarian in Khubsoorat, Dina Pathak's Shakespeare quoting grandmother to Rahul Khanna in Deepa Mehta's crossover flick, Bollywood/Hollywood is the reason this rom-com arrives to such happy conclusions, on screen and off it.
Leela Mishra, Chashme Buddoor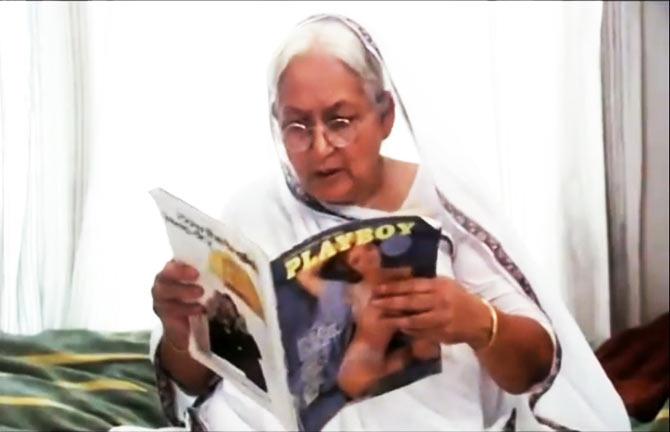 Image: Leela Mishra in Chashme Buddoor
If there were ever such thing as a textbook grandmother, Leela Mishra's cuddly daadi to Deepti Naval in Chashme Buddoor would make the cut.
Not only does she put up with the shenanigans of her potential son-in-law's roomies (Leela Mishra holding a copy of Playboy, priceless) but teams up with them in a fake kidnapping ploy to reunite her granddaughter with her estranged sweetheart.
Farida Jalal, Kuch Kuch Hota Hai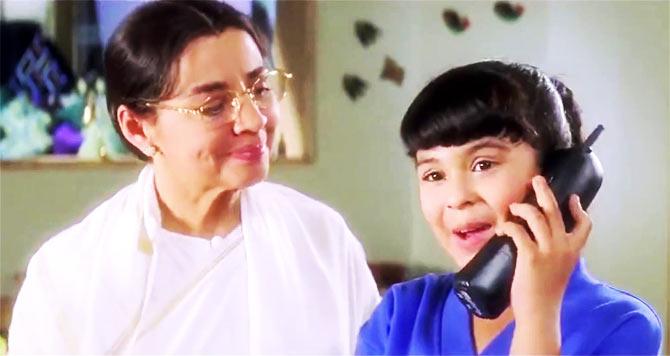 Image: Farida Jalal and Sana Saeed in Kuch Kuch Hota Hai
Another cute dadi who partners her grandkid in crime is Farida Jalal's frothy avatar in Kuch Kuch Hota Hai.
The bubbly veteran slyly plots a romantic reunion for her single son and his former best friend at a summer camp with generous help from her precocious poti.
Tripta Lakhanpal, Queen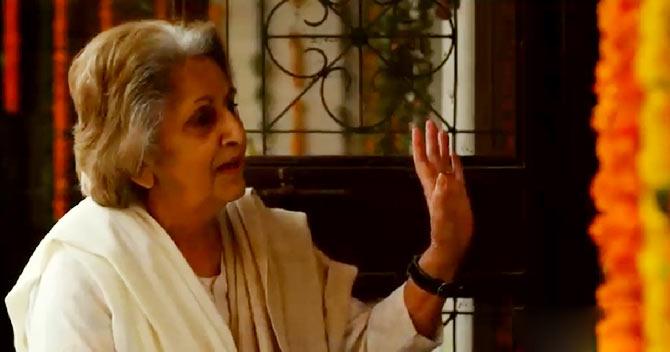 Image: Tripta Lakhanpal in Queen
Words of experience are a granny's privilege.
And Tripta Lakhanpal's impish Beeji in Queen shares them by the dozen to her heartbroken granddaughter Kangna Ranaut by telling the latter about her cute boyfriend in Pakistan and mostly how life goes on and everything is laughable in retrospect.
Ava Mukherjee, Detective Naani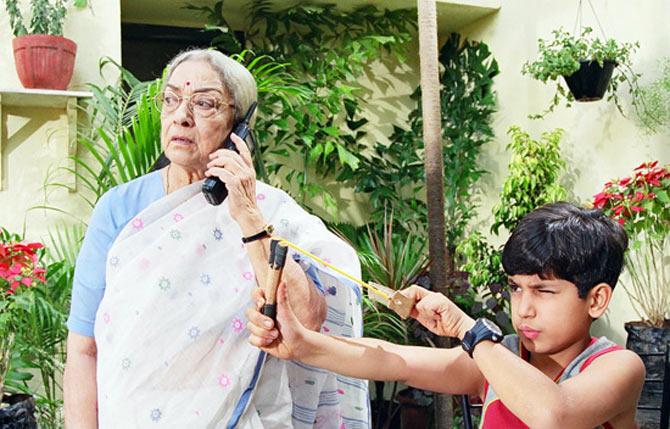 Image: Ava Mukherjee and Zain Khan in Detective Naani
That kind wrinkly smile and grey bun sporting granny from television commercials went on to star in her own movie as Detective Naani.
Though the film was a no go, Ava Mukherjee does well as a desi Miss Marple solving a whodunit in her neighbourhood aided by her tiny grandson and a pet Labrador.