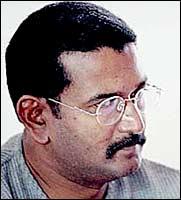 The smile on his face says it all. Blessy, the director, has conquered the recently announced Kerala State Film Awards with five awards for his new film Thanmatra (Molecule) including Best Actor for Mohanlal and Best Script and Direction for himself. His favourite, however, is the one for Best Script. We got him to elaborate...
How does it feel to win the State Award as Best Director and writer? You have said that you are happier about getting recognition as a writer. Why?
I studied direction for 18 years before becoming independent, but writing was completely new to me. I had never tried to pen a short story or even contributed to a college magazine; it was like jumping into water without knowing how to swim. I had to do it out of compulsion in order to make the film as no writer was ready to script my story idea for Kazcha. That is why I am thrilled about winning the Best Script Award for my second film.
Thanmatra is a marked departure from your first film Kazhcha. Were you more confident this time around about your audience?
The process of bringing the subject of Thanmatra to the scripting and filming stage was very difficult for me. The protagonist doesn't even utter a word after the interval. I enjoyed the script of Kazhcha, but Thanmatra was very difficult. And yes, the success of Kazhcha has contributed to my making this film.
You received appreciation as well as criticism for your depiction of Alzheimer's disease in the film. While the families and relatives of patients have been very appreciative, the state medical fraternity has been critical...
I do not understand why this issue cropped up. I counter their (doctors') argument that only people above 80 are afflicted with this disease; I don't understand why they want to hide the fact that it can attack younger people too. I personally know a lot of patients at a pre-senile stage.
The second point they are trying to make is that death can occur only five to seven years after the disease takes hold. I have not mentioned the cause of death in the film but, even if you look at the time span, it begins when the boy is in the first semester and ends when he appears before the Interview Board of the IAS. This is not a documentary, so I am allowed to take certain liberties.
Mohanlal has expressed his displeasure at the self-censoring of the bedroom scene. Why did you feel the necessity to delete it?
In that scene, the husband is distracted by a lizard on the wall while making love to his wife; he suddenly gets up to shoo it. I felt the scene was absolutely necessary for the film, as sex is an act when a person concentrates the most. To skip that shows his mental state, and I approached it with honesty. I didn't feel the necessity to keep any superficial coyness in the bedroom between the husband and wife. But a section of the audience could not digest it, so it was taken off. Maybe in future, when the audience's appreciation grows, scenes like this may work.
There is just one similarity between both your films -- in Kazhcha, child actor Yash was given equal importance as Mammootty. In Thanmatra, young Arjun has an equally important character as Mohanlal's son. Will that become the Blessy stamp in future?
I like to explore father-son relationships. Maybe it's because I was deprived of that experience. The stories of both my films required such characterisation. That does not necessarily mean I will do the same thing in my next film.
Why did it take you so long to become an independent director when youngsters of today embark on their own films after assisting senior directors for a couple of films?
I had a perception of what my films should be like. So, I waited until I got the opportunity to do what I wanted to.