Tempers flare up in Bigg Boss 15, even in front of the media.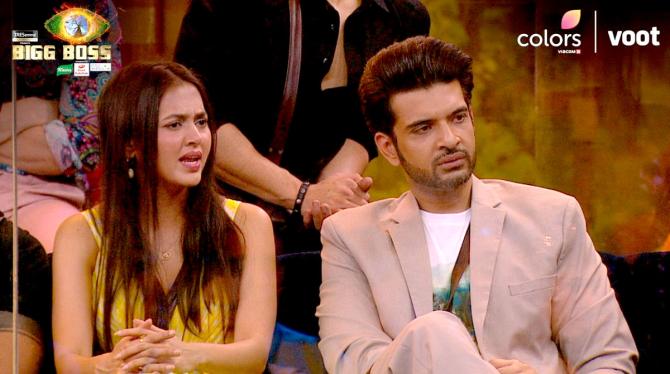 Monday's episode of Bigg Boss 15 resumes with the media interaction.
Tejasswi Prakash is bombarded with questions, but she answers earnestly.
When Tejasswi is asked about playing the woman card and crying every time she goes wrong, she disagrees and states that if she's hurt, she doesn't hide her feelings.
She adds that she's offended by the question.
Karan Kundrra is asked about his conversation with Umar Riaz regarding Tejasswi and Vishal Kotian's bonding. Kundrra says that he wanted a genuine opinion whether whatever he was feeling was valid or not as he is possessive about Tejasswi. He makes it clear that he doesn't have a problem with their friendship.
The limelight shifts to Vishal and once again, Shamita Shetty is irked when she learns that her so-called brother betrayed her in the last task.
Vishal tries to defend himself but fails.
That's when Jay Bhanushali puts across his opinion and this leads to a ugly argument between the two.
The media witnesses their fight and they stop only when the rest of the housemates ask them to behave.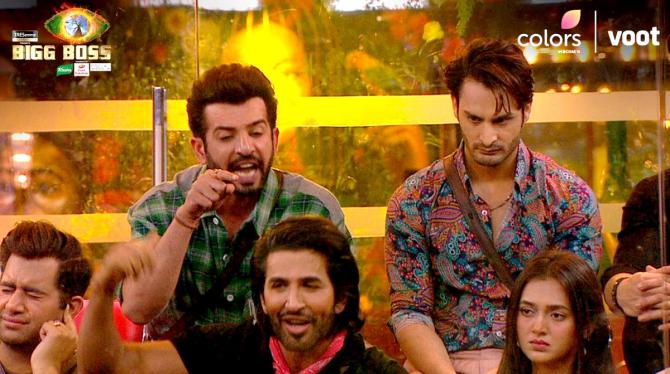 Shamita is asked why she keeps trusting Vishal despite so many betrayals. Just when she expresses her opinion, Nishant Bhat interrupts her and Shamita loses her cool.
They too argue in front of the media. The media tells Karan that it is not fair for him to be patient with Tejasswi and not with Pratik Sehajpal.
Tejasswi is back in the spotlight as a journalist asks her why she feels Shamita dominates Rajiv Adatia when she does the same with Karan Kundrra.
Hearing this, Shamita and the others start clapping.
Tejasswi defends herself, but her answer isn't convincing.
The press interaction ends with a question for Jay and Neha Bhasin.
They are asked whose behaviour has changed drastically after getting the VIP status.
They point at Tejasswi, and Neha says that it is okay if she is rude and disrespectful in the game, but she shouldn't crib when others do the same to her.
The media than announces the bottom six contestants. Rajiv is last, followed by Simba Nagpal, Neha, Umar, Vishal and Jay.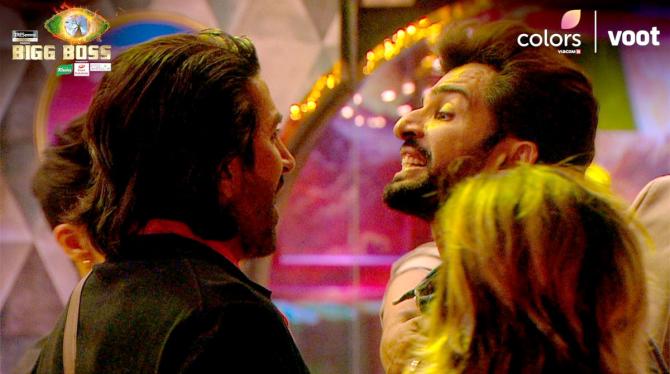 Once inside the house, Vishal tries to clear the air with Shamita, but the conversation doesn't go well.
Soon, he ends up in a fight with Jay which quickly turns ugly.
Karan, Pratik and others stop Jay from doing anything stupid in a fit of rage.
Shamita asks him to cool down and reminds Jay that he is here for his daughter.