'I'm usually pretty chilled and cool, but there are random moments when the brain doesn't compute and I don't stop to think.'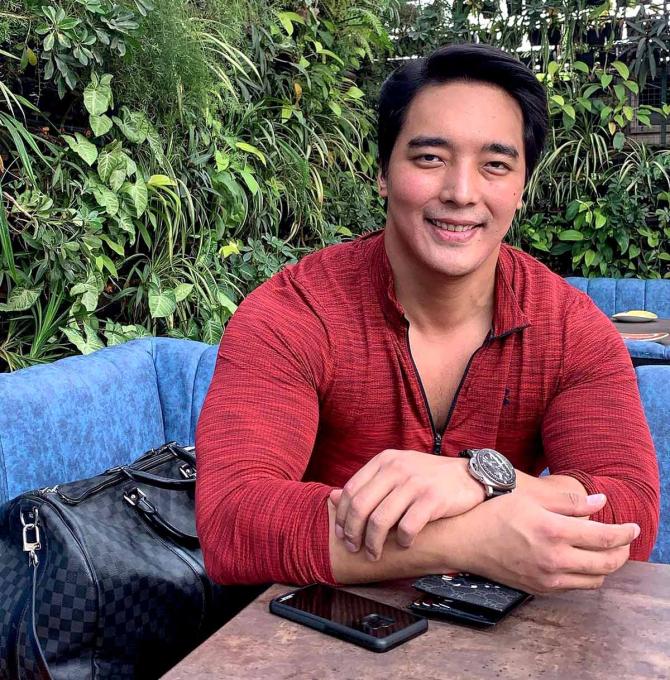 He's a one-man army who demolishes the opposition with convincing ease and according to his Squad director Nilesh Sahay is the perfect fit for an action hero.
Rinzing, Danny Denzongpa's son, makes time in his busy schedule for a quick Q-and-A, discussing his debut film and introducing himself.
He tells Rediff.com Senior Contributor Roshmila Bhattacharya, "It's been a roller coaster ride with my first film. I'm just so happy that the film is finally coming out."
You've admitted that while you were growing up, you spent a lot of time on your dad Danny Denzongpa's sets and that's why when you faced the camera for Squad, it wasn't quite so nerve-racking.
Yeah. I don't remember the names of those movies, but I have fond memories of my time on their sets.
Dad was working a lot back then and it was nice for him to spend some time with us in the midst of a hectic shooting schedule.
I used to monkey around and broke quite a few props. (Laughs)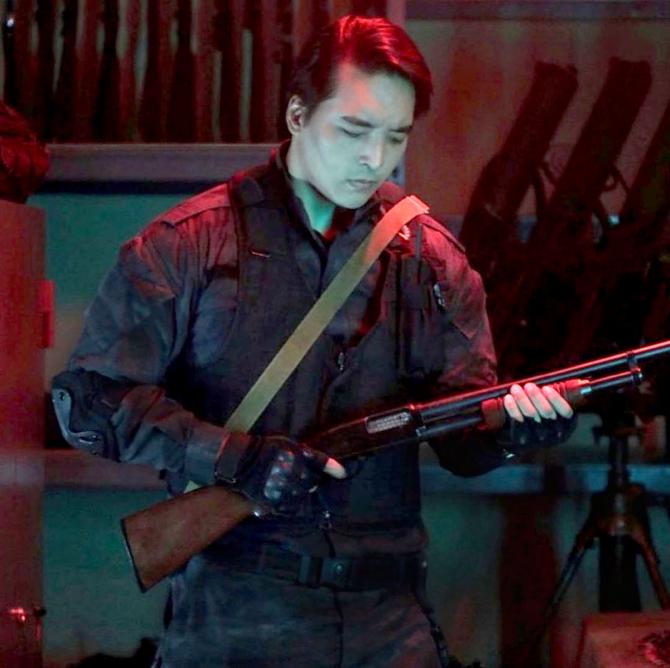 You are a perfect gentleman now, but would you say you were once a brat?
(Chuckles) That would depend on which age bracket I was in and my mood swings.
I'm a nicer version of Dr Jekyll and Mr Hyde.
I'm usually pretty chilled and cool, but there are random moments when the brain doesn't compute and I don't stop to think.
Rinzing, how tall are you?
191 cm.
Has your height ever been a problem?
Sometimes, when I am traveling in a plane or car. I love cars, but when you are six feet three inches, fitting into a snazzy sports car can be a bit of a problem.
Do you own a lot of cars?
(Laughs) I wish I did. Right now, I don't have enough money to buy the cars I really like. I will have to work a lot harder.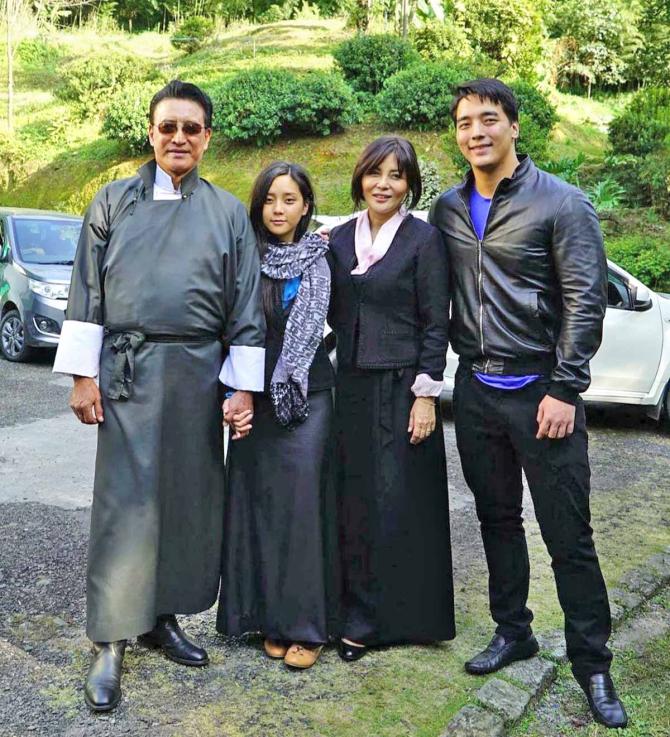 But you have a successful family business.
Yeah, in beer, and I'm still very much in the loop as far as business matters go, though I no longer go to the office every day.
I enjoy working with friends, it's good to grow together.
Numbers used to be a problem once but now, after the daily crunching and sifting through endless balance sheets, I know exactly how much is coming in, how much is going out, and how much is owed to us.
I have a degree in international business from a London university.
Wow, that's interesting...
I have a degree in theatre as well.
I took different courses and classes in voice training and the like.
But since I was studying business simultaneously, I didn't get to perform much.
There wasn't much time, I was so busy with everything else.
But in school, I performed in a lot of plays.
From your father's films and the characters he played, do you have any favourites?
Oh, there are so many!
Shera in the '70s curry western Kaala Sona... Khuda Baksh in the epic drama Khuda Gawah... I keep watching the film again and again.
Also Ghatak.
More recently there was Bang Bang! with Hrithik (Roshan).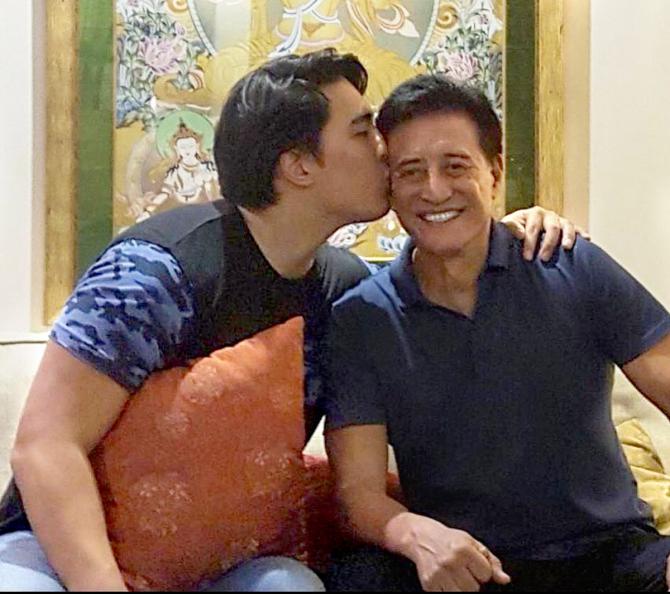 Any life lessons that you have learnt from your dad?
Dad likes to keep it simple: Work hard, do your best.
Being a star kid, you must have a lot of friends in the industry, fellow actors...
I have a number of close friends, too many in fact, who are like my brothers and sisters.
Among actors, Tiger Shroff is one of my closest friends. We had a very normal childhood and went to the same school.
Ahan (Suneil Shetty's son) went to the same school as us, but he was younger.
Now, the years in between have melted away.
(Smiles) I remember him as this kid running around in a red football jersey. I can't remember the club, maybe it was Man United, but it's a fond memory.
I'm super excited for Ahan who is gearing up for his debut as an actor. Tadap, opens on December 2, right?
Yes.
I'm also very close to Chiranjeevi aka Jeeva, Ranjeet uncle's son, and Sooraj Pancholi, whose birthday was on November 9.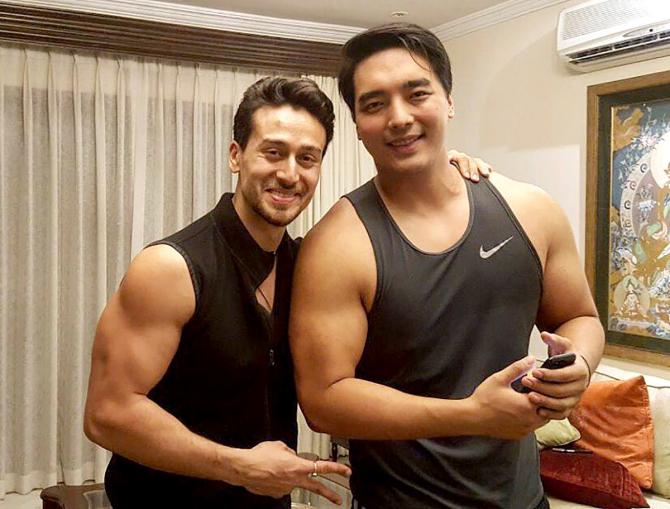 Is there something in real life that you are afraid of, a phobia you had to confront while shooting for Squad?
(Thoughtfully) Well, I'm not too good with heights.
But we had Kier Beck (the award-winning stunt action coordinator and action unit director known for his work in Mad Max:Fury Road, Casino Royale and the Matrix series) to rig me up for one of the stunts so I knew I was in good hands.
With screens opening up across the country, do you think you could have waited a little longer and got a theatrical release for Squad instead of opening online?
It's been a roller coaster ride with my first film.
We have already been delayed by three years because of the pandemic.
I'm just so happy that the film is finally coming out.
We have given it our best and I know we will be appreciated. The film has been a huge learning experience.
I'm so happy Sooryavanshi is doing so well. The fast-accelerating box office numbers are very encouraging and prove that people are going back to the theatres.
That's an encouraging sign for the film industry and for all of us.
What next? Another film with Nilesh Sahay?
It should be with Nilesh, but I'm also doing a lot of other stuff, some of it not related to films.
Acting is just one of the many things, there is so much more that I want to do.
I want to grow as a person. That's very important too.