It's a tough fight to win a ticket to the finale in the last two weeks of the show.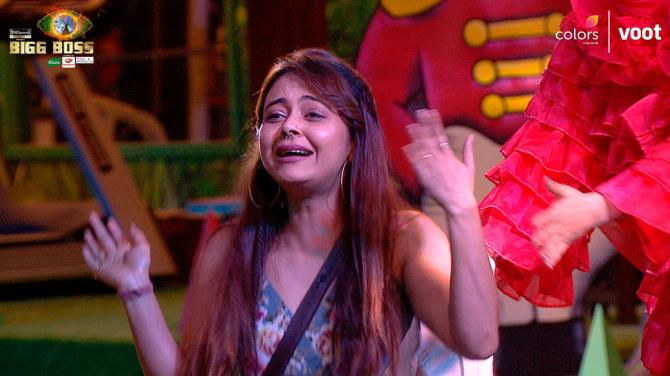 Tuesday's episode resumes with Devoleena Bhattacharjee getting a chance to talk with her mother through a video call.
She takes 20 minutes for the same and gets emotional on meeting her mother and aunt.
Devoleena's mother praises Pratik Sehajapl and thanks him for taking care of her. Then she asks Nishant Bhat why he threw water on her daughter with so much force during the Ticket to Finale week task.
Devoleena explains that her mother is just pulling Nishant's leg, but Nishant apologises and says it's all in good spirit.
Next, it's time for Karan Kundrra to connect with his family and his parents are excited to greet everyone, especially Tejasswi Prakash.
The television actress starts blushing as Karan's parents approve of her and say she is already the heart of their family.
Karan's parents interact with everyone and make a point to tell Rakhi Sawant that she is entertaining. The task ends for the day.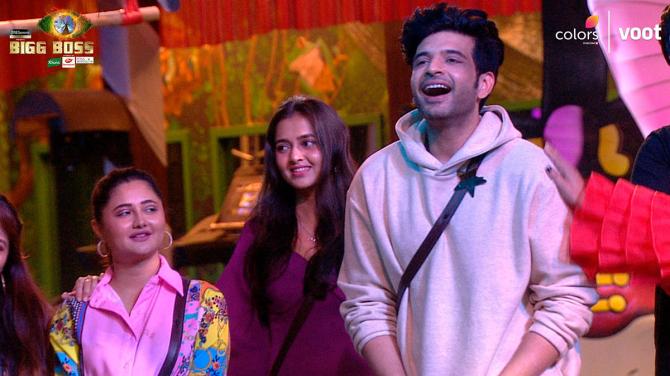 At night, Shamita Shetty and Pratik talk about Nishant. Shamita says she isn't going to try anymore to make things normal between them.
Pratik says he is hurt and needs space. Shamita agrees.
Nishant and Tejasswi get into a disagreement while talking about their friendship.
Nishant states he doesn't want to keep contact with anyone after the show.
The next morning, Bigg Boss announces it's time for Tejasswi to connect with her family. She starts crying when she sees her brother.
Tejasswi asks him about Karan and he says everyone in the family is happy for them.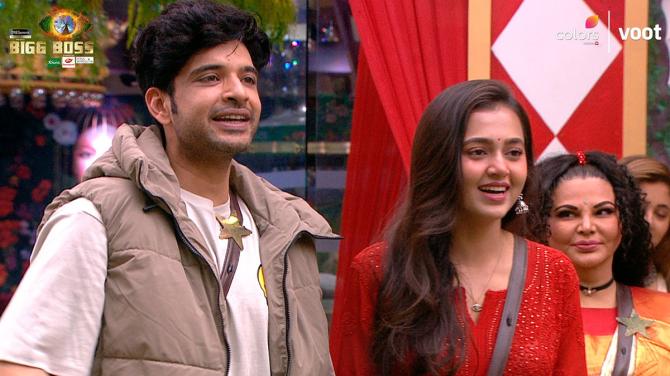 Then, Abhijeet Bichukle gets connected to his family. His wife, mother and kids greet everyone.
They tell the housemates not to get offended by what Bichukle says as he doesn't mean anything from his heart.
While everyone interacts with Bichukle's family, Devoleena stays away and doesn't meet them even when Abhijeet calls her.
Rakhi is the last one to go and she gets to talk to her mother and sister-in-law. Their conversation is emotional and funny at the same time.
With that, the task ends and all the contestants are charged up for the last two weeks of the game.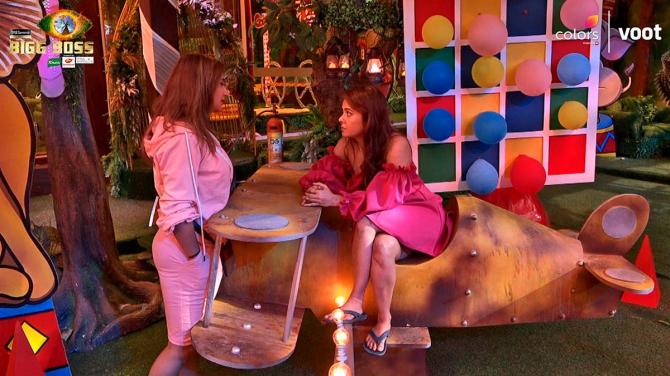 In the evening, Bigg Boss announces a new task for the non-VIP contestants to secure their place in the VIP zone and win a ticket to the finale.
Rajiv Adatia has the power to decide who will play the task in the first round. He picks Rashami, Nishant and Tejasswi.
The three contestants have to sit on wooden horses along with one VIP contestant.
Rakhi goes first from the VIP zone.
While Karan is playing for Tejasswi, Shamita's priority is Nishant and Pratik wants Devoleena in the VIP zone.
Rashami and Devoleena decide to support each other.
At the end of the first round, Nishant, Tejasswi and Rakhi decide to remove Rashami. She calls Devoleena to take her place on the wooden horse.
Since Pratik wants Devoleena to win, he strategises with Bichukle. Rashami is surprised when Devoleena tells her that she will call Bichukle in the next round, if she is removed.
Rashami is disappointed with her friend.
She approaches Abhijeet to turn the game on her side, but he doesn't entertain her and sticks to his plan with Pratik and Devoleena.