'He kept instigating me and there came a point where I had to stop this nonsense.'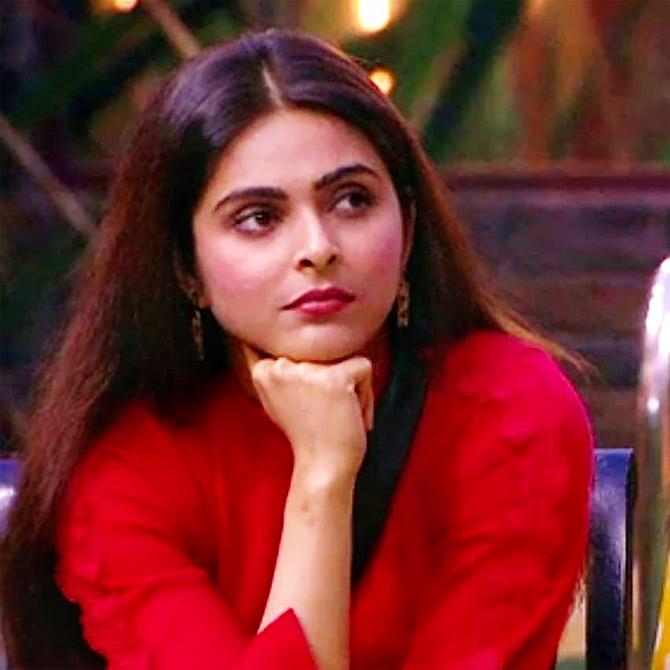 Salman Khan asked Madhurima Tuli to leave Bigg Boss 13, thanks to her violent fights with ex-boyfriend Vishal Aditya Singh.
From hitting him with a slipper to a frying pan, the Airlift actress has done it all, and can hardly keep her temper in check.
Khan criticised the couple for crossing limits, which ended with Madhurima's ouster.
She had entered the reality show as a wildcard contestant.
Before Bigg Boss 13, Madhu and Vishal had been a part of Nach Baliye where they made headlines for their unstable relationship.
"He would get cozy (with me) one evening and the next day, he would give morning hugs and and kisses to the other girls and say 'dekho, abhi uski jalegi (look, she will get jealous)' and make fun," Madhurima tells Rediff.com Contributor Rajul Hegde.
Are you upset that you had to leave the house this way?
Yes. But whatever happened was meant to happen because it was getting overboard.
Vishal was triggering me, and I couldn't handle it any more.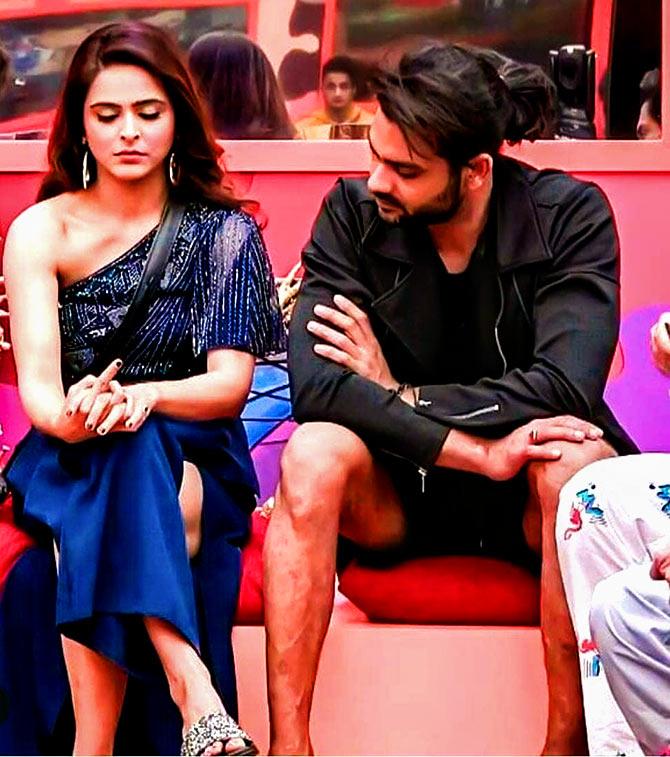 Do you regret hitting Vishal with the frying pan?
No, I don't. I did not hit him that bad that he got fractured or anything.
He kept instigating me and there came a point where I had to stop this nonsense.
Maybe I could have used my hands to survive in the house, but unfortunately, I picked up a frying pan and hit him.
Yes, I do regret that I disrespected the rules of the show.
I am guilty of losing my calm, nothing else.
Why did you choose to be a part of Bigg Boss when you knew things were not fine between Vishal and you?
So many things happened during Nach Baliye and made me very depressed.
I needed clarity in my relationship because he had gone to Bigg Boss after Nach Baliye and I couldn't get in touch with him.
I was not in a happy zone and thought it was a great opportunity and a big platform.
So when I was offered this show, I thought I would take it up because my relationship would either get better or worse.
I think I have got my clarity for good.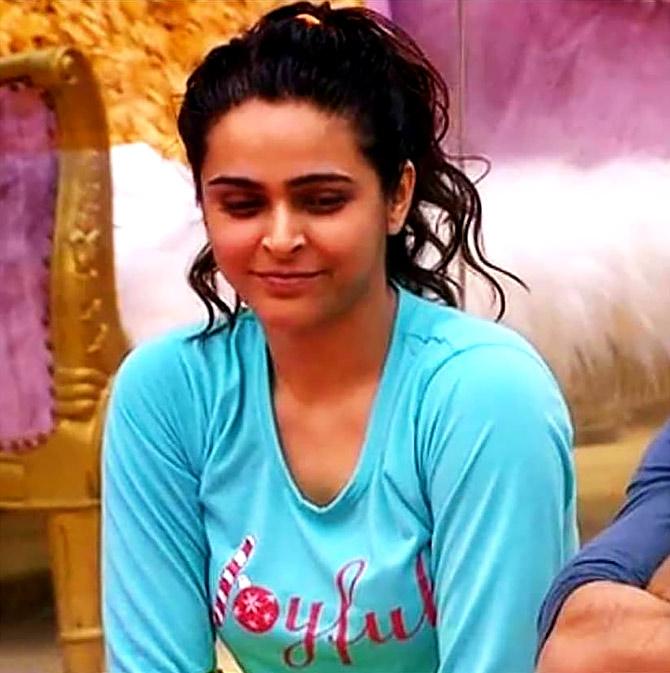 The constantly changing dynamics in your relationship, especially those cozy moments, got viewers confused.
We have been in a relationship together, have done Nach Baliye together.
I was in love with him.
I thought we have got one more opportunity to be together, that it's a sign from God.
But I think it was just not meant to be because he kept saying he was unhappy with the makers for bringing me on the show.
He has been strategising to get me out for a long time and he finally succeeded.
That's why he has been provoking me from day one.
I was trying really hard to fix things, but it did not work out.
He would get cozy (with me) one evening and the next day, he would give morning hugs and and kisses to the other girls and say 'dekho, abhi uski jalege (look, she will get jealous)' and make fun.
Whatever he did with me was not real.
I got really pissed because jhoot kyun bol rahe ho sach sach bolo aur katam karo (why are you lying, just say the truth and end it).
At least, we will move on and not have these fights now.
He made me confused because he was confused.
We had arguments because I had expectations.
That led to my ouster and now, I am done with him for good.
Your mother was upset with your violent behaviour towards Vishal.
When I came out, she said, 'We don't know what you were going through inside the house', that 'jo kiya achha kiya.'
I'm getting mixed reactions from people outside the house.
Women are like, bahut achha kiya maarke.
Now, my mother is also supporting me.
You shared a cute banter with Sidharth Shukla.
In the beginning, he was in a different zone as he was unwell.
Once he got better, he started creating these moments and we started having fun, enjoying the conversations together.
People also started enjoying it.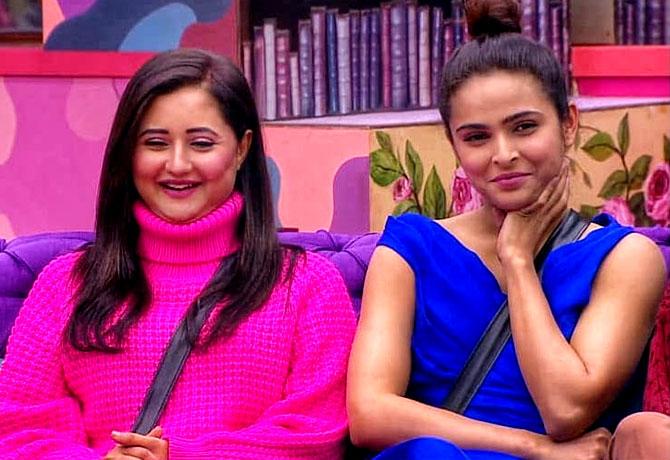 You only knew Rashami Desai when you went inside the house. Did that help?
Initially, the bonding was good and we had a lot of conversations.
But later, I was let down by her actions.
I used to be a part of Asim, Rashami and Vishal's group but after a point, they started excluding me, as Vishal was not happy with me being a part of the team.
Then we stopped having conversations towards the end; she was more with Vishal than me.
You didn't get along with Mahira Sharma.
In the beginning, when I went to prepare chai, she said you can't prepare chai in a tone that I did not like.
I was new to the house, so she could have been nice to me.
That's when we started having arguments.
Also, she kept nominating me even though I did not nominate her.
I realised she had some issues with me, so I kept my distance.
But towards the end, we were okay.
She is a kid at the end of the day, so I was like how do I tackle her?
Paras Chhabra was nice to me in the beginning, but we never had a bond because he avoided conversations with me -- maybe because Mahira didn't like me.
Asim Riaz was good and made parathas for me.
You were close to Shehnaaz Gill. Do you think she goes overboard sometimes?
I am happy that she supported me and I love her.
She has been there for me most of the time and I really felt happy about it.
Sometimes she does go overboard because she is a kid and still trying to understand things.
She is having fun with Sidharth. I don't think she is faking it to be in the limelight.
She is fun, entertaining and lovable.
Photographs: Kind courtesy Madhurima Tuli/Instagram
---
Movie and television buff, avid cook and manic shopper, Rajul Hegde stumbled into journalism because of her love for the Idiot Box.
She lives in Bengaluru now, but continues to document the follies and foibles of tinsel town.
You can contact her at movies@rediff-inc.com
---