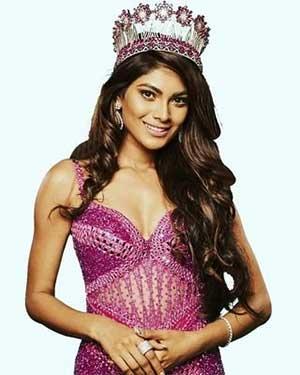 For most part things are fun barring the dull Deepika Padukone segment, writes Sukanya Verma.
With this brand new season, Bigg Boss completes a decade of introducing voyeurism to Indian living rooms.
As a concept that gains its strength from snooping about using multiple cameras on every possible turn and angle and initiating trouble by gathering unlike individuals to share a roof in a restricted, challenging environment, the contentious reality show on Colors has attracted both fans and flak.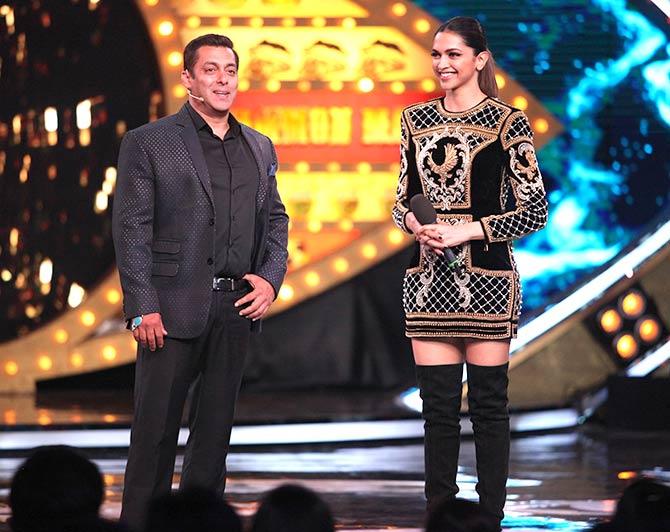 Besides allowing small-timers to bask in its controversies, it revealed Salman Khan's prowess at hosting and handling tricky contestants and situations with trademark cheek and chutzpah. Having presented the show the maximum number of times, it wouldn't be wrong to say he's its biggest draw as well.
Riding on the success of Bajrangi Bhaijaan and Sultan, he peppers season 10's inaugural episode with reminders of the same by dancing to its theme song and snapping selfies while giving the viewers a tour of Bigg Boss's colourful abode with scenes of Armaan Kohli-Tanisha's blossoming romance in the garden, Sunny Leone's pole dance in the entertainment area, Gauahar Khan grumbling at the cameras while setting up the dinner table and Dolly Bindra's deafening screams reverberating in the kitchen.
As part of this season's novel, fun theme, Bigg Boss does away with its strictly celebrity policy and includes equal number of common folk to provide stiff competition. True to his nature, the Dabangg hero has a ball chatting up some of the excessively enthusiastic contestants. He mocks, flirts, ribs, cackles and delivers, as you'd expect him to.
For most part things are fun barring the dull Deepika Padukone segment. The actress is basically there to promote her Hollywood debut, XXX: Return of Xander Cage what with Salman constantly referring to her as India's first international action star.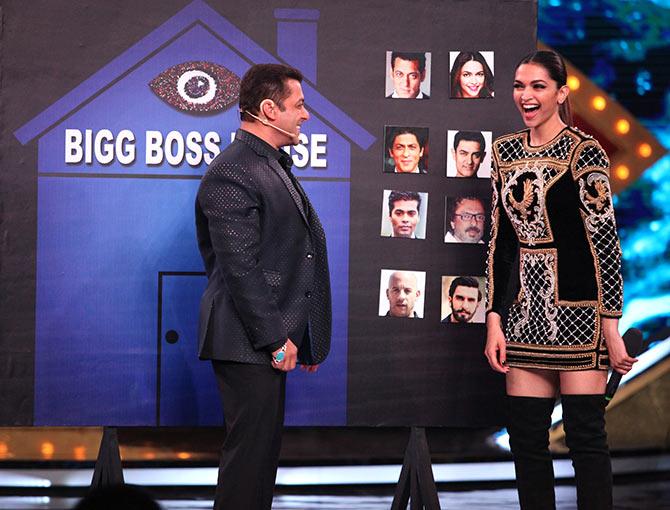 A certain Mujhse Shaadi Karogi co-star won't be too pleased. Deepika, looking stunning in a black and gold dress, picks Aamir Khan and Sanjay Leela Bhansali as celebrities she'd like to see in the house. But the shtick never takes off.
Sense of humour was never Deepika's strong point. When she's sent inside the house to fool the contestants into thinking she's one of them, she's too awkward to make something of it. The Piku star simply cannot hide that 'rather be somewhere else' sentiment obvious in her forced to feign interest expression.
Did you like the opening episode of Bigg Boss 10? VOTE!
Meanwhile, here's a quick first impression of the celebrity-comman man mix hoping to grab our fancy for the next 15 weeks.
Swami Om Ji Maharaj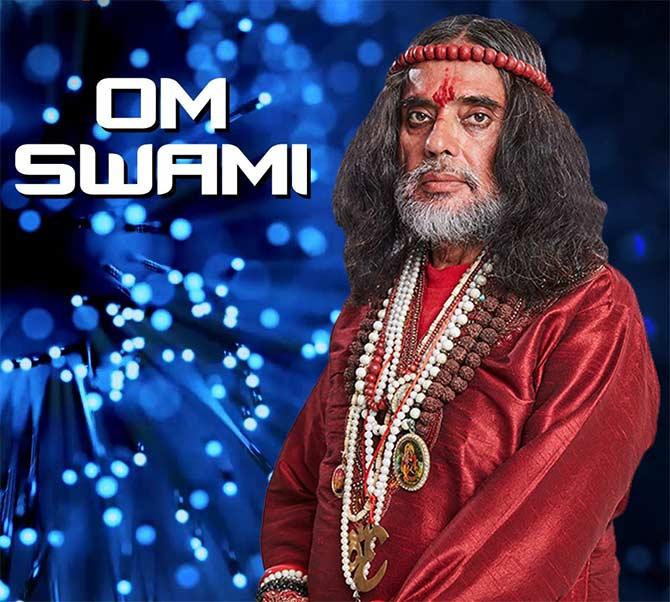 The orange-clad soothsayer is quite a talker. Besides a burning ambition to turn the world into Ram Rajya, he also promises to find a, er, sukanya for the show's star host and make him the world's biggest star. When Salman proposes Shah Rukh Khan's name instead, Swamiji rejects it saying he's no Fan of the Baadshah.
The garrulous sadhu's super powers include surviving on one hour's sleep and turning any place into paradise as soon as he sets foot. Expect some wacky brand of entertainment from the gentleman in orange.
Liked Swami Om Ji Maharaj? Vote!
Lopamudra Raut
The beauty queen is easy on the eyes, light in the head, swallows a fly and humours the babbling, mantra-chanting, footage-hogging Swami as he promises to help her become the winner of Bigg Boss and Miss World pageant. From the looks of it, she wears her crown at all times.
Liked Lopamudra? Vote!
Manveer Gurjar
The 29-year-old Aghapur native sporting Akshay Kumar's Gabbar look is dripping in attitude. The overconfident bloke takes pride in his waywardness and rattles off lines like slogans.
No wonder his estranged daddy hasn't spoken to him in half a decade but agrees to forgive after Salman acts as a go-between. It's all dangerously filmi so far.
Liked Manveer? Vote!
Nitibha Kaul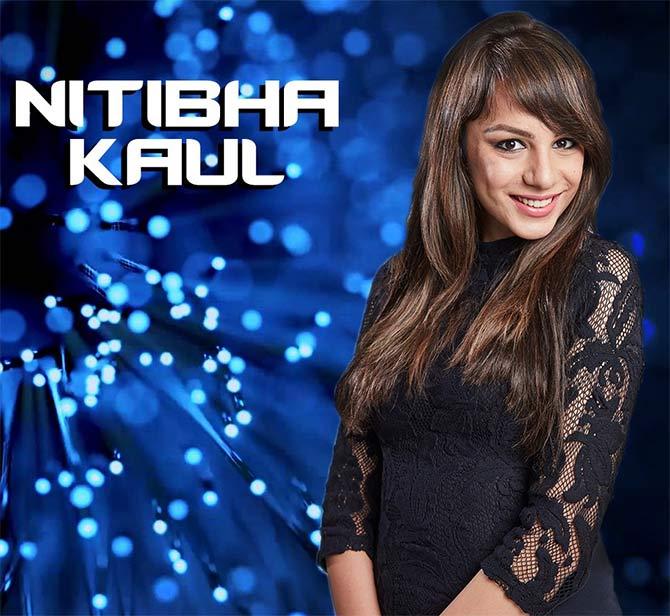 This Google India employee, actually ex-Google India employee, she quit her job to participate in the show makes eyes at our star host, flatters him as her ideal man and even croons a Salman song from Hero. Smooth.
Clearly, the lady knows impressing Bhai is never a bad thing.
Liked Nitibha? Vote!
Rohan Mehra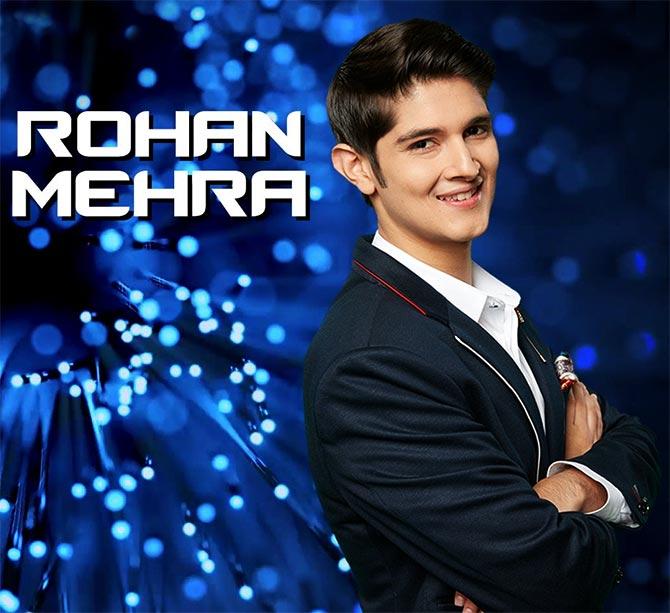 The young TV actor seems to be a sweet, compliant sort. Unless he plans to be food for sharks, he better prove to be more than that.
Liked Rohan? Vote!
DJ Bani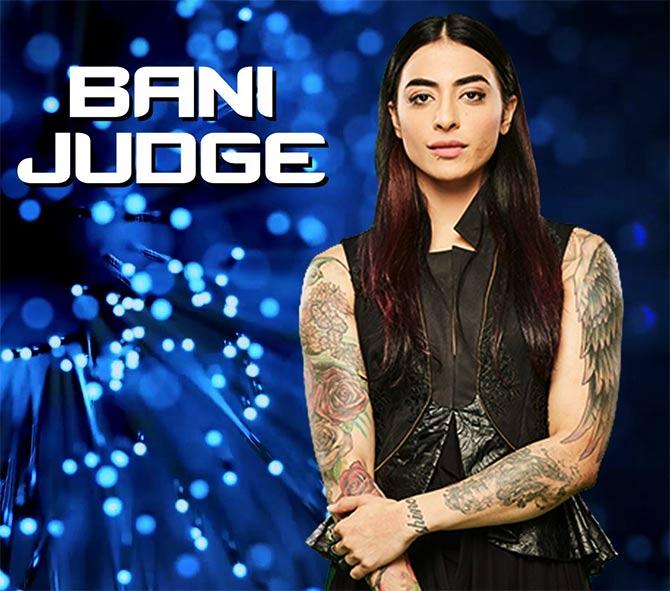 Although she's never watched Bigg Boss before, Bani seems like a natural fit for the show's format. Ignore the John Travolta's Battlefield Earth hair and the ex-Roadie impresses you with her sorted but headstrong outlook.
And, boy, the woman sure can live up to a sari challenge.
Liked Bani? Vote!
Lokesh Kumari Sharma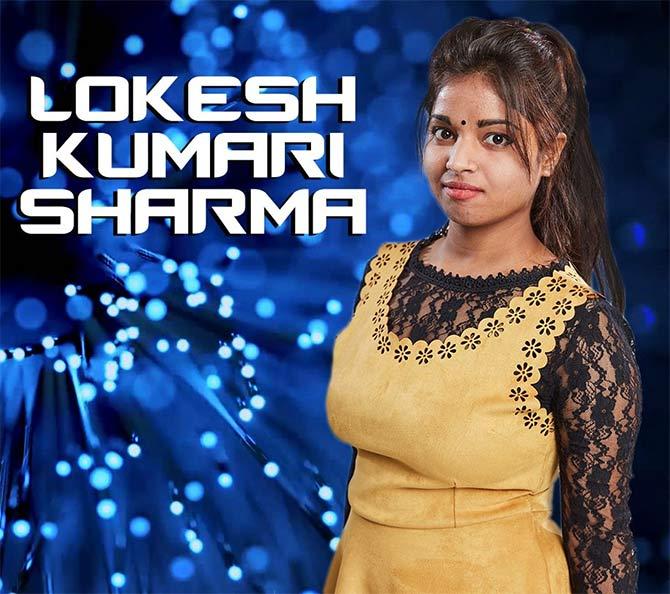 Main Priyanka Chopra banna chahti hoon! Everything about this childish chatterbox and hard-core consumer of Bollywood, head to toe, screams dhinchak.
Five minutes of the Dilliwali's screechy voice and dismal wit, one feels sorry for the inmates already.
Liked Lokesh? Vote!
Karan Mehra
All shiny, sparkly and well behaved like those cloyingly sweet, sanskari guys on small screen; Karan Mehra cuts quite a gracious picture.
Whether he's genuine or sham, the next few weeks will reveal.
Liked Karan? Vote!
Akanksha Sharma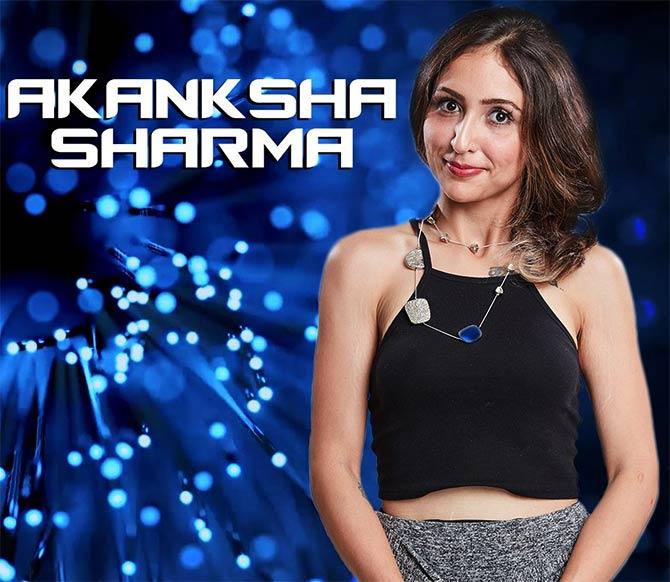 Sharma tells her story as a victim of a bad marriage hoping Bigg Boss will provide her the opportunity to demonstrate girl power and obtain a divorce from cricketer Yuvraj Singh's younger brother, Zorawar.
Hard to see how a reality show can achieve that target unless she plans to shame them publically? Curiouser and curiouser.
Liked Akansha? Vote!
Gaurav Chopra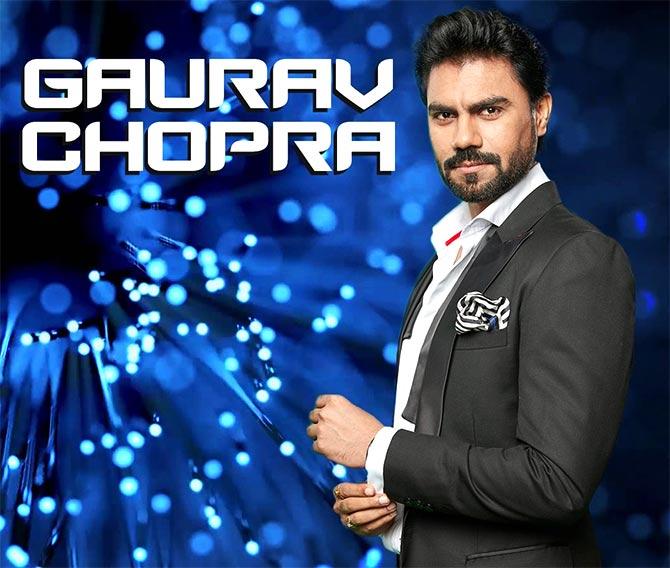 Known for playing negative characters on the idiot box, Chopra is every bit the seasoned crowd pleaser eager to wins people's hearts.
Liked Gaurav? Vote!
Manoj Punjabi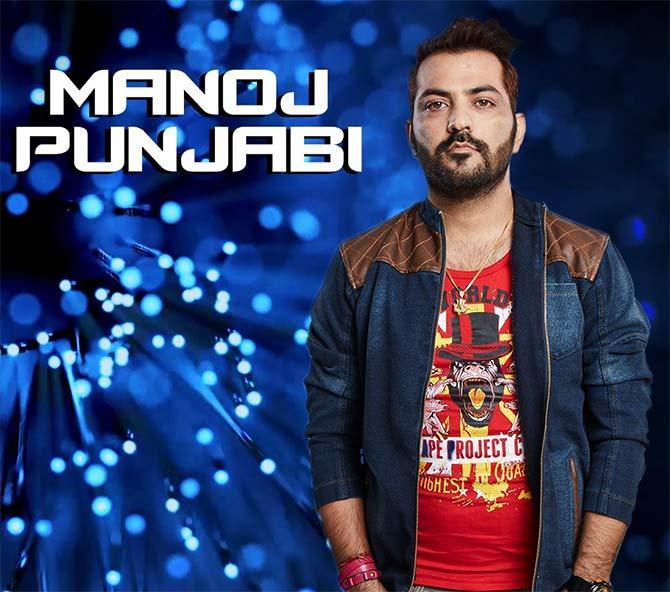 Not one to back off from an argument asserts Jaipur based businessman Manoj Punjabi. Whether it's his USP or undoing remains to be seen.
Too bad neither he nor Gaurav get enough screen time to make much of an impression.
Liked Manoj? Vote?
Priyanka Jagga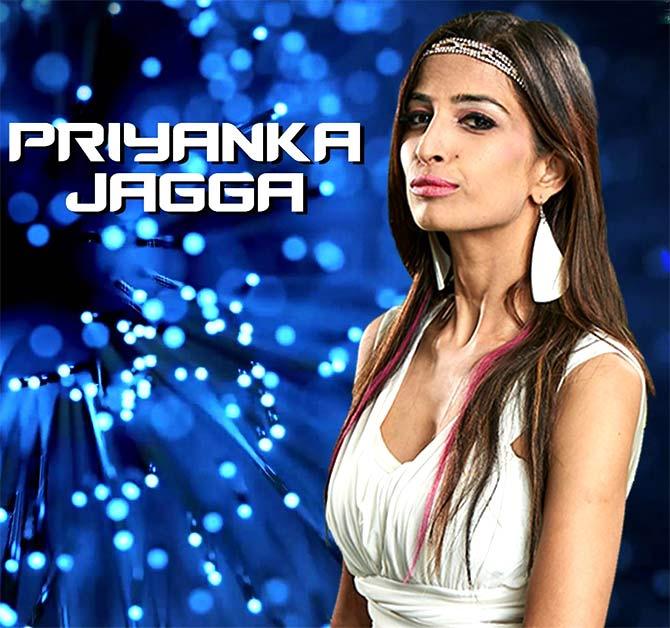 Idioms like -- Give them an inch and they'll take a mile – were probably created after meeting the likes of Priyanka Jagga. Within seconds, we've learned about her dating history, romance history, motherhood history, two precocious kids, blah, blah, blah.
Look out for a 24/7 Priyanka show on Big Boss.
Liked Priyanka? Vote!
Rahul Dev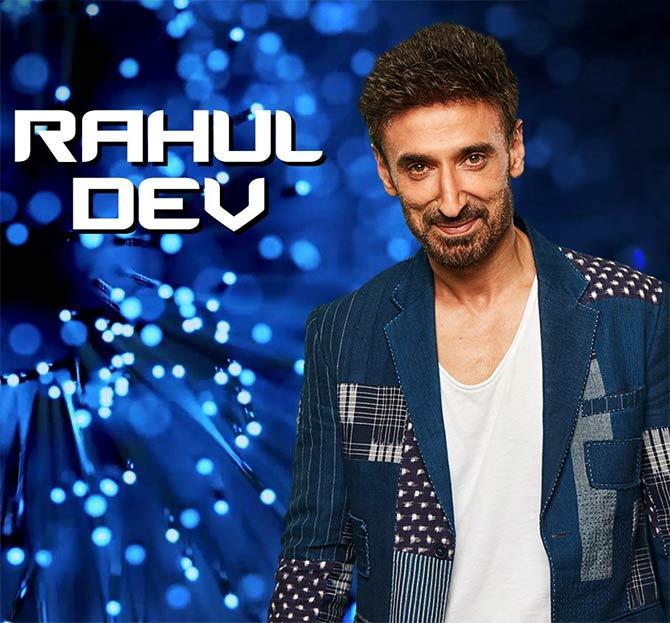 Model turned actor Rahul Dev's fierce on screen persona is nowhere to be found in his unassuming, almost to the point of lacklustre, impression.
Maybe the mad house will bring out a more energetic side of him.
Liked Rahul? Vote!
Navin Prakash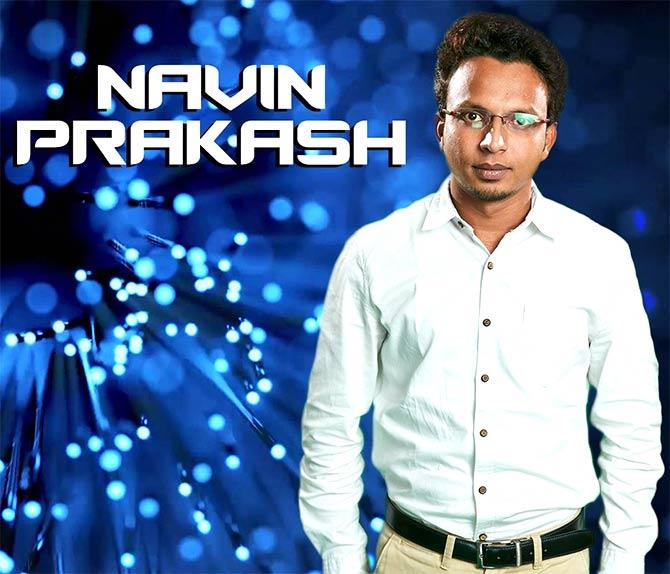 The video clip showcases a sensible teacher from a humble background. In front of Salman, we witness an ambitious, smart and shrewd achiever whose resume worthy attributes includes a two minute commentary on Arnab Goswami's News Hour.
If the man gets himself heard around someone who doesn't let anyone talk, he definitely cannot be underestimated.
Liked Navin? Vote!
Antara Biswas aka Mona Lisa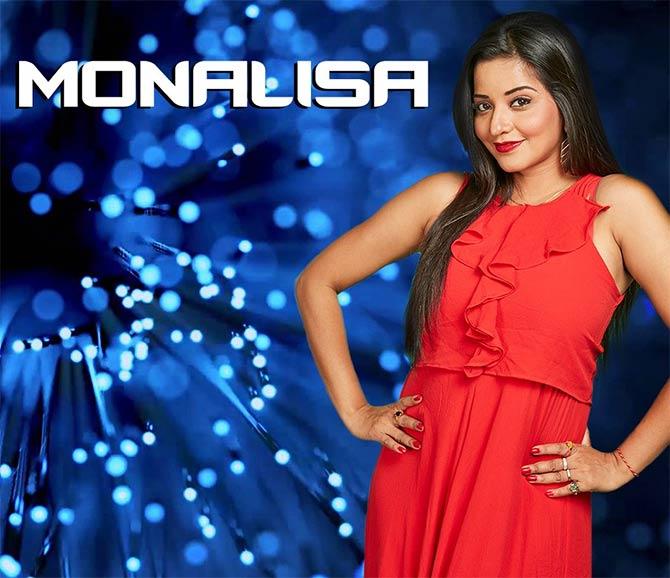 The Bhojpuri starlet sure can shake butt but doesn't get any talking time. Will she be this season's Shraddha Sharma?
For now, as per Bigg Boss's orders, she'll just have to contend performing servile duties while the common inhabitants of her new home slip into the role of masters.
Brace yourself for fifteen weeks of friction and fireworks.
Liked Antara? Vote!
Rediff Rating: