'Salman Khan should be booked under the National Security Act as he is destroying Indian culture.'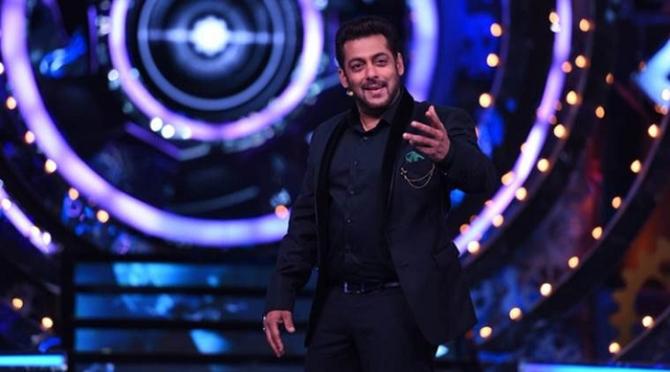 Bigg Boss, the hugely popular reality show hosted by movie superstar Salman Khan, is no stranger to controversy and this year too, it has created an uproar.
Nand Kishor Gurjar, the Bharatiya Janata Party legislator from Uttar Pradesh's Loni assembly seat, has written to Information and Broadcasting Minister Prakash Javadekar, asking him to immediately stop the telecast of the show, alleging that it 'spreads vulgarity and is hurting the social morality of the country'.
In his letter to Javdekar, Gurjar writes, 'The show is against the cultural ethos of the country and highly objectionable intimate scenes are a part of it. Couples of different communities are being made to share a bed with one another, which is unacceptable.'
"After Big Boss, love jihad will get encouragement," Gurjar tells Syed Firdaus Ashraf/Rediff.com.
Why have you written to the I&B minister against Bigg Boss?
One task, 'Bed Friends Forever', which was undertaken by the participants in the reality show, is against Indian culture. Unmarried men and women are being made to share a bed, which is very vulgar.
On one hand, the country is progressing and on the other hand, these people are corrupting the minds of children and teenagers, which leads to rape.
Moreover, there is a Brahmin girl in the programme and a Kashmiri Muslim boy. This leads to love jihad. Bigg Boss is promoting love jihad.
Akshay Kumar makes patriotic movies, but here Salman Khan is spreading vulgarity through Bigg Boss.
I am happy that the I&B ministry has sent a notice to the show. I am demanding that the National Security Act be imposed on Salman Khan.
NSA! That's ridiculous! Do you think Salman has really committed such a big crime?
If Salman Khan is destroying Indian culture, then he must be booked under NSA.
It is rashtradroh (anti-national). He is destroying the new generation.
The rules need to be amended for telecasting such programmes. India is suffering because of programmes like Big Boss.
What is this Brahmin girl and Muslim boy case that you mentioned?
You see the programme and in episode 13 there is a Brahmin girl and a Kashmiri Muslim boy. Indians are feeling hurt because of this move.
Prime Minister Modiji is spreading Indian culture across the globe and our culture is flying across the world. I am grateful that the government has taken cognisance of my complaint and sent a notice to the channel.
But Salman Khan is known for his charity and here you are calling him anti-national.
The other two Khans (Shahrukh Khan and Aamir Khan) are no good, but Salman, I always believed in his good deeds. But after seeing Big Boss, I have my doubts.
Salman is making unmarried men and women sleep in the same bed which is against Indian culture. Young Indians will now to emulate this in real life.
I feel some foreign funding is happening for this serial.
Big Boss is known for controversies. In the past too, there have been issues. So, why are you outraging now?
Please see the bed scene. It is horrible. Now paani sar se guzar gaya hai (it has crossed all limits). Entertainment is good, but it should be within limits.
What about personal and creative freedom?
You must know your limits. This cannot be freedom. You are trying to excite young boys and girls to sleep in one bed before marriage. And they are showing that on TV. What lesson are you teaching the young boys and girls of India?
Things have turned so bad in our country that a Class 8 student is being raped.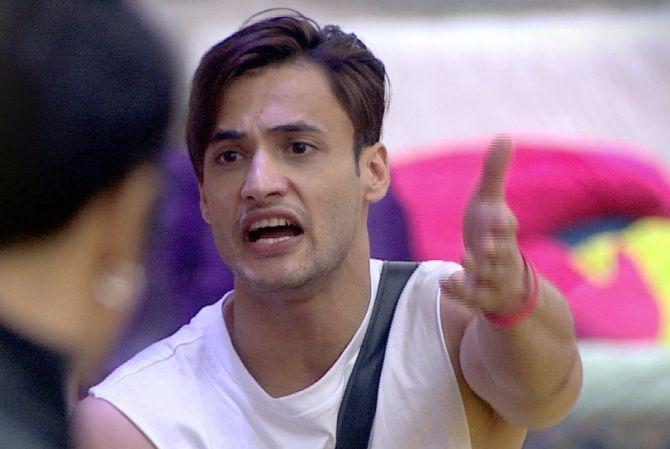 But live-in relationships are a fact of Indian society today.
That is wrong. But after seeing Big Boss, the concept of love jihad will get encouragement. There will be more rape and crime.
PM Modi is trying to build the nation and Big Boss is destroying India.
If you don't like Big Boss, why watch it? Change the channel. You have an option.
If someone is involved in rape, then won't I go and stop it?
Man is a social animal and he has duties towards society. How can I ignore it? It is our duty to stop such vulgar programmes.
But this is adult content and features on television late at night.
The timing has changed now; it is now aired at prime time. At prime time, they are showing these men and women sharing a bed!
Entertainment should be within limits. More so, please check the bad language being used in Bigg Boss. People come to India to say 'Hare Ram, Hare Krishna', and check where they are going with this serial.
I want the show to be banned and these people should be arrested under the National Security Act.
Invoking NSA is dictatorial, don't you think so?
If it is in the interest of the nation, then you must do it. If someone's daughter is raped, then his life is over forever.
In our country except our wife we see all other women as our sisters, mothers or aunts and in this country. What are we doing with programmes like Big Boss? It must be banned.