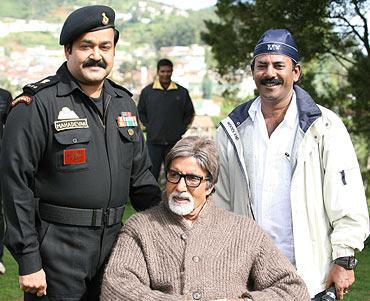 Now this is a picture you don't get to see very often.
Amitabh Bachchan, Mohan Lal and Major Ravi together make an impressive picture. 
The trio are part of Kandahar, an action thriller based on the infamous Indian Airlines IC 814 hijacking.
Major Ravi's experience in the Army helped him make a mark in the world of cinema as a director of authentic war and action films with Keerthichakra (militancy in Kashmir) Mission 90 days (Rajiv Gandhi assassination) and Kurukshetra (Kargil war).
His latest Kandahar is a tri-lingual film (Malayalam, Hindi and Tamil) co-produced by Mohanlal's Pranavam Arts.
It stars Amitabh Bachchan, Mohanlal and Ganesh Venkataraman of Unnaipol Oruvan fame in the lead.