'I have seen garibi to amiri.'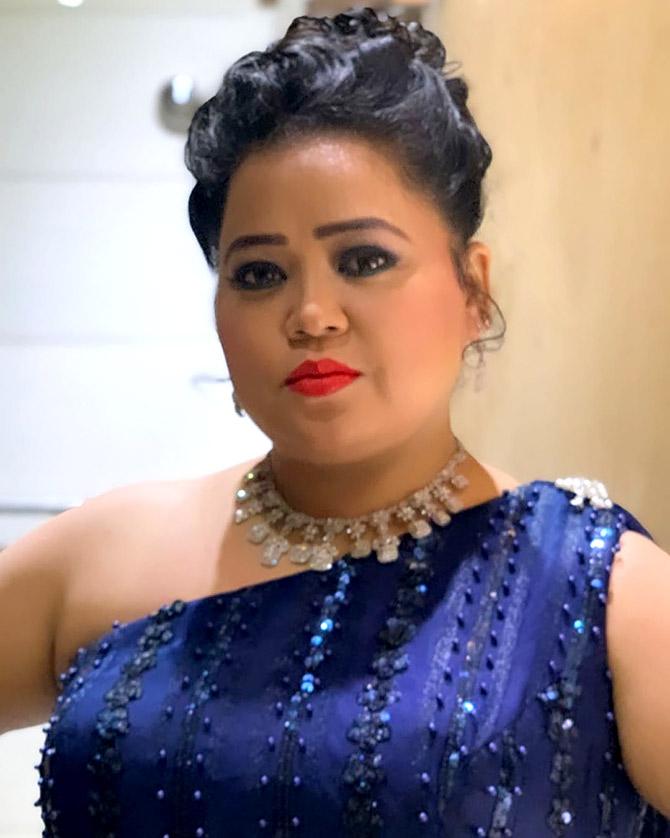 Even in the lockdown, comedy star Bharti Singh is entertaining fans!
Her reality show Entertainer No 1 streaming on Flipkart Video sees her mentoring contestants along with Raghav Juyal.
"When I go to villages for government mahotsavs, people don't know who Akshay Kumar is, but they know who Bharti and Kapil Sharma are," she tells Rajul Hegde.
Entertainer No 1 has got a good response.
It's a fantastic stay-at-home reality show where audiences can bring out their creative best, use anything as their prop and perform under the video section on the Flipkart app.
Usually, people judge me for my performances but here, it's the other way around.
It's interesting to see how the entire family is involved in making the videos.
The show is currently in its finale where the top contestants are battling it out for India's most votes to win the title of Entertainer No 1.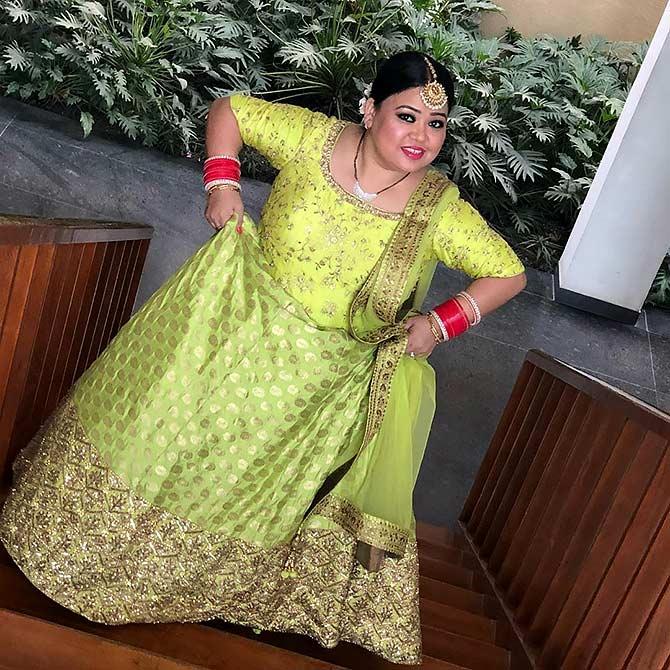 Do you think reality shows on phone devices will lead to opportunities?
Absolutely! I don't think coronavirus will end so soon.
With a minimum crew, if you can shoot such shows at home, then why not?
I think in future, you will get to see more such shows on phone devices.
How much has the lockdown and social distancing affected you personally since you do a lot of live shows?
The lockdown has affected all the artistes, especially the daily soap artists and the new faces of the television industry.
As far as the live shows are concerned, after marriage I have cut down on them.
I work only three days a week, as I have to balance my family and work.
I am a typical Indian woman, who loves to buy vegetables, cook food and take care of the house.
I have turned down a lot of live shows abroad, which require time (one-and-a-half months) and travelling.
I can't afford to give that much time, as I am married now.
So live shows doesn't make much difference to me. But yes, it has affected people, who are dependent on live shows.
I have worked in this industry for more than a decade, so I am able to survive with my savings.
Imagine the difficulty of people who are working as a lightman or a spot boy.
All are sitting at home without any income.
People ask me if I am doing anything for them.
My staff is my family and so they are taken care of.
We have formed a WhatsApp group and I keep entertaining them, so nobody is depressed.
I hope the situation improves soon and we return to normal.
You must have got a lot of content during the lockdown.
I have come up with a new stand-up, and I will use it whenever I do live shows.
Aaj kal har koi mujhe phone karte toh bolte hai: 'Bharti aur Haarsh tum logon ke paas time hai, bacha karlo abhi (Bharti and Harsh, you have time now, please have a baby).'
But I can't plan a baby in such tension!
I want my baby to come in a healthy environment.
Right now it's risky to even visit a hospital for a pregnancy test.
A lot of actors have featured on your comedy show. What kind of equation do you share with them?
I have an excellent equation with Akshay Kumar, Salman Khan and Varun Dhawan.
When Shah Rukh Khan comes on our show, if he sees me walking towards him, he will get up and walk towards me. I feel so good.
Sometimes, I wonder is this the same Bharti, who came from Amritsar 12 years ago and had been scared wondering how a Punjabi-speaking person would survive in front of these English-speaking people?
Lekin, log apke talent se pyaar karte hai.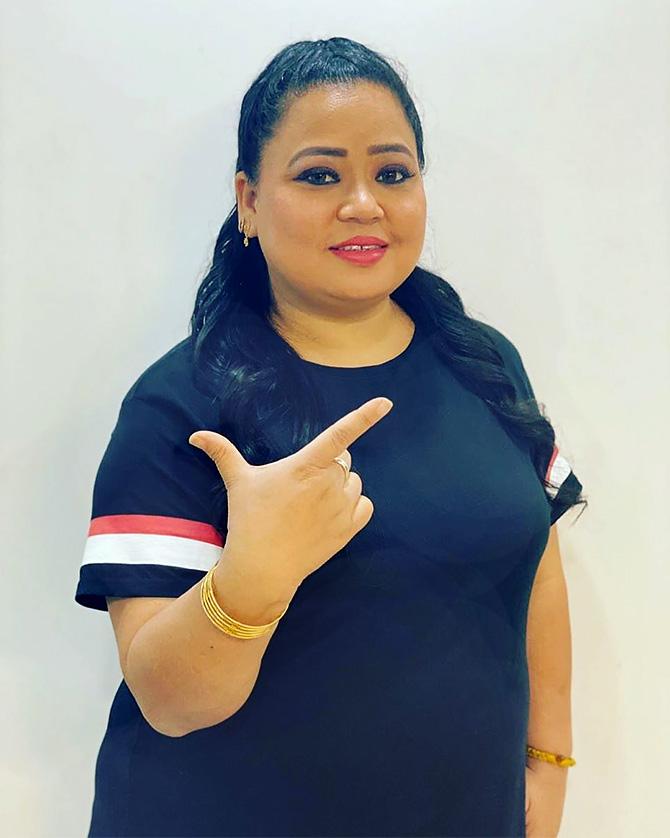 You seem comfortable with Rohit Shetty too.
Rohit Shetty is one of my favourite people in the industry.
He says what is in his heart, there is no pretense.
I have done two seasons of Khatron Ke Khiladi with him.
He is a very sweet person.
Since we have started our production house, he gives us tips like an elder brother.
Have you been speaking to Kapil Sharma during the lockdown?
Of course, everyday without fail!
Kapilbhai keeps sending me SnapChat videos adding filters, saying he is bored sitting at home.
He sends these funny videos of him as a dog, a bird and a cat and asks me to meet him after the lockdown.
I'm waiting to meet his daughter.
He loves travelling, so we call each other and make travel plans for the next year end. Like, should we go to Spain, Greece or Ibiza?
We are just planning.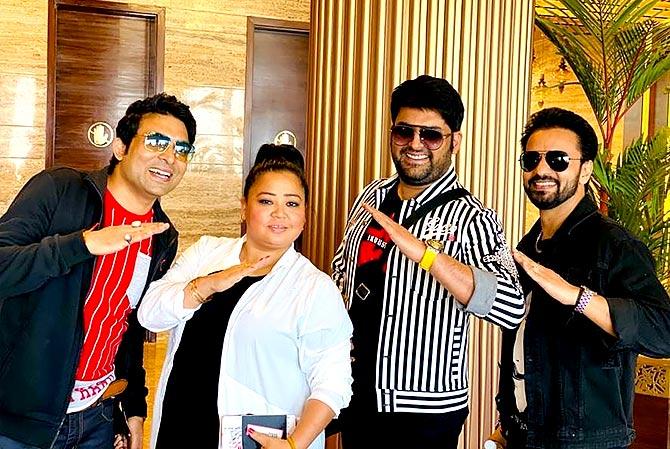 You consider him your mentor.
I consider Kapilbhai as my godfather.
He is the one who got me to stand-up comedy.
In college, I was good in sports; I was a national level rifle shooter.
I would joke around amongst my friends, but I could never do comedy on stage.
Kapilbhai would come to our college for youth festivals. He saw me mimicking someone in the campus, and asked my theatre teacher to call me. He asked me to join theatre.
After the audition, he asked me to say four lines. I said no but he pushed me.
Later, he helped me get to a play in Amritsar theatre on weekends. I would get Rs 600 for two days, and make Rs 3,000 per month. That was a big help.
Since I was in sports, I would get coupons for fruits and juices after the practice but I would save them for my family.
I will always be grateful to Kapilbhai.
I know he was a little depressed and disturbed in between, but everything is sorted now.
His wife Ginni is my dear friend.
Life has changed beautifully for him after his marriage and daughter Anayra.
How has been your journey been in the last 12 years?
I lost my father at the age of two.
I was the most talkative among my siblings.
We were very poor and my mother struggled for us; she used to work as a cook in different houses.
Most of my childhood was spent in poverty.
When I got selected for Laughter Challenge, my relatives were against me coming to Mumbai.
The mindset in the village was that every director in the film industry are like Bollywood villains and they take advantage.
Uneducated people in the village think that girls can make a name for themselves only when they do a wrong thing.
But my mother was very clear that she would take me to Mumbai as she didn't want me to think later in life that I got a chance but she didn't allow me.
After I came to Mumbai, I made use of the platform.
Now, people know me as Bharti Singh only because of Laughter Challenge.
Sometimes when I go to these villages for government mahotsavs, people don't know who Akshay Kumar is, but they know who Bharti and Kapil Sharma are.
TV is such a strong medium that even the poorest of the poor can watch TV unlike movies, which are expensive.
And by default, we are on TV every weekend (laughs).
My last 12 years journey has been like a Cinderella story -- I have seen garibi to amiri.
I have reached here because of my hard work.
I felt so proud when I bought a house in Mumbai.
My mother still doesn't know which car is big or small.
When I brought a Mercedes, she said, 'Innova achi nahi thi? Usme zyada lambi seat hoti hai.'
I have a mother who thinks if she goes to buy a vegetables, dhanya should be free.
I want her to be the same throughout her life.