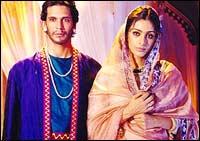 Ever thought of Lion King and Amitabh Bachchan coming together in one film?
Come August 26, Bhaggmati: The Queen Of Fortunes, will become purportedly the first Indian film with real life characters interacting with their animated colleagues.
Based on the love story of Prince Qutab Quli Shah of Golconda and local lass Bhaggmati, "real characters talk, sing and dance with animated characters (in the film)," says Ashish Kaul, the marketing and distribution head of the film, which is being made by the Zee Network.
Directed by Major Ashok Kaul, it stars Tabu, Hema Malini and Milind Soman, besides a host of animated characters. Tabu plays an archaeology student who visits the Golconda fort to study the lives of Qutab Quli Shah and Bhaggmati. She meets Milind Soman, a descendent of the Qutab Shahi dynasty.
"As she goes through her research, her interpretation of the findings about the lives of these characters find their expression through animation," says Ashish Kaul.
Made with a budget of Rs 50 million, Bhaggmati also has songs and dances picturised on animated characters. Vishal Bharadwaj of Maachis fame has composed the music.
"The film has been made entirely with the help of Indian technology and expertise. The fact that 110 people worked tirelessly for over three years without any international technology is the USP of Bhaggmati," says Kaul.
The two hour and 40 minute film has about one hour and 35 minutes of animation.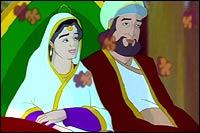 Zee Institute of Creative Arts (ZICA) --  the animation wing of Zee -- claims the quality of animation is as good as Walt Disney and Steven Speilberg productions. "ZICA has created the animations at a cost much lesser than Hollywood," says Kaul.
An entirely animated Shiv Tandava promises to be a major attraction.
Kaul adds that the main aim of making Bhaggmati is to showcase Indian animation to the world. "We are planning to release this film in different languages all over the world. The international release of the Hindi version will release two weeks after the nationwide release this Friday. We are also hoping to attract more business from all over the world with the making of this film," he says.
ZICA has previously worked for European animation channels like Mondo and Mallard.