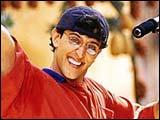 The Hindi film award functions are a very diplomatic affair.
It strikes me that they are more an exercise in making everyone happy than a true and fair assessment of the talent in the Hindi film industry. Also, there is this amazing practice of including strange categories.
Take last year's awards. In order to accommodate two blockbusters, Lagaan and Gadar: Ek Prem Katha, Zee Fairglow Cine Awards 2002 had a Best Actor category and an Outstanding Performance Of The Year category for the two actors.
This year, an awards ceremony organised by the Lions Club of Mumbai saw a strange category. Since 2003 saw quite a few good directors, they awarded the Best Director Award to Rakesh Roshan (Koi... Mil Gaya) and invented another category for Rajkumar Hirani (Munnabhai MBBS): Best Kid Director!
Hrithik Roshan's act as a mentally challenged youngster in
Koi… Mil Gaya
is everyone's favourite this year. For an actor who is barely three years old in the industry, to do a non-hero role like this requires guts and talent.
While he may deserve the award, I cannot help wondering about the other just-as-deserving actors. Saif Ali Khan put up a great show in Kal Ho Naa Ho, even better one than costar Shah Rukh Khan. To put him in the Best Supporting Actor's category would be unfair to him. He was, in no way, in a secondary role.
Of course, Filmfare Awards has a tendency to award SRK almost every year, whether in a debut role, Best Actor category or Best Villain category. His track record shows ten Filmfare Awards.
I cannot, for example, see him do a Hrithik Roshan in Koi… Mil Gaya without stuttering and hamming. Nor can I see him do an Aamir Khan in Rangeela, though he did try very hard in Josh. And I certainly cannot see him do a Sanjay Dutt in Munnabhai MBBS (the role was originally written for Shah Rukh). Can you?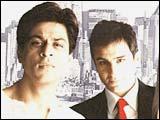 So Shah Rukh has his own style. But isn't he getting too repetitive?
This year, he is a strong contender for Aziz Mirza's Chalte Chalte, where he played a truck driver with marital problems. The film fared well but I have seen SRK in better performances. But, of course, SRK will definitely get a share of the awards cake.
Which brings me to actors who really deserve the award. Ajay Devgan had as many as six releases last year. I have watched only two of these: Bhoot and Gangaajal. I thought he was great in both. Not once did he go overboard as the terrified husband or the angry young cop.
Amitabh Bachchan is another deserving candidate for his superb role in Baghban. Even at this age, the actor is able to hold audience interest and command housefull boards. Costar Hema Malini, who returned to films after a long gap, gave him able support.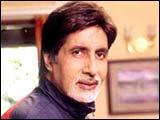 And while I did not think much of Salman Khan in Baghban, he did a good job in Satish Kaushik's Tere Naam. Playing an ex-student who falls in love and then lands up in a mental asylum, Salman did well. While some portions of the film in the mental asylum may seem unreal and Salman's character may go overboard at times, the actor certainly qualifies in the award race.
Among the actresses, Urmila Matondkar has proved her salt. Unfortunately, I got to watch her only in Bhoot and missed out on her other critically acclaimed film, Pinjar. Urmila, sans makeup and glamour, did a brilliant job of being possessed by a spirit. Her helplessness, her fear and that evil glint in the eye were well portrayed.
But the actress may lose out to the more popular Preity Zinta, who gave two blockbusters to the industry last year: Koi…Mil Gaya and Kal Ho Naa Ho. Though Preity was refreshing in both the films, Urmila remains my top favourite.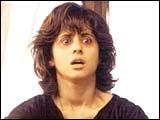 An underrated actress who may not even be nominated is Sushmita Sen. The former Miss Universe did a cool Jodie Foster (Silence Of The Lambs) in Samay: When Time Strikes. Sen, who can do both comedy and serious roles well, has still not found a niche in the industry.
Who do you think should win the Best Actor/Actress Awards? Write in!
Before I sign out, let me list my favourite films of the year:
* Koi…Mil Gaya
* Bhoot
* Kal Ho Naa Ho
* Tere Naam
* Darna Mana Hai
* Waisa Bhi Hota Hai Part II
Let me know which films you think should make it to the hall of fame!