Home > Movies > Reviews

Another ace for Ajay!

Deepa Gumaste | August 29, 2003 11:18 IST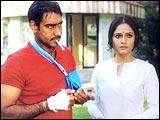 Twenty years after Govind Nihalani made Ardh Satya, conscientious cops in Hindi cinema are still trying to overcome the same hurdles Anant Welankar stumbled against.
There is deep-rooted corruption in the police force, there are politicians. And there are feudal lords (often you cannot tell the difference). And their wayward gun-totting sons who have a penchant for terrorising the neighbourhood. And the honest police officer who gets stick from both ends.
| | |
| --- | --- |
| | Write your own review! |
| | |
Prakash Jha's Gangaajal (co-produced by Manmohan Shetty who also produced Ardh Satya), is no different. It follows in the footsteps of E Niwas' Shool, one of the better Hindi films about the predicament of an upright cop who takes on a degenerate system.
Jha makes things a little easier for himself by not making his hero a low-ranking inspector. Instead, Amit Kumar (Ajay Devgan) is the new Superintendent of Police in charge of a notorious district in Bihar called Tejpur.
Tejpur, which lies on the banks of the Ganga, is a particularly lawless town ruled by the father-son duo of Sadhu and Sundar Yadav (Mohan Joshi and Yashpal Sharma). Even the DIG of police, Amit's boss, and the state home minister turn their eyes away from the Yadavs' crimes.
Moreover, just about every officer working under Amit is on their payroll.
| | |
| --- | --- |
| | More on rediff.com! |
| | |
So when Amit tries to clean up the system, he meets with stiff resistance from within and without. His idealism rubs off on one of his subordinates, Bachha Yadav (Mukesh Tiwari), who turns against his mentor Sadhu Yadav and stands by his boss.

When Bachha and three of his subordinates vent their frustrations on two of Sundar's cronies in police lock-up by blinding them with acid (a reference to the Bhagalpur Blindings of 1979-1980 when 30 undertrials were blinded by policemen), the situation spirals into a crisis that gets out of everyone's hands, including that of the filmmaker.

Suddenly, Amit becomes a social crusader than cop, with the entire population of Tejpur standing by him. Good and evil neatly stack up against each other. There are tokenisms like a bad cop whom Amit has suspended suddenly reforming into an honest tea-stall owner, making a very mushy speech about his makeover with a Raj Kapoor song with a socialistic message playing in the background.

The symbolism of acid being described as the gangajal used to cleanse the system does not filter through the confusion of the post-interval mayhem.

But it is heartening to watch Jha's hero keep his idealism intact to the very end and not cop out and go on a killing spree like most other noble filmi policemen do in the name of justice.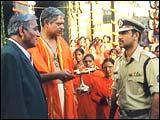 While Gangaajal doesn't have anything original to say, it is well shot, well edited and brilliantly enacted by most of the lead actors. Cinematographer Arvind K's visuals lend tremendous character to the discontented yet deceptively calm temple town (shot in Wai, Maharashtra) where the plot unfolds.
Wayne Sharpe's background score is outstanding. There is a stream of restlessness in the seemingly serene notes of the fusion music used in the background track. The film has one song. One wishes directors would do away with these raunchy item numbers, irrespective of whether they are relevant to the storyline or not.
Oh for a heroine who has a role to play! Jha seems to have spent all his creative energies on writing the character of Amit Kumar, his deputies and adversaries and forgotten all about the SP's wife (Gracy Singh), whose only role in the proceedings is to warn her husband about the hazards of smoking, caution him against drinking too much and heating the food.
Worse, Gracy Singh doesn't attempt to lend colour to her screen self. She only makes the heroine look like a caricature. Mohan Joshi repeats his Mrityudand (also directed by Jha) act by playing the supercilious villain with vigour. Yashpal Sharma, on the other hand, has essayed the hedonistic bad man so often in his short career that he has become totally typecast.
One of the most engaging performances in the film comes from Mukesh Tiwari. After a hyped debut in Chinagate five years ago, he finally gets a role that offers scope for histrionics. He delivers the goods without much ado.
Ajay Devgan pulls up an ace with a part tailormade to reinforce his seething-under-the-surface angry hero image. To his credit (and the director's), he brings style and grace to a largely stereotypical, righteous protagonist. To a great extent, his presence covers up the film's patchiness in the second half.
Director Jha does not take the problems addressed by Shool and half-a-dozen other films on similar lines much further. Also, he is rather simplistic with his solutions. But considering the fact that you rarely get to see justice being done outside the fictional confines of the movie halls these days, Gangaajal does offer solace and a sense of retribution.
CREDITS
Cast: Ajay Devgan, Gracy Singh, Mohan Joshi, Mukesh Tiwari 
Writer-Director: Prakash Jha
Music: Sandesh Shandilya
Producers: Entertainment One, Prakash Jha Productions
Want to see this movie? Check out Rediff Movie Tickets!


What do you think about the story?








Read what others have to say:





Number of User Comments: 47








Sub: great performance

hi ajay great performance in gangajal. i think u will defenetly win filamfare award 2003. inder


Posted by inder singh









Sub: for movies

koi mil gaya is very hit film


Posted by pankaj









Sub: Superb!!

Hi Reader, I have Seen this Movie its really wonderfull. Direction , acting specially ajay is mindblowing . See at least Once in Theater.& experience ...


Posted by avinash Trivedi









Sub: ajay & only ajay

ajay play a great role .his deep eyes & smoking style was realy amazing.gracy had a short but sweet play.


Posted by vishal sharma









Sub: nice movie indeed!

generally these type of films prove to be a boredom for ordinary and very 'cheap' people because no glamour no romance no special effect action ...


Posted by shailesh






Disclaimer