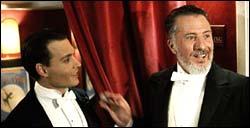 The first prestigious set of pre-Oscar awards was announced on December 1.
The National Board of Review of Motion Pictures Awards are just one of the many honours that aid bookmakers in gauging critical acclaim and predicting possible golden boys. A day ago, the Independent Spirit Awards unveiled its nominees for indie supremacy, with Alexander Payne's Sideways sweeping the ballot.
The NBR Awards, however, were more evenly (safely?) spread. It's a good time to be Peter Pan, as Johnny Depp's fanciful biopic about writer JM Barrie, Finding Neverland, was named 2004's best film.
The Best Actor nod went to the suddenly hailed Jamie Foxx, for his turn as the legendary Ray Charles in Ray, as the obvious obsession with true-to-life cinema continued. The Best Actress award went to Annette Bening for her portrayal of a stage actress in the applause-worthy Being Julia.
Thomas Haden Church, who won Best Supporting Actor, virtually reprised his former television star status in Sideways, and Laura Linney won Best Supporting Actress for Kinsey, reported E!Online.
The Best Director award went to Michael Mann, for his stylistic taxi drama, Collateral.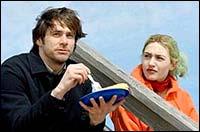 Eternal Sunshine Of The Spotless Mind and Garden State were saluted with Excellence in Filmmaking mentions. As was virtually inevitable, the sublime Sunshine also scooped up the Best Screenplay Award.
The two controversies of the year were excluded from the dinner table, but handed a consolatory 'Special Recognition' for their efforts: Mel Gibson's The Passion Of The Christ and Michael Moore's Fahrenheit 9/11.
In what will surprise nobody in the world, Oliver Stone was not mentioned.
The awards will formally be presented in New York City on January 11, 2005.
The Oscar nominations are due on January 25.