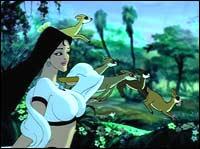 When Ashok Kaul directed
Paramvir Chakra
in 1994, he started a new wave of war epics. His new film,
Bhaggmati: The Queen Of Fortunes,
 is on the verge of revolutionising the way we perceive different and individual genres of filmmaking.
Bhaggmati is a blend of an animation film and live action. "The combination was earlier attempted in Who Framed Roger Rabbit and Space Jam, but not in any Hindi film. In those two films, animated figures were used as props like the monkey on Shekhar Suman's television show Pol Khol."
What about Hum Tum? "Yashji visited my set while I was making Bhaggmati. That's how animation clippings came into Hum Tum. My film was delayed because the process of blending the two formats took more than two years. I had to build a team to attempt the animation-feature film. People don't seem to understand how painstaking it was."
Bhaggmati claims world class animation

"The essence of the film is contained in a line from the film itself: 'Jo beete huey kal ko khojta hai ussey aanewale kal ka abhas ho jata hai. My film looks at life as an unbroken stream of consciousness. The live action is contemporary while the animated portions are period. Bhaggmati is not about reincarnation. In the film, I play with the past and present dimensions. I have argued both are equally alive. Even the Bhagavat Gita and Einstein's Theory of Relativity say the same thing. Our universe is a library of thoughts and actions. Nothing is destroyed. Whatever is and was will remain on this earth. There are two love stories in my film."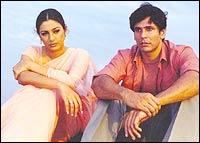 The director says the thought for Bhaggmati was hovering in his mind for 10 years. Ashok Kaul was provoked into employing animation. "Why should animation be used only for gags? I wanted to give the genre a new dimension. I was invited to New York University to lecture. One of the students asked why India made 1,000 films and hardly any animation. I decided then I would do the needful. I announced right there that I would make an intense love story rich in culture and nostalgia."
In Bhaggmati, animation has been employed to tell a complete story. "I have 95 minutes of animation and the rest is live action starring Tabu and Milind Soman. The narration is simple. People are already curious about the theme. I wanted to elevate animation from it being a frivolous leisure pursuit. I wanted the animation characters to be close to reality. Tabu and Milind have the classic look. When the film moves from animation to live, the actors don't let you feel the change."
"It's my six-year-old dream," Kaul says and adds, "I admit I was apprehensive about the uniqueness of Bhaggmati. But turning points have always been scary in history. I remember after Paramvir Chakra, the American Cancer Society invited Hemaji (Malini) and me. She was given a suite while I was given a small single room. After the film's screening, I was given a suite. I hope to be elevated similarly after Bhaggmati."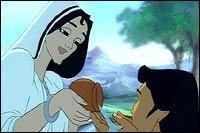 Kaul's leading lady Tabu has abandoned the film's marketing. The director prefers to be mum on the issue. "I come from the army. I know how to fight battles. Each film is a battle. I was very  close to Raj Kapoor Saab. But I never sought his help. I don't need Tabu to sell my film. Let it be released."
Perhaps as an after-thought, he adds, "I told Tabu to see Chariots Of Fire. The last race is always the most decisive. She lost interest during the final race. My team of youngsters worked 15 to 16 hours a day. In the last four years, I took only a day off -the day my mother died."
Bhaggmati, with an estimated budget of Rs 150 million, releases with Nagesh Kukunoor's Iqbal. "This film is meant for the youth of our country. The underdogs need to see a silver lining. The day they see the horizon, our country will come back with 50 gold medals from the Olympics."