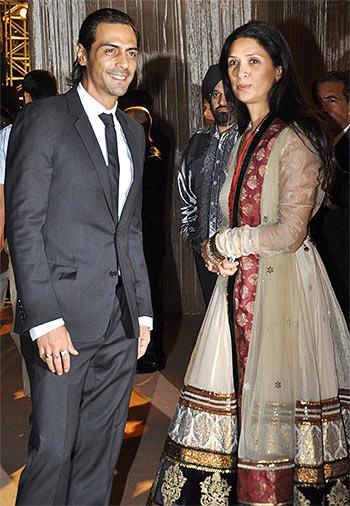 A look at the top tweets from your favourite Bollywood celebrities:
Roy actor Arjun Rampal, who, along with wife Mehr Jessia, has been in the news ever since close pals Hrithik Roshan and Sussanne Khan got divorced, was left furious by fresh divorce rumours.
'My wife and I where at Bandra court filing a divorce? Say, Midday & few others. U know it's really easy to find that out. Did u bother? The state of affairs about journalists in India.They on group chats on wasapp and cook up stories.Thats where news is made. That's the truth,' he posted on Twitter.
'The truth about Bandra court? The couple were old friend Marc Robbinson and Wallucha. Oops they got their facts all wrong again. From today I refuse to do any personal interviews or discuss my personal life with any media person.Mind your own business,' he added.
***
Divya Khosla Kumar down with swine flu
After Sonam Kapoor, actress-turned-director Divya Khosla Kumar is the newest Bollywood celebrity to be diagnosed with swine flu.
Bringing her Twitter followers up to date with her health, she tweeted: 'On bed rest. My son and I have been affected by swine flu. Hope to get back to work soon. The virus is spreading fast. Please take care.'

***


Farhan Akhtar performs at UN for gender equality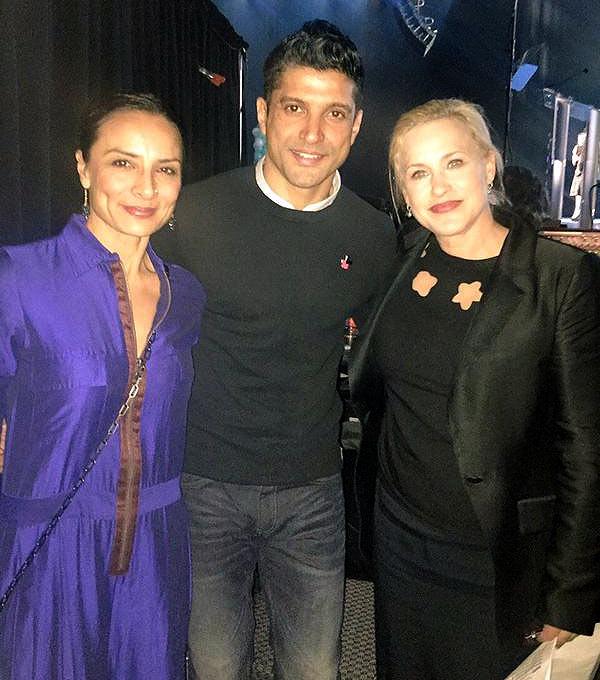 Goodwill Ambassador and Bollywood star Farhan Akhtar recently performed at the Planet 50-50 by 2030: Step It Up for Gender Equality event, held in New York.
He shared a picture from the event and tweeted: 'With the inspirational @PattyArquette who spoke on equal pay for women in the U.S.'
Akhtar also condemned the ban on the controversial BBC documentary India's Daughter: 'Watched #IndiasDaughter last night at the U.S. premiere in NYC. Raises some serious questions about the concept of masculinity. The filmmakers intent is clear. It is not to defame India but use an event that reverberated around the globe as the basis for her study.

'The directors focus on the aftermath ie public outrage/protests/amendment of law speaks volumes of our vibrant democracy. I humbly appeal to the concerned ministry that they lift the ban on this film. It's only effect is that of introspection. '


***
Ken Ghosh returns to direction
Filmmaker Ken Ghosh, who last directed Chance Pe Dance, has started shooting for his next film XXX. '#XXX rolls, 1st shot done, 1736 shots left,' he tweeted.
The youth erotica will feature six stories with newcomers.
***
Priyanka gets ready to play FBI agent
Priyanka Chopra, who will be playing an FBI agent in American television drama Quantico, is using her Bollywood experience on the sets.
'Last prep day before shoot! Mixed feelings for Tom!!!! Off to rehersal! Today FBI training.. Naaaice! chanelling my inner #Roma from #Don,' she tweeted.
The show revolves around a group of young FBI recruits, each of whom has a secret motive for joining the bureau.
***
When Tamannaah met Hansika Motwani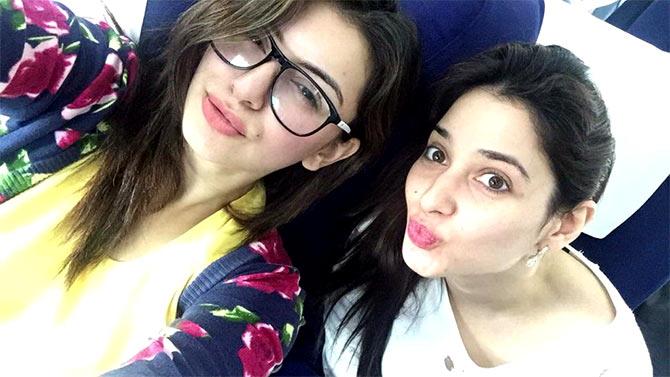 Actress Tamannaah Bhatia, who recently bumped into Hansika Motwani in a flight, shared a picture of them together and wrote: 'I really like my co passenger on the plane this morning @ihansika.'
Hansika, on the other hand, took to Twitter to clear the air about a controversy and wrote: 'Well few articles says I have commented on Pawan Kalyan sir. Let me make it clear I haven't given any interview mentioning sir.. rest is all cooked up !! I respect him immensely and I'm a fan of his work. I request all the others to stop with this vague rumour.'
***
Salman raises awareness about Glaucoma
Salman Khan took to Twitter to raise awareness about Glaucoma, which is one of the leading causes of blindness.
He tweeted: 'Glaucoma is incurable & lost vision cannot be restored. Early diagnosis is the only key to save and preserve vision. #WorldGlaucomaWeek'
World Glaucoma Week is held in March each year to spread awareness about the disorder.
***

Milap Zaveri ko gussa kya aata hai?
In one of his recent interviews, filmmaker Anurag Kashyap said that he will never films like Masti and Grand Masti.

The comments obviously didn't go down well with Milap Zaveri, who has written dialogues for both the films.
'Anurag Kashyap says if someone gives him 5 cr also he won't see #Masti or #GrandMasti Maybe that's why most of his films don't do even 5cr! Mr Kashyap Ure lifetime films combined haven't made as much as #Masti n #GrandMasti so take a hike!

'Jab box office Aapke pichwaade pe "hunterrr" maarega na tab pata chalega ki sex comedy mein #Masti aur #GrandMasti Aapke baap lagte hain!' Zaveri tweeted.
'Everyone has a right to not like something. But that dislike can be expressed in a civil manner without being derogatory Mr Kashyap. Anurag made these tacky remarks about #GrandMasti while promoting his own sex com #Hunterrr. How's that for double standards? I loved #Queen n #Lootera made by @VikramMotwane n @BahlVikas n respect them for being civil in the interview unlike Anurag,' Zaveri added.