Irrfan, Deepak Dobriyal, Radhika Madan, Ranvir Shorey, Pankaj Tripathi are all lovely, but make little sense in Angrezi Medium's muddled context, complains Sukanya Verma.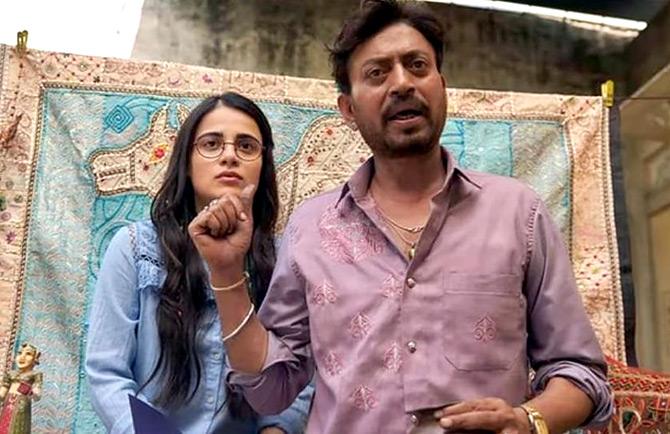 Hindi Medium's satirical journey looks at a set of parents switching between upscale to destitute lifestyles in a desperate bid to get their kid admitted in a prized school.
Somewhere along the way, things become too far-fetched and preachy while making its point on elitism in education.
Angrezi Medium, its sequel only in spirit, is a father's endeavour to fulfill his teenager daughter's wish to study in London. The crazy extremes he goes through to make it happen is what drives Homi Adajania's new film as well as brings it down.
In its foolhardiness to define father as a 'murkh jeev jo baalak prem mein sab kuch nyuchavar karne ka sahas rakhta hai' Angrezi Medium completely forsakes the slice of life note it begins on and gets busy cooking up farcical twists and turns.
Udaipur businessman Champak Bansal (Irrfan) runs a mithai store right next to his terribly competitive brother's (Deepak Dobriyal) while they wrangle over a copyright court case deciding which family member should keep the brand name Ghasiteram.
Outside the professional battlefield though, the duo and their buddy (Kiku Sharda) hang out every night for drinks and dramatic confessions.
When not finding fun in their comical tiffs, Angrezi Medium focuses on the emotional ties binding single parent Champak and his wide-eyed daughter Tarika (Radhika Madan).
Their cute, cushy Masha and the Bear chemistry helps us digest a great deal of contrivances in store.
After Champak bungles up Tarika's chances of studying at a prestigious London university, it becomes a matter of izzat to procure an admission in the same institution by hook or crook.
Most parents will move heaven and earth to make their kid's dreams come true, but Champak's obsessive commitment and Tarika's rum-gulping, romanticised view of phoren life makes you wonder if it is worth breaking one's back and bank.
For starters, Tarika's aspirations hardly seem academic in nature.
The film not only fails to establish her craving for new experiences, something a small-town existence cannot provide her, but also irresponsibly suggests an admission is a ticket to a life of unrestricted freedom and partying.
Neither Tarika's newfound independence nor Champak's distaste for it feels natural especially while he is caught in a never-ending comedy of errors to gain entry in London.
Angrezi Medium loses a fine opportunity to document an authentic struggle of seeking overseas education by rambling off into disproportionate gags befitting a brainless comedy, which is exactly what this would be if not for Irrfan and Dobriyal's combined wizardry.
Irrfan's gift to take idiocy with a pinch of salt and effortlessly transform into a sentimental figure every time an implausible situation arises conceals the script's glaring inadequacies.
He finds terrific support in Dobriyal's droll hustler known to turn into a picture of uprightness, two drinks down.
Irrfan's scenes with Radhika Madan are equally tender and heartfelt. Although Madan's character is borderline wannabe, the radiant actress uses her innate spunk and sensitivity to justify the novelty and excitement she is witnessing all around her.
Despite a superb set of actors at its disposal, Angrezi Medium squanders away their charisma to play undistinguished, unremarkable characters.
There is Kareena Kapoor Khan's dishy London cop in her perfectly manicured, painted nails, huffing and puffing over criminals and an estranged mom (Dimple Kapadia). It is as if the strained mother-daughter equation belongs to another movie and fails to draw parallels with Champak-Tarika's growing discord.
Ranvir Shorey's swindler stuck in pardes has cliché written all over it while Pankaj Tripathi's Dubai-based shady travel agent plays for poorly penned laughs.
They are all lovely on their own but make little sense in Angrezi Medium's muddled context.
At the end of its ensuing pandemonium and abundant melodrama, Angrezi Medium reveals little understanding of ambitious learners or parenting woes.
The only thing it cheerfully demonstrates is a ready compliance for tradition and roots while discouraging any dream about gaining knowledge in a land far, far away.
Rediff Rating: