'When the trailer of Angrezi Medium came out, and when the credits were rolling in the end, with names like Irrfan Khan, Kareena Kapoor Khan, Deepak Dobriyal, Dimple Kapadia... that's when it hit me and I couldn't control my tears.'
'That was the first time I realised that I was living my dream.'
After Pataakha and Mard Ko Dard Nahi Hota, Radhika Madan plays Irrfan's daughter in Angrezi Medium.
Radhika is thrilled about working about the fine actor, especially since he treated her "equally as a fellow artist", and tells Patcy N/Rediff.com, "This must be his 70th, 80th film but he still gets nervous before every important scene."
We can see a warm father-daughter bond in Angrezi Medium between Irrfan and you.
It has to do with how comfortable Irrfan sir made me feel.
He did not treat me as a newcomer or ask me to perform a scene in a particular way.
He just treated me equally as a fellow artist and that gave me the freedom to just be in character and do whatever I wanted to do, even if that meant playing with his beard or fixing his hair or making sure his tie was fine.
It wasn't like I was working with a huge star.
Plus, my own father has helped me achieve my dream.
He came to Bombay with me when mom and the others were sceptical about it.
I just told him I wanted to try an acting career and he was the one who came come with me, stood outside production houses and arranged food for me, when I gave auditions inside.
That inspiration came from there.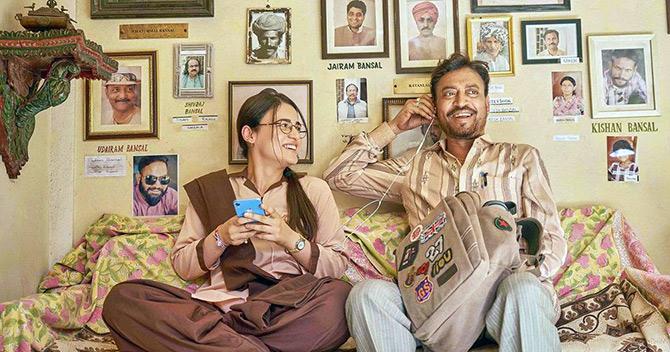 Do you share the same kind of equation with your father?
No. The love is the same, but how you express that love is different.
He came with me and waiting outside quietly; he's not the full-on expressive father.
It's not like he's my best friend and I tell him everything.
The equation in the film is very different because the mother is not there, so the father has to play the role of the mother as well and the father.
Were you nervous before your first shot with Irrfan?
There's a thing about me -- I don't know whether it is good or bad -- but it does not hit me instantly when anything happens to me.
Because of that, the bad thing is that I don't get to celebrate the moment.
The good thing is that I am in my character and I just focus on the scene and performance.
When the trailer of Angrezi Medium came out, and when the credits were rolling in the end, with names like Irrfan Khan, Kareena Kapoor Khan, Deepak Dobriyal, Dimple Kapadia... that's when it hit me and I couldn't control my tears. That was the first time I realised that I was living my dream.
Since then, I am just crying.
Thankfully, while shooting he was my father and not the international star Irrfan Khan. He was my papa.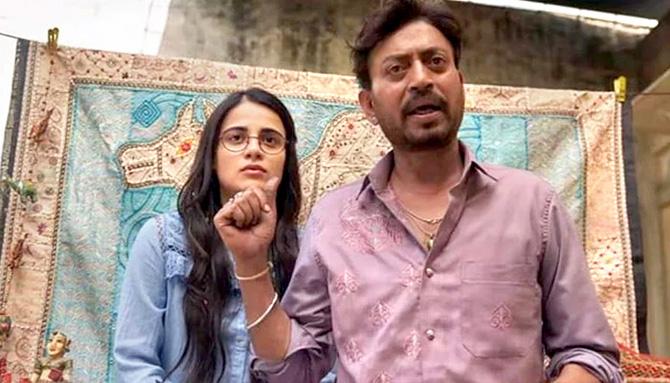 What did you learn from him?
He never stops being a student.
He treats every film like it is his first, that's what is brilliant about him.
This must be his 70th, 80th film, but he still gets nervous before every important scene.
If that scene will be shot the next morning, he will roam around with the script the whole night, and go and ask Homi (director Homi Adjania)...
Homi said there were good days and bad, health wise with Irrfan.
Irrfan sir did not show us that he was not well.
A person who is not aware about his sickness will not even realise, even if he had a cold or a cough.
He was so involved, he was giving his 200 percent, from practising the lines or discussing a scene. The atmosphere was really positive on the sets.
There was this unsaid language between Homi and Irrfan sir that was beautiful. Homi knew just when to say pack up and Irrfan sir knew just when to push more. We observed this.
The respect which Dinu (producer Dinesh Vijan) and Homi have shown Irrfan sir is commendable.
The cameraman would arrange the angles in a particular way so that Irrfan sir could do the take just once; they were conserving his energy.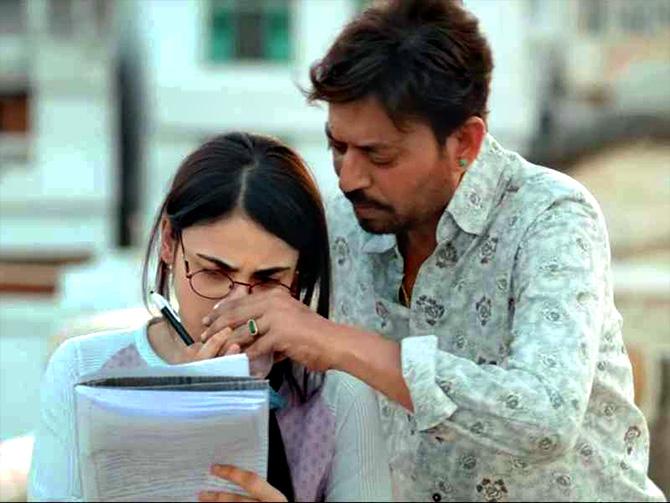 How did you get the role?
I learnt that the second part was being made and that they were looking for a new girl. I had just finished Pataakha and I begged my team to get me this audition.
Somehow I got it and I gave the audition.
It was Homi and Dinu's sheer belief that they could picture me as 17-year-old Tarika after watching me in Pataakha, where I was 12 kilos heavier and four shades darker with stained teeth.
Did you have to undergo a physical transformation for Tarika?
Tarika is, by far, the toughest role I have ever played. People will say Pataakha, but it is not.
I did workshops for the role.
The acting coach told me that physically, you will look like a 17 year old, but your eyes will give away that you are 24. Your eyes give away your experiences.
My challenge was how to get rid of the experiences from my eyes. It was insane, but how do I crack that?
I went to Udaipur and hung out with 15-16 year olds. I would ask them to pick me up on the scooty, triple seat, and we would go and chill. They would make me kulhad chai.
I visited English and Hindi medium schools.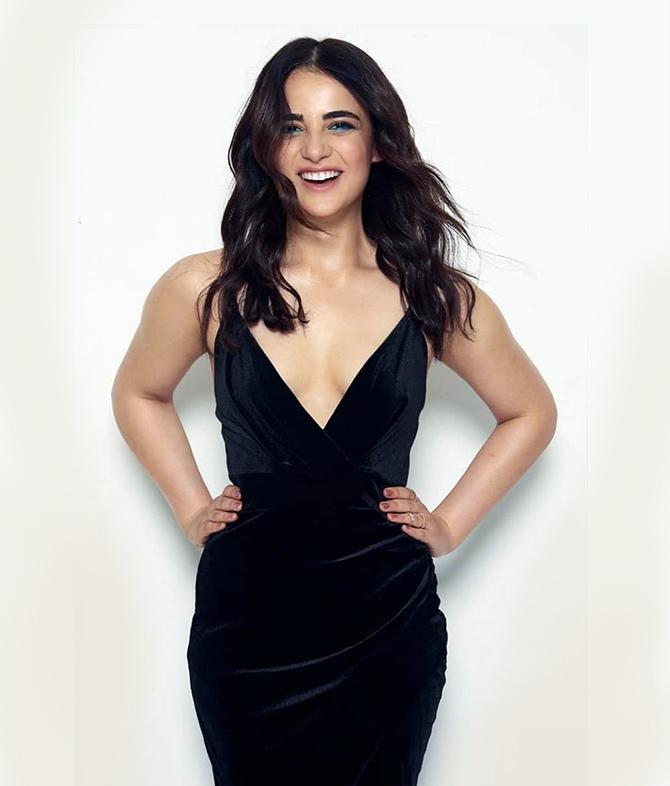 Didn't they recognise you?
I cooked up this story that my father has just been transferred to Udaipur and that I was waiting for my admission in the 12th.
I dressed up simply. I would wear spectacles and braid my hair.
A few of them did say that I resembled Radhika a lot, but no one realised I was the same girl.
I had strictly told my team not to follow me with a bodyguard.
I would talk to them about what they thought of studying abroad, their views about boyfriends, where they partied... They took me to this DJ party -- where they book a banquet (hall), call a DJ and call that a DJ party.
I saw how they dance and caught their nuances.
I studied in an English medium school, but an English medium school in Udaipur is very different from one in Delhi or Bombay. They say 'fason', not fashion, 'grainmuder', not grandmother...
I also discovered veganism, which helped me with the thought process. You are what you are because of what you eat. That helped in making my thoughts unadulterated.
That's how I got into the skin of Tarika, where I saw things for the first time. Like, I have been to London, but Tarika has not. So when I went to the airport, I saw it for the first time with new eyes.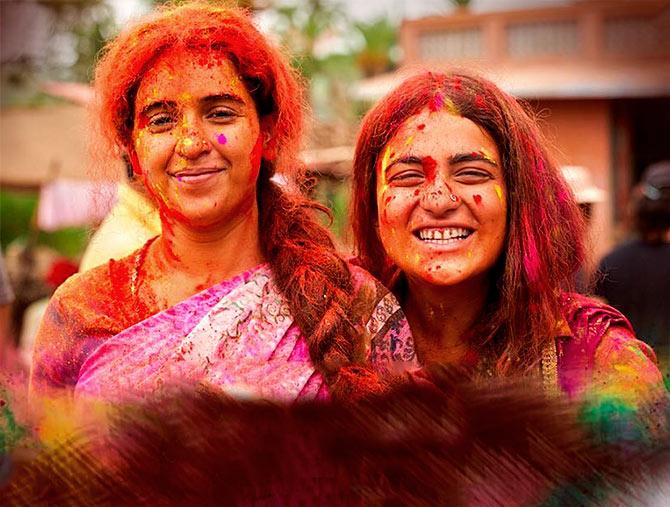 Has the film industry treated you well?
Yes, from the very beginning.
I started off with a Vishal Bhardwaj film.
It is also up to the kind of person you are.
Maybe star kids have access, but what should I do with that? Should I sit and crib or give my 100 percent and keep adding stuff to my kitty?
I watch a film every day so that I am aware because I know I won't have time in future.
Was your journey into films difficult?
Television happened to me because of Facebook. They saw me there and called me for auditions.
But the journey from television to films was difficult because I didn't know where the auditions happened.
People from television told me it's not easy to get into films.
But I believed in myself and started standing in queues and giving auditions again.
The journey was not a cakewalk.
But I was ready for rejections from the very beginning because I used to learn dance professionally, and when you do that, you have to present many dance pieces. You learn how to handle rejection.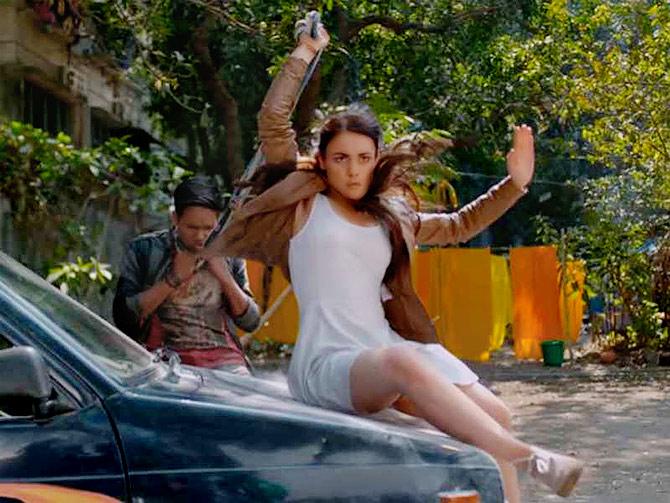 Do you feel lonely?
When I am busy, I don't.
But when there is a sense of achievement, when you get awards or meet a big director, I want to come back home to somebody.
Luckily, I have loving parents who come whenever I feel lonely.
I remember once I was getting an award and within four hours, my parents were home.
They are ageing and I don't want them to exert themselves for one of my weak moments.
Plus, Sanya Malhotra is like family to me in Mumbai.
Who do you go to for advice?
Vishal (Bhardwaj) sir is my mentor. Vasan (Bala) sir and Dinu (Dinesh Vijan) are there to guide me.
Dinu tells me to my face what works and what does not.
I have three mentors to guide and protect me, and I feel so lucky.
Dinu had seen Pataakha and since then, I have been in touch with him. At that time, there was no Angrezi Medium and Siddhat.
Pataakha and Mard Ko Dard Nahi Hota Hai helped me bag my next film.
When people watch Pataakha, they think I can do a certain type of role, but their perception changes when they watch me in Mard Ko Dard Nahi Hota Hai.
Angrezi Medium and Siddhat are totally different films.
What is Siddhat about?
It's a love story. I play a swimmer.
My aim is to give the audience a different flavour of me with every film.
I don't want them to put me in a box.