'The critics were writing so well about me, I was shocked!'
'My phone didn't stop ringing!'
'This is the biggest tribute for a senior actor.'
'Now, I can pack up.'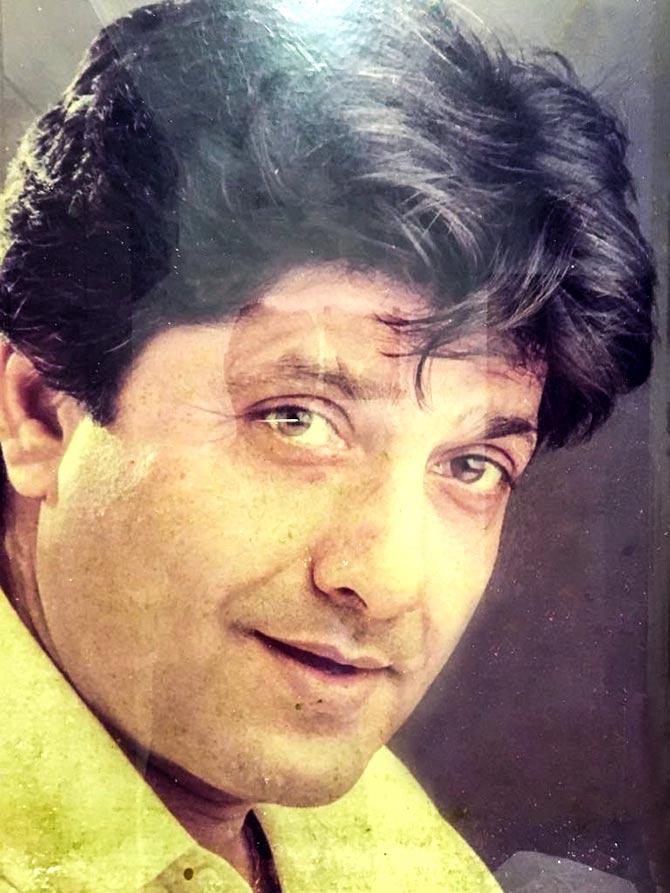 One of the most popular actors of the early 1970s, Anil Dhawan resurfaced in Sriram Raghavan's thriller Andhadhun.
The 72-year-old actor played yesteryear star Pramod Sinha who loves watching his old movie hits till something ghastly happens to him.
Andhadhun brought back many memories about the actor whose hit songs Yeh Jeevan Hai from Piya Ka Ghar (1972) and Teri Galiyon Mein from Hawas (1974) were part of the movie's background score.
"David Dhawan makes comedy films, but I was a romantic hero. Which role would I have done? Shakti Kapoor's or Kader Khan's?" Anil Dhawan -- whose younger brother is the successful director David Dhawan and whose nephew is the super successful actor Varun Dhawan -- asks Patcy N/Rediff.com.
Your daughter asked you to sign Andhadhun.
My daughter Shilpa interned with Sriram Raghvan after graduation and she would tell me how talented he was.
A few years ago, Sriram came for my daughter's birthday and he casually said we would meet soon.
One day, I got a call to meet him.
When I did, he narrated a story. I was the backdrop of the story, so I said yes immediately.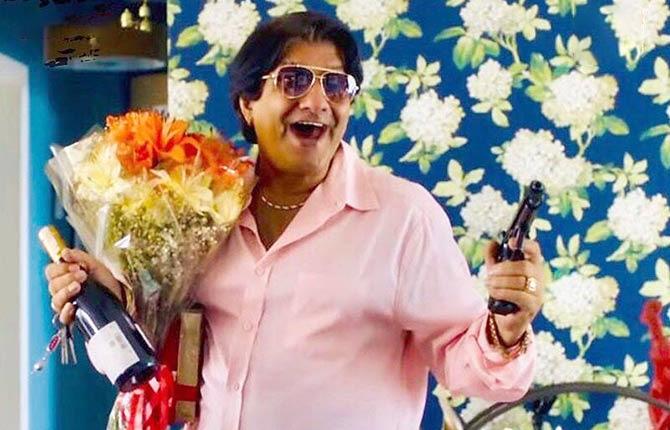 What was the preparation you did for the role?
I did not want to wear a cap.
I told him, I have hair. I don't want to wear it. But he insisted.
When I wore it and looked at myself in the mirror, I had a different look.
I was okay with it.
I gave them my film posters, solo pictures and pictures with other stars... the posters and pictures you see in the film belong to me.
What feedback did you get?
The critics were writing so well about me, I was shocked!
My phone didn't stop ringing!
This is the biggest tribute for a senior actor.
Now, I can pack up.
People will remember this.
Why should I do anything else now? I am most satisfied after this film.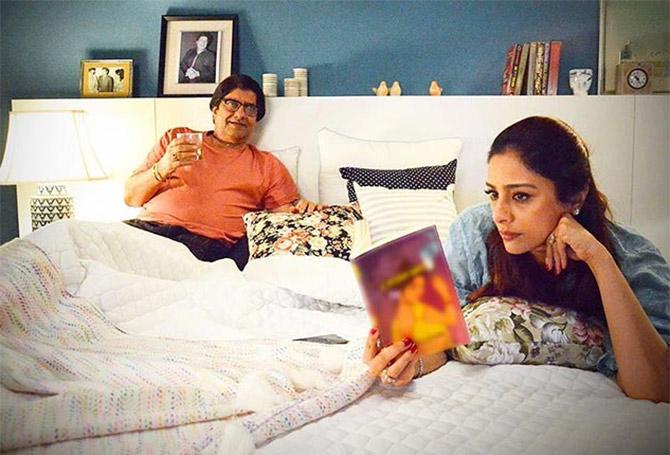 What was it like working with Tabu?
She was a kid when she debuted (Hum Naujawan in 1985). I met her then.
After that, we have met so many times -- she and her sister Farah have grown up in front of me.
She worked in a film with my brother (David Dhawan). We became close then.
Tell us about yourself.
I am from Lucknow. My father worked in UCO Bank and was often transferred. It was not possible for us to travel with him all the time, so we stayed in Kanpur.
I thought Kanpur had nothing for me.
I knew I was good looking. I was inspired by Jeetendra, and that's when I thought about acting.
But you cannot tell anyone that you want to act -- they will make fun of you.
One day I read about an FTII course in the newspapers. I gave the entrance test without telling anyone at home.
I thought I had no chance, but I passed.
My father was very supportive.
I was an introvert, and scared of failure. Yet, I decided that I would never go back to Kanpur, even if I didn't make it.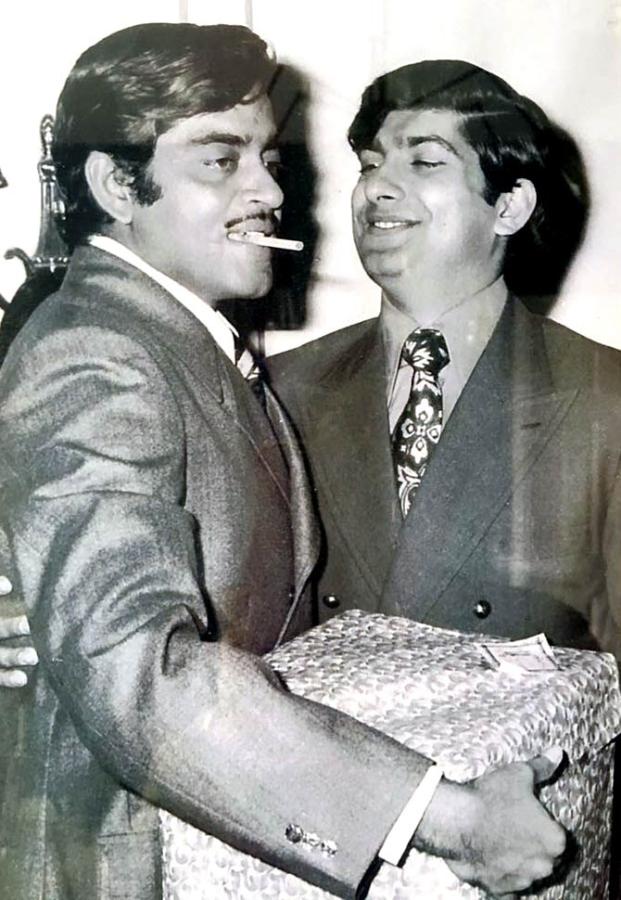 Jaya Bhaduri was your classmate at FTII.
Jaya and Danny (Denzongpa) were my batchmates. My wife Rashmi was also my batchmate.
You signed B R Ishara's Chetna (1970) even before you graduated from FTII. How did that happen?
Shatrughan Sinha had attended a function at FTII and we became friends.
He was a struggling actor then.
He told me whenever you come to Bombay, visit me.
Once, Rashmi and I went to Bombay and we met Shatru. He took us on a long drive to Marine Drive. Suddenly, he remembered that B R Ishara had a script and was looking for a new boy with an innocent face.
When we reached his (B R Ishara's) house, Shatru went inside -- I waited in the car -- and spoke to him.
I was offered the film.
I was paid Rs 7,500 for it. It was a huge amount at that time.
If the film ran for 10 weeks, I was promised another Rs 7,500, which I got.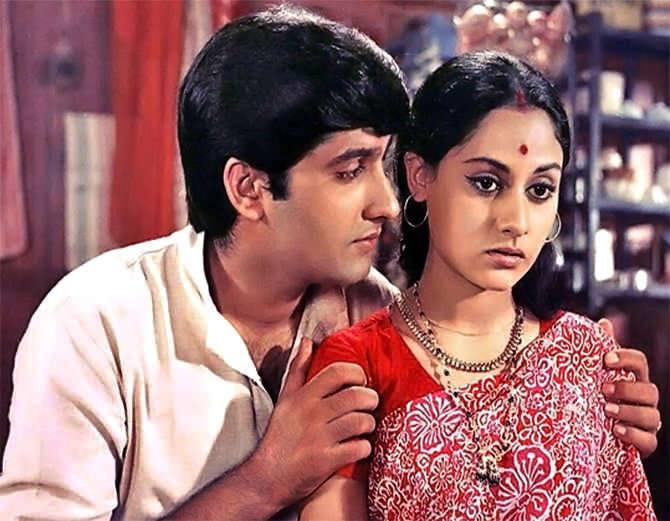 Your next big hit was Piya Ka Ghar with Jaya Bachchan.
Before that, Do Raha (1971) became a bumper hit.
I went to Delhi for the premiere with Rashmi and stayed at my cousin's house. When they came to know that we were not married, that we were living together ever since I passed out of FTII, they called my parents.
The very next day, we were married.
By then, four films of mine had released, and I had become a star.
Tell us about Piya Ka Ghar.
Piya Ka Ghar was a Rajshri production, directed by Basu Chatterjee.
It starred actors from FTII, like Paintal and Suresh Chatwal, so it was like working with friends. The rest, like Agha, Kesto (Mukherjee), Mukri and Sundar were my seniors.
The Barjatyas (who own Rajshri Studio) are strict disciplinarians, and you cannot mess around with them.
We were shooting at Rajkamal Studios (in Parel, central Mumbai). At lunch time, I asked someone to get me a cigarette.
I asked a couple of times, but nobody went.
So I took the car to Dadar (also, central Mumbai) to get my cigarettes. I returned before lunch got over.
Somehow, this news reached the (Rajshri) office.
The next day, Raj babu (<Rajkumar Barjatya) called me to the office, and asked, 'Yesterday, you left the studio and went somewhere. Did you have a problem?'
I told him I went to buy cigarettes.
So he asked me how many cigarettes I smoked (in a day).
I said half a packet.
He asked me how much that cost me.
I said it was Rs 4 for a pack.
So he calculated about Rs 60, Rs 70 a month.
Then he asked me to go.
They like to know everything about their stars.
Every day, someone would write the time when the first shot was taken, the time when all the actors arrived, if there was a delay, which actor caused it, how many times work was stalled... They knew everything!
The food on the sets was always vegetarian.
Working with Basu Chatterjee was very nice and comfortable.
His Hindi was not very good, so his assistant would check the dialogues.
He was interested in visuals. He would enact scenes and show us.
During the shooting of Ek Hans Ka Jora, you had an accident.
The shoot was in Nainital. During the scene, (actress) Zaheera and I were standing on the banks of the river. She had to fall in.
The water was very cold, but not deep. Yet, there was a current and there were rocks underwater.
Six or seven stuntmen were standing in the water in case things went wrong.
Suddenly, Zaheera slipped.
I tried to catch her, but her hand slipped from mine and the speed of the current started pulling her away.
I did not know what to do, so I dived in to rescue her.
But I couldn't control the current either.
Both of us were hitting the rocks.
The stuntmen caught us in the nick of time.
We were immediately given blankets and brandy. In those days, I did not drink, but they told me to have it because I was shivering.
We were taken back to the hotel.
When I reached Bombay after the shoot, everybody was tense because a reporter had written about it.
But the scene looked natural, as the cameras were on!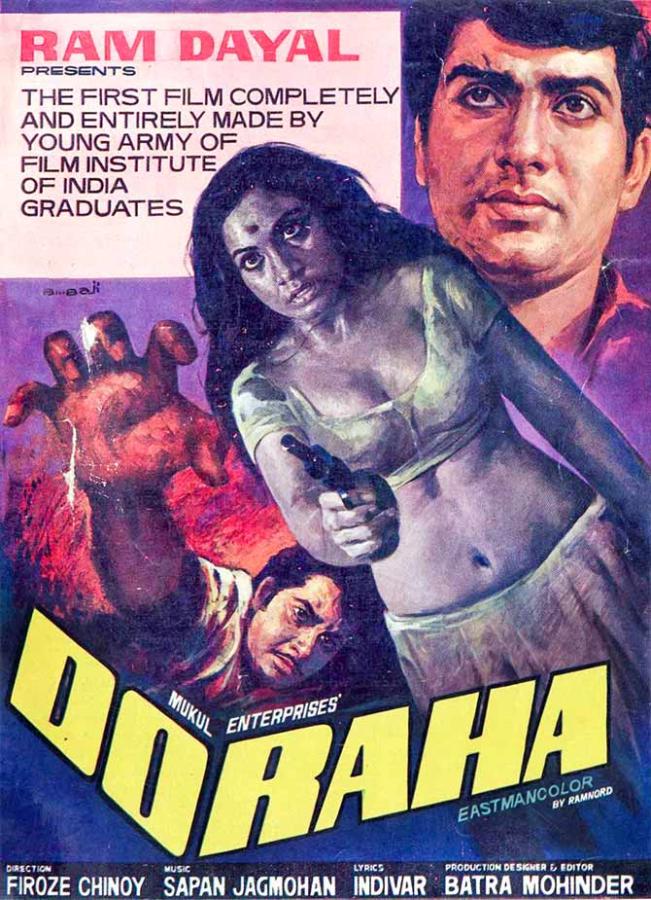 You went on a signing spree during Diwali 1971.
I signed six films in a single day!
I had gone to (Do Raha producer) Ram Dayal's house for a Diwali party. My wife was unwell, so I went alone.
I signed Do Raha at that party.
He introduced me as the hero of his next film, and we started playing cards.
I reached home late.
Rashmi was upset, but she asked me to check a list on the table, which had the names of seven producers who were going to meet me the next morning.
The next day, at 9 am, I met Avtar Bhogal and signed Ek Hans Ka Jora.
Then Sandeep Sethi came and I signed Samjhauta. He gave me Rs 2,500.
He asked me which car I drove.
I didn;t have a car, so he gave me a brand new Fiat dirt cheap.
Someone from Asit Sen's office asked me to see the director.
I did not want to go because he had done films like Khamoshi with Rajesh Khanna and Waheeda Rehman and Mamta with Suchitra Sen. He was a huge director; why would he want to work with me?
I always underestimated myself.
Plus, it would cost Rs 18 for a return trip by taxi, and I didn't want to waste it just to hear 'no'.
But my wife insisted, so I went and met him.
I signed Anokha Daan and Anandata.
Later that night, Sandeep Sethi sent home my first car.
The day seemed like a fairy tale to me.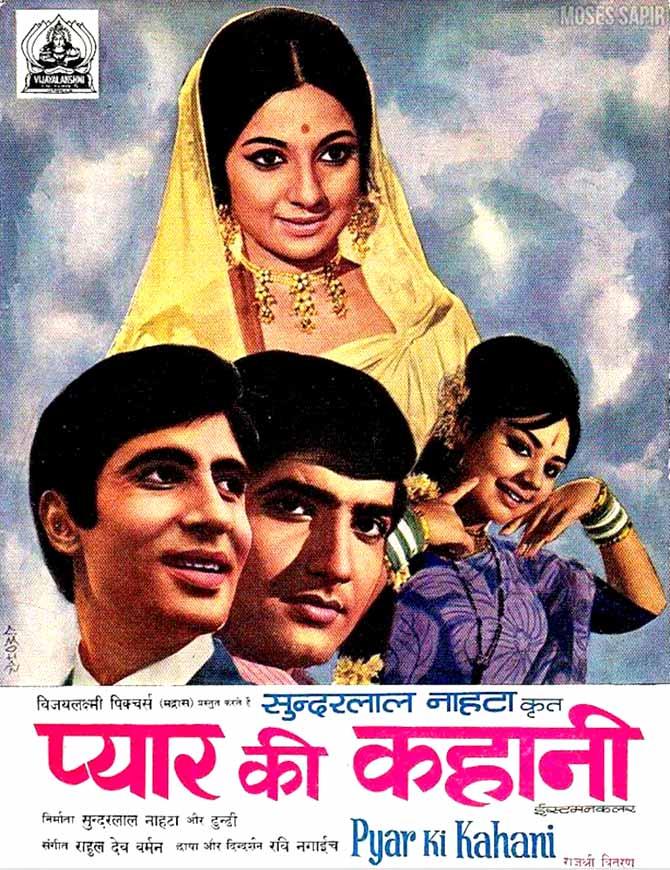 You worked with Amitabh Bachchan.
I signed Pyar Ki Kahaani with Amitabh Bachchan, Farida Jalal, Tanuja and Prem Chopra.
It was to star Jeetendra and Vinod Khanna, but Vinod was going to marry Geetanjali, so he left the film.
So they signed Amitabh.
Jeetendra quit, and I came into the picture.
Because of Shatrughan Sinha and Jaya, I knew Amitabh really well.
My closest friend was Shatru, but I was good friends with all of them.
Moushumi Chatterjee, Prem Chopra, Vinod Mehra, Navin Nischol, Anita Raaj and Sawaan Kumar Tak stayed in the same building in Bandra (north west Mumbai) as me.
We would get together at someone's house, call and find out who's cooked what...
Yogeeta Bali, Rekha and Reena Roy would often join these parties.
The environment was different then. We were all happy with our respective work.
The camaraderie was very good.
Prem Chopra, Navin Nischol, Vinod Mehra and I went in the same car for the premiere of Daag. Who does that now?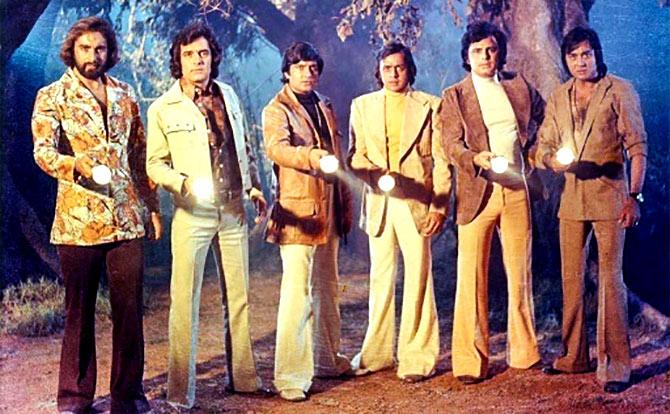 Do you miss that era?
Yes. It was very nice and beautiful.
Nobody pulled anyone down.
We respected seniors like Feroz Khan, Sanjay Khan, Rajendra Kumar and Dharmendra.
I did five films with Yogeeta Bali. She was very beautiful and tall, but not much interested in acting.
I did Honeymoon with Leena Chandawarkar. She was a well paid actress.
I was a huge fan of Sadhana.
When I entered the industry, she was leaving.
I got a chance to work with her in Mahfil (1981).
I have stood in the ticket queue to watch her film Arzoo -- first day, first show. While getting tickets, my shirt tore!
On the first day of the shoot, I was very nervous.
The shot was ready, but I would not come out from the make room. I was called a couple of times, but I wouldn't come down.
I had done so many films, but still, I was nervous.
So she spoke to me and made me comfortable.
In one of the scenes, I had to hug her.
After the shot, the director okayed it.
But she wanted another take because she said I did not touch her at all.
So I had to do the scene again. She made me rehearse for it too.
I had too much respect for her.
Asha Parekh directed you in the television series, Kora Kagaz.
I was a huge fan of Asha Parekh.
(Actress) Shammi's husband Sultan Ahmed was a good friend of mine, so I had gone to see Asha Parekh on the sets.
I had done 10 films by then, but I never had the opportunity of seeing her.
Shammi called me on Asha's behalf to tell me she was a directing a serial, and if I would like to work in it.
I said yes and went to meet her.
She came down the staircase majestically.
I couldn't talk.
She asked me to discuss the finance with Shammi.
During the shoot, she started talking to me and telling me stories about her shooting days.
She always waits for her driver to open the car door for her, and then she gets out. She has not forgotten that she was a superstar once.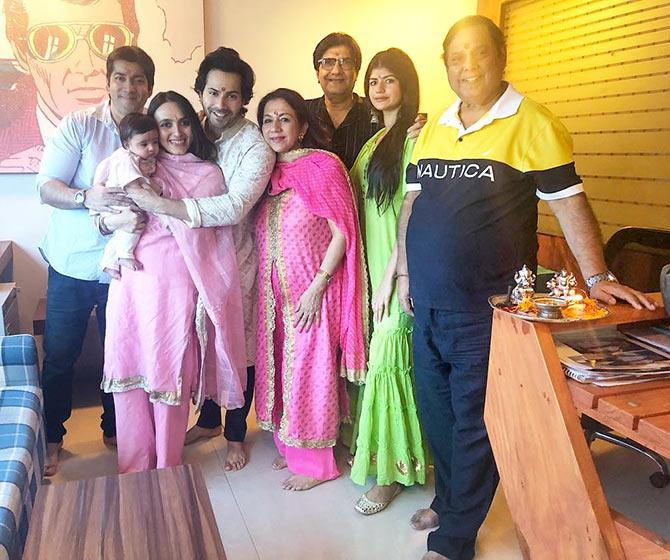 Why haven't you done many films with your younger brother David Dhawan?
David was a first class student, but when my father got transferred, he would loiter around and waste time. So I told my parents to send him to Bombay.
He came and then joined the FTII.
He became studious and after that, he never looked back.
He became a very successful film-maker.
David makes comedy films, but I was a romantic hero.
Which role would I have done? Shakti Kapoor's or Kader Khan's?
If you see his films, there are no roles that he could have offered me.
Do you feel bad that the younger generation doesn't know you?
Some people have forgotten my work; they call me the actor of Darwaza.
I have done a vast range of movies. To call me the actor of just Darwaza is wrong, not that I'm not proud of it.
I was the first hero to do horror films.
Why did I stop doing films? Because the trend for action films had started.
I did not do action. If I am not comfortable in something, I won't do it.
If you tell me to dance I can never do that.
I did Raani Aur Jaani in Madras. They were making me dance, but I told them no.
Quite a few of us lost work to action films -- Parikshit Sahni, Raj Babbar...
I have been doing television for 17 years now.
I have worked for 48 years without a break.
You cannot do television and films together because TV takes a lot of time.
If I had continued doing films, what role would they have given me?
There are no good father roles in films.
I have never done grey shades in my films, so why do it now?
Are you happy with the way your career shaped up?
I got more than I deserved.
How do you stay fit?
I am a vegetarian.
I don't eat out.
I walk 5 km a day.
I wake up at 6:30 am and sleep by 10 pm. I stick to a timetable.
I am happy and stay away from negativity.