'Sriram Raghavan is mainstream Hindi cinema's greatest gift to us,' declares Sreehari Nair after watching the director's latest movie caper.
SPOILER ALERT AHEAD, folks!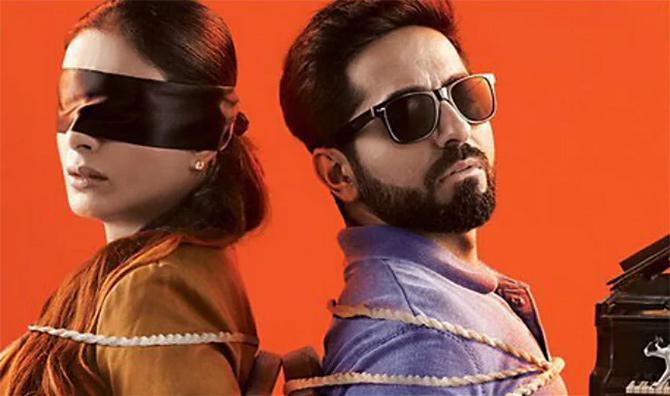 In Andhadhun, Director Sriram Raghavan gets you laughing even as you gasp in horror and he finally leaves you levitating in your seat.
Just about everything that happens in Andhadhun is so much worse than you feared might happen that you cannot help but laugh: This must be the only blood thriller in the history of Indian movies that ends up giving you a high... a pure high!
Raghavan scrambles up extreme elements (Sex & Fear; Impure Thoughts & Piano Music), and pulls you into the concoction with such effortlessness that the pleasure of the movie's suspense becomes almost seductive.
Time and again, you may be laughing at some extra bit of information that the director has offered you (which may make you feel smarter than the characters) but more often than not, you would find yourself laughing at how wrong you were in the predicting the beats (in which case, you will learn that the movie is way sharper than you).
And to top it all, this is Raghavan-land: Which means that an overlay of cinema spirit constantly winks at you, foregrounding the question of believability (How much of what you see, of what you deduce, can you actually trust -- this, you're never quite sure).
Andhadhun is a murder story, but its true danger is in the fact that all its characters are play-acting on some level.
The hero is play-acting blindness; the femme fatale is play-acting love; and the lead heroine who has fallen for the hero's play-acting of blindness, may herself be play-acting ignorance.
And then suddenly, just like that, this tale of small, harmless games moves into forbidden territory.
Akash (Ayushman Khurana), a pianist who is pretending to be blind ("It has its benefits," he says, and you see what he means), is called to perform a private concert at the residence of a yesteryear, now-faded actor Pramod Sinha (played by Anil Dhawan).
The private piano concert is meant to be the ex-star's anniversary gift to his wife Simi Sinha (Tabu), and as Akash dishes out his piano numbers, he sees through his dark glasses Pramod's dead body and also that Simi and her lover (Manohar) are at it, trying to dispose of the body.
What gives Simi and Manohar the courage to carry out the body disposing ritual in front of Akash is their belief that Akash is blind. However Akash, unknown to Simi and Manohar but known to us in the audience, watches it all.
Now, it is to this basic, pulpy premise that Sriram Raghavan adds layers, subtexts, and completely unexpected doses of affection.
In one of the film's initial scenes, you see Pramod Sinha gloating about having fans in Denmark, to which Simi, his bored wife, says: "Wasn't Hamlet also from Denmark?"
Later, we see Akash, the blind pianist, becoming a Hamlet of sorts, eager to get justice for his murdered father-like figure (Pramod) while fighting off his unconscious attraction for the Gertrude-like figure of Simi.
Complicating our responses comes naturally to this Raghavan.
The disposing of Pramod Sinha's body (probably the finest single scene you will see at the movies this year) is gruesome and yet photographed in a Dream-Slapstick style. It feels like a scene from a silent Buster Keaton film, only one in which body parts are mangled.
And yet, Raghavan and his writers (Arijit Biswas, Pooja Ladha Surti, and Yogesh Chandekar), play with 'our awareness of the scene's setting.'
Think about it: Here's a husband who plans a private piano concert for his unfaithful wife but is murdered just before the gift is delivered to her.
And so, when Simi and Manohar pack Pramod's body in a suitcase, and as we chuckle at the logistics of it, we are also reminded of Pramod's final expression of love: His Surprise!!! becomes the stuff of grand romances and grand betrayals.
And because this is a Sriram Raghavan film, Simi, the seductress/murderess, is not spared her guilt either: As she sits there, listening to Akash's piano numbers, the whole experience becomes a Blood, Sweat, and Tears Project for her.
Sriram Raghavan may be a director of thrillers, but no life is cheap to him.
In Andhadhun, even when the news of a minor character's death is broadcasted, Raghavan makes it a point to quickly cut to Akash's shocked face. (This is an artistic approach whose significance cannot really be explained to those who clapped during that scene in which Baahubali is shown to heroically behead a lecher in court).
If you look carefully, Sriram Raghavan's sensibility is that of a gagster-humanist.
The man can be both terribly excited and terribly moved by the wood chipper scene in Fargo or recognise the spirituality that pours by in the lazy lifestyles of the characters in The Big Lebowski.
The art of Sriram Raghavan, I guess, is in discovering tenderness in the most surprising places. And his craft is in presenting such discoveries through a series of mirrors and tiny masterpieces of visual shorthand.
Radhika Apte's Sophie taunts a rash driver on the road with an "Are you blind?" and no sooner does she finish off with that insult than she runs her bike into a blind Akash.
Later Sophie goes out with Akash, in a sense, because she feels that she can watch him without the fear of being watched by him.
When Tabu's Simi slyly expresses the tedium of her Life with Pramod, she has in her hand a copy of S Rangarajan's Anita: A Trophy Wife.
When Simi, while cooking crabs, talks about killing the crustaceans when they least expect to be killed, it foreshadows the manner of Pramod's own death. And when Simi hugs Pramod in the kitchen, the Chilli Powder on her hands looks eerily blood-like.
Akash's life is saved by a rabbit, and as a tribute to the animal, in the climax scene he wields a walking stick with a rabbit-head.
The narrative of Andhadhun is full of such mirrors and paradoxes, but Raghavan doesn't play them up for effect. He does not even suggest that the blood from Pramod Sinha's body may have got badly mixed up with the wine from his anniversary bottle -- such poetry is left to us, for us to compose.
The casting of Anil Dhawan as the toothless-seeming Pramod Sinha is a masterstroke of kinky imagination.
Pramod's platitudes and mores are from an era bygone and after his death, when he beams out of pencil sketches eyebrows crooked or cries out through old Anil Dhawan songs such as Teri Galiyon Mein Na Rakheinge Kadam, they seem to be teary slurs directed at his unfaithful wife.
Pramod Sinha is shown to be a star of 70s films with such titles such as Darwaaze, Honeymoon and Dobara, and the genuine love that Sriram Raghavan has for films of this cadre is a big part of his sensibility.
Raghavan's stories and plot-points are conceived at that junction where his movie consciousness meets his everyday consciousness. This explains also why his pictures seem located in a real-mythic world.
Like the small-town and suburban settings of Ek Hasina Thi and Badlapur, Andhadhun is majorly set in the Prabhat Road area of Pune and the characters are people who haven't yet acquired the polish of professional criminals.
When Akash lies about his blindness, he talks about how a cricket ball had damaged his optic nerve.
When Simi acts as though she is dialing her (dead) husband, she does not pause for even a second after she is done dialing and starts speaking immediately.
These are little people with their small deceits and so it's shocking to see these deceits turned into matters of life and death.
The sudden eruption of violence which gives the narrative its unique texture is replicated also in the way that the characters are introduced: They almost emerge from crowds and gain a life of their own.
Two Sriram Raghavan favourites, Zakir Hussain and the incomparable Ashwini Kalsekar, merge into the story this way and before you know they are preparing Chinese Poha, or stealing kidneys, or shooting at their spouses through bathroom doors.
One can argue that Andhadhun does not quite have the distinctive look of Badlapur (the impressionistic frames of Anil Mehta's are not for K U Mohanan to match) and the editing, especially the kicking in of the songs, feels kind of slack. (The pacing in the first 20 minutes is a bit off too).
But the philosophy of this movie is to remind you constantly that this is a 'movie' that you're watching. And the coarse and jagged look and cutting of the film, in a way, aids this philosophy than scuttles it.
As the story takes one absurd spin after another, the piano score too becomes bizarre and at a certain point it suggests the looniness of the Tom & Jerry score.
And as if mimicking this lunacy, Tabu and Ayushmann Khurrana, take their turns as the cat and the mouse, the hunter and the hunted.
Tabu plays Simi like a lower-middle-class lady raised to her bloodiest instincts. At one point she refers to sugarless cake very casually as "Diabetic Cake" and in that moment you get a sense of her roots.
She crafts her own codes of refinement as she goes on; she's a Fighter turned into a Dadaist Artist -- and since this is what Sriram Raghavan himself is, what we get to witness is the director and his star finding each other.
Ayushmann Khurrana's face forever seems to be teetering on the edge of an honest bluff and it is this feature of the actor that Raghavan taps into.
When Akash walks beside Pramod Sinha's dead body, Khurrana magically conveys shock with a straight face. (If you don't have a context for that scene, you wouldn't know he was actually 'seeing' all that desecration).
It's a performance that plays with your mind and one that only an actor with the deepest intuitions could have pulled off.
In Andhadhun, Sriram Raghavan performs remarkable feats with ease; he is clearly burning with moviemaking fever right now.
Plus, his stars seem to be in perfect alignment. How else would you explain Ayushman Khurrana's Akash playing a Charles Aznavour ensemble at the end?
Aznavour, one of France's great voices was also the lead in Francois Truffaut's Shoot the Piano Player (which was the working title of Andhadhun and the title that supplies the spirit of the film). And that ensemble scene here assumes spooky proportions when weighed against the fact that Aznavour passed away in Mouriès just four days ago.
Aznavour fan or not, De Palma fan or not, Hitchcock fan or not, Raghavan is an unapologetic student of popular Indian cinema (Andhadhun is dedicated to Chitrahaar and Chayageet).
When compared to someone like a Farah Khan who keeps returning to the most overused tropes of old Hindi cinema, Sriram Raghavan has too much love for that brand of cinema to use it for purposes of straight spoofing.
Even the musical notes he references from old Hindi movies (such as the music he may insert into a chase sequence) are auxiliary notes that only those who have swum in that music and let their brainwaves be altered by it, would hit upon.
When he is racing, what Sriram Raghavan masterfully finds are those sub-textual linkages that connect our massy forms of entertainment to life itself. And in doing this, he advances our popular cinema better than anybody around.
Raghavan is one of our great living artists, but most importantly perhaps, he is mainstream Hindi cinema's greatest gift to us.
Rediff Rating: