'You cannot drop to the ground, however many bullets hit you.'
'Because if you are weak, this is not the place for you.'
Neeraj Kabi, that wonderful actor who stars in so many Web series, went through a lot of struggle and hardship before he tasted success.
It has been a tough journey but as Neeraj tells Patcy N/Rediff.com, "I came to the industry at the absolutely right age of 42. I deny the fact that it was late for me. Not at all. Although I have said many years ago that 'I arrived late', today I feel I arrived at the right time."
You have had so many OTT releases -- Sacred Games, The Final Call, Taj Mahal, The Bear, Paatal Lok, Avrodh... Do you think the OTT is a blessing?
It's a blessing because of the variety of roles I have gotten to do.
It's a blessing because of the quality of the content, the writing.
It's a blessing because I am getting more time to say my story. A feature film is just about one-and-a-half to two hours, but the OTT platform gives me about nine episodes. That is nine hours.
I enjoy it when I get more time to express things about my character. It gives me a great high.
At the same time, are you worried that theatres will be empty once the lockdown is over?
I don't think that will happen. Once the lockdown is over, once everything is safe, I am 100 percent certain that people will slowly start visiting theatres.
I don't think things will stop because of a pandemic.
Once this is over, people will go back to their favourite viewing instrument, the multiplex.
That 70 mm experience you will never get on the OTT.
Also, I'm sure that the kind of content that has been coming out of OTT will reflect in cinema, it will reflect in films. Things will change a lot.
As actors, we will get a lot of scope to play our roles on the OTT as well as feature films because we are already creating our audiences here.
So when we do a film, audiences will come to watch us.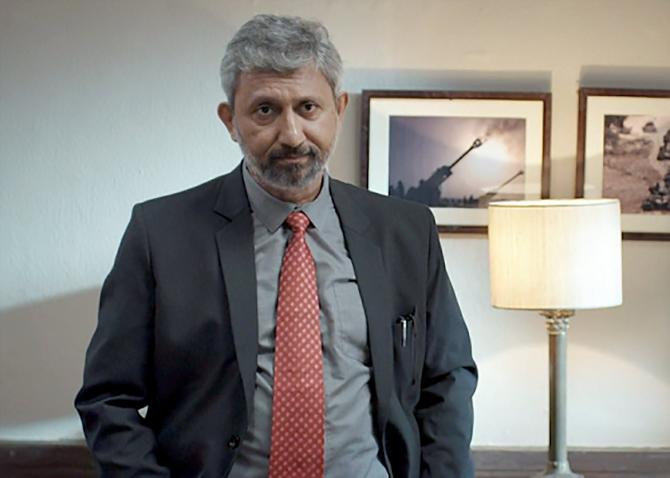 Avrodh is about the surgical strikes, already explored in the hit film Uri. Were you not worried about the comparisons?
No. But I knew there would be comparisons.
Comparisons are bound to happen because the audiences have just seen the film. Now, they see another series based on the Uri attacks.
On the OTT, you get larger space to say a story, you will find more details which could not have been played in the film.
It is not possible to play every detail in a one-and-a-half or two hour film because time is limited.
The attack is only one part of the series.
The main thing was the planning, the psychology, the mind behind it, what was being spoken.
Why was this done?
How did it come across?
How does one strategize?
All these things is what you get to see in Avrodh, details that you would have missed out in the film.
Secondly, it is based on a book called India's Most Fearless by Rahul Singh and Shiv Aroor. So it is an authentic documentation of the facts in 2016.
It's very well researched.
In fact, when this book was written, they were assessed with people from the armed forces.
Your role is based on National Security Advisor Ajit Doval. Coming from a theatre background, what is your process for preparing for a role?
It is not based on Ajit Doval, although it is based on the national security advisor. I play the designation.
My role of national security advisor is based on him and others before him.
I prepare for my role on many levels.
At first, there is a physicality to the character, which is very essential.
When I say physicality, it's not about imitating or mimicking the character.
If I am playing Gandhi, it does not mean that I will just bend my back and hold the stick. That is not the physicality.
The physicality is very different. It comes from being that character you have to become.
It requires a particular kind of training in martial forms, in classical dance forms, in yoga asana... multiple things that I do to build a character.
Then I work on the emotional part, the psyche of the character.
That means I have to read up everything that the real life character has gone through.
You have to play the mind and the psychology of the person.
Even in your silences, you are playing the character all the time.
I prepare in multi-layers, so when I go on set, I am totally equipped.
My physical body is feeling it, my voice is feeling it, my mind is sensing it, my inner voice is feeling it...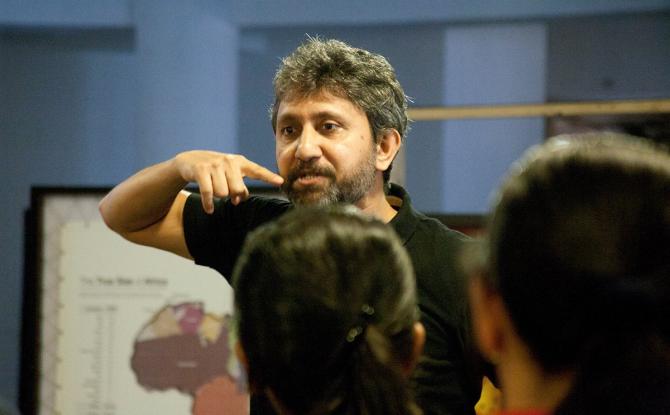 You have done many workshop with actors like Sanah Kapoor, Saiyami Kher, Anindita Nayar. Is teaching more fulfilling then acting?
Both are fulfilling.
But yes, I do love performing and acting, that will always have an edge.
I'm an artist, after all.
Having said that, teaching is almost as fulfilling because I teach whatever I have learned as an actor.
I don't refer to any methodology, it is my own invention, my own grammer.
So they feed into each other, which is why I say both are fulfilling.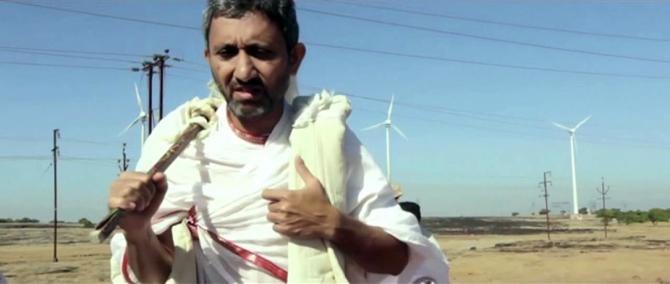 In 1997, you did the NFDC film The Last Vision At 42, you made your big screen debut with Ship of Theseus in 2012. Why did you start so late?
The long gap after The Last Vision happened simply because I was not getting any work.
There was just no work despite auditions, despite going every single day to showcase my talent, nothing came about.
That's why the decision to do theatre happened in 1998, right after The Last Vision.
That is when I decided that I would start doing theatre and keep looking for work in films. Fortunately, theatre took off in a very big way.
I got a lot of work in the theatre, but films did not happen.
At one point of time, I just left it.
I just felt that's okay, this is it.
I don't think I can lose my dignity like this, going to audition every single day of my life, traveling by train, bus and hanging out at the audition studios with token numbers in my hand and hours and hours going by.
I took a call that I would not do this. Rather, I would spend the time preparing myself and making myself an actor.
I felt that was more constructive than just whiling away my time outside studios.
I also felt when I was auditioning that a lot of people hardly understood the meaning of acting. The ADs and casting directors that I had met at that time, I didn't feel like performing in front of them. I felt a lack of dignity.
So after a long time, I stopped and focused on earning by doing various kinds of odd jobs for many, many years of my life. I put my interests in theatre and training.
When Ship of Theseus came, I was prepared.
I did not go to a school of acting, but I knew that all these years that I trained myself would come to fruition with Ship of Theseus/em>.
I was not nervous about doing that film because I knew I was ready.
Had Ship of Theseus had come to me earlier, I don't think I would have been able to perform that way.
So I came to the industry at the absolutely right age of 42.
I deny the fact that it was late for me. Not at all.
Although I have said many years ago that 'I arrived late', today I feel I arrived at the right time.
Was there frustration? How did you deal with it? What is your advice to people who have to deal with it?
The only thing I want to tell people is to have one mind.
One mind means your complete focus, your entire physical, psychological, emotional, mental focus on exactly what you have come for.
It's like walking like a soldier. You cannot drop to the ground, however many bullets hit you.
Because if you are weak, this is not the place for you.
You have to have the strength of a soldier.
Because it gets immensely frustrating at times.
It was for me as well, for so many years.
You feel you are walking into a black hole, there is no end to this.
That's when your mind test comes in.
Sometimes I feel it is lacking in today's generation because I teach the youth.
People look for easy work, quick money.
They believe they will fix everything by muscle and weight training.
That's the last thing to do as an actor.
In fact, in our workshops, we advise people not to go to gyms.
It ruins your physical body in terms of emotions.
We never advise weight training.
We advise martial arts, classical dance and yoga, but never weight training.
That's how the whole generation has to change.
They have to have lot of strength.
But they give up very easily.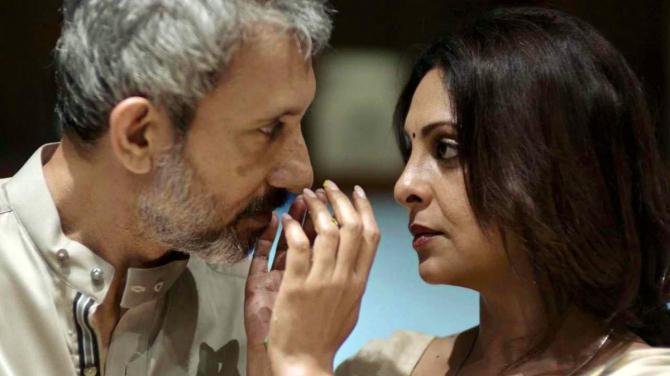 You may get your first project. but there is no guarantee that you will keep getting work. Is sustaining oneself in the industry difficult?
Absolutely, yes.
I have been trying for work from 1990.
I got my first job, The Last Vision, after eight years.
Then, over the next 14 to 15 years, I had no work.
The film you did last has no value.
It depends on what you do now with your present film.
The industry typecasts actors. What do you say about that?
Yes. Even I was typecast, right from the time I did Ship of Theseus.
But I fought it. I am still fighting it.
I have fought really hard to reject roles that were typecast and it's not easy to reject. When you come to the industry after such a long period of struggle, you look for work and money.
But I was also sticking to my guns and refusing roles of a monk that were offered. I refused them, although they were good production houses.
After Byomkesh Bakshi, I was again given villain roles and I said no again.
So you have to fight.
You have to convince them.
Don't give me what I've already done.
I've had many conversations with producers, directors, casting directors... just convincing them that one can do various kinds of roles.
You don't have to cast me after what you saw of me in Talvar or what you saw of me in Hichki. I can do something totally opposite.
It took me a lot of time to convince people that I can be extremely romantic. Only then did Once Again come, which I did with Shefali Shah. That was a romantic film.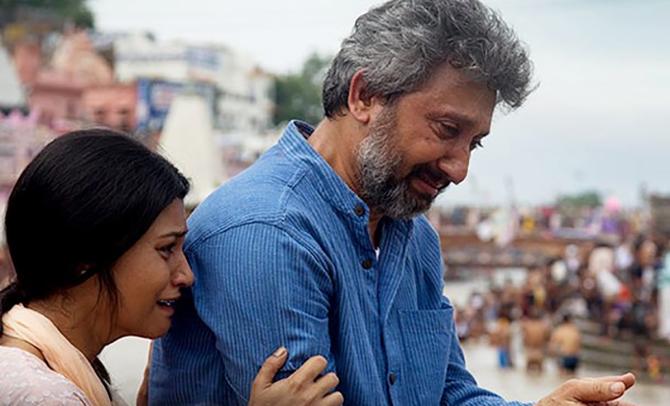 How are the plans for theatre residency going on?
No, it's not a plan. It's just an idea that I have in my head, and it's been there for a long time.
I will let everybody know when that happens. But not at this point.
Are you happy with your journey?
Yes. I am happy with what it has given me as a human being.