Abbas-Mustan are the big daddies of Bollywood thrillers. With films like Khiladi, Baazigar, Humraaz and Aitraaz to their credit, they hardly need any introduction.
Though their previous venture 36 China Town didn't exactly set cash registers ringing, the director-duo are unfazed and have a new thriller, Naqaab, starring Akshaye Khanna and Bobby Deol all set for a July release.
Catch the duo in this no holds barred conversation.
Naqaab has a catchline that says, ' The most shocking thriller of the year.' With the mask so apparent, is this film inspired by the Hollywood hit Face Off?
Mustan: (Grins) How did you get to know that this film is Face Off?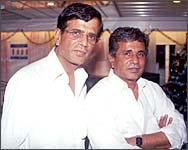 Abbas: (Grins) That's your guess but Naqaab is not a remake of Face Off. In fact, we have used the mask prominently in the promos because in the film, all three lead characters wear masks. All three are deceiving some one or the other. And the film unveils their pasts. The film starts like a love triangle with a twist before the interval.
Which brings me to my next question. Your films are always thrillers with a bit of romance thrown in. Is this the Abbas-Mustan set formula? How do you make it work?
Mustan: We also don't know!
Abbas: It's not a secret formula. Right from our childhood, we have enjoyed watching thrillers. So while we work on a script, we make sure that we innovate at the 'thrill' level, and that our screenplay is rock solid.
Like in music there are just seven surs, but thousands of songs evolve from a song. Similarly for us, it's always the same thought, that of a love triangle. But the variation is at the screenplay level.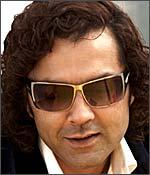 Mustan: Also, we make sure that our films have loads of entertainment. Like, in Baazigar, we used comedy. We have always found the classic Teesri Manzil very inspiring. So many people watched that film again and again! We want our films to be like that.
Is that why your last release 36, China Town didn't do well?
Mustan: That's not correct. The film eventually did good business.
Abbas: See what happened with 36 China Town was that the film had a lot of characters -- it had parallel tracks too, that of comedy, drama and romance. So people expected one of these characters to be the surprise element. Instead, it was the inconspicuous servant. That element left our audience disappointed.
For Naqaab, you have repeated your Humraaz combination of Bobby Deol and Akshaye Khanna.
Abbas: Bobby and Akshaye have become like family to us. Whenever we approach them, they immediately say yes. They don't even ask for a script. We just narrate it to them.
Mustan: We always wanted to work with these actors again. So when the right script fell in place, we cast them. You will be surprised how well they complement each other in this film.
You have chosen a newcomer, Urvashi Sharma, for the heroine.
Mustan: Yes, she is a newcomer but she's done a good job. Her character has many shades. With newcomers, you need a certain amount of patience, and you need to train them. We liked Urvashi in her Mika music video, and she did very well at the screen tests. And she dances really well too.
Abbas: Besides, we have a penchant for working with new actresses. We don't want the baggage associated with an established actress in most of our films. After all, we introduced Shilpa Shetty in Baazigar. Look how far she has come today.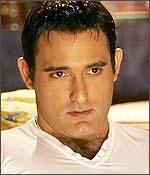 So do we see you working with Shilpa Shetty again?
Abbas: We haven't yet fixed on the right script for her. Actually, we wanted to cast Shilpa in Priyanka's role for Aitraaz. But then, she had date problems, and Priyanka Chopra did a good job.
Mustan:  Even with that film, Priyanka was skeptical and Kareena Kapoor desperately wanted to play the vamp. But then we explained to Kareena that she had never handled a simple housewife's role before. As for Priyanka, we were patient with her, and she successfully shed her inhibitions.
What next?
Mustan: There's Race starring Anil Kapoor, Saif Ali Khan, Akshaye Khanna, Bipasha Basu, Katrina Kaif and Sameera Reddy. That's again a different, fast paced thriller. We just have 10 days of shooting left to complete that film.
When do we see Abbas-Mustan make a film in a different genre?
Abbas:  Well, we have lots of ideas. We want to make a comedy. And we also have a solid supernatural script. Just wait and watch!