Twenty-three year old actor Ali Merchant is a passionate lover when it comes to gifting his girlfriend actress Sara Khan. Recently Ali gifted his beau an all-white Maruti SX4.
Apparently the story goes somewhat like this: Ali is very fond of big cars and drives a Tata Safari himself. Some time back, Sara had told him that she also liked big cars and was planning to buy a new one soon. In the true spirit of romance, Ali took Sara's wish to be his command and bought the car for her.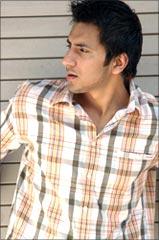 "Few days back I went over to her place and told her that there was something special waiting for her downstairs. The two of us then came downstairs and on seeing the new car Sara asked me what it was! I told her that it was for her and she could do anything with it," remembers Ali. Sara apparently got the shock of her life and her happiness knew no bounds.
Ali is currently playing the male lead in a show called Ruby on 9X. The character he portrays -- Yuvraj Oberoi -- is a rich, sweet lover boy. Playing one in real life also, Ali says smiling, "The lover boy image will not leave me. Be it Ambar Dhara, Ek Thi Rajkumari or Ruby. Like the other roles I play, even in Ruby I have designed the look of my role," says Ali.
"One lesson I have learned from my experience and will implement it henceforth is not to work for second fiddle channels. I will work only with the top channel now."
Much as Ali and Sara want to participate jointly in reality shows, they are not being able to take it up due to clash of dates. Both of us work in daily serials and hardly get time for anything else."