'My grandmother taking me to the jamatkhana was like a different world.'
'Like I had a key to a door which no one else seemed to have.'
'She doesn't take me anymore because she says I'm an embarrassment!'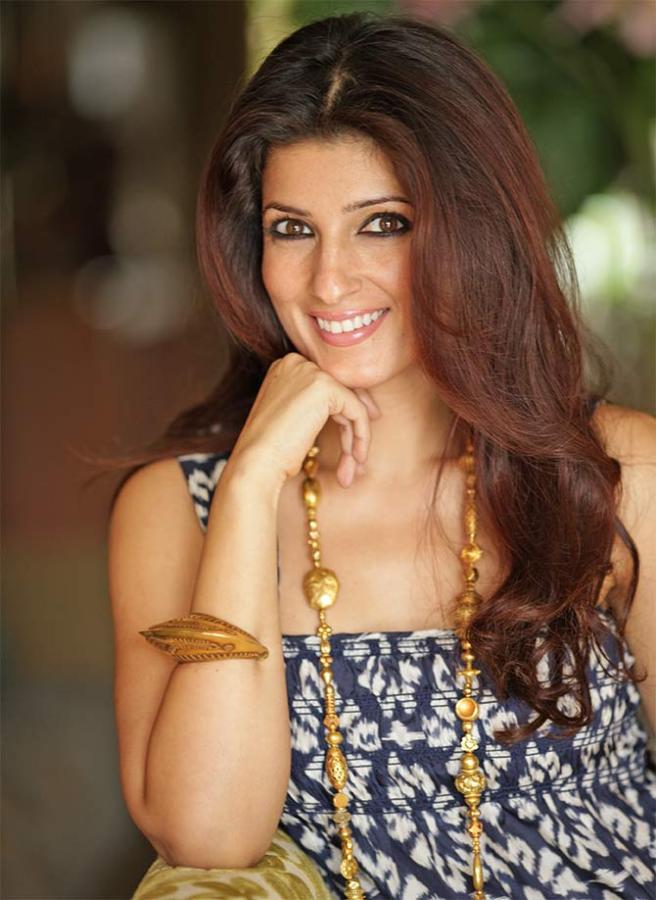 Acting was never Twinkle Khanna's cup of tea.
Like she told us, her movies provide the laughs in her family.
Her true calling is actually in words. And stories.
We saw Twinkle's talent for writing in her first book, Mrs Funnybones.
She has just released her second book -- a collection of short stories, The Legend Of Lakshmi Prasad.
The book has four stories, with themes one would not associate a privileged child of Tinseltown with -- from village life in 1920 to two sisters in the twilight of their lives, to a Malayali girl who marries five times but never seems to get the right guy to a man who invented low-cost sanitary napkins.
Twinkle deals with each subject in amazing detail.
"I make up all sorts of stories for my daughter," she says. "Now I am telling her a story about an alien whose spaceship is fuelled by soap bubbles and how their house gets flooded," she says with a laugh, talking about her four-year-old daughter Nitara.
Twinkle spoke to Rediff.com's Ronjita Kulkarni about her new book.
What made you write about Arunachalam Muruganantham, who invented low-cost sanitary napkins?
I was doing a piece on menstruation for a column and that's when I first read about him. His story really gripped me.
I start my book with his story. I wrote out the first five, six pages of how the story would begin. I wanted to begin from the middle (of his story) when he gets ostracised in his village.
I sent it to my editor. We were in the process of writing another book -- I had already sent her 10 chapters of that -- but I felt that this story had grabbed me.
I asked her to read it and see the style. She loved it. So I started working on that and started chasing him to meet me.
I felt people really needed to know his story because firstly, there's a taboo on menstruation and secondly, I thought he was a bigger feminist than women because here was a man who really believed that women should be freed from this shadow of shame, this 'unwitting sin that we supposedly commit with our wombs.'
Also, he wanted the girls to be able to go to school. He felt a lot of girls were dropping out because they get stained due to the rags they use and get embarrassed.
The other thing that I liked was that he did not take himself self-righteously as a human being. There's a sense of humour about him.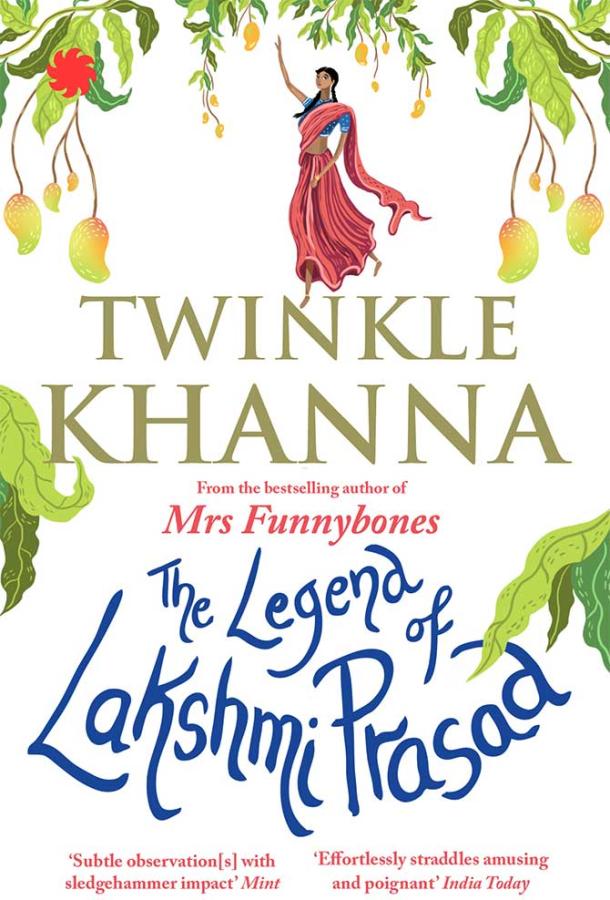 How much research did you do on his story?
I traveled to Coimbatore (where Muruganatham is based) a couple of times and did interviews with him. I read up on whatever was written about him. I took down details from him that he had never spoken about.
I did a lot of detailing. For example, I wanted a place where he would cycle every day to work -- from his village to a town.
There was a village called Itwa (in Madhya Pradesh), which is 2 km from Dewas. So he could cycle from Dewas to Itwa in about 25, 30 minutes and return. But Itwa as a place was too containing.
Like I wanted a Jagarnath sari store, but I felt the village could not contain it. So I set it in a small town called Mohana, which doesn't exist.
Why did you make him cycle?
Because I had decided that he must cycle!
'I've seen so many smart women, who are a wreck when it comes to their emotional lives.'
'Even if you point it out to them, that they are falling from one pothole to another, they don't seem to see it.'
'They will probably bash through life instead of being careful.'
Which is your favourite story in the book?
It's a toss between Salaam, Noni Appa and If The Weather Permits.
Salaam, Noni Appa tells the beautiful story of the elderly Noni Appa, who finds love in the twilight of her life.
The Noni Appa story gives you hope.
As you are getting older, it's not that life comes to a standstill.
There could be another adventure around the next corner; it's about being alive until you no longer are.
There's a constant play around mortality in the story. She can see that finishing line in the mist.
It's very clear for her. But to live that time until it's truly up is something that is uplifting.
If The Weather Permits was closer to my heart because it was a woman closer to my age, with a contemporary background like mine.
I felt for that character. I've seen so many women like that -- smart women, who are a wreck when it comes to their emotional lives.
Even if you point it out to them, that they are falling from one pothole to another, they don't seem to see it.
They will probably bash through life instead of being careful.
I spent two weeks in Kerala by myself, meeting people, looking at things.
I looked at the food, the route people take when they go from Thekkady to Brunton's Boatyard (a hotel in Fort Kochi).
I would ask people things, look up things online.
I would write them all down in my notebook, do a plotline and then start writing.
There was this image in my head of a girl who is constantly getting married.
She checks the weather before she gets married because her life is stormy, but she doesn't seem to see that. That was my basic line.
I did not think that I needed to make her Punjabi because I wanted to explore different cultures, give a different flavour.
I wanted a little bit of my country coming through. It would have been simpler to write about a Punjabi family since I know that, but this was a bit of a challenge for me.
I take that Punjabiness for granted because I am born with it, but this had a flavour to it.
How long did it take you to write the four stories?
Nine months.
Noni Appa's story was from the story I had first started writing and had finished 10 chapters of.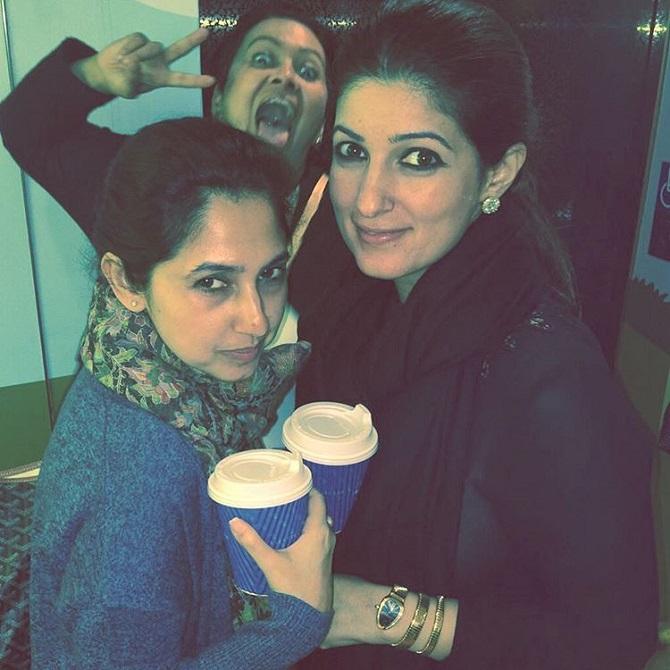 IMAGE: Twinkle with her sister Rinke. Photograph: Kind courtesy Twinkle Khanna/Instagram
In your acknowledgments, you hope your younger sister Rinke and you grow old like Noni Appa and her sister Binny. Tell us about your relationship with Rinke.
Strangely enough, I don't mention my sister too much in my columns because she nags me and says don't make me look foolish, don't write nonsense about me, don't make jokes about me...
I didn't realise the depth of my bond with her until after I finished the book because sisters come in very strongly in all the stories.
In Noni Appa and Binny, they have this easygoing banter with each other. They can tell each other anything and tease each other with anything. That's what I have with my sister.
We've grown up, we've got husbands and kids, we live in different cities -- she lives in Delhi -- but nothing has changed between us.
We talk to each other single day. Our bond is unshakeable.
Growing up, I never bullied her. She would bully me.
I was bigger, taller and fatter than her and so I felt that if I hit her, she would probably collapse. I would let her hit me.
You have dedicated this book to your husband.
My husband has heard my stories again and again and been very supportive of them.
He has been my biggest cheerleader and it's high time I dedicated a book to him.
He has really been there, patiently, waiting for me to do the things I needed to do rather than perhaps do the things my family needed me to do.
In the last month, I would write about seven hours a day. The book was supposed to come out next year, but then my editor decided we should come out this year.
And the last month, you are anyways writing a lot. You're sending it off, the proof editor is sending it back...
He (Akshay Kumar) kept the household together while I was away, in my mind.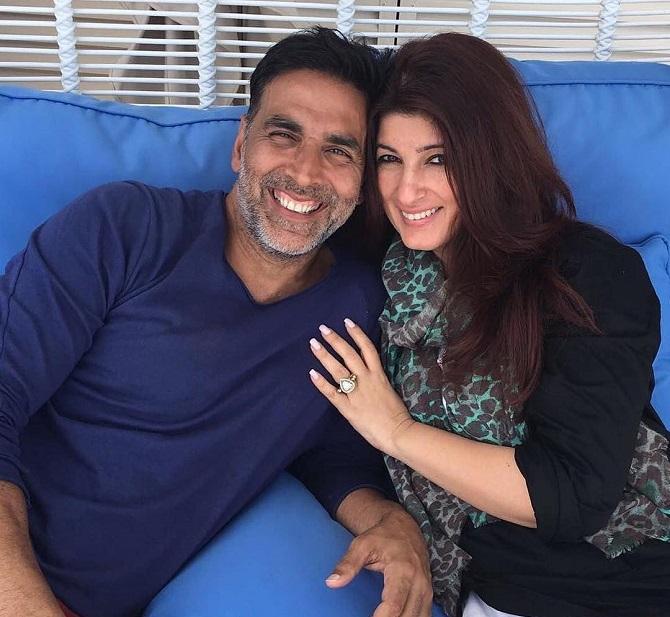 IMAGE: Twinkle with husband Akshay Kumar. Photograph: Kind courtesy Twinkle Khanna/Instagram
How did your children handle it?
Nitara got used to it. Her birthday just went by (on September 25). I had finished and submitted my manuscript by then.
We were sitting and opening her presents when she had to go to the bathroom. While she went, I sat on my computer again.
When she returned, she asked, 'Are you done with your work?'
She asked rather than demanded because she was so used to seeing me at work.
In a way, for the kids as well, it's very important for them to see a mother who is working, to see a mother who has a work ethic.
They will develop a work ethic looking at her. So I don't think I'm taking anything away from them.
If I feel guilty about it, that's what I say to myself and I overcompensate with my time once I am with them.
I have to stretch every hour to the maximum and something slips. But that happens to everyone.
Which is Akshay's favourite story?
He likes The Legend of Lakshmi Prasad because maybe he feels strongly for the girl child.
It's a story that all of us are aware of, of the way women are treated after marriage.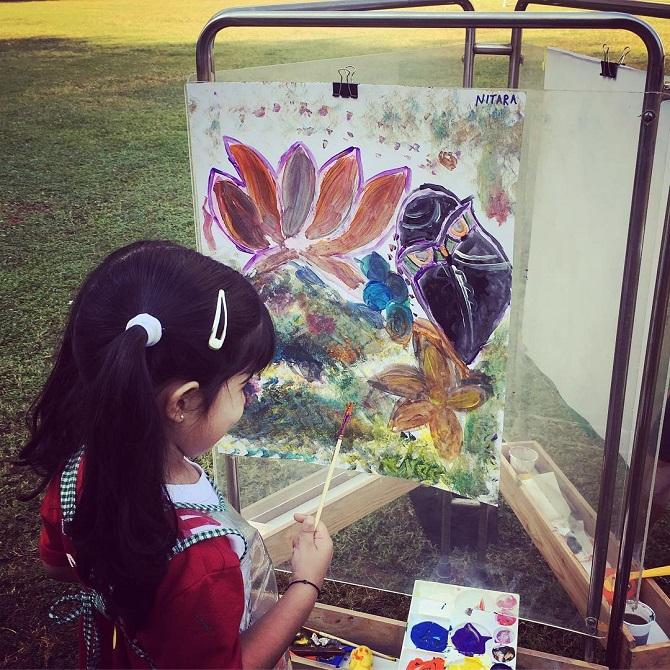 IMAGE: Twinkle's four-year-old daughter Nitara. Photograph: Kind courtesy Twinkle Khanna/Instagram
Has your son Aarav read the book?
Aarav doesn't seem to have the time because he has just become a teenager. I've narrated one or two of the stories.
My mother (actress Dimple Kapadia-Khanna) hasn't read it either.
Tell us about your childhood. You have acknowledged your maternal grandmother in the book.
My grandmother is an Aga Khani (the Islami sect which revers the Aga Khan as its spiritual head) so she would take Rinke and me to the jamatkhana.
I had a multicultural exposure, that's why I don't believe in a particular religion.
I have respect for most because I grew up surrounded by so many. I don't judge people by that and I feel extremely offended when people categorise based on race, religion or gender.
Having a grandmother who took me to the jamatkhana was like a different world.
Like I had a key to a door, which no one else seemed to have. It was fascinating.
She doesn't take me anymore because she says I am an embarrassment!
I had a wider perspective than most people.
I remember when I was young, I would go by autorickshaw to college. And there was also a time when I would fly first class with my mother.
So I had all sorts of exposure which I thought was helpful.
I went to Maneckji Cooper school (in Juhu, northwest Mumbai). In a class of 35, I was probably (ranked) 34.
Then, I went to boarding school (the New Era High School in Panchgani) at the age of 11. Perhaps because I was lonely or because I had something to prove, I really started getting interested in academics. I came first and topped my class.
It goes to show that the same person can perform differently depending upon their motivation.
How does a girl who came 34 out of 35 till Class 5 come 1st in Class 6 and after?
A challenge is what brings the best out of us.
Did you know of your talent for writing before you joined the movies?
I wanted to become a chartered accountant, studied for that and applied for the entrance exams.
But I was getting a lot of work in the movie business because of who my parents were. Then the same brain who thought I should become a CA thought this would make me a lot of money.
Just like doctors' kids become doctors and engineers' kids become engineers, even in our profession, it is prevalent.
Though my aspirations were different, I felt this made sense.
I could write even then and I would. I had a file full of really bad poems.
I wrote till maybe 18 or 20 and then for two decades, I did not write anything. I started writing again at 39.
Twinkle Khanna's The Legend Of Laxmi Prasad has been published by Juggernaut Books and is also available on the Juggernaut app.