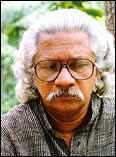 Noted filmmaker Adoor Gopalakrishnan's Indo-French production Nizhalkkuthu will be the inaugural film at the 13th Fukuoka International Film Festival, Japan. 
In a letter to the Gopalakrishnan, festival director Tadao Sato said the reason for choosing Nizhalkkuthu was 'because of the original and superb cinematic qualities.'
Gopalakrishnan and lead actor Oduvil Unnikrishnan have been invited to the festival. They will address a press conference and present the film to the audience on September 12. The film has three more screenings on September 14, 19 and 22, and the organisers have arranged post screening discussions after each screening.
The special focus of the 12-day film fest is Asia. Films from Iran, Turkey, Mongolia, Thailand, Singapore, Sri Lanka, Korea, Taiwan, Japan, Israel, Australia, Vietnam and Tajikistan will be shown.
| | |
| --- | --- |
| | More on Rediff! |
| | |
Talking to
rediff.com
from Thiruvananthapuram, the director says, "This is a very prestigious festival. It is considered 
the
official festival in Japan. Films shown here will be bought by the Fukuoka public library film museum and will be preserved in the archives, which is really an honour."
Nizhalkkuthu has received invitations from over 100 film festivals, but Gopalakrishnan has sent the film only to 27 film festivals so far, including the Fukuoka film fest. "I choose the film festivals as I do not have many prints with me," he explains, adding, "Nizhalkkuthu opened at the Venice Festival. It is an honour to have a world premiere at Venice. It is considered a stamp of quality. The three major festivals of the world are Venice, Berlin and Cannes. After these comes the Toronto festival, where my film was shown under the Masters Section. Although all my films have gone to as many festivals, it happened over a period of three or four years. But Nizhalkkuthu achieved this in just a span of less than one year."
The film is being shown at the Brisbane film festival in Australia, after being shown in Sydney and Melbourne. The rights of the film have already been sold for distribution in the US, France, Switzerland and Netherlands.
It has been a rewarding period of Gopalakrishnan as Nizhalkkuthu has been released in the theatres in Kerala, and has received a good response. "It is gratifying to see youngsters in the theatres watching the film. Many of them call me and talk about the film for hours. It is very satisfying," he says.