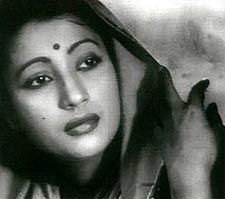 The condition of veteran actress Suchitra Sen, who was hospitalised on December 29 following a respiratory tract infection, has turned critical.
The 82-year-old actress is admitted at Belle Vue hospital in Kolkata.
Dr A Chakraborty, one of the members of Dr Subrata Moitra's consortium, told rediff.com exclusively that the actress is suffering from chronic obstructive pulmonary disorder.
Moitra is heading the medical board that is attending to Sen at Kolkata's Belle Vue nursing home.
"Around 4.30 pm on Saturday, there was an alarming fall in the level of oxygen in Sen's blood as a result of which we had to use an endotracheal tube. The sugar level in her blood was really high and her heartbeats and blood pressure readings also caused a lot of concern," Chakraborty said.
Things took an even more serious turn when some trace of blood was found in the sucked out phlegm, said a clinic source.
However, after almost an hour's intervention, Sen's condition has somewhat improved.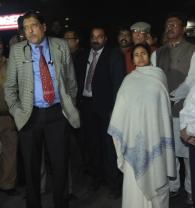 West Bengal Chief Minister Mamata Banerjee reached Belle Vue around 5 pm.
Sen's family -- Moon Moon Sen and her daughters Raima and Ria -- have been at the clinic since morning.
"Till now, the actress has been under non-invasive ventilation or on BiPAP," Chakraborty said.
(A BiPAP machine is a small device that assists with a patient's breathing.)
"However, if need be, she might have to be put on full ventilation," he added.
Image: West Bengal Chief Minister Mamata Banerjee at the hospital ' Photograph: Dipak Chakraborty