A Thursday is the sort of in-the-moment drama that holds your attention and emotions while it lasts, but doesn't dig enough to linger on, observes Sukanya Verma.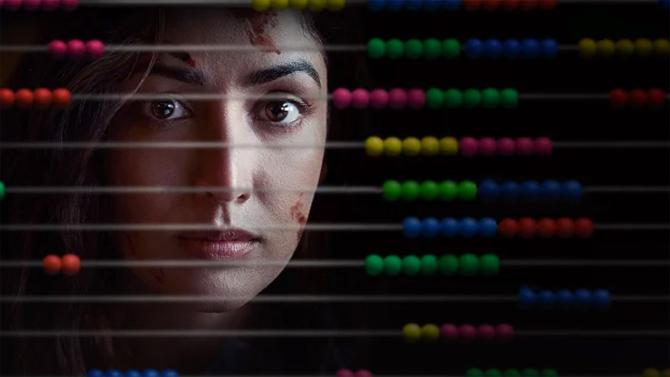 In A Wednesday, a common man takes upon himself to finish off terrorism by alerting Mumbai's police force with threats of a bomb scare.
A Thursday, although an entirely different movie, shares its 'desperate times calls for desperate measures' line of thought.
As thrilling that renders Director Behzad Khambata's premise, their thematic kinship makes the outcome easy to foresee.
And yet 'surprise', cries Naina Jaiswal (Yami Gautam Dhar), a nursery teacher resuming work after three weeks of sick leave at a swanky Colaba playschool littered by knee high kids scrambling to embrace her.
All is sunny and smiles as everybody's favourite person basks in the love and light.
The kids worship her.
Her coworkers adore her.
A master multitasker, she is organising a tot's birthday, slipping extra cash in the helper's hand and has some valuable suggestions to offer her criminal lawyer fiancé in his posh South Mumbai house that is large enough to accommodate a playschool.
'You would have made a solid prosecutor, Naina,' he compliments her.
Right on cue, she makes her case for the next two hours by holding 16 children hostage over a series of demands from a specific cop, ransom money, random pair of men and a meeting with the prime minister.
Before one can ask why she quit her legal eagle duties and settled for playschool teaching or process the drastic shift in mood and weather, the scene is already swarming with live threats broadcasted on social media, cops sending out evacuation orders in the neighbourhood, commandos trickling in from all corners, panicking, protesting parents of the kids, clueless partner of the kidnapper, the PM holding emergency meetings and the mandatory media circus coming into play across news channel manipulations and absurd opinion polls.
Only recently Dhamaka addressed the mortifying TRPs obsession and a call for accountability in A Wednesday-reminiscent tone.
Although A Thursday's plate is much too full, it takes a moment to tell off hyperventilating news anchors and their tendency of blowing things out of proportion.
A do-as-I-demand narrative can lose steam after a while but A Thursday works hard to keep us distracted and not immediately think about the loopholes in Naina's plan by way of its many character arcs.
There's a snappy pregnant cop Catherine Alvares (an actually eight months pregnant Neha Dhupia) and her hostile equation with brusque junior Javed Khan (Atul Kulkarni).
The prime minister (Dimple Kapadia) is a lady flanked by patronidsing men disapproving of her 'emotions can be assets' point of view. If her back tied hairstyle resembling Congress president Sonia Gandhi's is indicative of the film's politics, it is much too mild to see too much into.
A newsreader (an ever reliable Maya Sarao) fluctuates between a mother tense about her son being held hostage as well as unethically exploiting it for professional gain.
Whether Naina's beau (a compelling Karanvir Sharma) is genuinely shocked by the turn of events or somebody we need to be suspicious about, A Thursday is inclined to tease.
It's a hyper, hysterical, Thursday and the movie's hammering background score and Mumbai's relentless downpour keenly adds to the drama.
But it's the gender dynamics of women in power as police, politicians or press suffering sexists insisting they know better that is telling of the poignant objectives and its resolution towards crimes against women it means to eventually achieve.
Which brings us back to Naina.
She is not quite the common man like Naseeruddin Shah's anonymous character in A Wednesday, but relatively tech-savvy.
Instead of complex software set-up, she is armed with a gun and pair of air pods using social media, electronic locks and cartoon addicted kids to her advantage.
It is unbelievable how accommodating these kids are, completely oblivious to the uproar outside the premise -- almost all day has passed and not one peep.
The whole idea of the thriller, as it feverishly advances to find out the reason behind her extreme behaviour, is to keep the audience at the edge of their seats.
Though A Thursday drops a few conspiracy theories along the way, one can smell something foul is brewing in the air.
Except the more you think about it, the more far-fetched it seems, the more glaring the loopholes. Not to mention reckless too.
The sheer danger in throwing innocent lives in the line of fire weakens the credibility of Naina's crusade.
A Thursday is the sort of in-the-moment drama that holds your attention and emotions while it lasts but doesn't dig enough to linger on. What makes it riveting is a cast completely one with their roles.
Yami Gautam Dhar's chameleon-like grace in expressing the ongoing conflict between her resolve and jitters brings out her character's deep disquietude.
Dimple Kapadia's elegance and authority does well in offering solace and solidarity.
Neha Dhupia blurs the lines between real and reel in a nearly method actor degree of believability of her unease.
Atul Kulkarni provides support to this women-dominated space with unflinching intensity.
There's a significant message in these movies. Whether it happened on A Wednesday or A Thursday, every day of the week is important, every person voicing their grievance is important, hear them out, serve justice promptly.
Do not defer it indefinitely.
Do not forget it permanently.
A Thursday streams on Disney Hotstar.
Rediff Rating: