'There is a part of me that says it is a great time to tell stories from my own land.'
'But then opportunities are coming my way from all over the world.'
'So one foot is here and one foot is in the West.'
Ali Fazal gets candid with Aseem Chhabra for Rediff.com.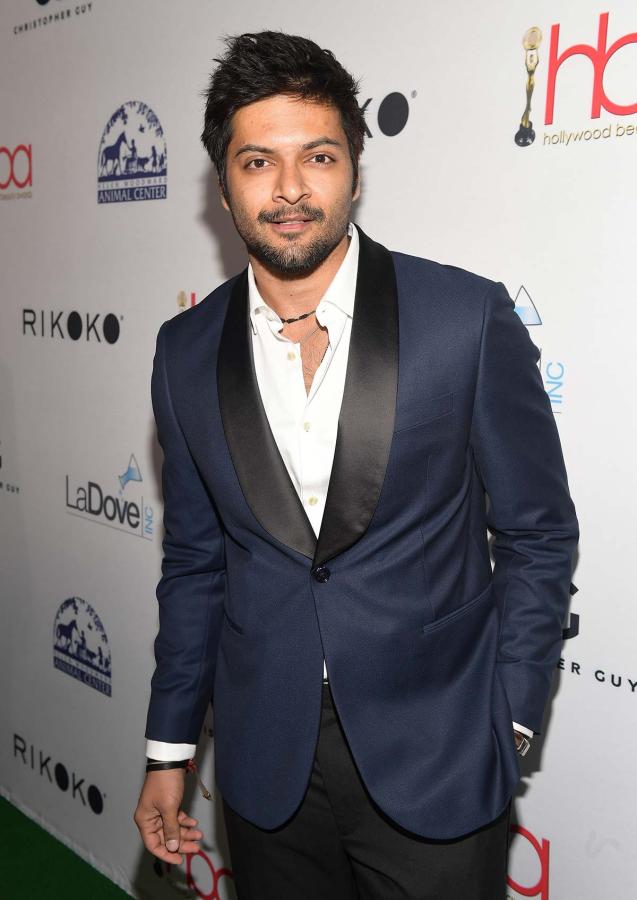 I first saw Ali Fazal in two back-to-back films, Fukrey (2013) and Bobby Jasoos (2014).
Here was a tall, young, handsome actor, very natural in his performances, comfortable in the roles given to him.
But Fazal was also ambitious and a few years later, he managed to bag a very big role -- the male lead in Stephen Frears's Victoria & Abdul (2017). His co-star in the film was Oscar winner Dame Judy Dench.
After a number of projects, including the popular crime series Mirzapur (2018 and 2020), in which he played Guddu Pandit, Fazal is back with his next international project. He plays one of the suspects in Kenneth Branagh's updated version of Agatha Christie's 1937 novel, Death On The Nile.
There have been several other screen and television versions of Death On The Nile, including a 1978 film with Peter Ustinov playing Hercule Poirot.
In the current film, Branagh appears as the Belgian detective. The film's large star cast includes Annette Bening and Gal Gadot.
The film was delayed a few times because of the pandemic. It finally opened around the world on February 11.
I spoke to Fazal by phone.
The actor was in Mumbai, excited about the release of the new film, while also reflecting on how his career has shaped in the recent years in India and abroad.
Ali, I believe you were recently traveling.
I just got back from a quick four-day trip to London.
It was touching base with the cast of Death On The Nile and it was amazing because literally, the day before yesterday, I was sitting with Kenneth Branagh discussing art, scripts and movies, and the next morning he gets nominated for the Academy Awards.
Yeah, that's exciting. I really liked Belfast. You have seen it, right? You are a member of the Academy, so of course, you must have voted.
Yes, we ended up watching a lot of films, but this one is very close to Kenneth because it's his personal life story.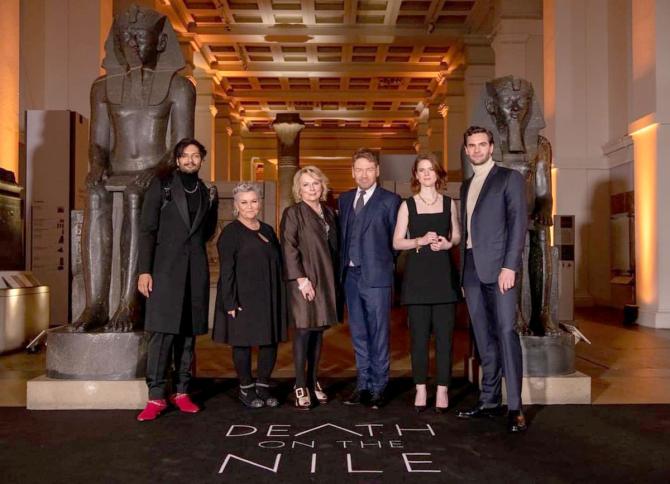 Was there any press promotion in London?
Very little. I think a lot of press people have seen it because I got calls from the HFPA (Hollywood Foreign Press Association) guys.
They were really happy.
It's one of those spectacle whodunits.
I mean, yes, it's an 85 year-old story and you can't really not predict the end. So it's not about that.
But I think we have shot it in a very interesting way.
We shot it on film camera, actually, so that was something really cool.
When was the film shot? It was before the pandemic, right?
This was about 40 years ago (laughs).
It just seems like so long ago, but no, it was shot in 2019.
We finished it in December 2019, right before the madness began.
Then there were delays and I think it's good that the film is coming out now because the theatres have opened up.
The day before yesterday, I was sitting with the producers of Disney and the whole team. They were very pumped about it.
We have gotten some 3,300 screens in America alone and 9,000 to 10,000 in China.
Then there is Europe. It is one of my biggest releases.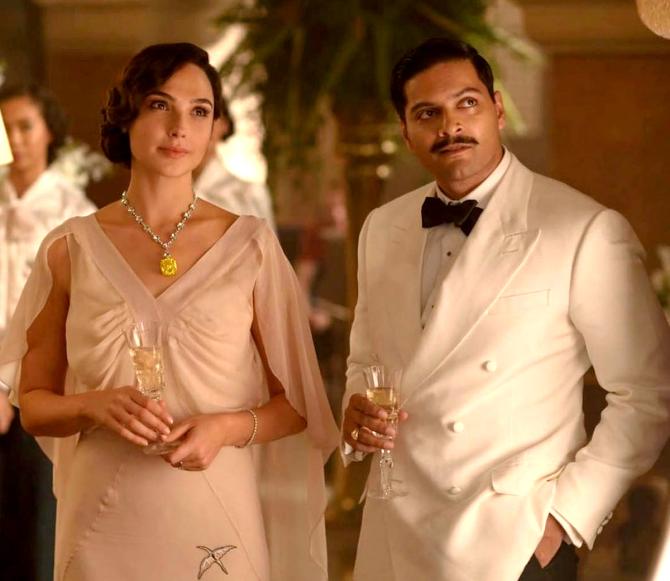 Did you shoot the film in Egypt?
Some part of it was in Egypt but most of the boat stuff was at the studio.
It was created.
It was basically like Murder On The Orient Express (2017).
They had created these massive sets.
Even the Abu Simbel temple in Egypt was created to size at the Longcross Studios in UK. We were shooting Egyptian weather under London skies.
In your conversations with Kenneth Branagh, did he talk about his interest in Agatha Christie's works, the fact that he had directed Murder On The Orient Express a few years ago? Why did he want to remake films when people have also read the novels? What is the fascination for a film-maker like him?
I suppose it's the same fascination that someone with the discipline of stage has with Shakespeare.
And who better to know than Kenneth Branagh himself on stage and on cinema, to have done Shakespeare the way he has done?
Agatha Christie, I suppose came easy to him.
But he was very excited about it because it is a new take.
My character Cousin Andrew was Uncle Andrew in the original film and it was played by George Kennedy.
And there's a context.
Gal's (Gadot) character (Linnet Ridgeway) and my character are cousins.
In the film, we have grown up together.
We have a bit of a childhood history, and so those few tweaks were made here and there.
With a such a diverse cast, you wouldn't expect that to be something featuring in the 1970s in an Agatha Christie film.
Of course, the music (composed by Patrick Doyle) automatically lifts it.
We had a screening two-three days back and that is something that stayed with me.
We are all dressed up as people would dress up back then. I think it's the music that really kind of starts to pull you in.
I suppose that would attract younger audiences.
What was Uncle Andrew before? What was his ethnicity?
In the original, it was an all English cast.
White people, right?
Yes, all white people.
Now it's a whole different ballgame.
We have not gone out of our way to preach our ethnicities in the film, and I think that's what I like about it because it's one of those films that has been a classic case of colour blind casting.
And I am as English as it gets.
I am not playing an Indian.
We speak the Queen's English.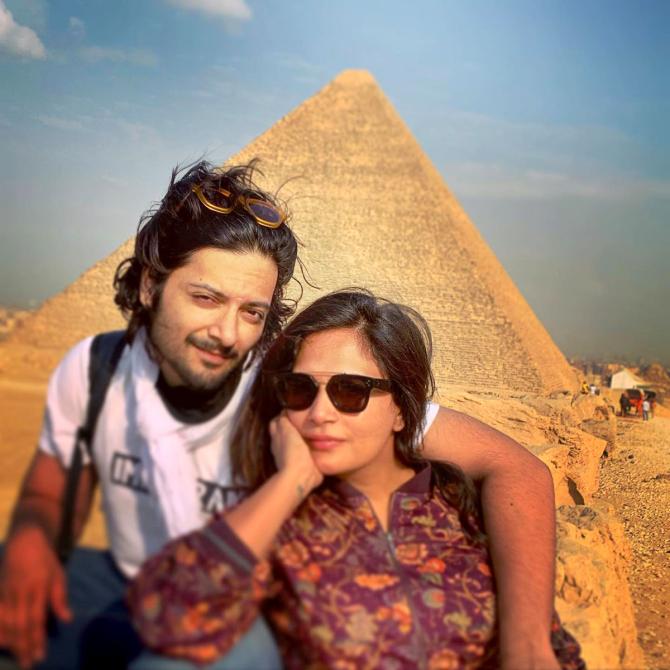 Did you have to work on your accent?
I made sure I worked on it.
I had to bring that to the table.
You have to get past the accent and be at par with the likes of Kenneth Branagh, Annette Bening and all these stalwarts.
I had to get that in the can before I could really start acting.
I wanted to be sure all the nuances were just right.
The palate changes the moment you don an accent and it has to be right, otherwise it just goes for a toss.
Did you work on it yourself, or did you take diction lessons?
I worked on it myself.
I did take help from one of the dialect coaches.
I told him to keep a watch on me, even during takes and during the entire process of filming.
I told him to just stop everything even if they find one syllable off.
That was something I was very particular about, and I think Kenneth appreciated that.
Rose Leslie, one of our co-actors, has a French accent in the film and she's originally Scottish. Kenneth himself has a Belgian-French accent thing happening with Poirot.
And that's needed with Hercule Poirot.
Yes. So I had to be at par with Agatha Christie's novel and kind of keep it English because the setting is English.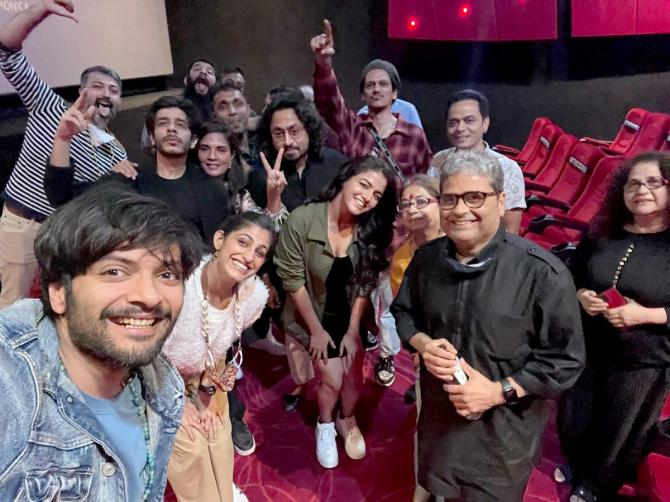 What was it like working with Kenneth Branagh as a director and he is also your castmate? You have also worked with Stephen Frears. They are two remarkable British film-makers.
I like that they discover things about you.
That is something refreshing maybe because I wasn't in a position of power in India, where I could choose and tailor make my own parts.
So I usually have to make sense of it myself, as opposed to just being able to trust your director and take the leap.
There are very few times in your life you get to do that.
Stephen Frears shot parts of me that I would have never seen myself doing. They push you in directions where you have not thought of going as an actor.
I know that Vishal Bhardwaj is one of those film-makers. I am working with him right now in Khufiya.
He is someone I would compare to the likes of these guys.
Kenneth, of course, has the discipline of stage. He is very thorough. He knows exactly what he wants, but he also lets you play within that.
Agatha Christie's story is very specific. Michael Green wrote the screenplay like that.
There is the scene with all the suspects in one room.
It's very seldom that you find more than one or two characters in one scene.
It is just a whole bunch of people, apart from the classic Hercule Poirot.
It was a lot of learning experience, especially working with Kenneth.
And the cast. You have worked with Judi Dench before this, but what a huge cast this was.
Annette Bening to begin with.
I was fanboying through the shoot.
We would be sitting off-set and I would be chatting with her. That was fun, just getting to know more about her life.
And I got lucky because us time mera birthday bhi hua tha. They were very sweet.
They cut a cake for me and we were at some restaurant. So it was a sweet group of people.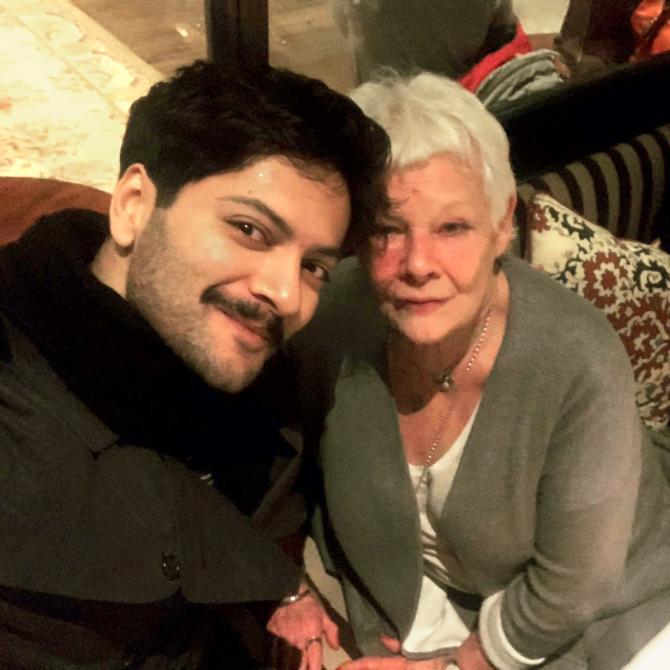 You have become a star in India, especially now with OTT platforms, which has taken you to a very different level. You are recognised, you have a fan following. But when you move into a different country, with actors who have a very different style of working, especially the likes of Judi Dench and Annette Bening, do you slip in very comfortably into that environment? Or does it take you a little while to get to know your way around?
They make you feel comfortable.
They almost go out of their way to make you feel like you are an equal stake holder. And that's the beauty of it.
There's something very interesting that Kenneth did on day one.
Of course, after the table read we all had together, we mingled very formally with each other.
But on day one of the shoot, Kenneth had prepared a quiz for us.
And he had these small little chits with all our previous works written on those chits, and passing it around. Just to kind of make sure that we all got acquainted with each other, our previous works and where we come from. I thought that was really nice.
We would always be together in the green rooms, the makeup rooms. So you lose that vanity we sometimes are so conditioned to in India.
It's okay to get up and go make your own coffee.
You don't need a man-Friday doing that for you.
I have to confess. I have been riddled with that because I work in India. We are so used to it here.
It's a small thing, but it's not when you are sharing notes with the likes of people like Gal, who is a star. She's the Wonder Woman. You think my God, she would have airs but no, she is like normal people.
And I suppose my takeaway was that I like being on time.
I like to respect time and other people's time.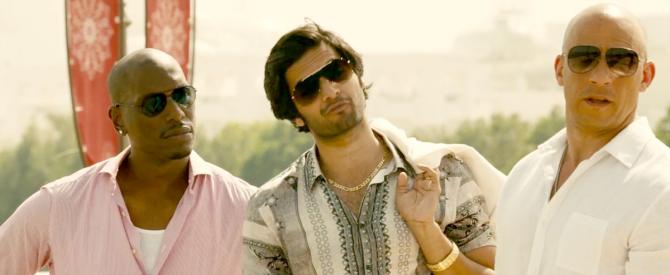 How did you start this journey in the West? I know you worked on one of the Fast and Furious films: Furious 7.
I had a small role in that.
They weren't even casting in India.
I remember someone asked me if I wanted to audition.
I just love playing around with accents.
I said yes I would love to audition for this.
I got the part and flew down to Atlanta.
I shot the film there and then in Abu Dhabi.
In fact, that was the time when we lost Paul Walker. He died during the film shoot.
Oh yes, that was sad. From there, you acted in Victoria & Abdul. When I interviewed you at TIFF in 2017, you told me how Nandini Srikant got you the audition.
Yes, she was casting for it.
In fact, a very interesting anecdote is that I was sitting in a room with (talent manager) Reshma Shetty.
She was the one who told me about this. She said that at the time Frears was considering Meryl Streep or Judi Dench for the part of Queen Victoria and you should try this out. So actually I wasn't even approached for this.
I went and asked if I could send the audition on my phone?
Nandini was very kind and she helped me go through that process. And that is when they called me in.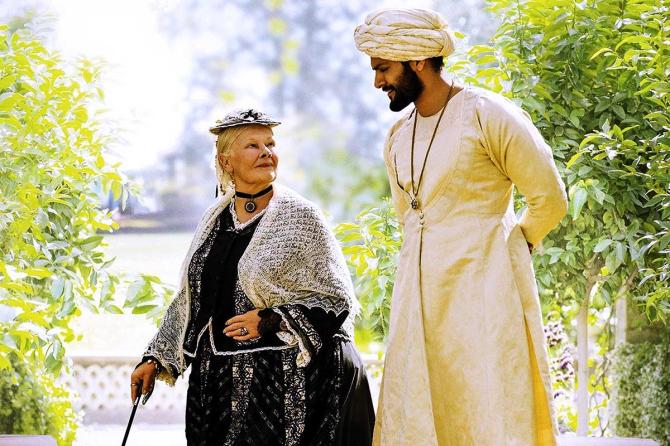 And I think you told me after that you got an agent in England, right?
I did, yes.
I share the same agent with Judi, Daniel Day Lewis and Jude Law.
It's a boutique agency, Julian Belfrage Associates. I am very happy with them.
Earlier, I also had signed up with an American agency, William Morris.
I left them last year. I will move on to another one.
But this role came through the British agency?
Yes, very much.
What did it entail? You had to audition for the role? Did you have to fly to UK?
I know that Kenneth -- because he works with Judi a lot -- he got to see my work.
That's when I got this scene sent from him via Julian Belfrage.
I taped one of the scenes, spoke to him on the phone, and next thing I was on a flight to London to discuss the character with him and for costume fittings.
I am particular about costumes in all my parts, so I like to dive into that before anything else.
It was fun to create this person from nowhere because we had no reference.
This was practically a new character being tailored.
The next time I was there for the shoot in September 2019.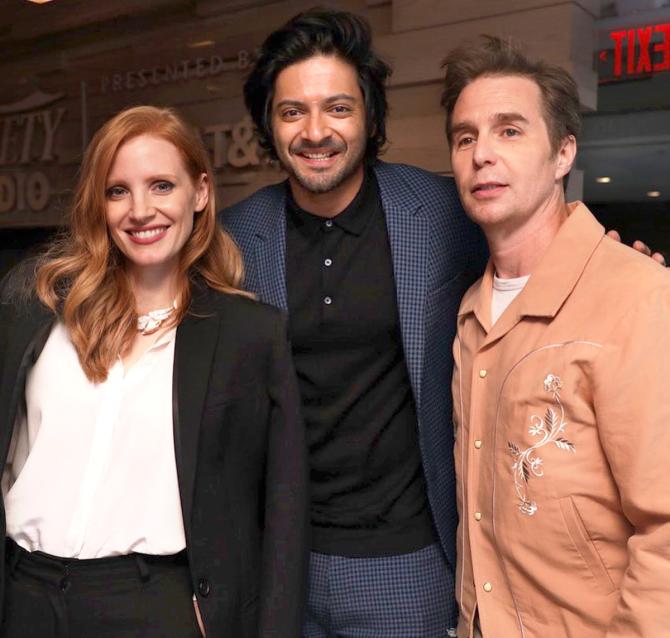 But have other roles come your way or is casting still an issue because you happen to be of a particular ethnicity?
We will find out, now that I have had my share of luck.
I have also managed to rope in Kandahar, which is a very interesting, out and out action film with Gerard Butler.
We just finished that shoot in Saudi Arabia.
Ric Roman Waugh is the director. He has made Angel Has Fallen and Greenland. He also made a very good film with Val Kilmer called Felon.
As you can tell by the name Kandahar, we created Afghanistan in Saudi Arabia.
What I liked is it's not one of those run of the mill Uncle-Sam-comes-to-save-you films. It really has a very interesting gaze.
I have something interesting to bring to the table.
And there is a lot of action. I have not done this kind of action ever.
With the roles that have started to come your way, can you manage the parallel work outside India and then with say, Vishal Bhardwaj? Do you have to sometimes accommodate one for the other?
Yeah, you are right. That's the dilemma I am struggling with.
There is a part of me that says it is a great time to tell stories from my own land.
Mujhe apni kahaniyan sunani hain.
But then opportunities are coming my way from all over the world. So one foot is here and one foot is in the West, and time gets divided.
I have to be extra careful of what I am choosing here.
A lot of people have been after me. Why don't you move? You should move to LA or London.
But let's see maybe in good time.
Art in itself is going through a big turmoil in India, amongst many other things.
I look at the kind of career Irrfan Khan had, for instance. He had big Hollywood franchise projects and some really good indie work outside India. But he had to sometimes make choices. I think for The Lunchbox, he gave up a Christopher Nolan project.
Yes, it bites you hard.
Recently, I had to give up a remake of a very interesting show in India.
I was excited about it and I thought I wish I could, but it's okay. I suppose that's the opportunity cost.
Because something else came your way?
Yes, I was shooting Kandahar.
I was just stuck because we went all the way, from start to finish, so I had to give that up.
Vishal Bhardwaj's film Khufiya has you and Tabu in it.
I hope to do justice to Vishal Sir's film. We still have some shooting days left.
I am looking forward to your work there. In Omkara, he got a great performance out of Kareena Kapoor and he found the actor in Saif Ali Khan. Tum to bahut talented waise hi ho.
You are being so nice. Thank you so much.
But I am trying, learning on the job and learning as much as I can from everywhere.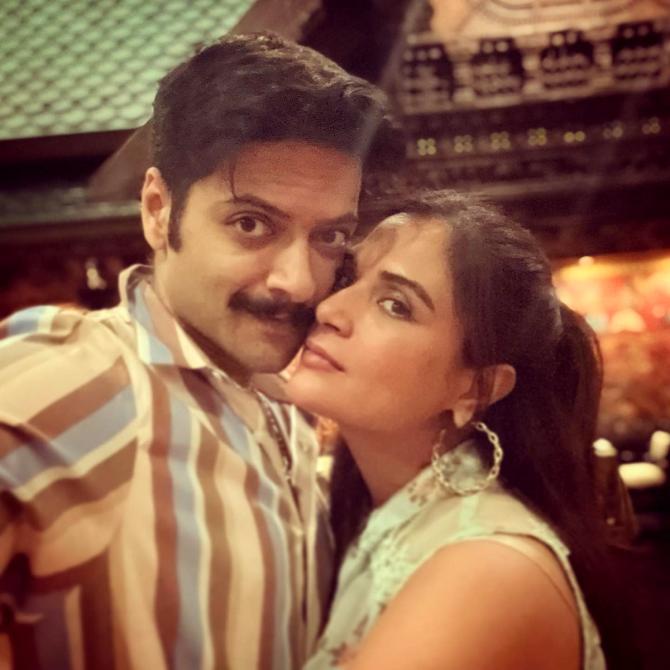 Now everyone is curious, shaadi kab kar rahe ho tum dono (Fazal is engaged to actress Richa Chadha)?
Oh God, hadd ho gayee! Sometimes I feel ki meri shaadi media se hone wali hai.
You don't have to tell. I am not a gossip journalist.
I know. That's what I am saying.
It's just, it is one of those things that people after a while will say inse nahin ho raha hai.
You and Richa are happy together, so no pressure.
Very happy.
It's just that after the pandemic, all the work was pending.
So we thought we should finish all our commitments.
But no, we will announce it.
We definitely want to do some reception and stuff, with everybody, and some friends and family.