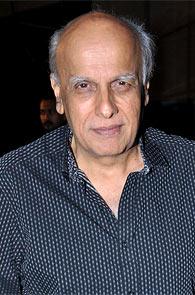 Ministry Of Health removes the ugly anti-smoking video accompanying feature films.

For the film fraternity, 2014 began on a positive note with the health ministry scrapping the anti-smoking short-film that was shown before every feature film that had actors smoking, and replacing it with one that some film makers find more acceptable.

Director Mahesh Bhatt said, "A big thank you from the film fraternity to the health ministry for the mid-course correction. I am certain this new film will make the anti-tobacco campaign more effective. Less always says more."

A much-relieved Shoojit Sircar says the new anti-smoking film makes a lot more sense. "I am happy. The earlier one was in very bad taste. It completely spoilt the movie experience for non-smokers and smokers alike. At least now audiences won't shut their eyes or read text messages on their phone when the anti-smoking film comes on."

Dibakar Bannerjee is okay with any anti-smoking warning. "Smoking is bad for health. Whatever gets the message across is fine."

The earlier film included graphic pictures of a youngster named Mukesh who was dying of cancer, which director Raj Nidimoru found "appalling".

"The only thing that film achieved was insensitive but hilarious jokes about Mukesh,
the poor chap who died of tobacco use as shown in the film. There were these tasteless audio jokes that made the rounds imitating his voice," says Nidimoru, whose
Go Goa Gone
had the censor board fuming at Saif Ali Khan constantly smoking a cigar.
Nidimoru had offered to do a "cooler and yet effective anti-smoking film" for the I&B ministry, and hopes the new anti-smoking short is "more aesthetic."
"But any film that is repeatedly hammered into audiences' psyche will stop being effective in no time at all. Attaching anti-smoking warnings to films is not the solution," Nidimoru says.
Nidimoru and Krishna DK intend to start a campaign to get young filmmakers to make innovative anti-smoking short-films that can be shown before a film and can be changed every few months.
"Such an initiative will not only add an aesthetic element so lacking in the anti-smoking short-films we see at the moment, it would also provide aspiring filmmakers a platform to express themselves. We are chalking out the dynamics of this," Nidimoru says.
Filmmaker Ajay Bahl exclaims, "That's a relief! We have moved away from the stomach-churning at least. Now the in-film anti-smoking warnings need to go too."
Joked director Hansal Mehta, "Hopefully, the new film will convince me to quit smoking! The earlier film did not manage to change my mind. Instead it taught how to switch off the screen during a film."