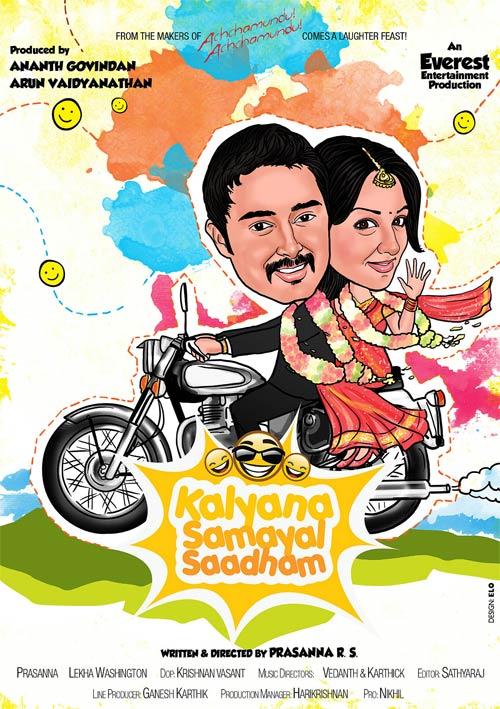 After directing the critically acclaimed
Achamundu Achamundu
with
Prasanna
and
Sneha
in the lead,
Arun Vaidyanathan
will now produce
Kalyana
Samayal Sadham
 -
The Bg Fat Indian Wedding
(the literal translation is Wedding Feast).
The romantic comedy will be directed by debutant Prasanna RS, and will star him and Lekha Washington.
Vaidyanathan had earlier co-produced his own directorial venture
Achchamundu, Achamundu
with his friend Ananth Govindan.
As Vaidyanathan's next film needed some more work, Ananth wanted to do 'something quirky and funny.'
That was when Vaidyanathan thought of a very modern and timely comedy which Prasanna RS had narrated to him three years ago.
"As a writer-director, I know what rejection means especially when you have a good script with you. I thought I should pitch in and do my bit to make this story
happen. I connected Ananth and Prasanna and everything worked out well. Ananth trusts my judgement and I trust Prasanna's skills. Finally, we are here," he says.
What attracted him to the story was its freshness and underlying theme.
"This is a fun film with a lot of heart. Also, I see Prasanna kind of filmmakers as an extension of me. He did short films, won awards, took a course on filmmaking and wrote a nice script. Five years ago, I was exactly like him. One thing I learned from Triggerstreet (founded by Kevin Spacey and Dana Brunetti) is send the ladder down."
And what is
Kalyana Samayal Sadham
about? "This is a story about the modern youth of Chennai, their issues especially how marriage affects them. This is going to be a mirror of our current generation. The film will be a lot of fun but with logic and sense."
On choosing Prasanna, the actor, he said, "Prasanna is my friend and he is very good in humor. Its going to be a different experience for him. Lekha has worked with Prasanna RS during their stage plays. I think they are perfect fit for the roles."
The shooting of the film will start in January 2013.