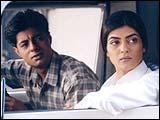 Samay: When Time Strikes is a decent film, which outlines the relationship between ACP Malvika Chauhan (Sushmita Sen) and her subordinates well. Her sentiments, sense of pride and the way she cares for her daughter, Anjali, is also nicely depicted. Sushmita's scene with her superior and the different scenes with her doctor-friend are well etched. The police procedures are authentic. Sushmita gives a satisfactory performance except for the last scene, where she is not up to the mark. Sushant Singh puts in a good performance.
Samay opens as a whodunit, but gradually shifts gear to a tense (?) thriller with murders. First, a financial wizard gets killed, then a top actress gets killed and then the best contract killer is killed. Malvika may be next in line as she is the best female cop. The chase and raid scenes are captured well. The mood of the movie, colour and background music build on the theme.





Samay: The rediff review

Samay: The Hours

Robby: Sushmita is not Kiran Bedi

Quiz:

Simply Sushmita!



Debutant director Robby Grewal does a fair job in his narration. But the movie should have been 20 minutes shorter with a compact screenplay to really make an impact. He should have resisted the temptation to include songs, though I have to say the skin show is welcome. The dialogues are crisp.
The climax is a direct take from the Hollywood film,
Seven
, starring Brad Pitt, Morgan Freeman and Kevin Spacey. Do not watch
Samay
if you have seen
Seven
because there will not be a surprise element when the killer makes an appearance.  But the logic behind the murders is not convincing. The murderer's dialogue delivery is also not very articulate.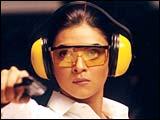 There are some minor glitches in the film like the astute ACP failing to see the face of one of the witnesses during an interrogation or when the killer claims to have given Malvika a clue by phoning her from her police station.
During the last few months, we have seen Bollywood churn out bad films, calling them 'different' or new generation movies. But
Samay
 is decent. Word of mouth publicity may help the film, though I doubt it will do well.