Dimple turns 60!
Sukanya Verma celebrates her finest performances.
Dimple Kapadia was just 16 when Bobby released.
Before she could enjoy its roaring success or even realise the significance of being a Raj Kapoor discovery in a titular role, she had already bid showbiz adieu to marry its reigning superstar, Rajesh Khanna.
A decade later when she returned to the silver screen, Dimple had two daughters and had separated from her husband.
Once again, the audience lapped up the Saagar star's exquisite beauty and scorching screen presence.
Still, the comeback wasn't without its share of hiccups or horrible movies.
Fortunately, Dimple's dramatic prowess, much like her glorious tresses, refused to be tied to arm candy roles.
Honing her skills in critically acclaimed fare, the actress proved she's more than her looks.
Despite a relaxed attitude towards her career, Dimple continues to stay relevant even today in roles that illustrate the scope of her creativity.
On her 60th birthday, we tip our hat at 15 of her best performances.
Bobby, 1973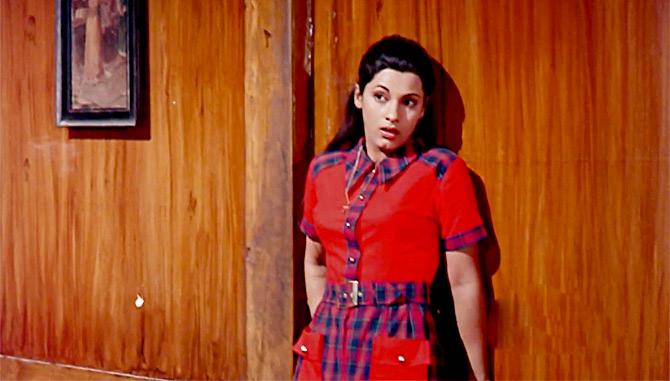 IMAGE: Dimple Kapadia in Bobby.
Dimple's wide-eyed innocence, romantic ardour and sassy fashionista as Bobby Braganza struck a chord with the teenybopper crowd in ways that would make her immortal in pop culture history.
Saagar, 1985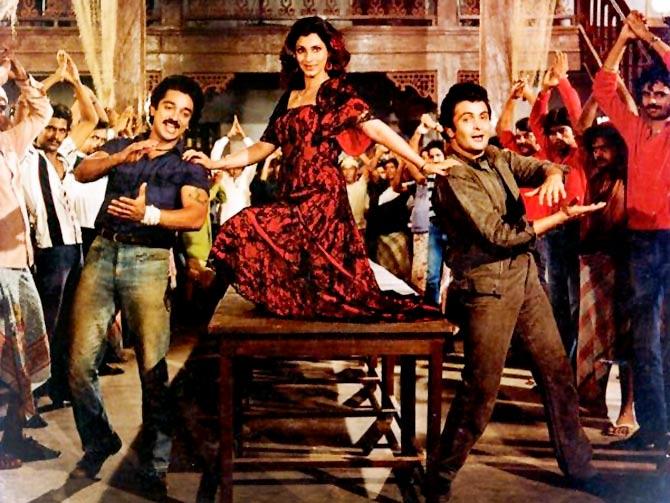 IMAGE: Kamal Haasan, Dimple Kapadia and Rishi Kapoor in Saagar.
As the glamorous Goan lass caught in Ramesh Sippy's passionate love triangle, Dimple lit the screen on fire with her unabashed skin show that'd be half as effective in the absence of her spunk.
Aitbaar, 1985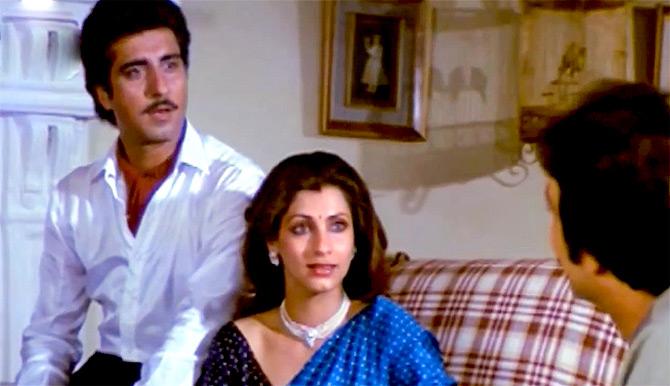 IMAGE: Raj Babbar, Dimple Kapadia and Suresh Oberoi in Aitbaar.
Dimple delivers a perfect mix of vulnerability and drama to convey the dilemma and despair of a woman juggling between her bizarre husband and ex-flame in a Hitchock-style thriller.
Kaash, 1987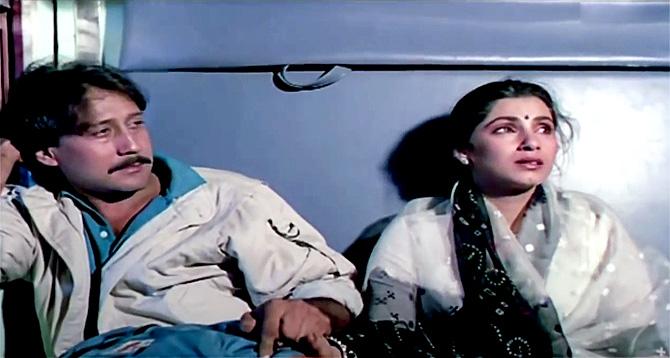 IMAGE: Jackie Shroff and Dimple Kapadia in Kaash.
Compelled to reunite with her estranged husband for the sake of their terminally ill son, the actress goes through an awful lot of emotional upheaval with heart-breaking authenticity in the Mahesh Bhatt weepie.
Lekin..., 1990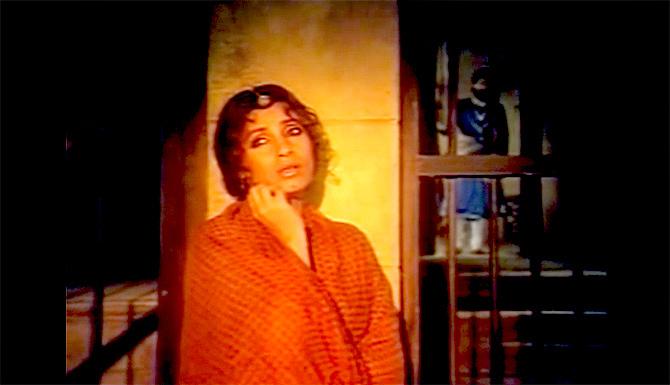 IMAGE: Dimple Kapadia in Lekin...
Loosely inspired by Rabindranath Tagore's story Kshudhita Pashan, Dimple achieves a soulful embodiment of Gulzar's enigmatic apparition and melancholy in Lekin...
Drishti, 1990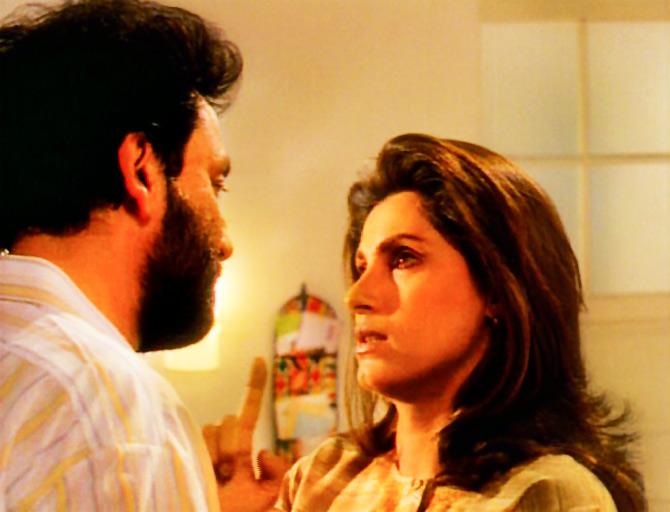 IMAGE: Shekhar Kapur and Dimple Kapadia in Drishti.
An unusual pair of Dimple and Shekhar Kapur plays out scenes of a restless, discontent marriage in Govind Nihalani's low-key but fascinating Drishti.
Angaar, 1992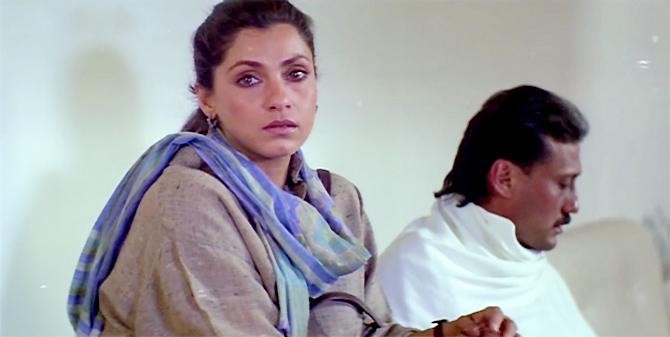 IMAGE: Dimple Kapadia and Jackie Shroff in Angaar.
Despite its sketchy writing, Dimple's restraint in portraying a timid orphan with a poor sense of self-esteem lends Angaar some heart.
Rudaali, 1993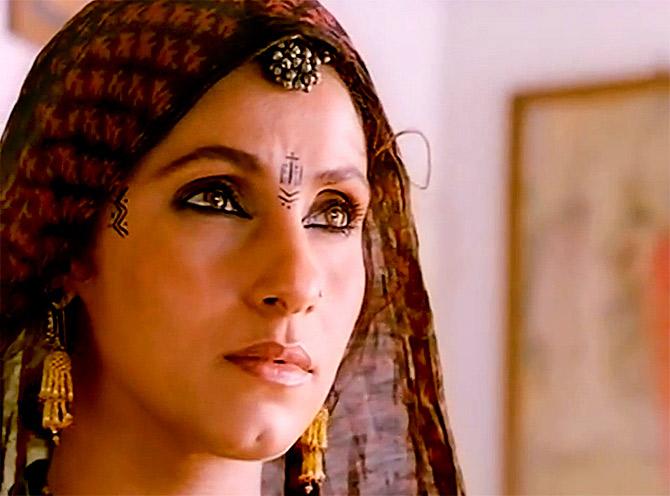 IMAGE: Dimple Kapadia in Rudaali.
Set against the backdrop of professional mourners, Dimple's National Award- winning depiction of a rural Rajasthani woman unable to conjure tears even after a series of misfortunes is all kinds of heartrending.
Gardish, 1993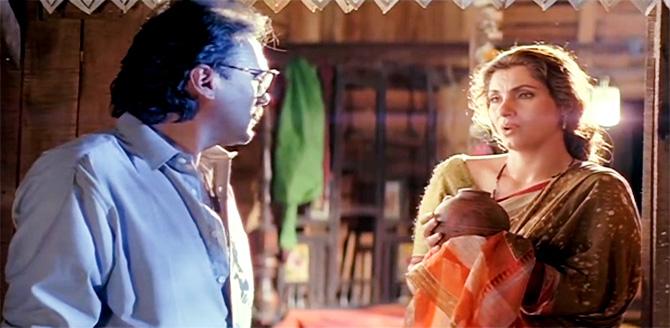 IMAGE: Jackie Shroff and Dimple Kapadia in Gardish.
Dimple hits all the right melodramatic notes as the quintessential prostitute with a golden heart in Priyadarshan's Gardish.
Krantiveer, 1994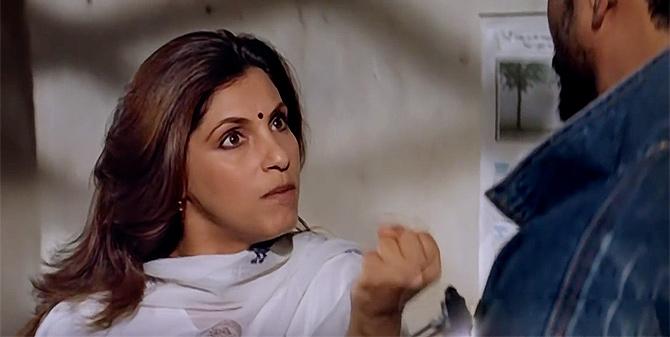 IMAGE: Dimple Kapadia and Nana Patekar in Krantiveer.
The 1990s were all about high-pitched activism and Dimple works up an intensity as vigorous as her co-star Nana Patekar's to match the bombastic patriotism of Krantiveer.
Dil Chahta Hai, 2001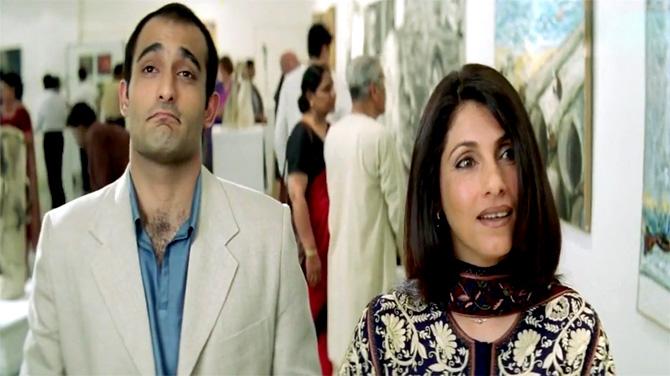 IMAGE: Akshaye Khanna and Dimple Kapadia in Dil Chahta Hai.
As Akshaye Khanna's charismatic albeit desolate muse in Farhan Akhtar's directorial debut, Dimple hits a surreal space of simplicity and sophistication.
Leela, 2002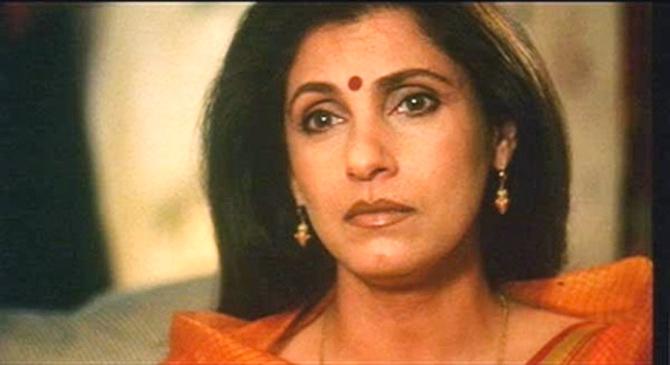 IMAGE: Dimple Kapadia in Leela.
In her long career, Dimple has played the wronged wife quite a few times. But the unique nuances she brought to every single one sets them apart from another.
Luck By Chance, 2009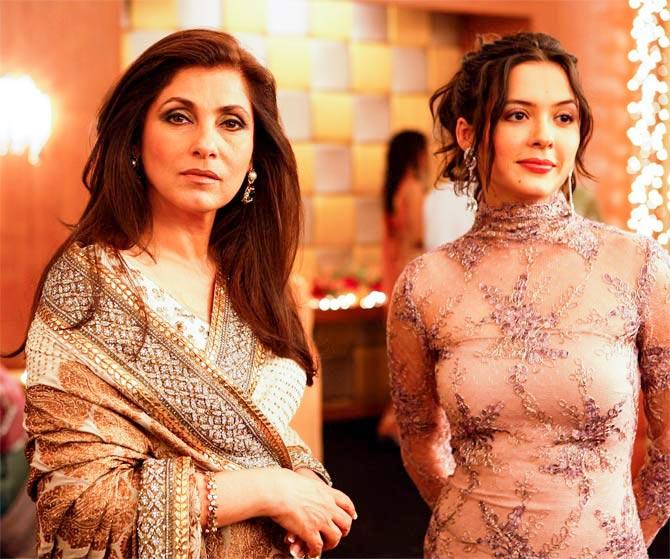 IMAGE: Dimple Kapadia and Isha Shravani in Luck By Chance.
As the flattery-loving yesteryear star, business-minded star mom and classic 'crocodile in a chiffon sari' of director Zoya Akhtar's debut film, Dimple is wicked good.
Cocktail, 2012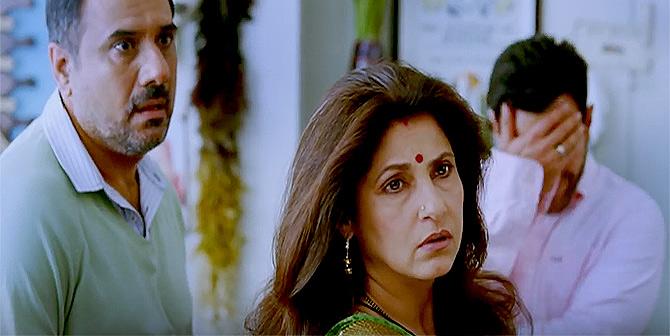 IMAGE: Boman Irani, Dimple Kapadia and Saif Ali Khan in Cocktail.
Nagging mums are a pain, but Dimple's pestering of her wayward son (Saif Ali Khan) is rolled out with a delightful mix of barbs, bewilderment and big 'desi mummy' heart to complain.
Finding Fanny, 2014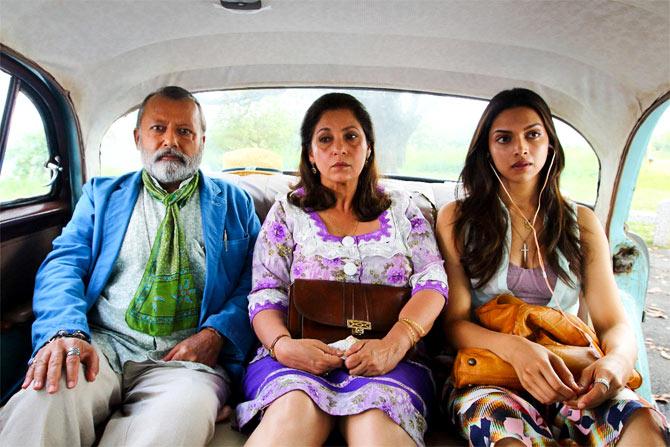 IMAGE: Pankaj Kapur, Dimple Kapadia and Deepika Padukone in Finding Fanny.
It's like our review raved, 'Dimple Kapadia is a beauty to behold even in the gaudiest of dresses, but that's secondary to how magnificently she plays the most opaque character of this story.'