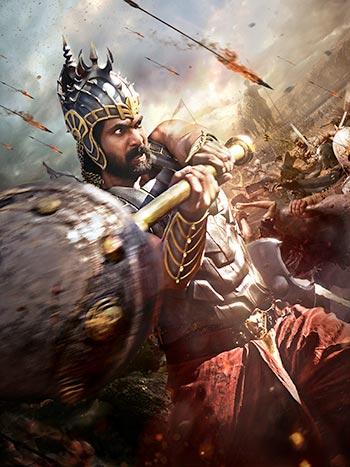 'So much sacrifice has gone into Baahubali and it's been worth it. The film is going to be part of history.'
'We never thought we would get such an amazing response. The film has cut across barriers of language and region. It's being positioned as a pride of India. I never envisioned this.'
Cinematographer KK Senthil Kumar tells us how he shot the epic blockbuster Baahubali.
Cinematographer KK Senthil Kumar has set benchmarks with his finest work in films like Arundhati, Yamadonga, Magadheera and Eega. He has received accolades for his work in the recently released blockbuster, Baahubali: The Beginning.
In this exclusive interview with Rediff.com contributor Radhika Rajamani, Senthil tells us about the challenges while shooting for Baahubali, working with Rajamouli and the technicalities involved in the shoot.
Baahubali is your sixth film with SS Rajamouli. What comfort level do you share with him?
More than comfort level, I should say I am living up to his expectations. Rajamouli is pushing the boundaries of Telugu cinema.
He is a master filmmaker of this generation. He involves technology with story-telling.
There is growth in terms of budget, VFX and technology and the knowledge I have got is tremendous.
There are many mythological stories in this country and Rajamouli has shown us the way to tell them.
How did you prepare for this mammoth film? How long did it take?
The moment I heard the story of Baahubali, I was excited.
The film is emotional and visual. It is a blessing for a cinematographer to be working on such a film.
There was almost a year of preparation. From location scouting to pre-visualisation, Rajamouli, (production designer) Sabu Cyril, (costume designer) Rama Rajamouli, (VFX supervisor) Srinivas Mohan and I have looked into every aspect, from every perspective.
All characters were designed by concept artists. So the team would pick up from the sketches and give inputs.
Research was done on architecture and costumes to make them look authentically Indian. There were some important sequences like the climatic war and the waterfall scenes. We had to study all the references.
My five assistants helped in getting photographs, paintings, films, videos etc. We watched a lot of world cinema and Hindi films from Mughal-e-Azam to Jodhaa Akbar to gather knowledge, not to imitate.
We wanted the grandeur but the styling had to be Indian. We added our own vision to it so that it suits the film.
There were storyboards done to fall back on whenever required. When we went on the sets, it was more of how our instincts worked.
Was this a dream project?
I was fascinated with mythology and movies like Ben-Hur. I wanted to do a larger-than-life film.
After Eega, Baahubali was a great opportunity. It was definitely a dream project to work on. Anything coming close to the epics is fascinating.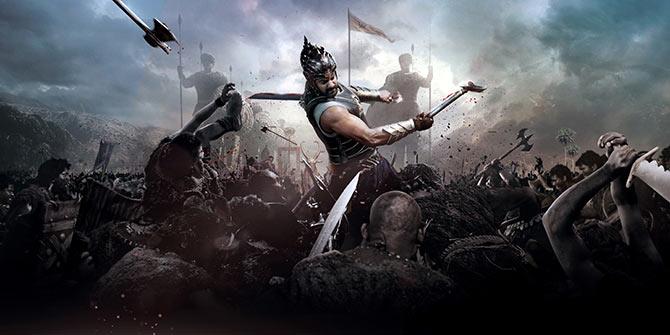 Image: Prabhas in Baahubali
How did you plan the shoot, especially the major sequences like the war and the waterfall?
The look and feel was decided in DI (Digital Intermediate). I have been working with colourist Siva since Arundhati (later, they did Magadheera and Eega). I used to sit with him after the shoot. The look and feel varies in terms of stages.
In 2013, when we started shooting, very few films were being shot on negatives. So I felt it is better to use digital. I did some tests and found this camera Arri Alexa XT far superior. Also, I knew we had to shoot in extreme climactic conditions.
Since I have worked with Rajamouli earlier, I know he does a lot of reshoots and retakes. Knowing this and the kind of money which will go into shooting retakes on negative, I suggested this camera.
How did you cope with the torrid weather conditions?
Everything was a challenge.
It was 47 degrees in Ramoji Film City in Hyderabad when we shot. The area is surrounded by rocks and they were radiating heat. We used hats and cloth around the neck, which had to be moistened often to keep ourselves cool.
In Bulgaria, we shot at -10 degrees. Even a breeze would be spine chilling. We wore jackets and boots.
The producer had organised an emergency team to take care. We also had tents with heaters, so that after the shot, we could warm ourselves. But it would be doubly cold if we stepped out of the warm tent.
In Mahabaleshwar, there was continuous rain and fog. Cleaning the lenses in such conditions was challenging. Luckily, the camera equipment withstood all the changes in temperature.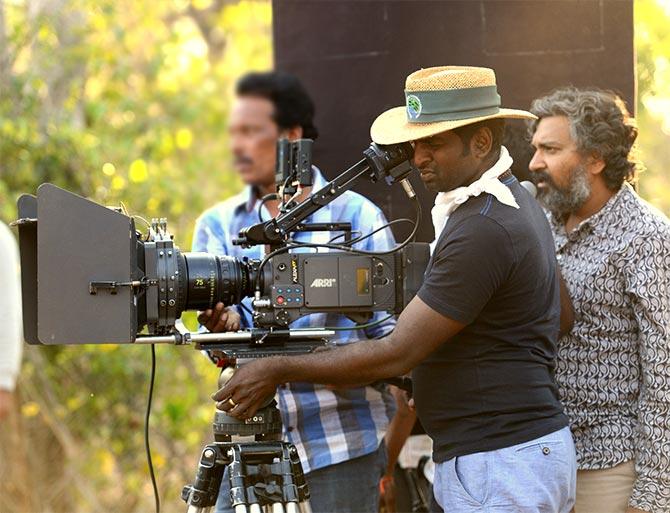 Image: KK Senthil Kumar with director SS Rajamouli
Did you use any special lens?
We used master prime lenses, which are the sharpest and best possible lenses that work in low light conditions too, like in Mahabaleshwar and Bulgaria.
In Bulgaria, one location was frozen -- that happens once in many years. It was truly magical and we shot in those conditions! I had never done anything like that before. It was a risk but we were fortunate that it turned out well.
The 2007 film Yamadonga helped me pull off such a huge experience. In fact, the collective experience gained while doing Yamadonga, Magadheera and Eega helped me.
I had to capture the grandeur without losing the elements -- the costumes, make-up, sets and performances. That was the biggest challenge.
We had to go back and forth with the VFX team.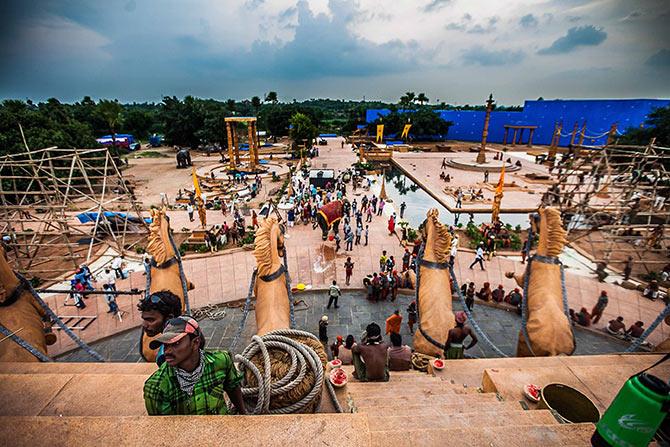 Image: The set of Baahubali
This film has been praised for its special effects. Did you feel your work was overshadowed by it?
Special effects were there in Magadheera, Arundhati and Eega. We need to accept technology in telling stories.
My role is even more challenging. I have to get involved with the technology aspect.
I have been involved with VFX from the beginning. The special effects should be seamless and complete teamwork should be there. It really worked well as people couldn't differentiate between the real and the virtual. Makuta and Firefly worked well to provide high-quality special effects.
The film is already a blockbuster. Did you expect this kind of response?
I am relieved. So much sacrifice has gone into it and it's been worth it.
The film is going to be part of history.
In reality, the feeling has not sunk in yet. My wife Ruhee took care of our two small kids and the house so that I could concentrate on the film. I am grateful to her for that.
We thought we were a making a big film but not such a big one. We never thought we would get such an amazing response. The film has cut across barriers of language and region. It's being positioned as a pride of India. I never envisioned this.
How is the sequel of Baahubali shaping up?
Part II has a lot of drama and emotional moments. We have to try to outdo Baahubali. We have to be more careful.