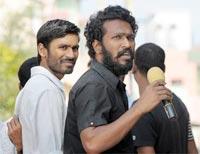 Tamil film director Vetrimaran has struck gold. The filmmaker's second film Aadukalam picked up as many as six National awards this year including best director and best script for him.

In conversation with Ganesh Nadar, a visibly elated Vetrimaran shares his thoughts on his�award-winning film�and the Tamil film industry.

What do you think is the reason behind Aadukalam's success at the awards?

It was entirely the Jury's perception of my film. It so happens that mainstream films find few takers when it comes to awards. But this time they chose films made for the masses but were also original and retained their ethnicity. Anyway I am not ready to question or criticize the system that the Jury used.

You have received the award for both the script and direction. Which, of the two, is more important?

It is the script that gives strength to the story. Execution, in this case, just fell into place. Both are important but a good script helps the director.

The movie was well received everywhere but did you think you would get so many awards for it?
Honestly, the thought never crossed our minds throughout the making of the film. Our only concern was to retain the film's ethnicity and uniqueness. It has a universal appeal. We started sending it to international film festivals because it represented our culture. We never realized that the National Awards jury would appreciate it. It is a positive sign for people making movies which strike the middle line cinema.
Dhanush received the best actor award for the film. What do you think of his performance?
He has also done a good job in an earlier Balu Mahendra film
Athu Oru Kanakalam�
but that film was not sent to the National Awards Jury. In
Aadukulam
Dhanush has tried something he has never done before.
He had to remove the cloak of a star as well as that of an actor. He had to be a rooster fight jockey. He has played a common man in the film and so he�had to undo a lot of things to get into the skin of the character. This is the best role he has played so far.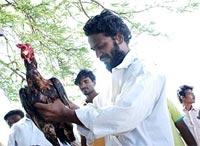 You have dedicated your award to your Guru Balu Mahendra. How was it working with him?
It was like working under any other director - it was tedious. Balu Mahendra was very sweet and saw that I had the potential. He's always�pushed me to do better.
What did you learn from him?
In Tamil there is a saying that you can make anything with clay. We were kids interested in cinema. He molded us into what we are today. He gave us our outlook on middle cinema.
Bala -- another disciple of your Guru got the award for best director last year for Naan Kaduval.�What do you think of that?
We are happy that Balu Mahendra's school is doing so well. It is a big fraternity and a successful group. I am happy to be part of this school.
Tamil filmmakers are experimenting and coming out with interesting films more often these days.
I think it's because DVDs of some really good films have become more accessible in Chennai. Earlier you could see classic works only at film festivals. This trend has influenced the Tamil film industry. Even Hindi film directors watch these DVDs.
We see contemporary World cinema too. Every film scriptwriter is inspired to try something challenging. The audience has become aware too and is quite demanding. So film makers have to come out with new ideas.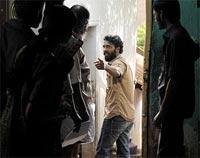 Do you think awards can change things in the Tamil film industry?
It is not going to change much immediately but it will bring Tamil films to a wider audience. It'll bring more recognition and respectablility.
Do you feel the awards have also brought raised�expectations and pressure with them?
Pollathavan
was a hit. So there was hype for
Aadukalam
. The film crew works on the film. Media works on the hype. I will not be weighed down. A film is watched as an individual entity without any baggage, without any comparison.
Now that you have a National Award to your credit, will you be making movies in other languages?
I always feel that you cannot make a film in a language you do not know. If I make a film in a language I don't know it will be out of my control. I will be comfortable in my own language.
What are your future plans?
I am working on a script for Cloud Nine Movies. Then I will be doing a movie for R.S. Infotainement. I am also trying my hand at farming.