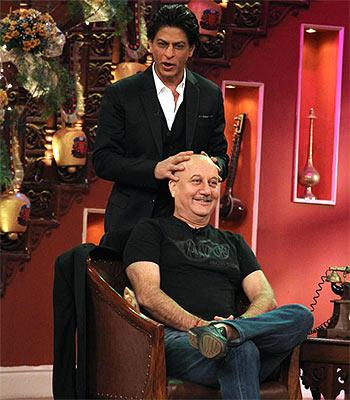 'I was hesitant initially because I thought Amrish Puri's role was bigger than mine. But when I shot for the film, I realised Adi's casting was so good that no character could be replaced.'

Anupam Kher goes back in time.
We continue our special series on Dilwale Dulhaniya Le Jayenge, Hindi cinema's longest-running film that will complete 1,000 weeks on December 12.
Like the other members of the cast Farida Jalal, Satish Shah and Pooja Ruparel, Anupam Kher has fond memories of the film as well.
And he has a special connection as well.
He tells Sonil Dedhia/ Rediff.com what it is.
In the picture: Shah Rukh Khan and Anupam Kher goof around on the sets of Comedy Nights With Kapil, during the DDLJ reunion special episode.
On DDLJ completing 1,000 weeks
DDLJ will stay in people's minds forever. We never thought the film would become historical and run for 1,000 weeks. It is a cult film not only because it has done so well but it was a genuinely beautiful film.
I am very close to the Chopra family and I was there when Adi (Aditya Chopra) was conceiving the story. Somewhere I feel DDLJ is like my own home production.
Working with the Chopras
Since it was Adi's first film, Yashji played every possible role on the sets. He was the production manager, costume designer and even clapper boy. He was so proud of Adi and that was evident in his eyes.
I was blown away when Adi narrated the script to me. I had never heard such a detailed script, with so many emotions. He was very young then, but he lived in a world, rich with cinema. He had his own take about films. He shot the film the same way as he narrated it to me.
He was so confident and thoroughly prepared.
At the same time, he let us improvise. Shah Rukh and I created the gibberish language we speak in on the first day of the shoot. We developed this because I wanted to show an endearing quality between a father and son.
Pamela Chopra was a very active member of the unit. She would be ready to do everything and anything. She was a very important part of DDLJ.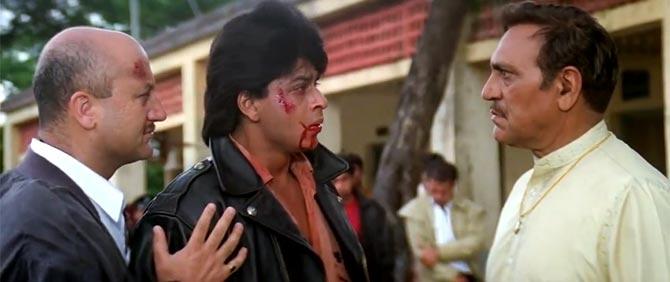 Image: Anupam Kher, Shah Rukh Khan and Amrish Puri in Dilwale Dulhaniya Le Jayenge.
Shooting DDLJ
I was hesitant initially because I thought Amrishji's (Puri) role was bigger than mine. But when I shot for the film, I realised Adi's casting was so good that no character could be replaced.
I don't think anyone else could have done Amrishji's character. He was simply brilliant.
Every scene and every moment in the film was fabulous.
The father-son relationship between Shah Rukh and me is a big example. Till today, I get tweets from children, who say they want their fathers to be like the way I was in DDLJ. They saw a father behave in such a friendly way with his son, and was celebrating his son's failure.
On a personal note, my own father would celebrate my failures so I could identify with the character.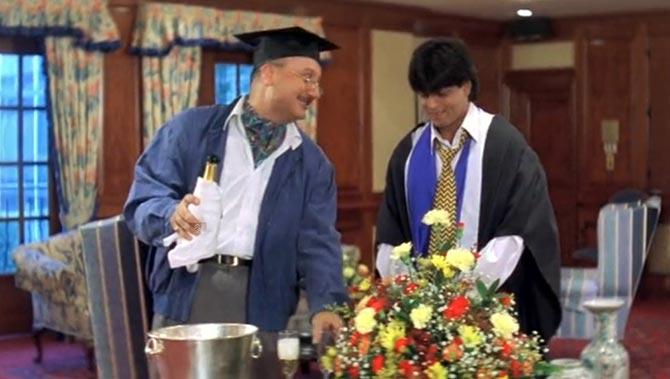 Image: Anupam Kher and Shah Rukh Khan in Dilwale Dulhaniya Le Jayenge.
There is a sequence in DDLJ where I tell Shah Rukh about his forefathers and their academic failures. One of the names is of my real uncle, who was not-so-academically successful (Laughs).
I was worried he would scold me but once he saw the film, he was proud that I took his name and made him famous.
Right from the first day of shoot to the film's premiere at New Excelsior theatre (in South Mumbai), which the entire film industry attended, it was a magical journey.
Yashji and I were standing near the auditorium's exit. After the film got over, there was pin drop silence for almost a minute, which seemed like forever. Yashji looked at me and said, 'Yaar, yeh kya ho raha hai (What is happening?).' Then there was a thunderous standing ovation. Yashji and I heaved a sigh of relief.
Why DDLJ is relevant even today
The film became revolutionary for two reasons. Movies those days would show the couple eloping. But in this film, Adi showed the values of an Indian boy, who lived abroad but had his values intact. He would marry the girl only if her father gave permission.
Secondly, Adi showed the NRI culture and the Indian culture well. With DDLJ, Shah Rukh Khan changed the perception of a hero in Indian cinema.
The film is also close to my heart because it was my wife Kirron, who suggested the title.
There was a lot of confusion with the film's title. When Kirron suggested Dilwale Dulhaniya Le Jayenge, everyone thought it was too long. Shah Rukh was not happy with it. But Adi was thrilled. He even credited Kirron in the opening titles of the film.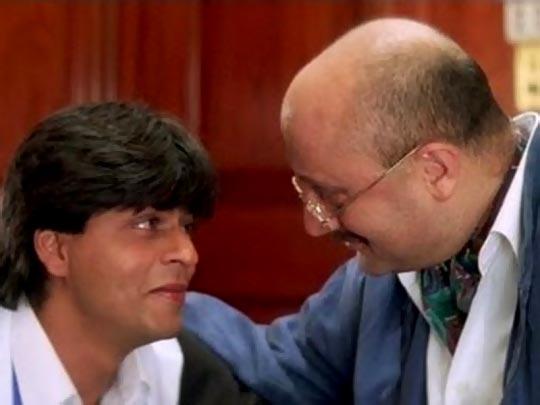 Image: Shah Rukh Khan and Anupam Kher in Dilwale Dulhaniya Le Jayenge
Favourite scene of DDLJ
The most iconic scene for me is when I talk to Shah Rukh Khan outside our London home.
I look at the moon and say, 'Mohabbat ka naam aaj bhi mohabbat hai. Yeh na kabhi badli hai aur na kabhi badlegi. Dulhan uski hoti hai jo doli main bitha kar leke aata hai. Hum unme se hai jo chand ko dekhte nahi chand ko utha kar ghar pe leke aate hai. Ab jaa aur iss ghar main tabhi aana jab bahu saath main hogi. (Love is still called love today. That will never change. The bride belongs to that person who brings her in a palanquin. We are people who don't look at the moon, e bring the moon home. Now go, and return only when you've brought the bride home.)'
Watching DDLJ today
The last time I saw the film was on the least expected channel! I saw it on Lok Sabha TV six months ago, and cherished every moment of it.