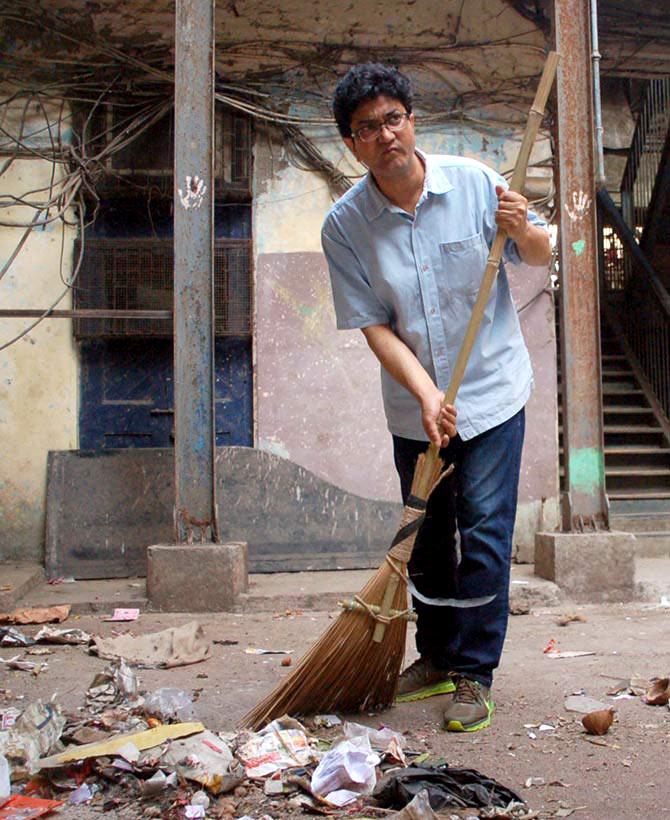 Image: Prasoon Joshi cleans the streets outside the Sofi Mahal building in Lalbaug, South Mumbai, as part of Prime Minister Narendra Modi's Swachh Bharat Abhiyan. Photograph: Sahil Salvi
'I was brought up in a Brahmin Hindu family. I was brought up in places where the majority was Muslim, in Rampur, Uttar Pradesh. There was a mosque next to my house, but I never saw communal tension.'
'I am not worried. This country's religious roots are very strong. They know how to take care of themselves.'
Prasoon Joshi discusses with Syed Firdaus Ashraf rising communal tensions in the country, reveals why he chooses to do less artistic work and explains why some people need to stay away from politics.
Which poets have inspired you?
I cannot say any one poet has. I have read all kinds of poetry extensively.
I am not a student of literature and didn't have a structured education in poetry.
I read Urdu and Sufi poetry. I have written so many Sufi songs.
I've just finished a prayer for the Ajmer Sharif dargah, which (composers Sajid-Wajid have composed.
Our understanding of poetry is misplaced. When I was writing Rang De Basanti, I re-wrote the lyrics for its song, Sarfaroshi.
I realised that Bhagat Singh and Bismil used to talk in poetry.
With Kabir, you see how philosophy was part of folk culture. Even a villager could recite his couplets.
There is poetry in folk music too. People who don't understand folk music say 'Film mein folk music dalna hai.'
Do they have any idea what folk music is?
Folk music is the expression of people. Look at the song Kahey Ko Bihai Mujhe Bides, Bhaiya Ko Diye Doi Mahal, Humko Diye Pardes. There is pain in it.
Or for that matter, Aisi Maria Nandiya Ne Laat, Kamar Todi Re, where she is talking of domestic violence. It is a way of expression.
Poetry was very much a part of our lives in various forms other than just books or classical poetry.
I think the meaning of poetry has to be understood, only then will we understand the value of it.
Poetry is part and parcel of our culture. Ghalib's way of talking has become movie titles.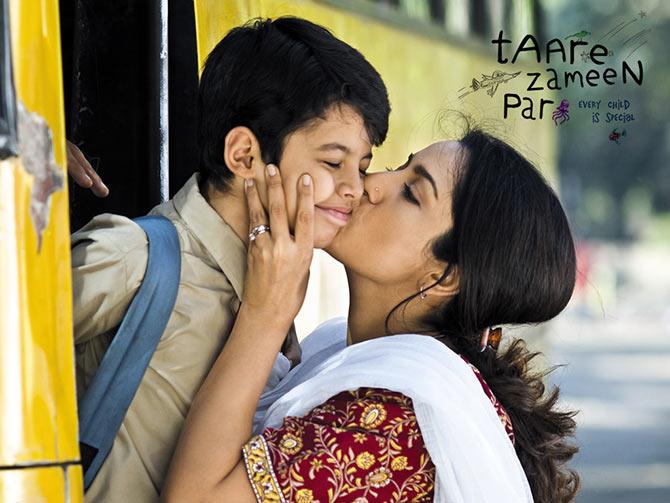 Image: Darsheel Safary and Tisca Chopra in Taare Zameen Par.
Which of your works has satisfied you the most?
It is difficult to say. I have done a lot of work that I am proud of.
I am proud of keeping to a certain kind of language and a certain style of writing, as in Delhi 6 or Tare Zameen Par. I entertained people without compromising.
You have done very little work though. Why is that?
I don't have time because I have decided to earn my living in a certain way (advertising) which requires certain time commitment.
Many projects also don't come out. Whenever I feel I must do a film, I do it. Like Margarita, With A Straw and Chittagong.
In fact, I got a National Award (Best Lyricist) for Chittagong. It was a beautiful song by Shankar-Ehsaan-Loy.
You are very close to Shankar Mahadevan.
Yes, because of our advertising background. He used to sing jingles when I met him and we have collaborated often.
He is also a classical singer and we clicked. I connected with A R Rahman too.
Do we have more song-makers in Bollywood rather than poets, who have disappeared from the industry?
Yes, I think that distinction has gone. Poets had a special place in our society.
When the film world needed a certain kind of work, they would reach out to poets, who then started dabbling in writing for cinema. Like Sahir Ludhianvi.
He was an original Urdu shayar and then delved into films. People know Sahir more for his songs today than his shayris.
It is the same for me. Yes, I do write poetry on various issues. I published a collection of poetry before writing for films.
That happens less today because the culture of poetry has somehow diminished. Therefore, you have song-makers today.


Is it true that you coined the slogan 'Desh Ki Pukar, Modi Sarkar' which was changed to 'Ab Ki Baar, Modi Sarkar' for the 2014 election?
Yes, I had suggested 'Desh Ki Pukaar, Modi Sarkaar.' But the BJP (Bharatiya Janata Party) team preferred 'Ab Ki Baar Modi Sarkar' maybe because 'Ab Ki Baari Atal Bihaari' worked very well in the past.
Do you think the campaign worked well for Modi or was it the policy paralysis in the Congress party that led to Modi's huge success?
It is not just one thing that works.
Any brand needs the right time, and an atmosphere that is conducive, to be successful.
The atmosphere and all the components put together play a role -- the psyche of the country, the way the world is today, people's expectations, and, yes, the performance of other parties.
All these factors put together create a scenario of success.
Are people getting disillusioned with the Modi government?
I would not like to comment on that. I am not a politician.
All I will say is that you have to give the person you choose a fair chance. You must not be impatient.
We wanted a certain kind of country, a certain kind of focus and for that we chose this government. Now we must help the government to perform.
But there are issues like the ghar wapsi programme of the VHP (Vishwa Hindu Parishad) which is bothering our country.
Let us not get derailed. Neither the government nor the people should get derailed.
We should learn to ignore things which are distracting us from what we wanted the government for.
Don't you think communal tensions are rising since the Modi government came to power?
India is such a fantastic country, I never get worried. I only get worried about ill-thinking people.
I was brought up in a Brahmin Hindu family. I was brought up in places where the majority was Muslim, in Rampur, Uttar Pradesh.
There was a mosque next to my house, but I never saw communal tension.
Later on, I started experiencing it. But I am not worried. This country's religious roots are very strong. They know how to take care of themselves.
Religious thinking of this country is very old. It was not born yesterday that it does not know how to co-exist.
Urdu and Hindi are two languages of India. How do they exist together? When we are talking, I don't know when I am talking Hindi and when I am talking Urdu.
The concern for this country is where we are going in terms of progress. Is it going to stay like this forever?
Is it going to be lack of infrastructure, lack of facilities, and poor state of people's lives? We have to make up our minds.
Is this the poet in you talking, who does not want to see the bad things in life and see only goodness?
I feel good-thinking people must not get involved in politics but should share their thoughts with politicians.
Poets will come out and speak, which helps society.
Song writers did it, poets did it, literature writers and story writers did it.
What worries me today in the era of bytes is that we only talk about 'agree' or 'not agree.' Yes or no. We never discuss anything in between.
It is not about agreeing or disagreeing. There was a call to ban this documentary (made by the BBC on the Delhi gang-rape case) recently. I feel a ban is out of the question unless it has broken some law.
But if it is bringing out the truth, I am not going to be judgmental.
There is also the question of artistic expression. If you ask me whether it (the documentary) was a great piece of work, well, I don't think it was.
It does portray a certain mindset which exists in the country and that worries me.

But it was construed like the majority of Indian males think like that. I and a lot of other people are incapable of thinking like a rapist.
Rape means violence against women. A lot of people who work with me are incapable of violence against women.
The fact that Indian men are biased against women should come out.

But the general male population of the country, who don't think like rapists and their lawyers in the film, should also have been represented.
To be fair to the documentary makers, they did not say they are representing everyone, but it came out like they were representing every male in India.
You said earlier that poets should be close to people in power. Can you elaborate on that?
Not be close to people who are in power, but they (poets) should definitely share their point of view with those in power.
But are the people in power willing to listen to you as a poet?
Our job is to constantly keep saying, to reach out.
Whether those in power want to listen I don't know, but they will definitely profit from listening to us.