'One can't be inhibited in Bollywood, so southern cinema was the best place to learn and break inhibitions.'
'That's why I went there.'
'It was just dancing around trees and on top of buses, and a lot of over-the-top acting.'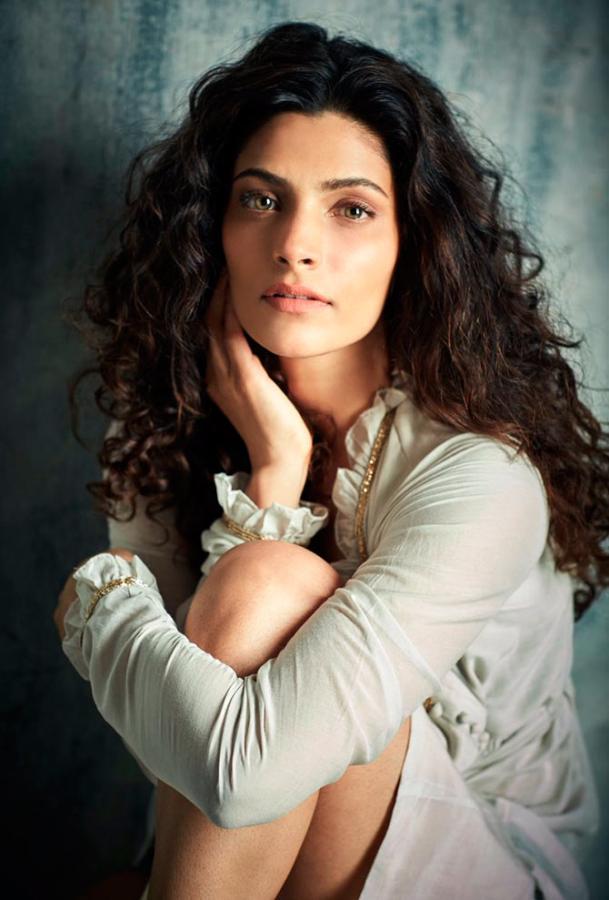 IMAGE: Saiyami Kher. Photograph: Saiyami Kher/Instagram
Saiyami Kher is ready to make her big Bollywood debut with Mirzya. Directed by Rakyesh Omprakash Mehra, it also sees Harshvardhan Kapoor's debut.
Saiyami is not new to the movies.
Her paternal grandmother Usha Kiran was a well known actress in the 1950s and also starred in films like Bawarchi and Chupke Chupke. Her aunt -- father Adwait's sister -- is Tanvi Azmi.
Saiyami introduces herself to Rediff.com's Patcy N, and tells us what to expect from Mirzya.
What does Saiyami means?
In Sanskrit, it means Sayam (Patience).

How much Sayam do you have in your life?
(Laughs) My parents say I stick to my name, but these 15 days (to the release of her film) are going to be a test of my character.

You come from a film family. How were your growing up years?
My parents shifted to Nashik because they did not want us to live in a film set-up. I am fortunate that we were brought up in a smaller town.
For me, my grandmom was somebody who cooked food for me. We had a typical grandmom-grandchild equation. I knew she acted in films, but I never saw anything on screen. I saw her films only recently.
My father did not let us watch films until I was 14. So my life revolved around nature and sports.
Which of her films is your favourite?
I related the most with Bawarchi and Chupke Chupke because in those she looked like my grandmom. I could connect with them.
In her other films like Daag (1952), Patita (1953) and Kabuliwali (1961), it felt like she was someone else.
When I watch her films or listen to the Patita songs like Yaad Kiya Dil Ne Kaha Ho Tum or Kisi Ne Apna Bana Ke Mujhko, I feel really nice.
You can really connect with her, and not just because she's my grandmom. It did not feel like she was this big actress.
Your father was a model and your mother a Femina Miss India. Didn't you ask them why they took you away from the limelight?
I have never asked them that, but I think I should! (laughs)
I have always felt blessed that my elder sister and me were brought up in Nashik. It gave us a more rounded life.
In a smaller city, your life doesn't revolve around mobile phones or computers. You are one with nature. You experience many things in a smaller town.

Your family owned three restaurants in Nashik.
Yes. Angaan shut down just after I was born. The other two restaurants are Tandoor and Bombay Talkies.
After school, I would go to the restaurant and work in the kitchen. My mom would get us home cooked food, as we were not allowed to eat from the restaurant.
When my sister was 13 and I was 11, we managed the restaurant on our own! That was such lovely learning and such fun.

I knew how to make roomali rotis, frankies and desserts at that age.
We shut the restaurants down five years ago.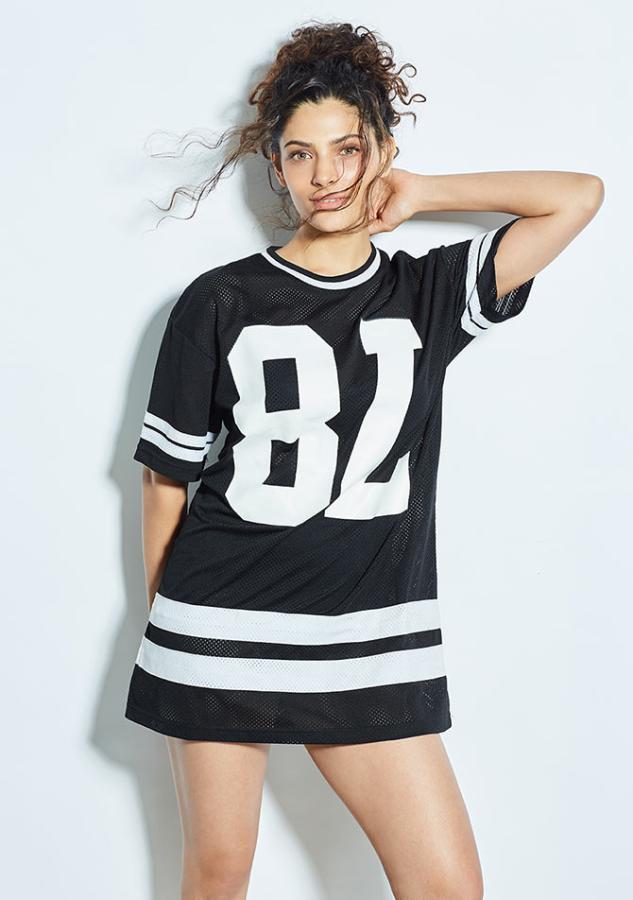 IMAGE: Saiyami Kher.
How often would you visit Mumbai?
Since my grandparents (Editor's Note: Saiyami's well-respected grandfather Dr Manohar Kher used to work at the municipal-run Sion Hospital and was a fine bridge player.) and my Atya (father's sister Tanvi Azmi) lived here, we would come to Mumbai every summer and during holidays.
Besides spending time with them, I would also train in sports, which was my first love. I played badminton and cricket for Maharashtra.
I was even asked to play for the Indian cricket team, but I was playing badminton at the national level and did not want to give that up.
Every Sunday, I play a game of cricket. I just recovered from a broken finger.
I'm training for the Mumbai marathon now.
What did you do after schooling?
I came to Mumbai and joined St Xavier's College. I got admission through the sports quota and ended up playing nine sports for the college!
How did modelling happen?
Sushma Reddy is a very dear friend of ours. She is a model and is very helpful.
One day, she looked at me and said I should start modeling. I said okay and she took me under her wing.
I started modelling in college and got really good feedback. I started getting a lot of work.
I have done ads for Levi's Jeans, Mahindra Rodeo, L'Oreal, VIP bags with Shahid (Kapoor), IDEE sunglasses with Saif (Ali Khan)...

Why did you choose to make your acting debut in the south instead of Bollywood?
I got the south film while I was modeling... I think I was doing the Kingfisher calendar.
Basically, Shabana maasi (whose brother cinematographer Baba Azmi is married to Tanvi Azmi) Atya felt that I was a Nashik girl who was inhibited in a lot of ways.
One cannot be inhibited in Bollywood, so that was the best place to learn and break inhibitions. That's why I went there.
It was just dancing around trees and on top of buses, and a lot of over-the-top acting. That really breaks your inhibitions.
Shabana maasi said if you do those over-the-top things, it will be easier to do normal things.

How did you get those offers?
I gave a lot of auditions and stood in queues at Aaram Nagar (in Mumbai's northwestern suburb Andheri, where the offices of several production houses are located).
The director of (the Telugu film) Rey saw an ad of mine and said he wanted to audition me.

With such a strong film background, didn't anyone help you out?
I never asked for help because I wanted to do it on my own.
I thought if I was good, I would get work.
When did you want to act?
It wasn't a childhood dream.
I did a lot of theatre work in St Xavier's, along with sports.
I did theatre workshops with Nadira ji (Babbar) and Neeraj Kabi. I really enjoyed it.
That love just grew and multiplied when I tested for Mirzya.

What were your parents' reactions when you told them you wanted to act?
They say they would be happy with whatever I would choose to do.
My friends were really surprised that I was going down the glamour path.
In real life, I am very de-glamorous.
How did Mirzya happen?
A casting director called for an audition. For a struggling actor, it's routine to get these calls.
I think I did some 12 screen tests and six months of auditioning, followed by three months of a workshop in Delhi.
It was a life-changing experience for me.

Shabana Azmi was apparently upset when you went to Delhi?
They did not know I was being considered for this film because like I told you earlier, I wanted to do my own thing.
She was upset because Javed uncle (Akhtar) wasn't well and I had offered to help because I was in Delhi.
She is very possessive about us. She asked me why I didn't tell her. I told her I was still auditioning and told her about the film.
Then she was really excited because it was such a big film.
I stayed in her house for one-and-a-half months, and was really well fed. You get really good food at her place.

How is your rapport with Tanvi Azmi and Shabana Azmi?
I'm very close to Atya, and we share a lot.
I'm a little scared of Shabana maasi, to be very honest. But she showers you with a lot of love.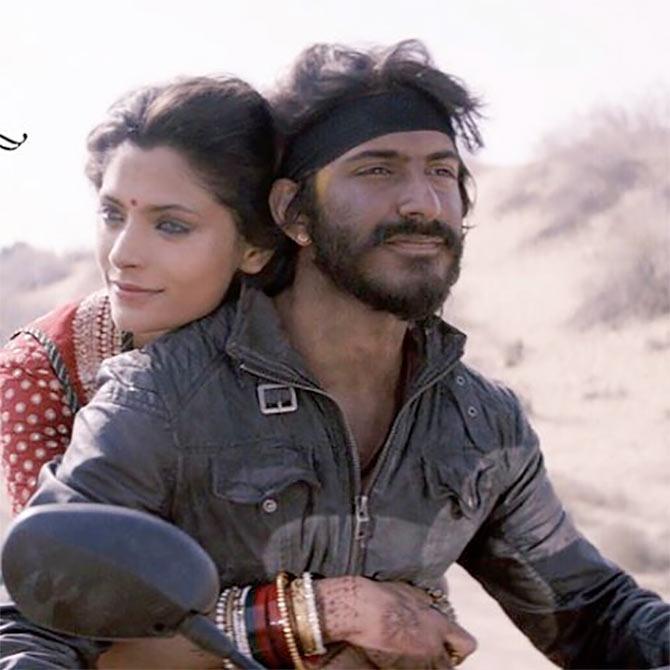 IMAGE: Saiyami and Harshvardhan Kapoor in Mirzya.
Your role is based on Sahibaan, according to Rakeysh Omprakash Mehra. Can you tell us more?
Rakeysh Sir's films are very tough to explain. He wants to show how the Mirza-Sahibaan folktale still lives in the contemporary world.
Both Harsh and I are very fortunate because we got to play two different characters in our very first film.
Sahibaan is very head strong. She knows she is pretty and sensual.
Rakesh Sir has perceived her as someone with raw sensuality. I have physically worked towards this character, as I have put on more muscle because he visualises her as really rough.
The gist of the story is to know why Sahibaan broke the arrows. We hope that comes across in the film.

How difficult was it to play these two characters?
I think the first character is in an exotic warrior-ish space. It was a big challenge because that portion is without dialogue.
When you don't have words, you have to convey through eyes and body language.
There was more connectivity in the contemporary world because she is a girl like me, wearing the clothes I wear. She rides a horse and is adventurous.
All this is very close to the person that I am. And the dialogues made things simpler.
What was the most challenging part about this film?
I enjoyed horse riding.
I got to learn how to ride a motor cycle.
I'm a very adventurous girl, so if there are any extreme activities like sky diving or deep sea diving, I'm into it. I wouldn't say these were challenging, but the character that Gulzarsaab has written has got a lot of layers. To pull that off was challenging.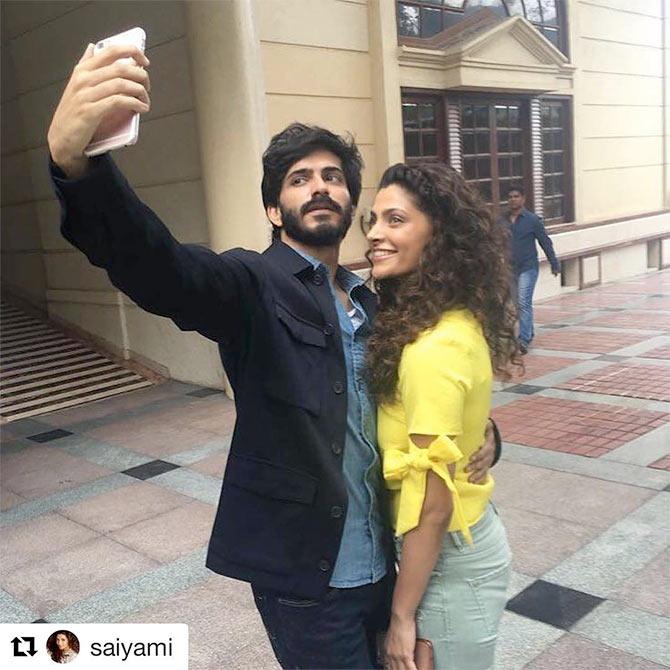 IMAGE: Saiyami and Harshvardhan. Photograph: Saiyami Kher/Instagram
Even before the film has released, people are talking about your chemistry with Harshvardhan.
I am happy that people are talking about our chemistry.
He is really passionate about his work. He goes to the level of obsession.
We got along easily. I have always been a guy's girl in the sense that I talk sports, play cricket... that breaks the ice.
We were always chilling, watching Test matches.
I have learnt a lot from him because he is well versed with international cinema. I'm not aware of that, so he has taught me a lot.
He is a method actor. For instance, while shooting for a film, he shifted out of his house. He thinks like a producer so he understands numbers and keeps teaching me that.
Every time I speak to him, I learn something.
Did his father Anil Kapoor visit the sets often?
Anil sir came on the sets only once in Rajasthan and Harsh kept saying, 'Why is my dad here? I don't like it!' Harsh doesn't like it at all.
I am also like that.
When Anil sir came on sets, there was so much energy. The whole morale on the sets rose. It was great to have him.
Sonam (Kapoor, Harshvardhan's eldest sister) visited the sets when we were shooting in Ladakh. She's great fun to be with. We discuss old movies.
How was it working with Rakeysh Omprakash Mehra?
I am so fond of him that I will take two days to talk about him! He has become family to me. He lives 10 minutes down the road.
Every Sunday I ask him to make mutton or something special and he cooks it. He is a very good cook.
He is one of the best filmmakers this country has. He's an actor's director. He will pamper you so much. He will never make you uncomfortable. He has spoilt us rottenly.
I am very scared of working with anyone else after this film.
He is not strict at all. He would never scream or lose his patience.


IMAGE: Saiyami. Photograph: Saiyami Kher/Instagram
Wearing a bikini may not have been tough because you have been a Kingfisher calendar girl. How difficult is it to get the body right?
I am a big foodie and that is one thing I hate Harsh for. He keeps looking at my food and says, "Don't eat!"
I have a lot of chocolates, but during that period, I behaved myself and had only boiled vegetables!
My love of sports helped because I run 10 to 12 km every morning. Even during shoots, I would find time to run. Even in Ladakh, I would run from the location to the room.

What are the things a person should do to achieve a bikini body?
You need to be very particular about your diet.
You need to do a lot of cardio, as it helps in cutting down the fat.
You need to be comfortable. Even if you don't have the best bikini body, if you are comfortable in it, you will pass.
You need to like what you are wearing. There are different styles and some styles don't suit certain people.
Are you doing a film with Mani Ratnam?
Fingers crossed!
I was supposed to start shooting in December, but unfortunately, it hasn't taken off.
It is not shelved, but he is currently working on his film with Aditi (Rao Hydari). So hopefully, after that.
It's too surreal an experience. He called me for an audition and we did a workshop together.