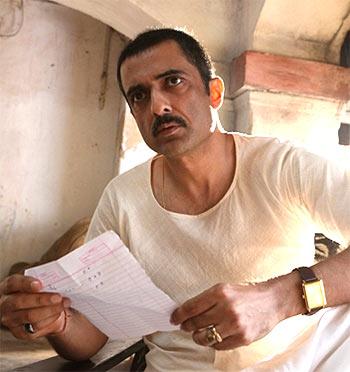 'Everyone was going gaga over Baahubali, But it has some really regressive stuff.'
'People justify their work as harmless entertainment, but there is nothing called harmless entertainment.'
Onir blasts Bollywood for being regressive.
National Award-winning filmmaker Onir's new production Chauranga has traveled to many international festivals and earned acclaim. Directed by Bikas Ranjan Mishra, the film stars Sanjay Suri and Tannisthtaa Chatterjee.
Since Indian audiences have started responding positively to Indie films, it's not surprising that Chauranga has created a buzz before its release on January 8. That's why Onir, best known for My Brother...Nikhil, is quite confident about it.
Onir, in conversation with Namrata Thakker/Rediff.com
Chauranga has won accolades across film festivals. Did you expect the trailer to get a good response in India?
I was hopeful because in the last one year, these kind of films have found an audience in the theatres -- whether it is Masaan, Killa or Court. Such films are being seen and liked by the audience. Yes, it's a niche audience, but a growing one.
What is Chauranga about?
It is set in rural India and is about a 14-year-old boy sending a love letter to his beloved. Now of course, we send text messages and there is WhatsApp, but it's nice to go back to the era when letters were used for communication.
I think people will connect to the idea of the 'first love letter'.
Caste issues are so omnipresent in our society. Very often, you will see a backdoor entrance and separate toilets for servants. These are different forms of untouchability, caste and class discrimination which we practice, but say, 'Oh, only uneducated people do that.'
This film will engage people because they will realise that this happens around them.
In the world of multiplexes and malls, we forget there is another India.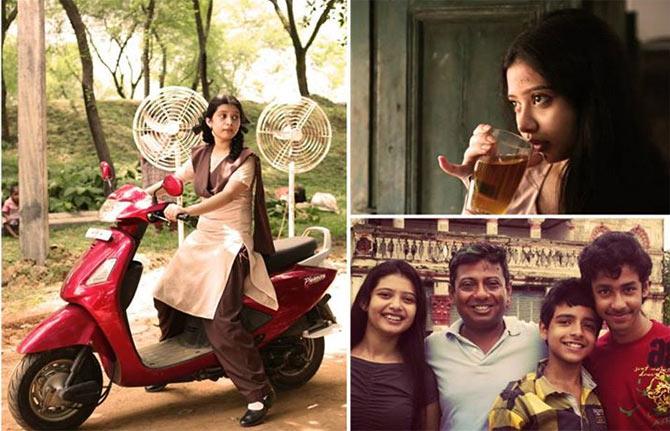 IMAGE: Onir on the sets of Chauranga with the cast members.
How did Chauranga happen?
I met Bikas for the first time at the Locarno script lab. We had the same mentors and were working on our own scripts at that time.
He read my script and I had heard his in bits and pieces during the workshop. Later, I read the whole script and found it fascinating.
Because I make a film once in two years, we were looking at expanding and making films for other people. Bikas came with a script that fit into the vision that Sanjay Suri and I had about the kind of films we wanted to make and enjoy watching at the same time.
I sent the script to Sanjay and he loved it. That's how the journey started.
Your films revolve around subjects like relationships, society and taboos. Why you always choose these elements?
Directors have certain genres with which they identify. For example, Rohit Shetty will only make a certain kind of film that he identifies with. Sanjay Leela Bhansali, Ram Gopal Varma, Anurag Kashyap... make films in certain genres.
What fascinates me is relationships. That is something which I value and treasure most in life. I like to explore its different dimensions through my films.
But there are other elements too. The milieu could be different or the genre could be different but yes, at the core, it's always about relationships.
So when you choose such a subject, how important is commercial viability?
Whether it's independent cinema or mainstream, commercial viability is important because if you don't make money, how will you continue to make films?
It's more important in the niche space because we are putting in our own finance unlike mainstream films which gets financed by big studios.
Not just work and sweat, we put in money in our films as well. So the commercial aspect is very important.
Having said that, the difference is that the driving force here is the story, not money. We are not creating projects, we are telling stories.
So when you make a film with all your heart and then when the Censor Board asks you to chop off scenes, how frustrating is it?
As a filmmaker, it's frustrating when someone unfairly gags you. It's like your voice is constantly being brushed aside.
More importantly, the double standards is worrying. Certain films get away with regressive stuff, but when you make a serious film, your voice gets muffled.
I have a problem with censorship as a concept. I think it's high time we introduced the grading system. I don't understand why a lovemaking scene should be cut in an adult film.
It's frustrating also because filmmakers are under pressure when they are writing. They think it may get deleted, so they try not to include it.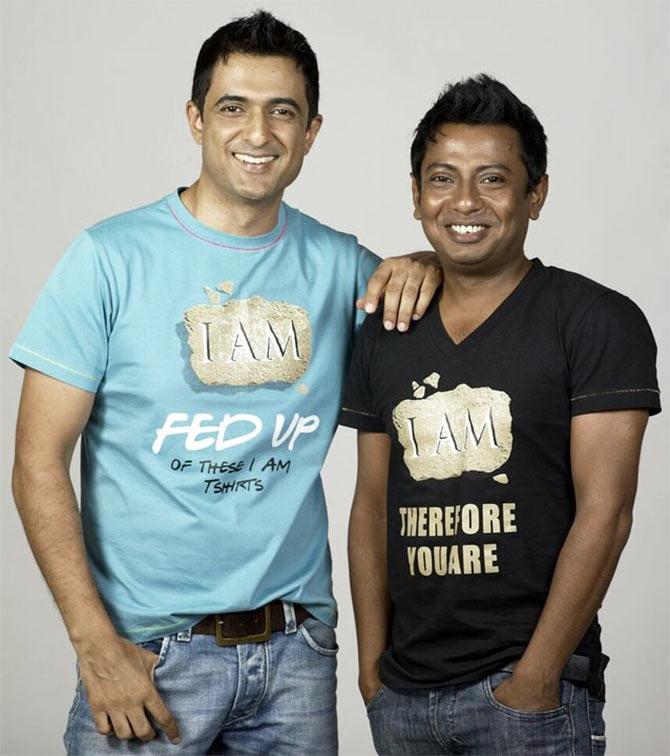 IMAGE: Sanjay Suri and Onir.
Sanjay Suri and you have been producing films together for some time now. What is your equation like?
My first encounter with Sanjay was on the sets of Daman (2001) when he was working with Raveena Tandon. We have been friends since then.
What I like about him as an actor is that he knows exactly what the director wants to absorb out of him. Then he takes it in his stride and brings out different dimensions. I know this because I have directed him.
As a director, I hate loud acting and Sanjay does subtle and refined acting.
Also, for an actor, eyes are an important instrument and Sanjay has very powerful, expressive eyes. Sadly, these days a lot of focus is on six pack abs.
You direct, produce, write and edit your films. Isn't it difficult?
It is difficult but fascinating for me.
By default, I produced, wrote, directed and edited my first film My Brother...Nikhil.
My next film Shab, releasing this year, was written in 2000. So your film is like a child that you never let go.
You let it transform, you give it all your love and then one day you let it free and hope other people like it too.
Sometimes it works and sometimes it doesn't. But the whole journey is very interesting and fascinating for me.
In one of your recent interviews, you said that regional films are the ones defining the 'new wave in cinema'. What is lagging in Bollywood films?
Unfortunately, in the last few decades, the focus has shifted from content to the concept of Bollywood. Today, people are more worried about the locations, clothes, cast, cars, more than what the story.
Somewhere, the content is lost in the process of glamour.
Also, the pressure of commerce is so huge that people don't want to experiment. People have forgotten filmmakers are also artists. Business is an aspect of our work.
If economics is what defines art, then it's a sad state.
You know, we are the biggest film producing country in the world, but how many films can we be proud of?
Everyone was going gaga over Baahubali, but it has some really regressive stuff.
Half the industry was shouting about the juvenile rape accused being let out.
But I don't understand this because those people -- whether actors or directors -- will participate in films that portray women in a very regressive manner. So it doesn't make sense. There are many films where a hero goes and pinches the heroine and it's supposed to be cute.
As an industry, we are very quick in criticising everyone and going on Twitter and saying that the government should do this and that. I want them to look at themselves and their work.
People try to justify their work as harmless entertainment, but there is nothing called harmless entertainment.