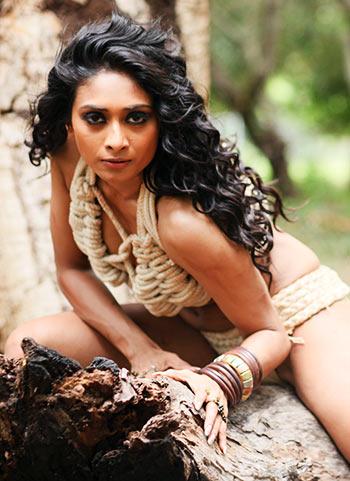 'I had to shoot in a bikini in a jungle in Mauritius with two white tigers! I was balancing on a branch wearing stilettos and every moment I felt I would die.'
But it's all in a day's work for Calendar Girl Satarupa Pyne.
Bengali model Satarupa Pyne calls her debut film Calendar Girls the turning point of her career.
"Luck helped me land a role in the film," she says.
Rediff.com's Rajul Hegde has eight questions for her: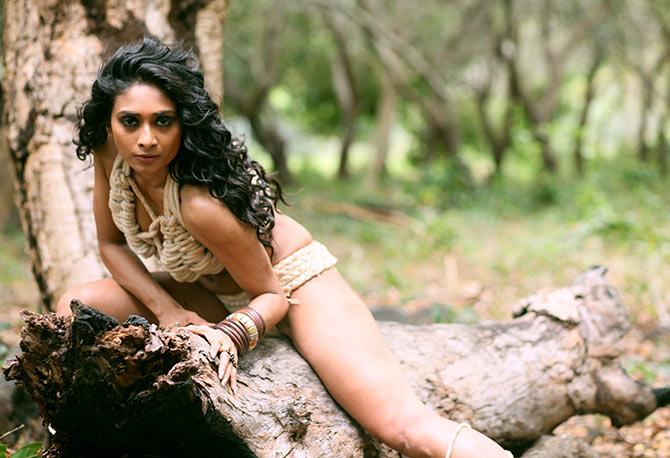 Tell us about yourself.
I moved to Mumbai two years ago.
When I heard about Calendar Girls, I didn't want to miss the opportunity as I have been modelling since 2010.
Calendar Girls was my sixth audition. Though I had no experience in acting, when I auditioned for this film I knew I could act. Luck helped me land a role in this film.
So how did you bag the role?
Two weeks after I met Madhurji (Bhandarkar, director), I was called for an audition.
It's very ironic that you get to play a movie character that you're very fond of during the auditions.
I never watch a film twice. But I have watched Fashion over and over to see how this director was so accurate about the fashion industry. Also, it was interesting to see models and choreographers that I have worked with in the film.
In the audition, I had to speak Kangana Ranaut's lines from Fashion.
I've been obsessed with a dialogue of the film, and I would always say it -- 'Yeh jagah hi kuch aisi hai, kab kya badal jaye pata hi nahi chalta' (there is something about this place, one never knows what changes here).
Does acting come naturally to you?
No. I am not a veteran actress who goes to the sets, reads the lines and starts mouthing the dialogues.
I requested Madhurji to give me the script a day before the shoot but that never happens. He would send the script to the vanity van on the day of shoot and ask me to just read.
When I would go on the sets, the dialogues and reactions were spontaneous. This is how we worked on Madhurji's set.
I took a couple of days to get used to it and then the confidence kicked in.
The film begins with my crying shot, which is also the climax scene.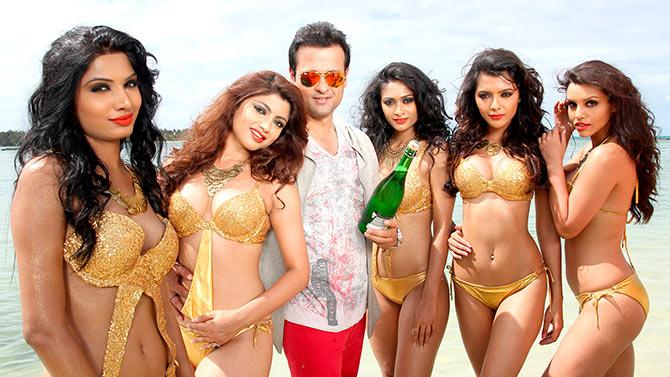 You play a Bengali model in the film.
Yes, I play Paroma Ghosh. She comes from a middle-class family and has to convince her parents about going to Mumbai for this big calendar shoot.
The character comes close to my real-life persona as I have been a model for many years.
Paroma makes it big as a model but lands in trouble when she gets embroiled in an IPL controversy. Madhurji has attempted to unmask the IPL match-fixing scams with my track and bring out some hard truths.

I am sure people will ask a lot of questions about cricket after watching the film. I won't be surprised if people start connecting me to a few real life characters as well! (smiles)
What kind of reactions have you been getting from your family and friends?
My mother cannot understand what is happening but she is happy about the whole thing. They weren't expecting life to change so drastically. They were surprised at how I managed to crack a film in just one-and-a-half years.
My friends are overjoyed!
Which was the toughest scene for you?
I had to shoot in a bikini in a jungle in Mauritius with two white tigers! That was very difficult.
I was balancing on a branch wearing stilettos and every moment I felt I would die. Somehow, I managed to survive that daredevil act.
Was there any insecurity during the filming as you share the screen with four other girls?
I would lie if I said there was no competition. All the girls are really ambitious. But no one pushed each other to be in the limelight. We were very mature.
Working with actors of different temperaments teaches you how to bond even though you are competing with them.
Whom were you closest to?
Akansha Puri. She has been my neighbour for a while. We have been going everywhere together for two years now.
I am close to the other girls too.
What next?
I am yet to sign a film but something is definitely is coming up. I cannot talk about it yet.