'In my personal life, I honestly find it very difficult to express my anger.'
'When you are a public figure, you feel watched that much more and then you are all the more careful.'
'Begum Jaan was the answer to my angst.'
As Vidya Balan gets ready to impress us once again, she takes Rediff.com's Savera R Someshwar through her career.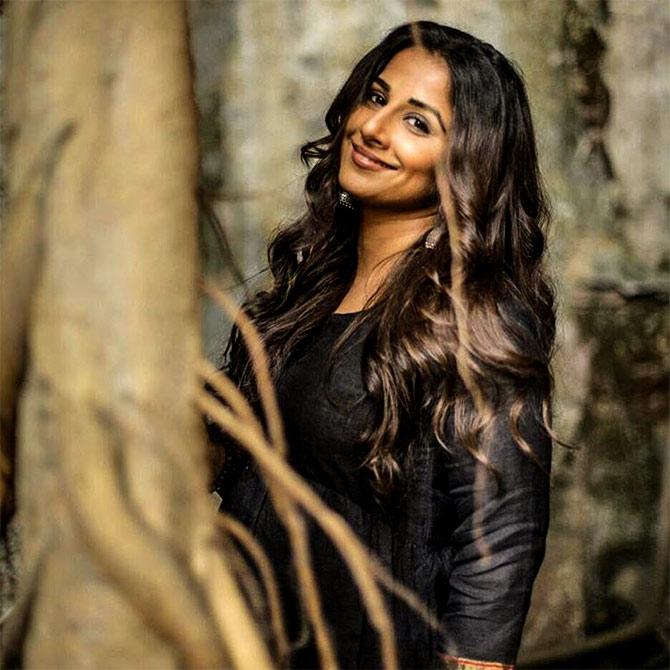 Photograph: Kind courtesy Vidya Balan/Instagram
Vidya Balan walks in with quick steps, aware that she is late.
An unscheduled interview, and traffic that can be as moody as the weather in Mumbai these days, have played havoc with her schedule.
Her eloquently mobile face conveys stress, irritation and a bit of exhaustion as the actress -- she's tinier than the overtly large characters she portrays on screen -- strides down the passage towards the last room in the office floor that houses Vishesh Films, the producers of Begum Jaan, which releases April 14.
Begum Jaan was a role she wanted, says Vidya, though she had said no to the film when it was first offered to her.
"I know that there is angst in me. There is anger. And I was looking for a role that would require me to really delve into that part of me. This character required me to unleash my angst as a person, as a woman. To be aggressive, something that I am not," she confesses.
But then, when she came face-to-face with the character, in front of the camera, "it wasn't easy."
Actually, it should have been.
There should have been enough angst in Vidya for her to tap into.
For Vidya's career -- despite her unquestioned talent -- has been a series of challenges.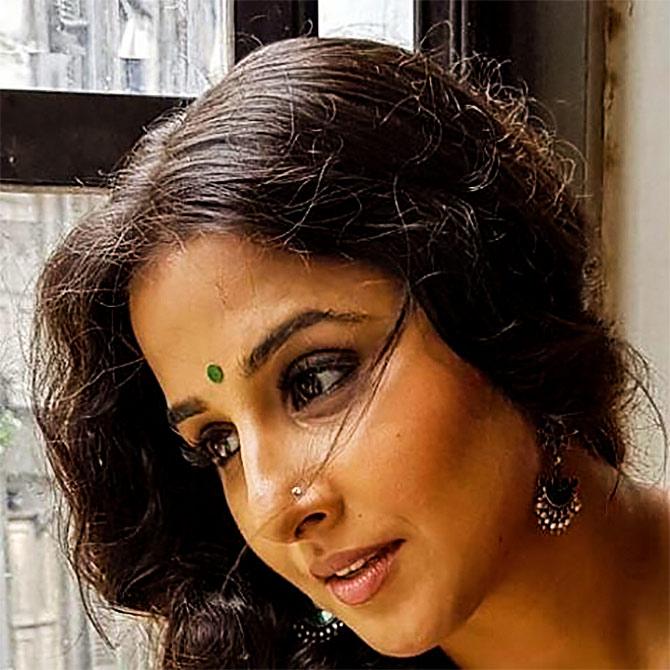 Photograph: Kind courtesy Vidya Balan/Instagram
After a successful run as the nerdy Radhika in the comedy television serial, Hum Paanch (1995), she narrowed her vision to her ultimate goal -- films.
Like thousands of others, who dream of success in the world of celluloid, Vidya had no filmi background, or a filmi mentor. She was an 'outsider.'
Her family, who knew of her obsession with acting, had dismissed it as a passing fancy, especially when she told them she wanted to be "junior Madhuri Dixit. They thought I had watched Ek do teen (Madhuri Dixit's hugely popular dance number from Tezaab, a film that rocked the box office)" too many times "and I was besotted and that's what it was all about."
When her mother watched her husband and her daughter playact, she wasn't too happy but "she just thought my father and I were a little..." laughs Vidya, leaving the emotion unsaid. "Growing up, every child wants to be an actor or a star..."
Laughter seems to come to her easily, never straying too far away from her eyes during the interview.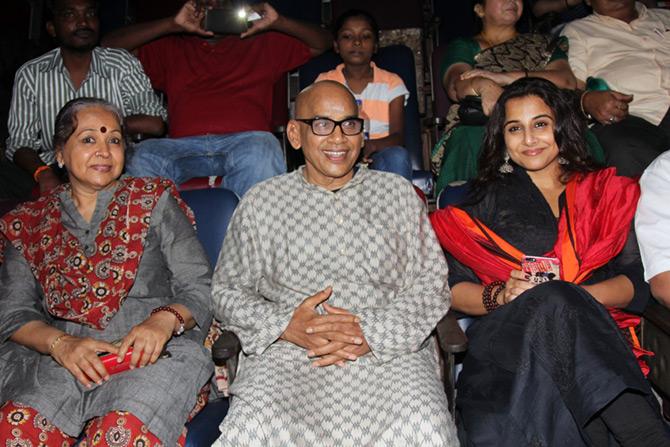 IMAGE: Vidya Balan with mother Saraswathy and father P R Balan. Photograph: Pradeep Bandekar
For her family, like many urban middle class families in India -- Vidya then lived in Chembur, north Mumbai -- the focus was education and Vidya enrolled at Mumbai's prestigious St Xavier's College to study sociology, in which she later earned a master's degree as well from the University of Mumbai.
Post her education, Vidya's mother was aghast to learn that her younger daughter's acting dreams had not dimmed.
"When I told her I wanted to be an actor, she thought I had lost it or something. But when it continued, she was worried because we have absolutely no connection with films and she was just, I think, scared for my safety... She was worried for a while until she realised that protection does not come from outside, you know. You have to just be sure of who you are."
Vidya signed on 12 films in the south -- in Tamil and Malayalam -- not a single one of which released.
It made the aspiring actress, who had never thought of anything else till then, question whether she was meant to be an actor.
That was when, so to speak, the Begum Jaan in her arose. Like Begum Jaan, when she was pushed to the wall, she pushed back, she explains in the video below.
WATCH: When Vidya Balan questioned her decision to become an actress. Video: Afsar Dayatar/Rediff.com
Vidya has, over a career that has spanned 12 years in the Hindi film industry -- Parineeta, her Bollywood debut, released on June 10, 2005 -- been under the proverbial microscope, where she has been criticised for everything from her weight to her sartorial choices and, when the films didn't work, her cinematic choices as well.
"Which is why I am saying there was enough angst inside me waiting to burst forth, find expression (hint of laughter in her voice)... In my personal life, I honestly find it very difficult to express my anger. And then, when you are a public figure, you feel watched that much more and then you are all the more careful. Begum Jaan, therefore, was the answer to my angst," says Vidya, laughing, as she talks about her 23rd Hindi film as an actor.
Once again, it is a Vidya-centric film and though backed by the Bhatts as producers and helmed by the award-winning director Srijit Mukherji, Vidya will shoulder a large share of the credit/burden for the film's success or failure.
It's the price one pays for being a hero, the strong leading character around which a film pivots, which are increasingly the kind of films that Vidya has been gravitating towards.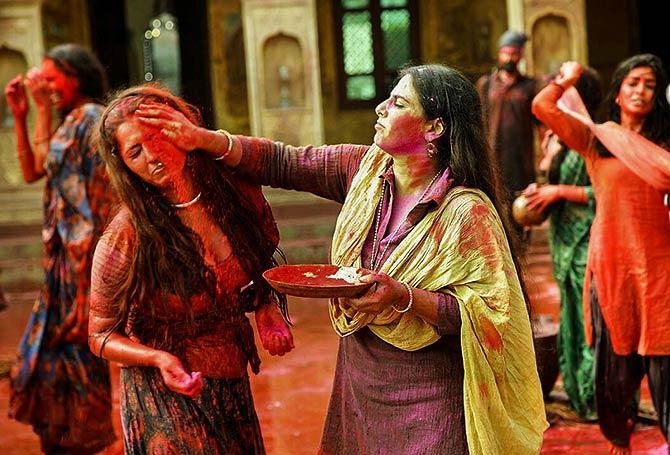 IMAGE: Vidya Balan with Pallavi Sharda in Begum Jaan.
Begum Jaan has two distinct sets of actors. On the one side, there are actors of the calibre of Naseeruddin Shah, Ashish Vidyarthi, Rajit Kapur and an unrecognisable Chunky Pandey; on the other hand, the girls who play the brothel inmates and do not have much cinematic experience.
"Most importantly," says Vidya "it is a potent cast. There's a fresh energy about it. Working with someone like Naseer saab... He always does something that is new, that just grabs you. The girls may not be well known, but they are very good actors. Besides, Srijit had held workshops with the female actors so they knew exactly what they had to be doing in the film, in scene after scene."
In fact, it was Vidya who occasionally found herself challenged.
Begum Jaan demanded physical aggression from her -- and retakes as well, which Vidya found intensely difficult.
In one scene, she had to drag her co-actor by the hair across the floor.
In another, she had to slap a co-actor -- Indrani Chakraborty, who plays Shabnam -- hard.
In fact, says in a promotional video for the film, she ended up slapping Mishti, as Indrani is popularly known, so hard that her jaw locked. Mishti shrieked in pain and seeing her cry, Vidya was in tears as well.
Begum Jaan, for Vidya, is a progression that began with Ishqiya, a movie where she learnt to revel in her sexuality.
"With Ishqiya", as she explains in the video below, "I proved to myself and the world that I am sexy."
WATCH: "With Ishqiya, I proved I was sexy." Video: Afsar Dayatar/Rediff.com
Then came The Dirty Picture, which "demanded the kind of uninhibitedness that I have seen in very few people around me," says the actress.
It was a film that "liberated" her, she explains in the video below.
WATCH: How The Dirty Picture liberated Vidya Balan. Video: Afsar Dayatar/Rediff.com
Now, there's Begum Jaan, a movie about a woman who "appropriates space like we have seen men appropriate space. Her body language is chauda (expansive)."
And as the words escape her lips, Vidya Balan's body language too changes; it becomes 'chauda'.
"Begum Jaan is not coy, demure or what we call conventionally feminine in that sense and yet she's in the flesh trade. She is literally trading pleasure."
When it comes to saying no, Begum Jaan is certainly not shy. When India is Partitioned, and the border is set to crash through the only home she knows, she says no.
It -- saying no -- was a lesson Vidya learnt the hard way.
"Initially," she says "it was very difficult. When I came into the industry and was offered a film, I would get really nervous if I had to say no. I would worry that they are going to get offended."
Then, there was the fact that she was an "outsider, who does not come from a film background. I had no one advising me."
There were a couple of instances when "I said yes, because of certain names or because I just didn't know how to say no and then I just felt like oh, my God, why am I doing this, I'm not happy doing this."
Realisation dawned slowly, with time.
"You realise everyone has the right to say no. Today, it may be the greatest script, but if it doesn't resonate with me or it doesn't challenge or inspire or excite me, I won't do it. I respect the fact that you've come to me with this. You also have to respect the fact that I have the right to say no."
It was that realisation that led her to build the kind of repertoire she now has.
"I didn't come in thinking I'm going to change the way women are looked at, the way heroines are portrayed or anything of the sort. I just followed my instincts. My work is an extension of my beliefs which is why I think I choose the kind of roles that I do," she says.
"If someone says they were impacted by something; it made them think or feel a certain way and changed something in them, that's a bonus. It is very, very fulfilling when people say something touched their lives."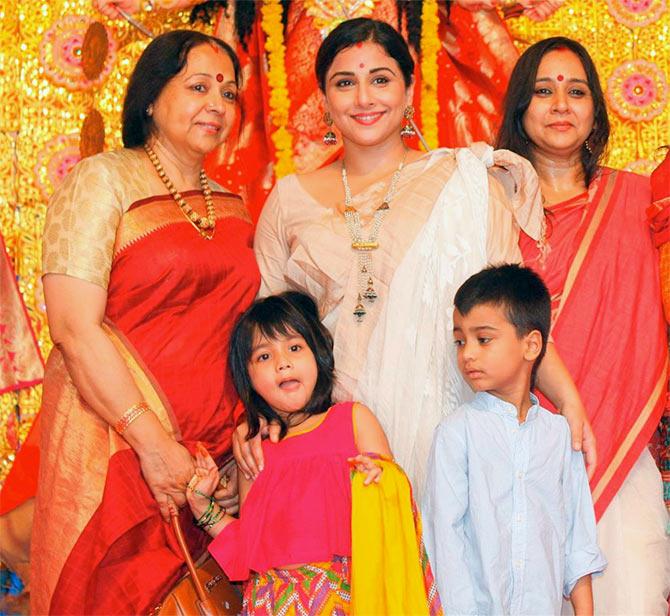 IMAGE: Vidya Balan with mother Saraswathy, sister Priya, niece Ira and nephew Ruhaan. Photograph: Pradeep Bandekar
Her decisions, both personal and professional, a reflection, she says, of the kind of upbringing she has had and the person her family has moulded her into.
"My parents and my sister have had the strongest influence on me."
"My sister's always been an inspiration. She's never really adhered to stereotypes. She's been a leader in whatever she's done, but without following the norm. But I think that's because our parents just let us be. They believed that we should be the people we want to be. Or we are (laughs)."
Her chosen path has led her to numerous films awards, a National Award and a Padma Shri.
"The successes, the failures, everything has contributed into making me the person I am today. I was not out to prove anything to anyone to anyone except to myself. So I just felt a great amount of satisfaction and pride and joy," she says of her awards.
"And when I see that pride in my loved ones's eyes, I think that is invaluable."
She was even invited to join the jury at Cannes 2013. Looking at the list of the other jury members, and their achievements, Vidya developed cold feet.
That's where, she says -- take a look at the video below -- that her sister gave her an interesting piece of advice that she uses to date.
WATCH: The best advice that Vidya Balan's sister gave her. Video: Afsar Dayatar/Rediff.com
Does it mean the 38 year old is not longer nervous?
No," she says, sounding extremely Malayali. "I do. I do. In the lead up to a new film, I always feel nervous."
She confesses to trying to "buy more time, every single time."
"I just feel like, maybe, I won't be able to do this, maybe I don't know the character, maybe I don't know the story, maybe I need to put in more work, maybe I don't know how to act... all sorts of crazy thoughts..." (Laughs.)
"But I think all it takes, you know, is to be on set the first day; you get through the first couple of shots and, slloooowwwly," she takes a deep breath "you begin to feel better."