'I kept telling Anurag, "I don't care about anything, I don't want any money. Just get the film made".'
'One day I called Anurag and someone else picked up the phone. He said, "Hello, Sir." I responded, "Hello, but who are you and why are you picking up Anurag's phone?" He said, "I am Ranbir Kapoor Sir".'

'And he told me he was doing the film and he was very excited.'
Gyan Prakash is the Dayton-Stockton Professor of History at Princeton University in New Jersey. His field of specialisation is the history of modern India.
In 2010 Gyan Prakash published Mumbai Fables -- a cultural history of the city.

While he was researching the ideas and facts that would make the body of the book he was also developing a fictional story in his mind about the characters residing in the pages of the book.
Gyan Prakash's passion project became the treatment for a feature film and was eventually turned into a script.

Director Anurag Kashyap took Prakash's script and transformed it into Bombay Velvet.
Aseem Chhabra spoke to Gyan Prakash, ahead of Bombay Velvet's release on May 15.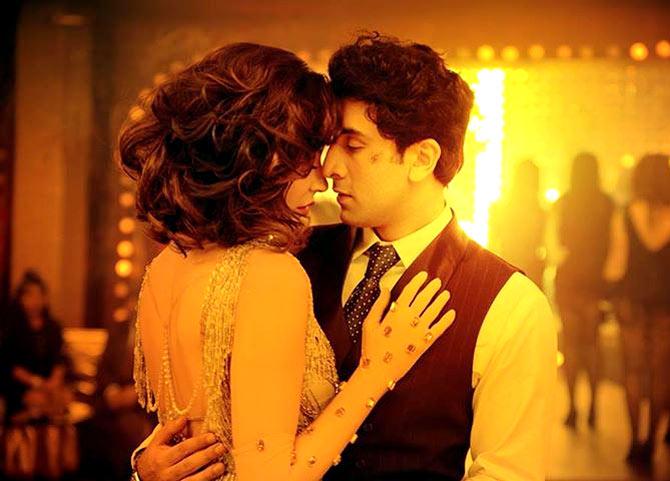 Image: Anushka Sharma and Ranbir Kapoor in Bombay Velvet.
Gyan, I believe you have known Anurag for many years. I remember hearing from a friend that you had screened Black Friday at Princeton, at the time the film was banned in India.
I have known Anurag since 2004. First when he came to Princeton to show Paanch. And that's about the time when I had written a treatment for what became Bombay Velvet.
This was before Mumbai Fables was published?
Yes, much before.

The book was published in 2010. I had been working on it since 2000. And while working on the book it was quite by accident that I was sitting in a friend's apartment.

His apartment in Walkeshwar (south Mumbai) overlooks Marine Drive. It was late at night and it was sort of whiskey talk.
I just said to him 'People say Marine Drive is built on reclaimed land, when it is actually built on land stolen from the sea.'
He said 'How interesting. I haven't heard anyone say that.' And I responded, 'You know you should make films like this, rather than your chocolate-wrapped films.'
Who is this friend of yours?
Oh, it is Rohan Sippy. He suggested I should write a treatment. But he got busy with his other films.

I think he was making Bluffmaster at that time. Then a friend of mine, Ranjani Majumdar, who teaches film studies at JNU (Jawaharlal Nehru Univerity, New Delhi) said the only person who could make this film was Anurag, because it was a dark story.
So we went to Anurag's house. I narrated the story to him. He immediately said yes. 'Haan Sir, banaoonga (Yes Sir, I'll make it).'
That was the end of 2004 or early 2005. At that time some of his films were not being released.

He made No Smoking which was not commercially successful. So nothing much happened until he made Dev D. When that became successful his stock went up in Bombay.

But throughout this time he kept saying, 'We'll make the film.'
But he was very clear from the beginning.

He said, 'Look, it's a period film and it will be very expensive. I don't want to cut corners in filming it. The production costs will be high.'
'The only way we can make this film is if we have stars. Otherwise no studio will finance it.'
Vijay Singh of Fox has said the film cost Rs 80 crore (Rs 800 million). You visualised a film on a grand scale, the same vision as will be shown on screen now?
In terms of story it hadn't reach that epic scale, but in terms of production, Anurag said that below the line will be Rs 56 crore (Rs 560 million).

So even at that time he was thinking it was going to be a very expensive film.
Every year I would go to Bombay for my research we would meet and brainstorm how to take the story forward.

Otherwise, I would call him once a month and ask, 'Anurag, kya ho raha hai (what's happening)?' Of course, I didn't quite understand how this kind of financing works, but I kept bugging him.
And after Dev D he made Gulaal, That Girl in Yellow Boots. He was also getting ready with the epic Gangs of Wasseypur.
Anurag is such a dedicated and almost fanatical filmmaker that he can't sit still. He has to keep making films.
Finally after Dev D, things started moving. I was in Bombay from 2008 to 2009 for 14 months, working on Mumbai Fables.

I had taken a sabbatical to write the book. The timing was partly determined by Anurag's suggestion that we would make the film when I was there.

The first two, three months, nothing was happening.
I guess to get me off the back he finally said, 'Sir, aap likh do (you write the story).'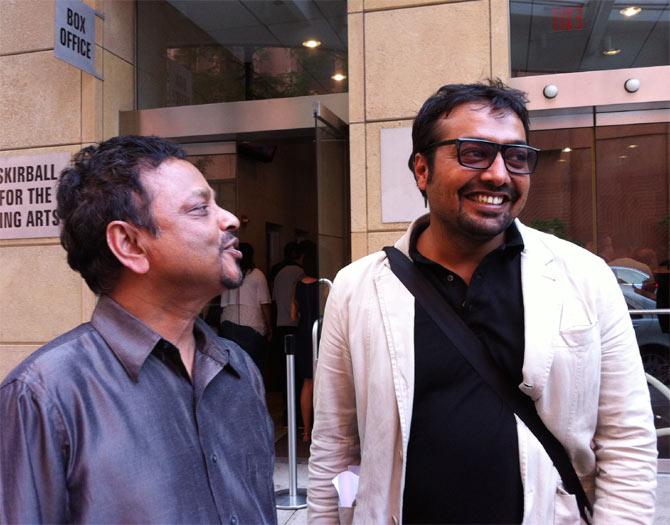 Image: Gyan Prakash and Anurag Kashyap
Until then you had just written the treatment? How long was it?
It was about 20 pages. All the characters that are now in the film were there. The basic plot was there. I never thought I would write the film. The understanding was he would write it.
Anyway I looked at some books on script writing. I picked up a few scripts -- films like LA Confidential, Chinatown that were easily available on the Internet.

Then I started writing. Initially I wrote with two of Anurag's assistants -- Vasan Bala and Thani. And then I took it independently.

I wrote at least 17 different versions before I felt confident to give it to Anurag.
And Mumbai Fables was also being written at the same time?
At the same time. My schedule was that during the day I would write Mumbai Fables and in the evening I would write the script.
That's a huge dedication on your part.
Yes (laughs). All this time I kept telling Anurag, 'I don't care about anything, I don't want any money. Just get the film made.'

And Anurag once said, 'Sir, don't even say it. If they hear you, they won't give you any money.' He added, 'You will get paid. But you have to have patience.' But I am very impatient.
When you were writing both the book and the screenplay, how much of the book was inspiring the screenplay? I know you were referring to the same time periods, but how much of your book was appearing in the screenplay?
A lot. Many of the characters in the film were drawn from the book.

They are fictionalised, of course. But particularly the chapters about the 1960s, I drew a great deal in terms of the characters and the events that took place.
So which are the characters that we can find in the book and the film?
You know like (Blitz's legendary founder Editor) Russi Karanjia and (Current Editor D F) Dosu Karaka. So I wrote protagonists based on them.

I wanted to show how Bombay turns from an industrial city to a post-industrial city of finance and real estate capital, but narrate it in a fictional way.

The change in the city was not just the change in the industry. It was the change in the entire way of life and the whole social fabric of the city, which was earlier based on the mill industry, to something else.
In order to present first the milieu of the 1960s and how it changes, I also took into account some of the characters who were very prominent in Bombay.

Karaka used to run Current, while Karanjia ran Blitz.
I remember the two publications. My father was a journalist so we would get them at home.
They were ideologically opposite. I thought it would be good to portray the leftist and the pro-American free-market ideologies through these characters.
I also thought it was kind of the last gasp of jazz in Bombay.

Which I knew from my own research and also from Naresh Fernandes' writings. He had published a few articles then.

In 2005 I organised a conference on Bombay at Princeton where Naresh, Suketu (Mehta) and various other people spoke.
So I drew on all of these things that were there in the book.
The important thing for me in writing the fictional story was to think of the motivations of the various protagonists and relating those motivations to general changes that was taking place in the city.
Generally in social science we are very good at sketching large social forces, whether it is capitalism or the working class movements.

Whereas in literature and cinema you deal with everyday life. And so I had to take the large social events and place them in the context of daily life.

That was the transition I had make from the book to the screenplay.
What happened after you gave the script to Anurag?
That was in March of 2009 and he said now I will work on it. But really nothing happened until end of 2011 or beginning of 2012.
The script that Anurag finally wrote, how much does it resemble your script and characters?
All the characters are the same. The basic plot is the same. He streamlined it a bit more. The love story, for instance, became more prominent in his version.
Did Anurag have any conversations with you with regard to the casting?
No. I mean he kept me in the loop. Over the seven, eight years we talked about various actors.
Then one day I called Anurag and someone else picked up the phone. He said, 'Hello, Sir.' I responded, 'Hello, but who are you and why are you picking up Anurag's phone?' He said, 'I am Ranbir Kapoor Sir.'

And he told me he was doing the film and he was very excited. Then Anurag came on phone and told me the casting had been finalised.
One time Anurag called and told me that Amit Trivedi was coming to the US and whether I would take him to New Orleans to get a taste of the city's jazz music.

I agreed, but then they decided not to record in New Orleans because that would have been too expensive.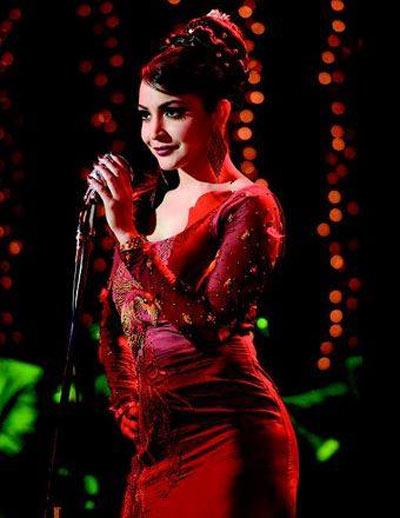 Image: Anushka Sharma in Bombay Velvet.
Bombay Velvet was in the conversation for a long time. There were reports that either Aamir or Shah Rukh would star in it. And Danny Boyle was supposed to produce it.
Danny Boyle was very supportive; the chase scene in the beginning of Slumdog Millionaire was inspired by Black Friday.

At different stages different people's names were associated with the project.

But now that I think about it, actually the delay worked for the film.

Because by the time everything came together, Anurag's own stock was up. He could command this kind of financing and the stars.
So tell me about the experience of going to Sri Lanka for the film's shoot.
I went to Sri Lanka twice -- first in 2013 for about 12, 13 days when they were doing the first schedule of shooting and that was mostly in Colombo.

I have been to other shoots, but I was unprepared for the amount of personnel, capital equipment and the general bandobast.

Anurag had been saying this will be a big film, but I finally realised what he meant.
There are other directors who direct and leave, but in Anurag's case everything revolved around him. He would give freedom to the actors, but ultimately they all come to him.

He was juggling a lot of pieces.
Did you see a scene being shot and think it was different than you had visualised?
You know I hadn't thought much about how he would bring it to screen.

In any case they don't shoot in sequence.

But I saw the amount of care he took in composing these shots.

There was a shot late at night outside Colombo. Ranbir was in the shot and in the middle of it a train passed by. I was concerned, but Anurag clarified, 'Nahin, nahin yeh to apni train hai (This is our train).'
One day they were shooting at Colombo station that was supposed to be VT Station. They had blocked two platforms for the entire day. Can you imagine doing this in Mumbai?
And then you went again?
I went again in March 2014 for a week. That was the end of the shoot.
And you would sit and watch?
Yes mostly. My work was done.

Maybe on a rare occasion I would notice something and I would suggest it to them. But more or less I was there to watch. But I talked to the cast and crew, the sound designer.
So what credit do you get in the film?
There is one screen card that reads based on an original story by Gyan Prakash. And then another one says written by Gyan Prakash, Vasan Bala, Thani (S Thanikachalam) and Anurag Kashyap.
Have you seen the film?
I have, but without the sound design. It was just the edit lock.
So was the process exciting, creating fiction, as opposed to the historical research you do? Would you do it again?
This script came out of the work I was doing for my day job. If something like that came along, that's a different matter. But I am not a scriptwriter by profession.
And this was something I really got interested in.

People would often ask me how would I cinematically portray what I was doing in my research. And so it was an intellectual challenge for me.