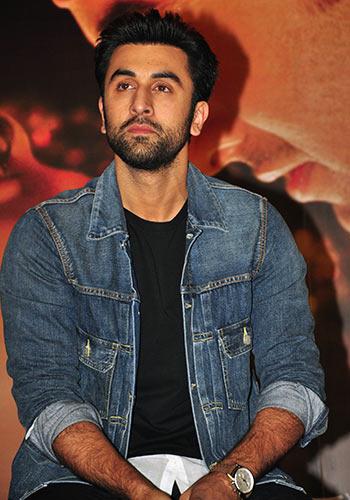 'From Shah Rukh Khan to Salman Khan to Aamir Khan, if they have to constantly prove themselves, then who am I? I have just started my career.'
'Pressure is good. Pressure is something that drives you. What is important is that you don't crack under pressure.'
'(Censorship) is basically a couple of people sitting together and deciding what should be cut and what shouldn't.'
'With time and age, you understand that when you get closer to marriage and become a little serious, it's better not to be open about the relationship because so much is written and spoken about it.'
There's something about this Kapoor kid.
His last hit film, Yeh Jawaani Hai Deewani, released in May 2013. He's had three releases and two cameos appearances after that (the barely minute-long cameo in PK drew a lot of oohs and aaahs from the surprised audiences), but he's still been hunting for that elusive hit.
It may have dented his confidence, but Ranbir Kapoor does not let the hurt show. Instead, he opens himself to a barrage of questions, both easy and difficult, as the countdown begins for a film that the talented actor has now placed his bets on.
Will Tamasha – which pairs him once again with his YJHD star Deepika Padukone and Rockstar director Imtiaz Ali – be the film that breaks the jinx?
And then, there are other things the star discusses. Like the Censor Board and the rather 'active' role it is playing today. Like the fine line that separates his two lives -- the personal and the professional.
Jahnavi Patel/Rediff.com brings you a conversation with Ranbir Kapoor.
You're one of the finest actors in the current generation. Your performances are appreciated. When a film doesn't work at the box office, what do you, as an actor, do to make it work?
As an actor, I can't do much. The only thing I can do is improve my choice of films, (be more careful about) the kind of stories the directors want to tell and I become a part of. Maybe, I should choose wisely.

Do you think destiny has been unkind to you?
I don't think it has anything to do with destiny. I believe a man makes his own destiny. It is about your choices, hard work and karma.

How heavily are you banking on Tamasha?
I am banking on Tamasha heavily, like I banked on Bombay Velvet post Besharam and Roy (these Ranbir starrers tanked at the box office).
For an actor, every film is a testing ground. In this industry you're only known for your last work; you're not really known for what you've done before.
From Shah Rukh Khan to Salman Khan to Aamir Khan, if they have to constantly prove themselves, then who am I? I have just started my career. The constant search, want and desire to do better is alive.
I do understand the pressures that I have, I do understand the kind of expectations that were there are probably not there today; I've to kind of start again from scratch and build that (expectation again).
Is the pressure of delivering a hit at its peak now?
My first film (Saawariya) was such a disaster. There was so much pressure then too. It was such a big launch but it didn't work. People were sceptical about Sonam (Kapoor) and me.
Pressure is good. Pressure is something that drives you. What is important is that you don't crack under pressure. You take it in your stride, you understand failure, you understand where you went wrong and you move ahead.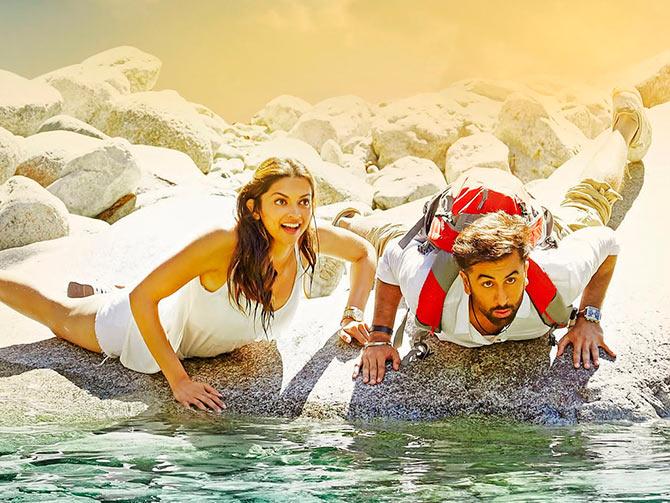 Image: Deepika Padukone and Ranbir Kapoor in Tamasha.
How important is chemistry with a co-actor when you sign a film?
Firstly, chemistry is not something that Deepika and I, if you sign us, bring to the table.
Signing a film is also about the kind of parts we like individually as actors. Deepika liked Yeh Jawaani Hai Deewani because she liked Naina's character. I liked Bunny's character and we liked the story. Then, we can bring our best to the table.
The characters and the dynamics between them make the story.
Having said that, I was reading lately that the lead actors of Gone With The Wind never spoke to each other through the entire film. They were at loggerheads and it is supposed to be one of the greatest romantic films ever made.
So it's not about your personal life or your friendship or if someone is in a relationship… it doesn't matter. What matters is what you, as an actor, bring to the table.
There are reports about the kissing and love making scenes being toned down by the Censor Board. Do you think this will take away the flavour away from the scene?
I don't think it is about the kissing… that's wrongly reported. It was actually about the language that was used.
Imtiaz's movies do not aim to titillate an audience. He doesn't put elements that are out of character or out of the story. So that wasn't the issue. The issue was something else.
Coming to censors and censorship, they are being a little radical and strict with things. Creatively yes, we do understand the responsibility they have… the kind of films, the messages and social value that films should have because it's an art form.
Having said that, a little bit of creativity gets hampered because your freedom is curbed by other things. It's basically a couple of people sitting together and deciding what should be cut and what shouldn't.
It is an ongoing debate. I don't know who's right who's wrong but, as far as Tamasha is concerned, there were certain abusive words like saala that they wanted to censor.

So the love making scenes have not been pared?
There is no love making per se… that was misreported. Nothing of that (sort) has been censored.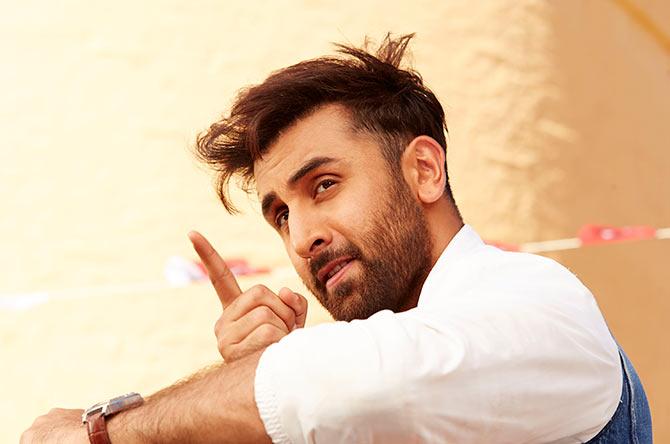 Image: Ranbir Kapoor in Tamasha
How excited or nervous were you about your Dev Anand act in Tamasha?
I was very nervous because, as actors, it is hard to do mimicry.
I'm not a mimic artiste. I worked with a mimic artiste for a week but it was a very small portion in the film and the way Imtiaz wrote the dialogues is very interesting. I had lots of fun doing it.
To be Dev Anand was pretty amazing.

Is there a Tamasha memory that you will take back?
I think the places that Imtiaz takes us to, like Japan and Corsica. Even shooting in Delhi, Shimla, was different.
When you work with Imtiaz, he attaches you so much to the material that you really miss the experience.
Apart from the people who work on it, even the experience of playing a part or being a character is truly memorable. It is always his stories that stay with you. For me, Rockstar is like that. These are characters and experiences you connect with. Even Tamasha, after few years, will be a bitter-sweet memory in my life.
When you and Deepika were in a relationship, you were open about it. Now, you haven't officially announced anything about your personal life. Is that a decision you both have taken based on the past?
It became like a bit of a circus. Everything you did was about that (the relationship). Everything related to it. We were really ambitious people and wanted to establish our identities apart from the relationships we had in our personal lives. That was important.
With time and age, you understand that when you get closer to marriage and become a little serious, it's better not to be open about the relationship because so much is written and spoken about it.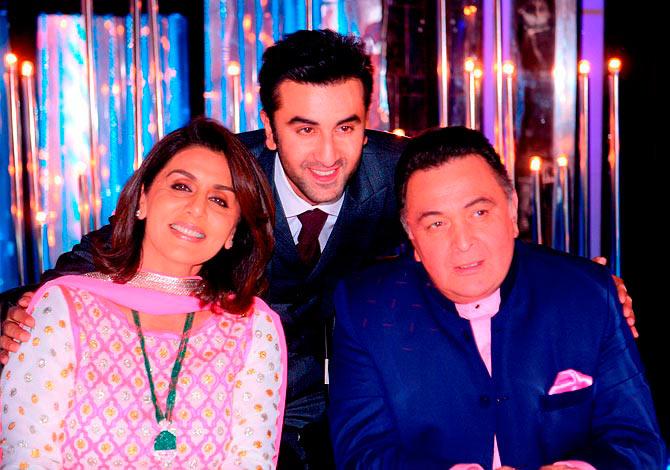 Image: Neetu Singh, Ranbir Kapoor and Rishi Kapoor
Do you think you're missing out on a phase of life by delaying marriage?
Means I won't become a father? I'm not 40 years old, I'm only 33.
Having said that, I believe in the institution of marriage. I really hope what you're saying is not true and that I'm missing out on something.
I will experience it but, like I said, age has nothing to do with marriage. It's about your heart and what naturally happens in life.
Rishi Kapoor said many people add him on Twitter to get in touch with you. You think you've reach a stage where you've surpassed your father's popularity?
Not at all. Unfortunately, we're also in an industry which has a short memory.
If you ask my generation, they've probably not seen much of Dilip Kumar's work but that doesn't mean anyone is greater than him. He is the greatest.
I feel the same about my father. He is one of the finest actors the film industry has produced. Whatever I do in my life, I don't think I'll ever be able to match up to him.
What he said was just humour; I don't think he means it.

He got married young. Do you have any such plans?
I don't think he married young. He married when, I think, he was 28. I am 33. Now, times have changed. At that time, it was like a given that if you were 28 and you were working, you got married.
I think when you feel you should get married, it should happen then. It's an organic process.

How different is it living with parents and without them?
Living with parents is the most wonderful thing. When people say I'm living alone, it's a very temporary thing. Eventually, I'm going to move back. Even my parents are moving out in another month's time. We're breaking the house and making a bigger house.
I'm someone who loves my parents. I'm going to spend my life with them. I'm going to take care of them.
But it is also important that I experience life on my own. I think my parents also want me to become more responsible. But, eventually, I'll move in with them.
Image: Ranbir Kapoor, Deepika Padukone and Imtiaz Ali travel by train to Delhi to promote Tamasha
Does the Sanjay Dutt biopic have a name?
Yes, but it's unfair if I say it.

Is it called Baba?
No, it's not that. I'm sure the makers will announce it very soon.

Have you met Sanjay Dutt or spoken to him?
Yes. I've grown up around him and he is very friendly.
On my birthday he gifted me a Harley Davidson bike; we're that close.
Each time I do a film, he makes a point to come and discuss it. When Barfi was being made, he used to pull my leg and say, 'Tu agla kya film karega… (What will your next film be?) Laddoo? Peda?.
He's someone I'm really close to so it will be amazing to play him.