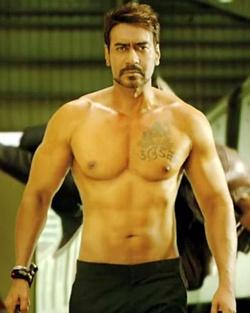 'Working with Prabhu Dheva was extremely taxing. I expected it to be an out-and-out action film but he made me dance so much.'
Ajay Devgn talks about his next film Action Jackson.
Ajay Devgn is gearing up for the release of yet another Bollywood potboiler with Prabhu Deva's Action Jackson.
In a brief conversation with Sonil Dedhia, Ajay talks about the film, why romancing on screen is no fun, and who his biggest critic is.
This is the first time you don't have movies lined up after Action Jackson. Why?
I have wanted to direct a film for some time now and because of my back-to-back films, I wasn't getting any time.
After a lot of planning, we have finalised a script. It's an action drama titled Shivay.
I will also star in it and produce it. Ninety per cent of the cast is from abroad.
What will Shivay be like?
Shivay has a lot of action but it is an emotional film. The intensity and drama you saw in Zakhm will be there.
I don't have any item numbers or any gimmicky stuff in the film.
Action Jackson is yet another action film. Aren't you tired of doing these films?
People look for entertaining films but at the same time, they want to see something different. Action Jackson has that.
I like Prabhu's (Prabhu Dheva) way of directing films. I like the poker faced comedy of his films.
I am very fond of his comic timing and stylised action.
Prabhu has given a different look to the film. We have got a very positive response to the promos and songs.
Did you undergo any special training for the film?
I lost a lot of weight because Prabhu wanted me to look lean and not have my Singham kind of look.
I learnt a little bit of taekwondo. There is a lot of real action in the film.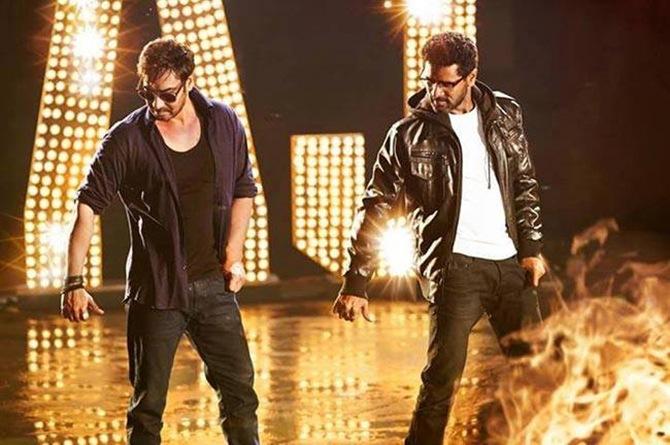 Image: Ajay Devgn and Prabhu Dheva in Action Jackson
Were you nervous dancing in the film?
Working with Prabhu was extremely taxing. I expected it to be an out-and-out action film but he made me dance so much. The title of the film is very deceptive.
Jokes apart, I wasn't nervous. I was prepared for it.
I trust Prabhu completely. He is the best choreographer in our country. I really don't know what he made me do in the film but it was a lot of fun (laughs).
You are romancing three heroines in Action Jackson, Sonakshi Sinha, Yami Gautam and Manasvi Mamgai.
Trust me, there is no fun in romancing on screen.
You are giving your shot and you don't even know who the other person is.
So it doesn't matter if I am romancing one girl or three girls.
Many big stars have already blocked the festival dates till 2016 for the release of their films. Do you think it's a good thing?
The big stars are blocking the festival dates because the business is really good.
In the next couple of years, there will be two big releases every festival because there won't be any choice left.
And, frankly, there is space for two big films releasing on the same day.
Having spent so many years in the industry, what gets you going each day?
Usually it's exciting to go to work. But sometimes, during the shooting itself you realise that that film is not going to work. That's when it becomes difficult and you really have to work for work's sake.
Your wife Kajol's film Dilwale Dulhaniya Le Jayenge will complete 1,000 weeks in December. When was the first time you saw the film?
(Thinks hard then smiles) I haven't seen the film yet.
There is no particular reason why I haven't seen it; it's just that I haven't got the time.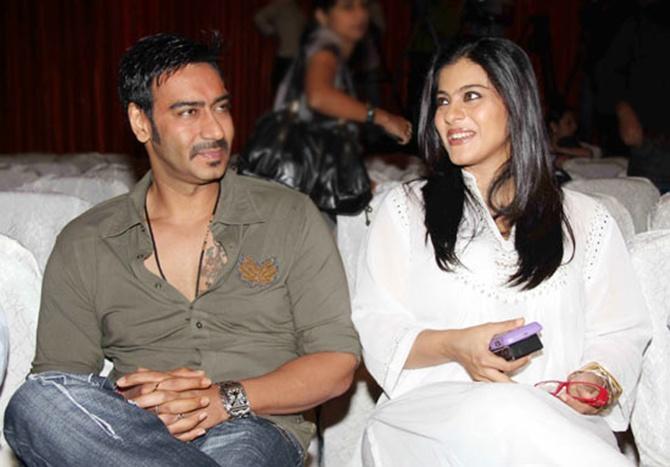 Image: Ajay Devgn and Kajol
But do you watch each other's films?
Not really. I hardly watch my own films. I have not seen so many of my films.
Who is your biggest critic at home?
My daughter! She gives genuine comments.
She tells me, 'If you are not comfortable doing a song, why do it?'
But she liked me in Action Jackson.