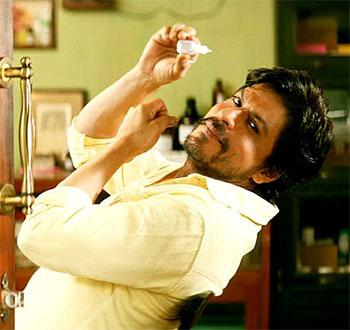 '2016 was the year when Shah Rukh Khan took risks and traversed along the path that would ensure the actor could shine more than the star,' says Aseem Chhabra.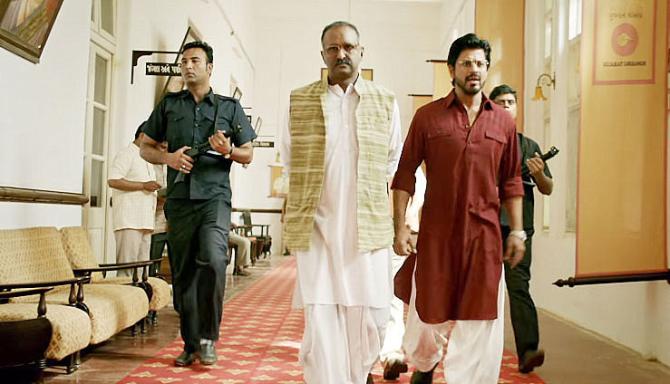 Since Christmas 2016, much has been written about Dangal, Aamir Khan's new film.
Like his previous works, Dangal once again set a new box office record. It made Aamir and his brand of story telling a sure shot success formula -- simple, folksy, with a healthy dose of progressive social values, blended with Bollywood inspired realities.
Also in 2016 Salman Khan did what he does best -- reaching out to his fan base with yet one more mass appeal film, Sultan, an underdog story about a wrestler trying to make a comeback.
Like Dangal, Sultan was also a massive hit and it entered the pantheon of the Rs 300 crore club.
But I believe 2016 belonged to the third Khan -- as in Shah Rukh. His two releases -- Fan and Dear Zindagi were not humungous hits.
Both films did not do earth shattering business and in the midst of bigger showy movies, people seemed to have forgotten Shah Rukh Khan's film presence in 2016.
In 2016 for the first time since he acted in a set of highly acclaimed films -- Swades (2004), Paheli (2005) and Chak De! India (2007) -- where he was able to explore the actor inside him, Shah Rukh made a concerted effort to move away from mindless entertainers which did not find love amongst most critics -- films like Ra.One (2011), Chennai Express (2013), Happy New Year (2014) and Dilwale (2015).
It was a coincidence that Fan and Dear Zindagi were released back-to-back in the same year, even though the actor was also making a few other films at the same time, including Raees, which opens this week.
But the pattern shows an actor making distinct moves to select projects that reflect his middle age, take him out of his comfort zone and give him the opportunity to redefine himself.
Shah Rukh turned 50 in 2015 and he could have easily continued working on many more Rohit Shetty, Farah Khan and occasional Yash Raj productions.
There are enough stars -- Ajay Devgn, for instance -- who are fine with regurgitating the tried and tested formula.
But there are also stars who sometimes think of their legacy. I sensed that Shah Rukh seemed a bit bored with the brand of films that Rohit Shetty and Farah Khan offered him. And surely he was affected by what critics and other well-wishers said about his work.
In 2013 at the Chennai Express press conference broadcast via satellite in New York City I asked Shah Rukh, why, when he was so financially confortable, did he not take the risk of doing a quieter film similar to Chak De! or Swades<?em>? Why he did not challenge the actor in him?
His response was that he was looking into such projects and had talked to filmmakers like Vishal Bhardwaj and Anurag Kashyap. But the right scripts had to be developed and it was also the question of timing.
I am not suggesting that Shah Rukh was influenced by my question. Clearly the star had been thinking of creating an alternative path while he would still work within the framework of Bollywood.
I have to admit I was not very happy with the outcomes of Fan and Dear Zindagi.
The idea of Fan where a star looked into the heart and soul of his fan (both cleverly played by Shah Rukh) was very interesting.
And the star -- hopefully Shah Rukh also got a chance to examine himself, to question what the stardom meant to him.
But the film's execution failed. I had hoped for a more reality driven project by three of Bollywood's smartest young minds -- Maneesh Sharma, Habib Faisal and Sharat Katariya.
At some point in the film the fan and the star became the same and that just did not make sense. It was very hard to believe that Gaurav, the young naïve fan, could so smoothly transition and walk in as a double of Aryan, the star.
It is impressive that Shah Rukh agreed to take a supporting role in Dear Zindagi, allowing the lead -- 23-year-old Alia Bhatt -- to shine in the film.
It is rare for a movie star to be so comfortable with himself and be so giving. I was reminded of Tom Cruise taking a smaller supporting role in P T Anderson's Magnolia. Cruise's supporting performance eventually won him a Golden Globe and a Screen Acting Guild award.
On the surface Dear Zindagi was a progressive film. It set out to remove the stigma attached to mental health.
It told the audience and especially the young people who watched the film for Alia Bhatt that it was okay to talk to experts about personal problems that impacted their everyday lives. That was a first for Hindi cinema.
Dear Zindagi had flaws as well including the unethical track where Shah Rukh's therapist Jehangir Khan broke down the wall that should always exist between a doctor and the patient.
That cinematic license in the film gave a wrong message and quite diluted the more serious intention of the film.
So Fan and Dear Zindagi did not work me, but none of that actually matters.
Writers and film historians who examine Bollywood cinema in 2016 cannot ignore an important fact -- this was the year when Shah Rukh Khan took risks and traversed along the path that would ensure the actor could shine more than the star.
At the time of writing this piece I know little about Raees other than the look of the film as presented in the trailer and the songs.
Shah Rukh has played negative roles in a couple of films. But Raees feels different and Rahul Dholakia's 2005 film Parzania spoke a lot of truth.
So I hope that we will once again see the 'new' Shah Rukh Khan, this time playing a villain in a cat-and-mouse action film.
And three 'evolved' films in a row would be a remarkable achievement for this big Bollywood star.
IMAGE: Shah Rukh Khan in Raees.