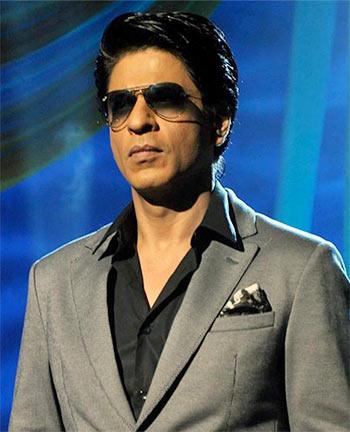 Shah Rukh Khan has turned 25! No, we are NOT kidding!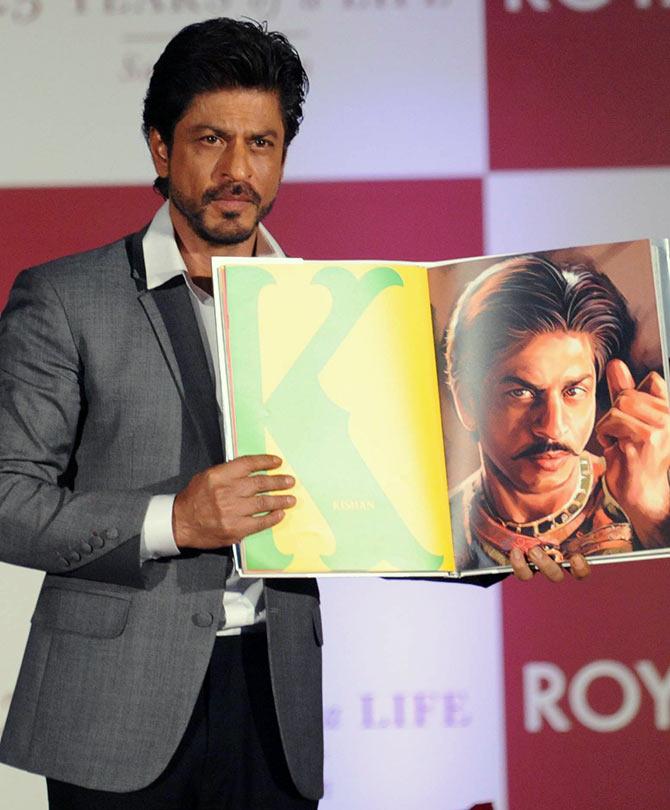 IMAGE: Shah Rukh Khan at the launch of his book,SRK: 25 Years Of A Life. Photograph: Pradeep Bandekar.
I was an odd looking boy.
"I spoke too fast.
"I was not from a film background.
"Yet, they gave me an opportunity.'
That was Shah Rukh Khan, thanking his many directors at the launch of SRK: 25 Years Of A Life, authored by his journalist-turned-director-turned-author buddy, Samar Khan.
The picture-heavy coffee table book celebrates SRK's silver jubilee in the industry.
Some of SRK's directors who made it to the event included Abbas-Mustan, Kundan Shah, Rajiv Mehra and Anubhav Sinha.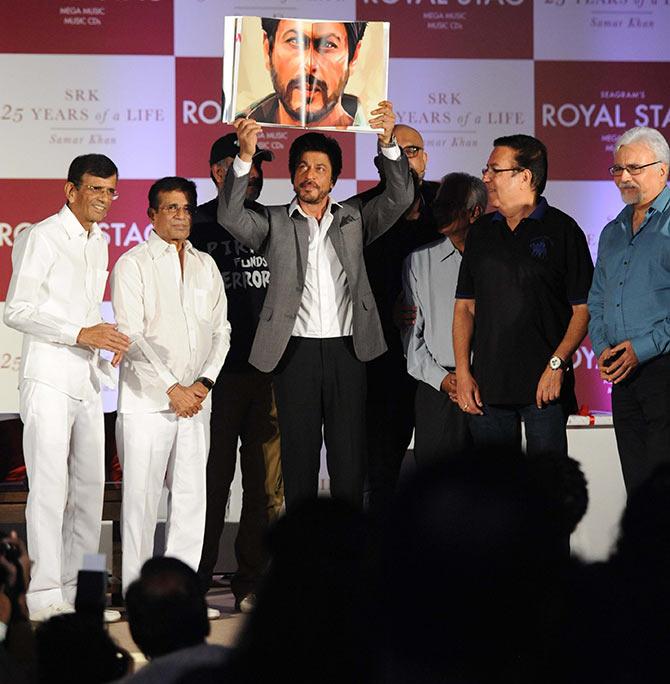 IMAGE: Abbas-Mustan, Anubhav Sinha, Shah Rukh Khan, Samar Khan, Kundan Shah and Rajiv Mehra (extreme right). Photograph: Pradeep Bandekar
The superstar waxed nostalgic as he thanked filmmakers like Saeed and Aziz Mirza, who gave him his early hits; Aziz directed him in the television serial Circus. Later, the duo launched a production company, Dreamz Unlimited, with Juhi Chawla and produced the ambitious Phir Bhi Dil Hai Hindustani.
Director duo Abbas-Mustan gave him the career-defining Baazigar, while Kundan Shah directed him in the sweet romance, Kabhi Haan Kabhi Naa.
"They looked after me as a child. I had Gujarati food for the first time at Kundan's house," he recalled
Hema Malini was not present at the book launch but SRK did not fail to thank her. "Who gets an opportunity to sit across the Dream Girl and listen to her say she likes your nose because it is very aristocratic and gives you a film because of that? Woh naak jisko main chupata phirta tha, woh naak Hemaji ko pasand hai (I used to always try and hide my nose but Hemaji actually liked it)!"
Shah Rukh also thanked Rajiv Mehra (Chamatkar), Ramesh Sippy (Zamana Deewana) and Shimit Amin (Chak De! India).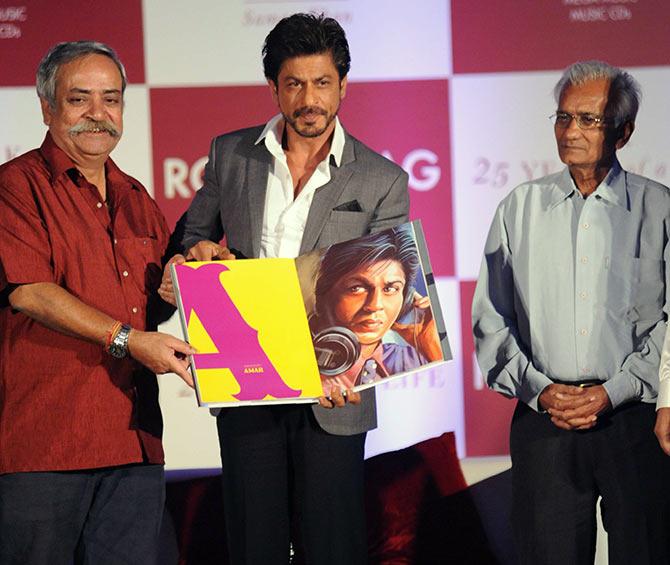 IMAGE: Prasoon Pandey, Shah Rukh Khan, Kundan Shah. Photograph: Pradeep Bandekar
Later, talking about his acting skills, he said, "Kundan once told me I can make a rock act but I can't make you act; he really shouted at me! He shouts me even now for my choice of films and he has the right too; he is like a father. Adi (Aditya Chopra) said my laugh made me look like a middle class psychopath. I think I can do urban roles better than the villager roles."
The baadshah of romance also shared a tip the late director, Yash Chopra, had given him, "He once told me unless you make love to a woman, you cannot become a legend. I took that seriously," he laughed.
Shah Rukh Khan speaks about his struggles and the help he got from his filmmakers. Video: Afsar Dayatar.
Like everyone else, SRK too had his share of struggles. When he first came to Mumbai to shoot for Aziz Mirza's Circus, he did not have house to stay in, so he stayed at Aziz and Kundan's office in Bandra.
Later, when he got married, Aziz gave him his house but SRK had to move to a rented apartment when Aziz needed the house back. When he could not afford the rent, Rajiv Mehra gave him the money.
"I am sharing these small instances because I had said, 'I will own Mumbai one day.' I had the guts to say that because of these people who helped me in the beginning. They are not just filmmakers; they are life-makers," a grateful Shah Rukh said.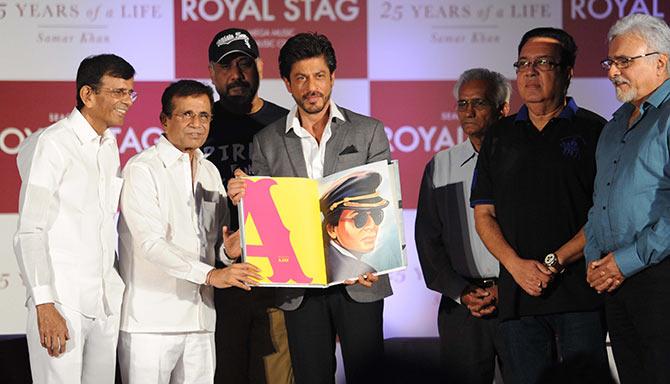 IMAGE: Abbas-Mustan, Anubhav Sinha, Shah Rukh Khan, Samar Khan, Kundan Shah and Rajiv Mehra (extreme right). Photograph: Pradeep Bandekar
When he got his first best actor award for Baazigar, he visited directors Abbas-Mustan to thank them. "It was their second film," he said. "I did not understand the hardship that they lived in -- I had become a star and the directors who made the greatest film of my career perhaps were still to make it."
In the early days of his career, he recalled, he gave an interview that was headlined: Hema Malini does not know how to direct.
Shah Rukh said he doesn't remember whether he actually said it, or maybe he had been that arrogant. "But I didn't mean it and I didn't feel it. What I do remember is that when I went on the sets the next day, I tried to avoid Hemaji. I thought she would kill me. But she called me and said, 'Either you are very famous or I am very famous. I have stopped acting which means that you are famous and, when you are famous, people write all this nonsense, haan... you go and get ready."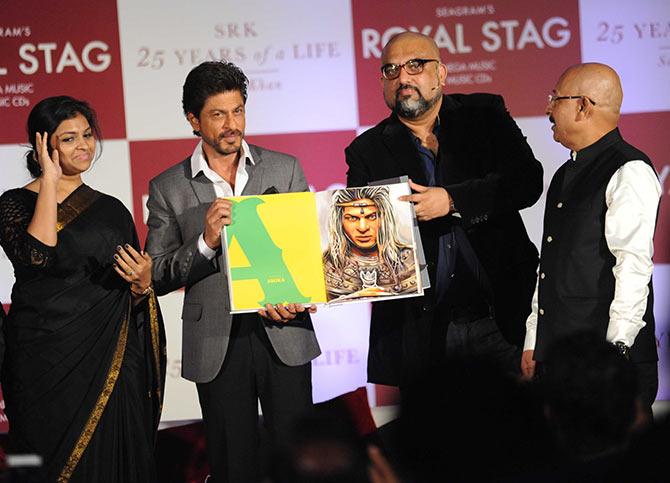 IMAGE: Sonali Kokra, co-author, SRK: 25 Years Of A Life with SRK and author Samar Khan. Photograph: Pradeep Bandekar
Revealing the foundation of his skills as an actor, he said, "My mother was very social and I would see the way she would talk to people. When she was with a worker, she would talk like them and when she was with an army man she would talk to them differently. I feel an actor is just like water; he should adapt to the colour and shape. I believe art is important, not the artist."
Talking about his silver jubilee, he said, "I have done 60 odd films, so when I look back I feel I have done it all. Someone should come and tell me, "Shah Rukh, there is a role for you, I don't think you can do it but let's take a chance... I want that challenge. It has been 25 years. I am physically and mentally all there and I still feel like a newcomer."
Thanking his directors once again, he said, "I have no right on all my success but each one of them at the formative years of my life -- like Yash Chopraji, Mani Ratnam, Hemaji and many more -- have made it possible."
Shah Rukh also thanked his actress who helped him dance and romance. "There are instances when I was doing a duet with an actress and she was the one twirling me. They were all so beautiful that it was easy to love them... I respect and love them."
He thanked Anubhav Sinha for making Ra.One for Aryan and Suhana, "We did not get it right but, God willing, we will do it again."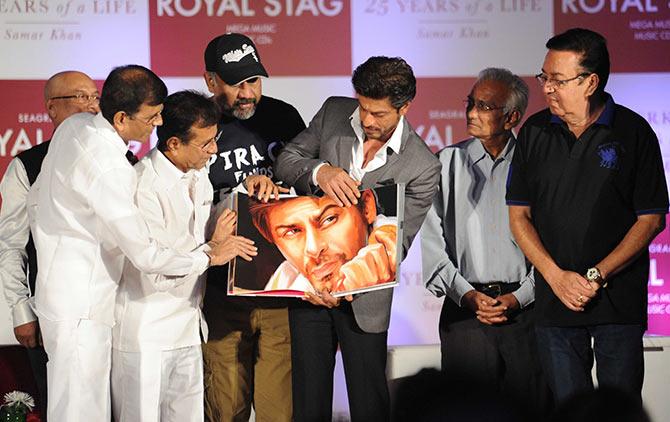 IMAGE: Abbas-Mustan, Anubhav Sinha, Shah Rukh Khan, Samar Khan and Kundan Shah. Photograph: Pradeep Bandekar
Finally, he thanked Lt Col R K Kapoor, the producer and director of the television serial, Fauji, who gave Shah Rukh his first break.
After Shah Rukh's father expired, his mother had visited the colonel to check about a rented apartment since they needed to move into a smaller house.
When the colonel met Shah Rukh, he offered him a small role in Fauji. SRK explained just how small his role was. "I had to make a mistake and the colonel would say, 'Jao, us ped par gin kar aao, kitne kauwey hai (Go and count the crows on that tree).' I had to run to the tree, count the crows, come back and say, 'Chaar kauwey hain (There are four crows)'. The colonel would reply. 'Theek hai jawan. Savdhan (Okay soldier. At ease).'" That was the only dialogue Shah Rukh was supposed to have Fauji.
But then, the colonel's son who was to play the lead role and do the cinematography, suddenly decided he would not simultaneously do both and Shah Rukh became Abhimanyu Rai.
Ending the event by talking about the entire film industry, Shah Rukh said, "When I came from Delhi, I had no family but now I have an extended family in all these filmmakers, leading ladies, producers and some other friends I made along the way in the film industry. If not for some of them, I would not be celebrating 25 years in this industry."