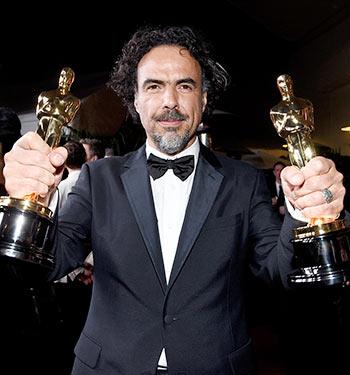 Let the grandeur do the talking instead of the gags, says Raja Sen.
The good guys won.
Actually, it was bigger than that.
I have annually whinged about and berated the Academy of Motion Picture Arts and Sciences shortsightedness and predictability in columns like these for far too many years now, and this is the first time I sat back through the Oscars -- occasionally tense with fingers crossed as often as befits the occasion, naturally -- but with a smile on my face.
It was very clear that despite the eight nominated films, there were only three frontrunners this year, and each was majestic.
I loved 'em, I loved 'em to bits, these brave and visionary and beautiful films: Birdman, which I reviewed breathlessly, Boyhood, which I reviewed with moist eyes and lumpen throat, and The Grand Budapest Hotel, which I reviewed with jaunty fingers and a candied grin.
And this was their year.
Just let that sink in for a moment.
That the three films tipped to win, the three films that held the most nominations and got the most awards, the three directors singled out for career-revolutionising triumph... were all masterworks.
They were all brilliant and incredible, films any cinephile around the world should be proud of.
The fact that it was these three films who led the pack and battled for the spotlight -- instead of some dastardly Academy-friendly choice that upset a great yacht -- made this year's Oscars a spotlight worth sailing through.
There was no King's Speech to mug The Social Network, no English Patient to shoot Fargo in the foot, no Crash to rob Brokeback Mountain, no Forrest Gump to hold up, unforgivably, both Shawshank Redemption and the revolutionary Pulp Fiction.
No, this year, instead of the big, the gun-toting, the maudlin, the British -- and, most criminally, the obvious -- films, the cool kids this year, the ones tipped to win were a Boy, a Bird and Budapest. How can you not love this year?
Sure, signs pointed to a Birdman/Boyhood split, with Alejandro González Iñárritu (in the picture, above) possibly taking Best Director for Birdman and Richard Linklater's Boyhood taking Best Picture, or vice versa, a peace treaty that would leave the filmloving world in peace, but that wasn't, alas, to be.
As Iñárritu said while picking up the Best Director trophy, moments before he picked up Best Picture, "We're talking about that little prick called ego. Ego loves competition, right, because for someone to win, someone has to lose."
And that's possibly why it hurts us, the film fans.
Because we don't want to see Linklater win over Iñárritu, or Budapest director Wes Anderson leave the other directors in the dust, or even young Damien Chazelle, helmer of the electrifying Whiplash, be left behind or spoil anyone's party. We aren't used to seeing these underdogs competing at the top of the heap; we just want 'em all to enjoy playing together and all go home happy.
To a large extent, they did: Boyhood won for Patricia Arquette, Whiplash for JK Simmons, the Grand Budapest Hotel for everything to do with how beautiful films look.
All while grumpy veteran Clint Eastwood sat grouchily, his American Sniper not showing up to ruin our film-lovin' fun, while Oscar host Neil Patrick Harris wagered he'd do a Kanye West and disrupt the proceedings.
As for Neil Patrick Harris (left), alas, he didn't sparkle. He started with a terrific musical number about the love we have for 'Moving Pictures' -- as I've written elsewhere, rhyming "Brando" with Sharon Stone going "commando" is a moment of genius that will linger forever -- but the rest of the evening he was flat and unfunny and just not very good.
But -- and here's the thing -- are we expecting the wrong thing from an Oscar host? Earlier the Oscars were the only show we'd all watch, and we'd eat it up because it was the only choice.
So we'd love Steve Martin and tolerate David Letterman.
Now, not only do we have far more wicked and irreverent, alcohol-aided shows to watch, from the Golden Globes to the Independent Spirit Awards (which, seriously, is must-see), but we're all tweeting and pronouncing judgement immediately, rating a joke on a sliding scale before we even get through with the show.
Last week I compiled a list of the best ever Oscar hosts, an amusing (albeit cumbersome) process that made me realise something. In this age of sharp, biting jabs -- started by Globe host Ricky Gervais and surpassed by Amy Poehler and Tina Fey -- we're too quick to dismiss anyone who doesn't immediately match up.
That Frank Sinatra opening monologue from 1963, for example, one of my very favourites, would be ripped apart mercilessly on Twitter.
The Oscars are in a quandary: they're classy, they're big, they're universal and they need to be family-friendly -- otherwise morons like Seth MacFarlane sing about breasts. It's clear they can't be like other wilder award shows. Perhaps they just need to concentrate on the class and the charm and leave out the comedy, except in little unscripted bits and occasional dance numbers.
No matter what people say about too many dances, this year's top moments had to include the touching Glory performance and Lady Gaga's Sound Of Music tribute.
Pomp, done well, shines bright at the Oscars.
Leave the jokes to the other shows who can perch out farther on the limb.
Let the grandeur do the talking instead of the gags.
Overall, as I said, it was a show to celebrate. Why? Because with every gunfighter on our side, we're all winners.
Photographs: Kevin Winter/Getty Images. Jason Merritt/Getty Images