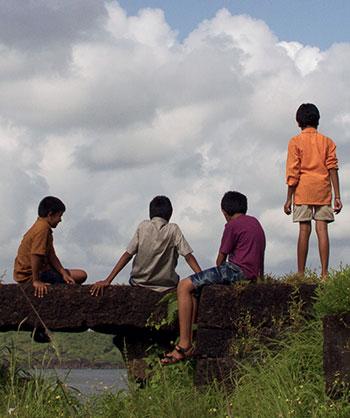 The best of India and the Middle East, now at the Dharamsala Film Festival.
Mountains.
Movies.
And a possible glimpse of the Dalai Lama.
Yes, one can have it all at the Dharamsala International Film Festival, DIFF, running from October 30 to November 2.
Now in its third year, the festival is gaining recognition among journalists and film-goers -- many travel for a four-day weekend from Mumbai, Delhi and other cities to watch amazing films and listen to well known and first-time filmmakers.
The DIFF takes place in McLeodganj, a suburb of Dharamsala and home to the Dalai Lama and the Tibetan Government in Exile.
The festival was started by local documentary filmmakers, Ritu Sarin and her Tibetan husband Tenzing Sonam, with the intention of bringing good cinema to a small city.
Dharamsala does not even have a regular movie theatre.
Sarin says the town did have one theatre, but a mall stands at that venue now.
For a while, McLeodganj had a number of video parlours -- dark, seedy rooms where the latest Hollywood films, downloaded illegally from the Internet, would be screened. Those video parlours have all but closed.
So the local population of Dharamsala -- Himachalis and Tibetans -- get their taste of entertainment from Indian television channels, watching loud Bollywood films and Hindi soap operas.
Last year was my first trip to DIFF and one afternoon, I was very impressed to see several Tibetan high school kids attending a discussion where first-time filmmakers talked about the challenges of making films. It was obvious that these students were listening to this conversation for the first time in their lives.
In that regard, DIFF is an important festival taking good films to people who have no access to them as well as providing them with tools to appreciate the works.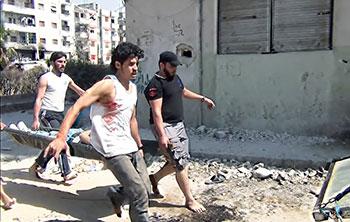 This year's DIFF programming has a small Middle East focus, given the number of documentaries that are being made after the Arab Spring protests.
Two of the films -- last year's Oscar nominated The Square and this year's Sundance Audience Award winner Return to Homs -- deal with the Arab Spring uprisings.
The Square focuses on a set of characters, including Egyptian-Scottish actor Khalid Abdalla (The Kite Runner), who were present through most of the protests at Cairo's Tahrir Square.
Return to Homs, left, is an unflinching look at the harsh civil war in Syria, through the eyes of charismatic leader Abdul Basset Saroot, the 20-year-old former Syrian national football player and poet.
Also showing at the festival is Palestinian filmmaker Hany Abu-Assad's Oscar nominated Omar. A powerful story, Omar looks at the lives of three Palestinian men, secretly carrying their protests against the Israeli occupation. One of them becomes a collaborator and has to make major sacrifices for the sake of the woman he loves.
Finally, the festival is also showing A World Not Ours, a humorous portrait of three generations of exiles in a Palestinian refugee camp, in southern Lebanon.
The festival opened with Rajat Kapoor's Ankhon Dekhi, starring Sanjay Mishra.
It has a range of new Indian films like Killa, top image, and Court, both in Marathi and top award winners at the recent Mumbai Film Festival. Also showing is Liar's Dice, India's entry for the 2015 foreign language Oscar race.
National Award-winning filmmaker Umesh Vinayak Kulkarni (Vihir) is bringing his pick of recent shorts from India. Cannes Film Festival winner Geetanjali Rao (Painted Rainbow) will present a set of animation films from around the world.
And if you're looking for a break from films, McLeodganj is a heaven for foodies with small cafes serving Indian, Western and Tibetan cuisine, along with coffee and desserts.