Gajraj Rao's performance in Badhaai Ho is the finest by an actor in a Hindi film this year, applauds Sreehari Nair.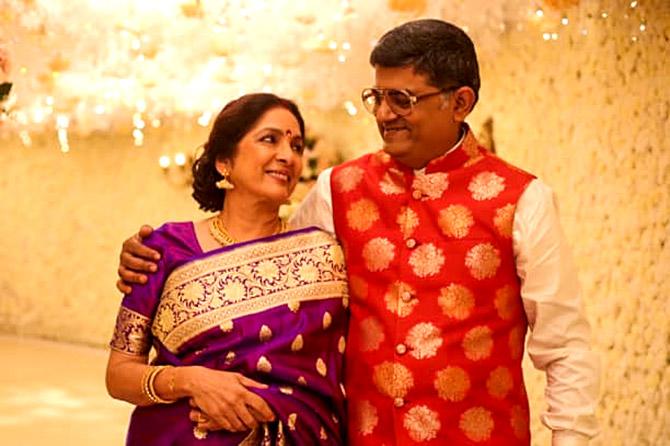 Gajraj Rao is naturally blessed with a face that suggests he is hiding something: A bureaucratic lie, a family secret, a hemorrhoid.
To anyone who can sense the river of shyness and deceit that runs beneath his face, Rao may seem like a potential subject for deeper interrogation -- as Irrfan Khan demonstrated when he went after him with a stick, in Talvar.
It is a tribute to his cagey face perhaps that when Rao, as Jeetender Kaushik in Amit Sharma's Badhaai Ho, reveals to people that he has got Priyamvada (Neena Gupta), his wife of 25 odd years, pregnant, the almost silent response he receives is: "How???"
It isn't a 'Technical How' (Such as 'How could you not use any contraceptive?'), but more of a 'How did you, O Jeetu, in your early 50s, manage to hit the season of the rising sap? Have you been hiding something: A personal brand of charm, maybe?'
In effect, with that one revelation, Jeetender Kaushik goes from being a Ticket Examiner at Northern Railways to being a Male Love Object.
Badhaai Ho's this subtext is made plain in the way Jeetender Kaushik's cocky 20-something son Nakul (Ayushmann Khurrana), and Kaushik's 80-something mother (Surekha Sikri) react to the news of Priyamvada's pregnancy.
Nakul doesn't say it, but he is ashamed, most of all, by the realisation that his gawky, docile, miserly father had defeated him in the Game of Sexual Bravado; while the pregnancy immediately reminds Jeetender's mother of the dwindling regard that she had been receiving from her son, of late.
To the world outside, the news presents a delicate cue: 'Jeetu and Priyamvada have been, even at their age, doing it like animals.'
And so, they all pose a 'Silent How' to Jeetender Kaushik, as he backs away -- but not too far.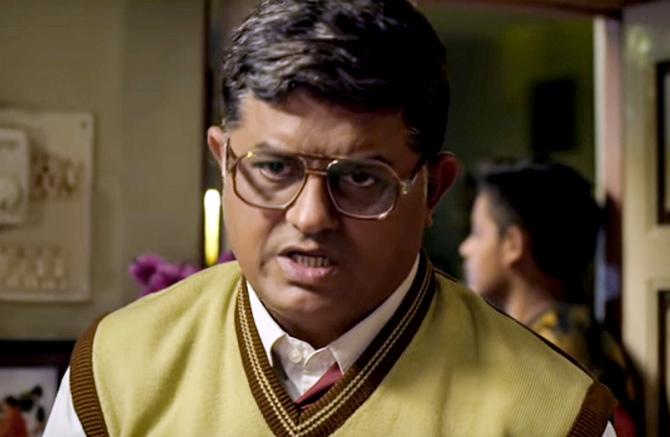 It's here that the exquisiteness of Gajraj Rao's performance (to my mind, the finest by an actor in a Hindi film this year) as Kaushik Sr dawns upon us: For he shows us exactly what it means to stay where you are and have the universe view you differently.
Rao illustrates this fact, all the while, dropping subtle hints about that part of his personality that makes him oddly 'desirable' (if only to one woman).
This time around, what Gajraj Rao's 'public face' tries to hide is the appeal of a man, who is very Indian, very conservative, but also unchallenging and open: someone who triumphs over tough situations by dodging them.
Rao has crafted a character so lacking in self-absorption that he becomes charming.
There is a desperate constancy about the way Jeetender steals glances at Priyamvada (they look genuinely attractive when seen through each other's eyes). He is the only one who lets her play the aggressor; together, they are like two high comedians caught up in a domestic farce.
In his scenes with his friends, you can feel Rao pushing his co-actors to goad him into offering a reaction or an opinion; he brings conviction to the simple act of waiting on the sidelines.
If Surekha Sikri swallows every scene she appears in whole, it's because Rao gladly steps aside and lets her have her way.
And out of this, not passivity but a willingness to hold himself back, out of his readiness to not dominate a situation, Rao imbues Jeetender Kaushik with a wholly unique style -- and shapes him into one of Hindi cinema's true originals.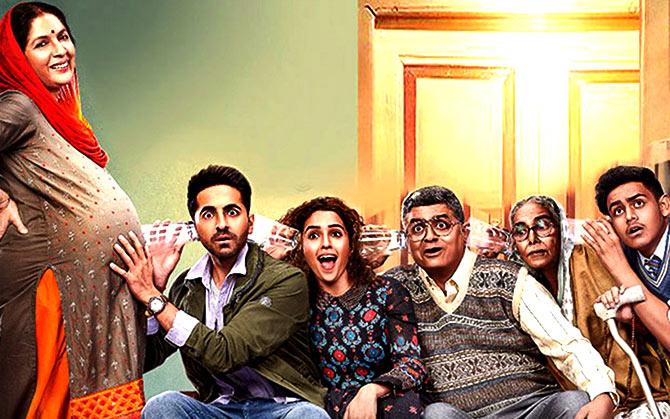 The script (by Shanatanu Srivastava, Akshat Ghildial, and Jyoti Kapoor) supplies the vision.
Jeetender writes poetry under the pen-name 'Vyakul'. (That's some self-awareness because 'Anxiety' is indeed Jeetender Kaushik's constant companion).
When Jeetender reads out his poetry to his Priyamvada and he pauses to explain that 'Tarit' means 'Bijli', the effect is electric -- as it often is, when a subdued man casually offers proof of his depth.
His affection in that sequence, his disdain-free tone, transcends sex: it becomes a version of idealised love with terrific possibilities for shared entertainment, shared growth.
He is often five seconds late to a moment: Takes his time to 'get' something that others around him have already cracked.
But when he cries at the first sight of his newborn, his chin trembling ever so slightly, you can feel an outpouring of emotions.
For once, Jeetender Kaushik doesn't hold himself back. And oh-so effortlessly, he moves you.
He may be a man on the sidelines, but, to quote from Death of a Salesman, 'Attention, attention must be paid to such a man!'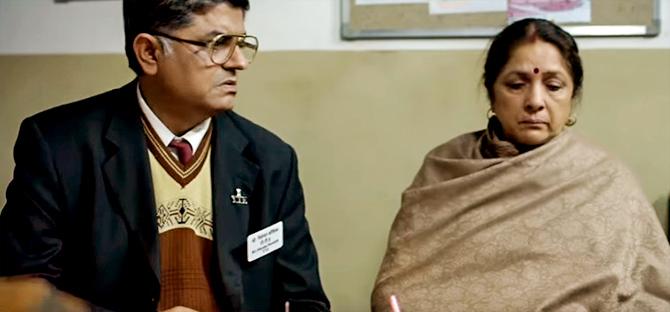 As with its beautifully-proportioned characterisation of Jeetender Kaushik, Badhaai Ho's pull is in the fact that it has no readymade contempt for conservatism.
This is a film about people, whose faces and whose gaits echo their bad tastes, superstitions, years of repression, dull jargon, small deceptions, low temperament for risk-taking, and their general aversion for all things unknown and mysterious.
Badhaai Ho isn't out to comment on such matters but celebrate them; the movie's best parts are, as a matter of fact, about the poetry of conservatism.
Surekha Sikri's shrunken face with her 'dentures removed' magically becomes the face of someone whose filter has come off long ago.
When the old woman links Jeetender's younger son's bratty nature to the quality of water at Priyamvada's maternal home (where she'd delivered him), the statement acquires existential moorings.
Such texturing (evident here, and in films such as Bareilly Ki Barfi, Kadvi Hawa and Gurgaon) is a result of directors from Indian small towns telling us stories of their lands and telling them without sermons or ideological box-checking. (This is where, I believe, something like a Stree copped out).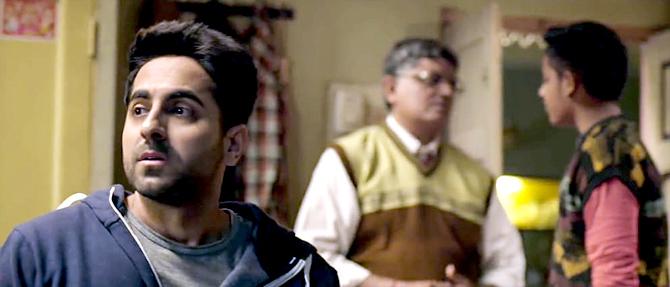 Traditionally, the case with directors such as Amit Ravindranath Sharma would be that they'd be drafted into Bollywood for their talent and then tutored in the 'set ways of the Hindi film industry.'
Their suitcases may be filled with colourful stories and characters from their hometowns, but the general instruction would be to use this treasure sparingly -- only as tidbits inside conventional Hindi film narratives.
But now, those suitcases are being unpacked, and those stories and characters are being flung at our big multiplexes without as much as even subtitles -- and what that's doing is enriching our sensibility landscape and making our movie-watching music denser.
Badhaai Ho uses as its base the poetry of conservatism and fuses it with the subject of sex: So what we get is the pleasure of 'dirty whisperings'.
The fun is in noting how those small, innocuous details of the Kaushik Family's way of life become counterpoints to what happens behind closed bedroom doors.
On the night of the impregnation, the family feasts on mangoes: Which, if you are a Seinfeld nut like me, you would know, is the ultimate erotic fruit.
So when Jeetender and Priyamvada sit there, sucking the last bit of mango out of the skins, we are allowed to free-associate: This act of unsophisticatedly sucking out the pulp becomes a double for their commitment to going totally filthy in bed.
The movie, which deals with an unplanned pregnancy, opens with a photograph of Hanuman, the most celibate of Indian Gods.
Amit Ravindranath Sharma and his writers present the trivialities and decencies of middle-class lives, but through all that there flows an undercurrent of sex and half fulfilled temptations.
The opening scene, for example, has one of Kaushik's neighbours rushing out of her building to attend a pooja, and as she adjusts her dupatta, her husband coyly calls out to her from their residence.
The people in Badhaai Ho behave tastelessly and guilelessly. But left uncorrected, such behaviour, by and by, begin to add their own flavour, and they make this very mainstream film, lifelike.
The really smart thing about the movie is that it (for most of its running time, at least) doesn't aspire to become a forced Liberal Project. (As it is, the main plot exists because Priyamvada decides to keep her baby).
In fact, the movie's charm lies outside such obvious life-improvement messages as 'Come embrace your shames!'
And it is when the film compels itself to play the liberal card that it breaks character: It is here that we get unnecessary arcs, and a lot of walking away and driving in slow-motion.
Badhaai Ho's distrust of liberalism and 'progressiveness', is, to a large extent, nullified by Sheeba Chaddha's marvelous performance as the mother of Nakul's girlfriend -- she is a lady who lets her husky party-voice, her stiff neck, and her posing-for-the-chandeliers smile find their way into simple, everyday interactions.
It is majorly owing to Chaddha's intelligence as an actor that her character never turns into a caricature of an upper crust hag.
Watch out for that scene where Nakul apologises to her for his misconduct and she simply sits there fiddling with her ring.
It is the kind of performance where even her silences, lend themselves to translations.
Post her first meeting with Nakul, she breathes in and watches him drive away. You can literally read her thoughts: 'The boy isn't there yet. However, he has it in him to go high class.'
But how can poor Nakul make that jump so easily when there is a father like Jeetender Kaushik waiting for him at home?
The beauty of Gajraj Rao's turn in Badhaai Ho, the confidence in his timing, is linked to his sense of movies as a popular art form: He craves for mass appreciation. And yet, his pride in his craft wouldn't let him come right out and ask for the whistles.
It is inside this very actorly tension that Gajraj Rao locates the essence of Jeetender Kaushik.
In one of the film's finest moments, a friend of his asks Jeetender to offer his seemingly 'inactive' son some sexual advice.
There is a pre-wedding ceremony happening in the background and Jeetender is initially baffled by the strange request. But in five seconds precisely, he 'gets' it: It is about his newly-formed reputation as a 'Stallion' of sorts.
And so what does Jeetender Kaushik do? As the alaap of Kora Kagaz Tha Ye Man Mera kicks in, his eyes wade through the wedding crowd and locate the very pregnant Priyamvada.
A smile and a tilt of the head is all it takes: Some things never go out of style.
There's something awfully graceful about a middle-class, middle-aged man, who dedicates his small wins to the woman who made them possible.
Yes! Attention must be paid, to such a man.